AGDQ 2023: Viewership Analytics
GDQ's third consecutive year online is off to a great start.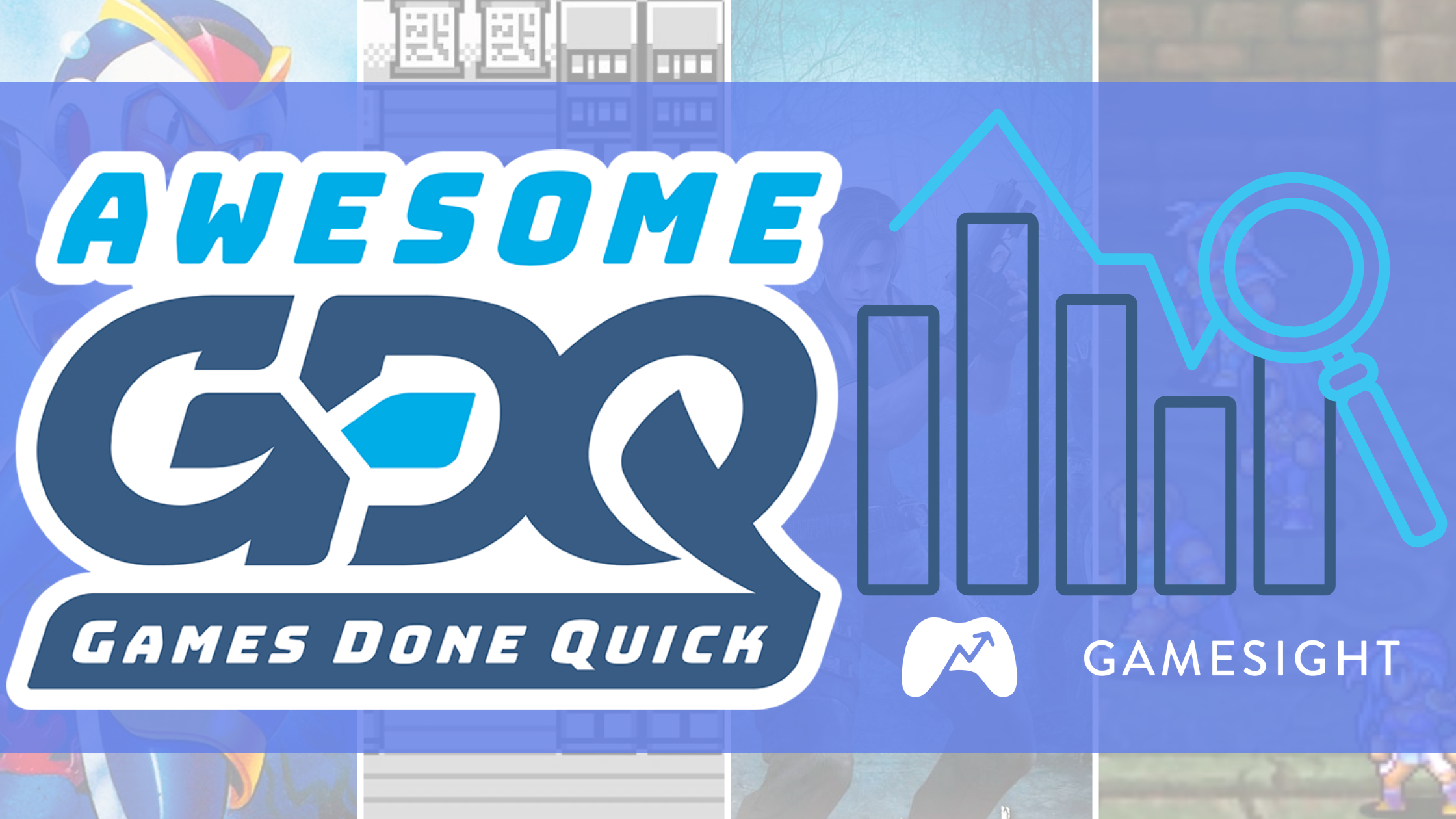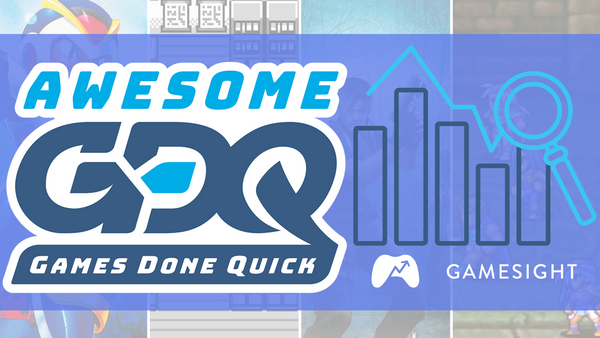 Twitch.tv featured a special event this past week: Awesome Games Done Quick, where gamers glitch through walls and optimize cutscene skipping, all in the name of charity and glory.

GDQ is a bi-annual livestream event (Awesome Games Done Quick and Summer Games Done Quick) that raises money for charity via volunteer streamers speedrunning events.

For over 10 years, GDQ has raised money for Prevent Cancer Foundation, Doctors Without Borders, disaster relief efforts, and more. This year the winter event raised $2,666,973, with a max/avg/median donation of $100,000/$66.89/$25.

We've pulled the viewership data for the past 3 GDQ events (2021, 2022 and 2023) to do an analysis of viewership and game interest over the years.

Let's get into it!
---
AGDQ 2023
Out of 985 total stream hours, this year closed out with
Total viewer hours: 10,495,548
Peak viewership: 90,350
Average concurrent viewership: 10,657
A further breakdown of AGDQ 2023's total viewer hours by language (non-English languages are from re-streams):
English: 9,159,631
French: 548,229
Japanese: 548,229
German: 76,219
Spanish: 160,252
Brazil: 57,236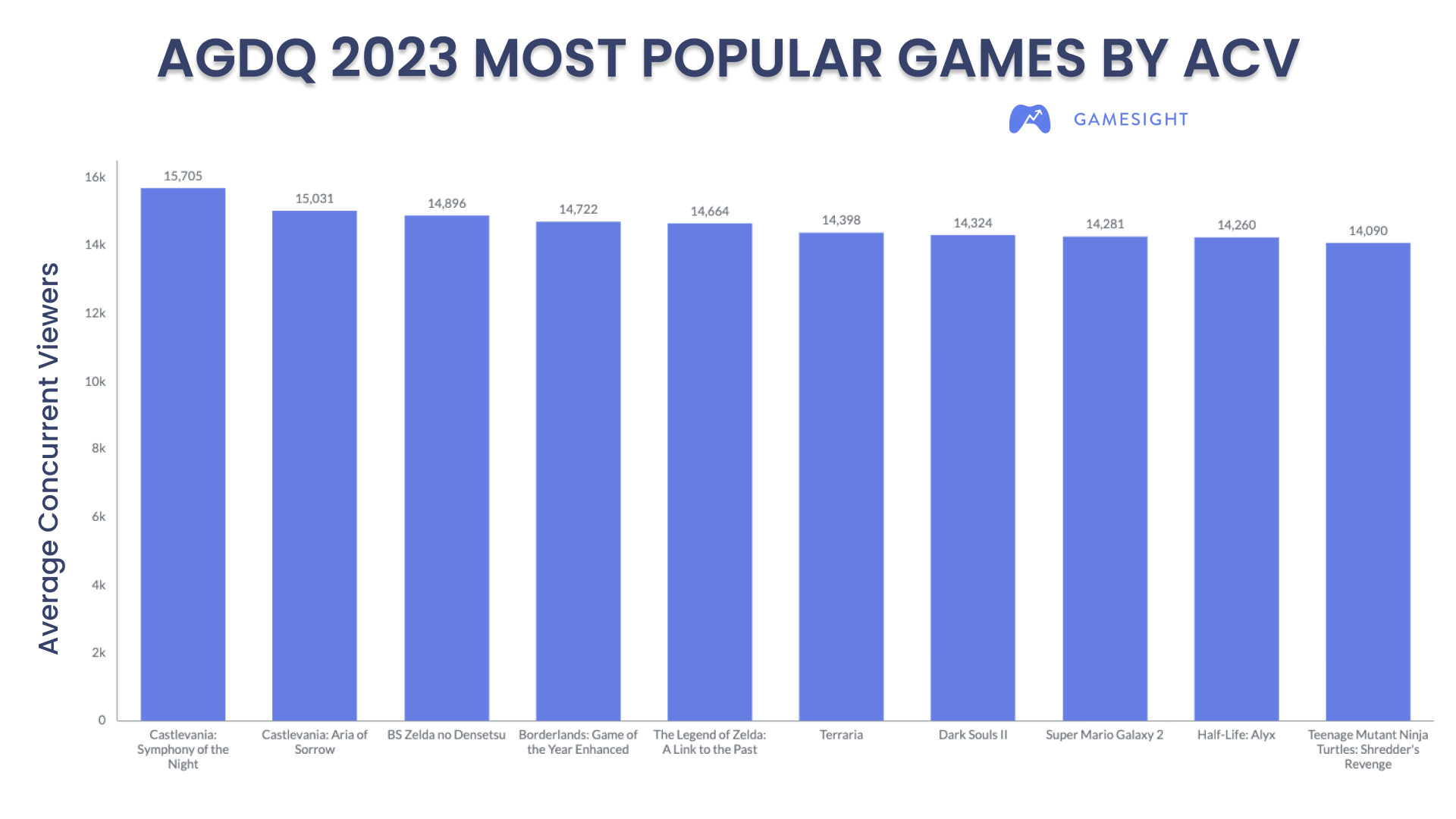 AGDQ Top 10 most popular games (by ACV)
1. Castlevania: Symphony of the Night
ACV: 15,705
Viewer Hours: 78,027
Peak Viewers: 90,350
2. Castlevania: Aria of Sorrow
ACV: 15,031
Viewer Hours: 41,561
Peak Viewers: 64,695
3. BS Zelda no Densetsu
ACV: 14,896
Viewer Hours: 75,326
Peak Viewers: 70,399
4. Borderlands
ACV: 14,722
Viewer Hours: 170,102
Peak Viewers: 90,350
5. Legend of Zelda: A Link to the Past |
ACV: 14,664
Viewer Hours: 145,819
Peak Viewers: 85,328
6. Terraria
ACV: 14,398
Viewer Hours: 192,918
Peak Viewers: 76,733
7. Dark Souls II
ACV: 14,324
Viewer Hours: 143,737
Peak Viewers: 83,916
8. Super Mario Galaxy 2
ACV: 14,281
Viewer Hours: 305,569
Peak Viewers: 85,637
9. Half-Life: Alyx
ACV: 14,260
Viewer Hours: 102,689
Peak Viewers: 83,609
10. Teenage Mutant Ninja Turtles: Shredder's Revenge |
ACV: 14,090
Viewer Hours: 120,234
Peak Viewers: 76,620
---
Year By Year Analysis of GDQ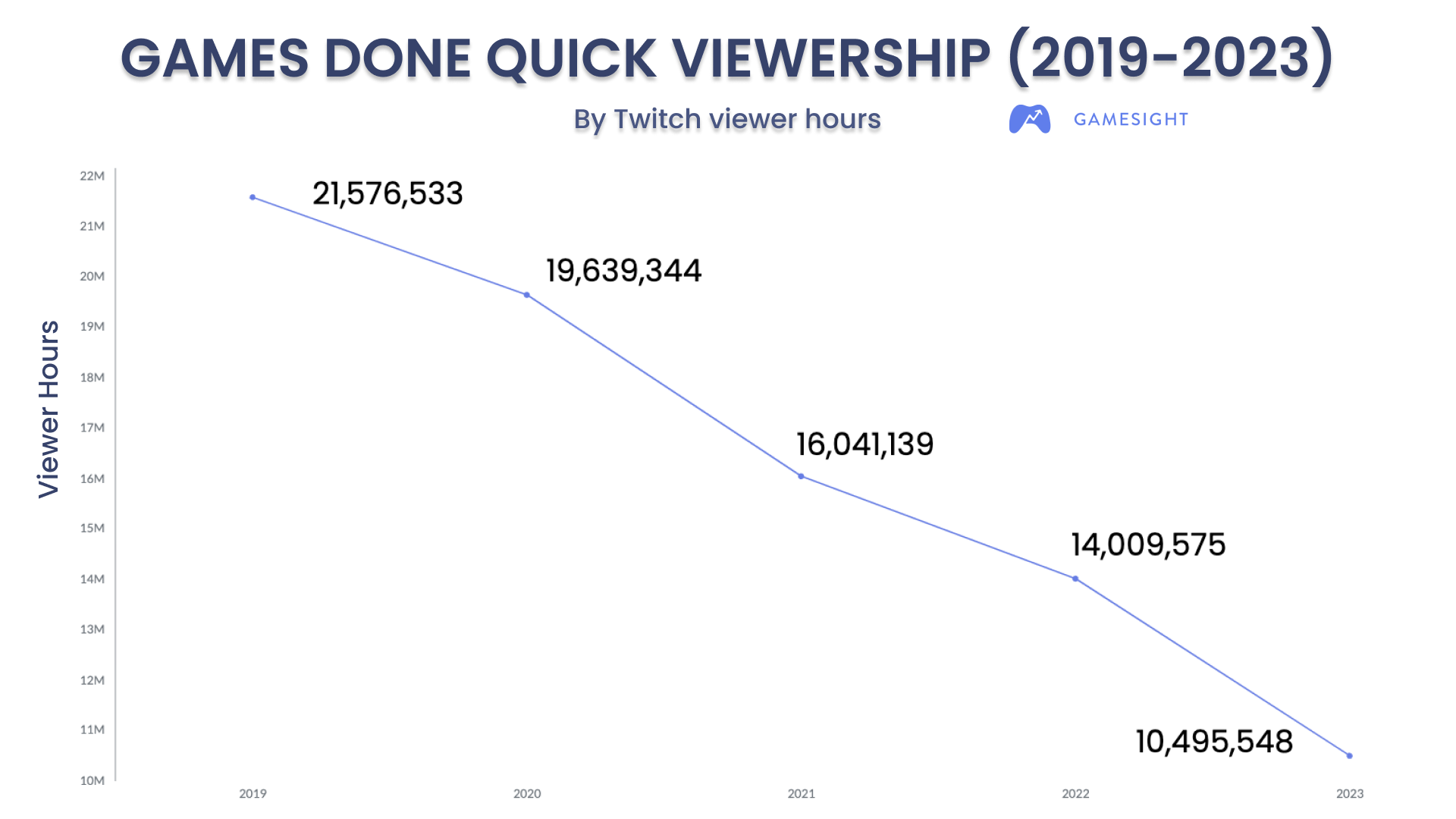 2022
Total Viewer Hours: 14,009,575
ACV: 12,635
Peak Viewers: 113,011
2021
Total Viewer Hours: 16,041,139
ACV: 15,159
Peak Viewers: 141,291
2020
Total Viewer Hours: 19,639,344
ACV: 20,473
Peak Viewers: 236,157
2019
Total Viewer Hours: 21,576,533
ACV: 22,578
Peak Viewers: 221,080
There are several theories as to why GDQ viewership may be on a decline. Since 2020, the event has been solely online, and the lack of irl hype in person and even on social media is sorely missed. Since the speedrunners are home and live on their own Twitch channels, this splits the viewership count considerably.
Viewership on Twitch is down since its explosive growth during the pandemic in 2020. Twitch in general has become more aggressive with ad placements, which fans have stated deter them from tuning in.
Feb 2021 saw peak viewers at 2,945,135. That number has gone down to 2,447,782 as of January 2023, a 16.9% drop in total viewers.
Other long-time fans cited that they weren't as interested in many games this year, since the novelty of many classic speedrun games has worn off. GDQ constantly innovates their roster of speedrun games to include increasingly niche games, but many viewers who aren't interested in them tend to click off.
Check out our analysis on past year viewership for more.
While AGDQ showed a continued decline in viewership, it's important to note that viewership could easily spike once the summer event of GDQ rolls around. Additionally, the donation amount has actually trended upwards over the years. While this year was nearly $1 million short of setting a new record like 2022, the generosity of the community is still at a high, especially considering the lower viewership.
The next big event from Games Done Quick will be its summer event from May 28 to June 4. We're hopeful to see gamers and the event set new records. Until then, you can count on Gamesight to cover the stats.
---
About us
At Gamesight, we help PC and console game developers implement and track performance marketing techniques. If you are seeking help setting up campaigns, working with influencers, or would like to talk more with us about the data in this article, please reach out to us on our website!