Gamescom Opening Night Live 2023: Analyzing Over 32K Twitch Chat Messages
In this examination of Gamescom's Opening Night Live show, we crunched the Twitch livestream data through the lens of our advanced chat sentiment analysis capabilities to find out what segments resonated with the audience.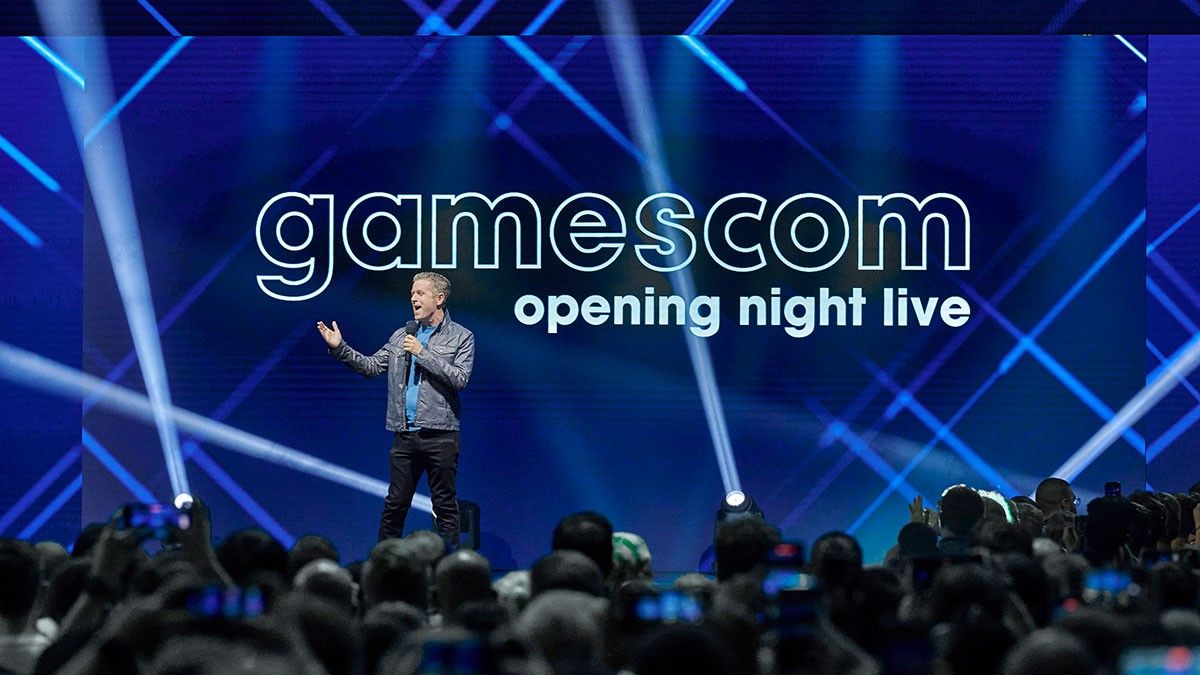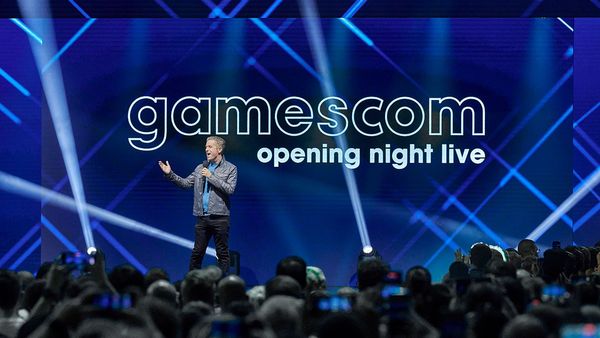 This article uses a tool from Gamesight's Chat Sentiment Analysis feature. Learn how you can use this feature in your next marketing campaign: https://blog.gamesight.io/product-feature-chat-sentiment-analysis/
Gamescom Opening Night Live 2023 featured over 2 hours of game trailer reveals and highly anticipated updates, straight from developers. While many attended the show live in Germany, even more gaming enthusiasts could tune in from the comfort of their homes on livestreaming platforms like Twitch.tv.
In examining Gamescom's Opening Night Live show, we crunched the Twitch livestream data through our advanced chat analysis capabilities to find out what segments resonated with the audience.
Scroll on for more!
---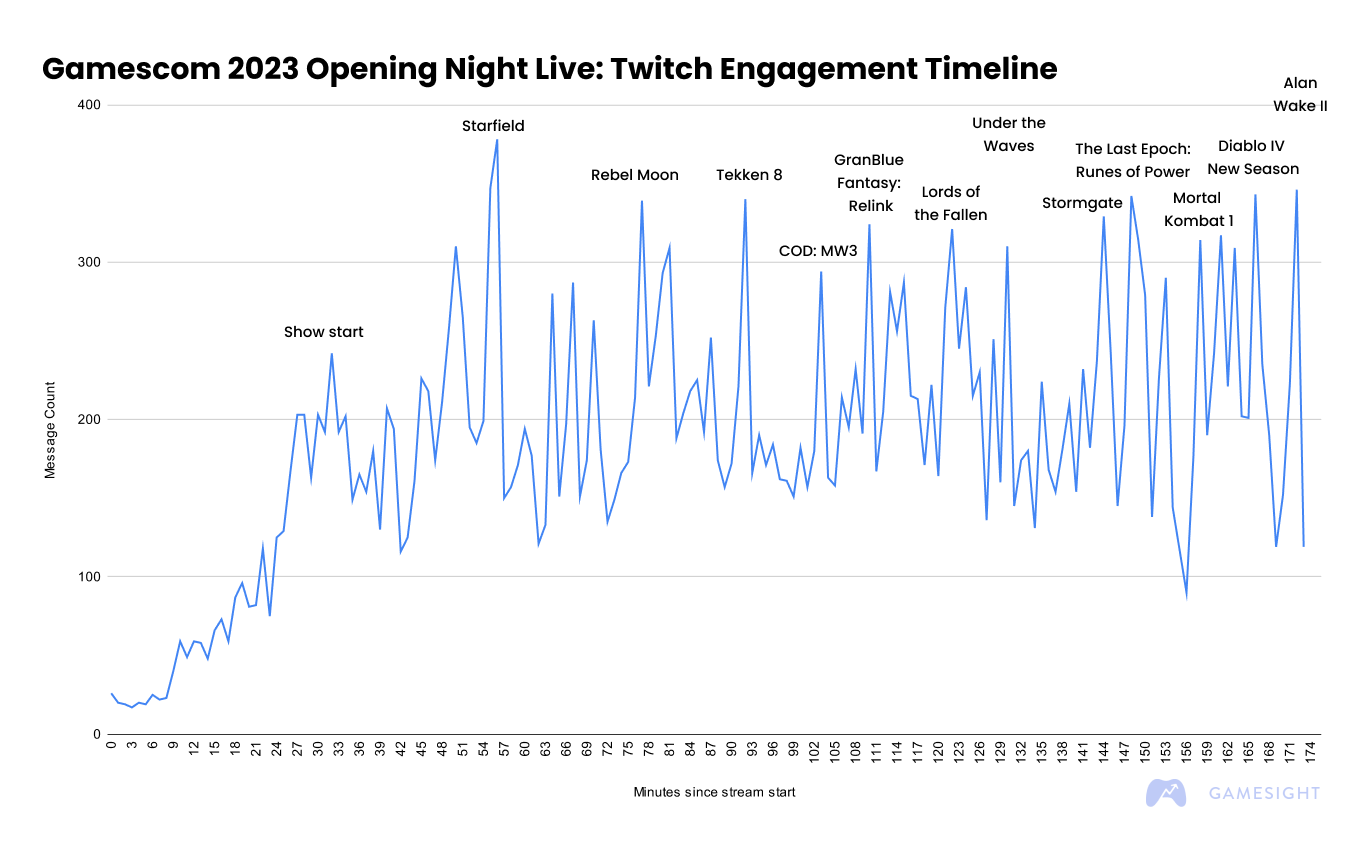 Gamescom's 2023 show featured 32,394 total messages and over 251K viewer hours.
Worth mentioning is that the "thegameawards" Twitch channel was set to follower-only messages, potentially barring many people from chiming in.
In conjunction with this aggregate timeline view, a powerful capability Gamesight employs is the examination of n-grams, which are any one to n (where n is any number) phrases commonly repeated in chats. It's easy with n-grams to quickly understand what topics were being echoed.
The most repeated n-grams were:
"marvel snap" - 164 times
"lets go" and variations - 83 times
"ara ara" (anime games) - 48 times
"elden ring" - 46 times
"mortal kombat" - 43 times
"alan wake" - 40 times
"call duty" - 37 times
"silverhand silverhand" (Cyberpunk) - 33 times
"max payne" - 32 times
"look sick" - 31 times
---
While this channel was the main broadcast with the most views, many creators on Twitch (even the "gamescom" channel itself) co-streamed the event, splitting the viewership.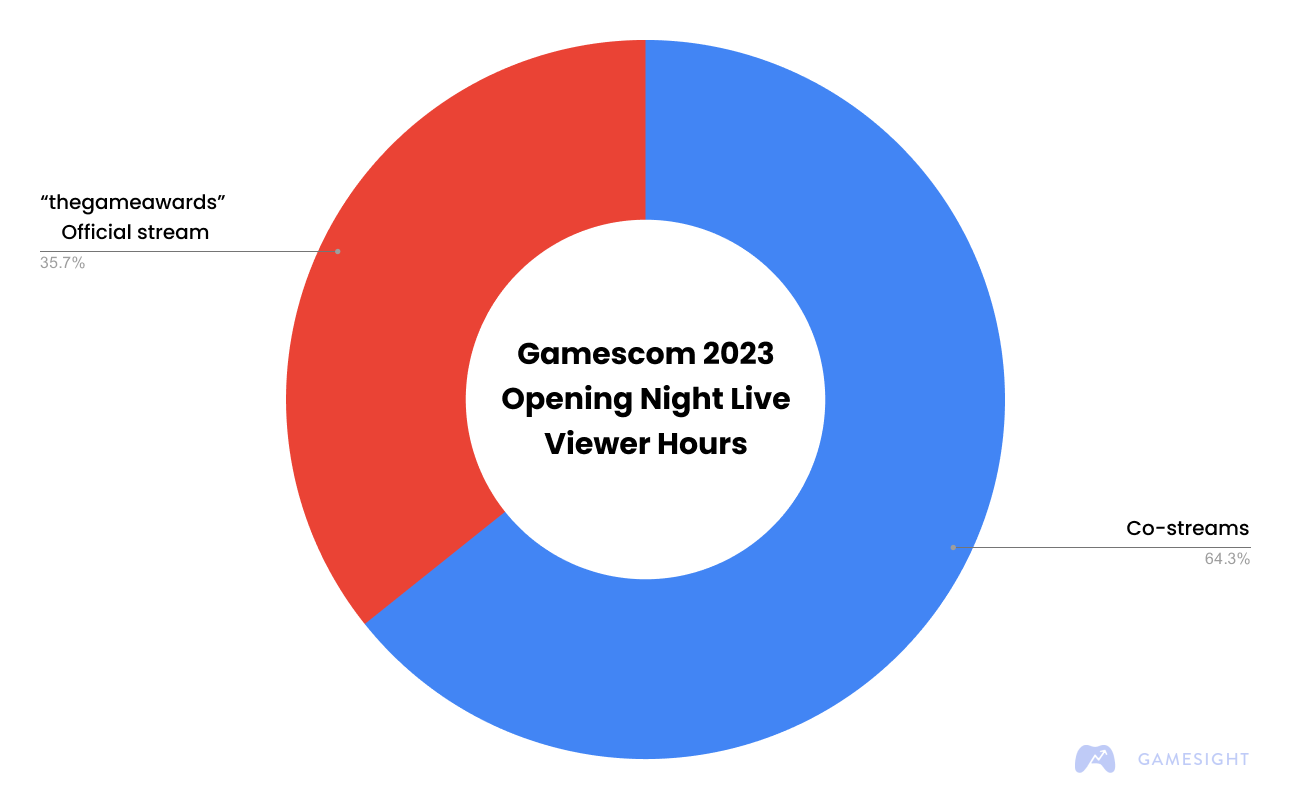 Adding together all streams covering the event, Gamescom 2023 had 705K total viewer hours.
These statistics were pulled by looking at Twitch streams tagged with "Gamescom" inside their channel status in the Just Chatting and Special Events categories that started and ended between 18:00 and 21:05 UTC.
---
A Comparison of 2022 vs. 2023: How Gamescom Won the Industry's Attention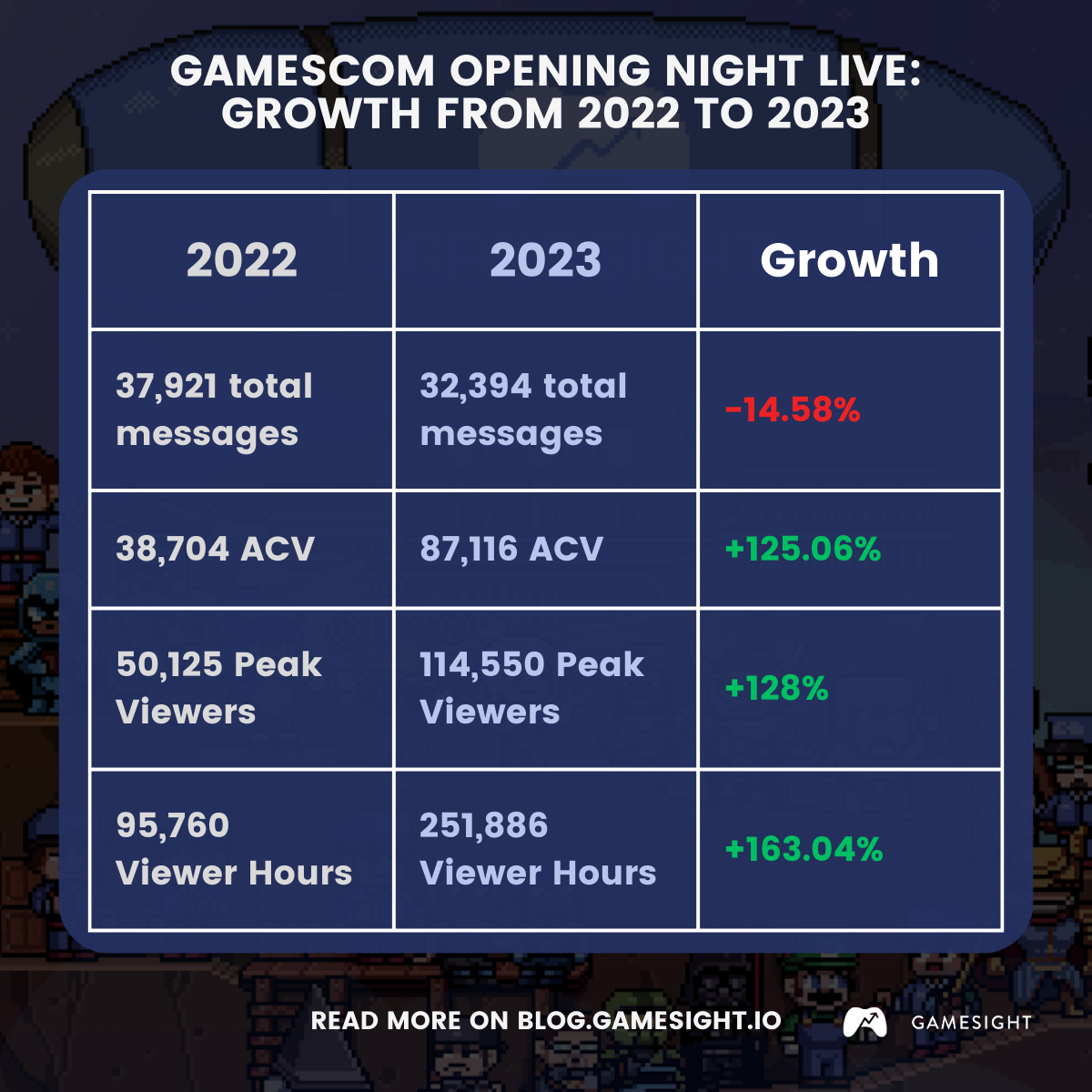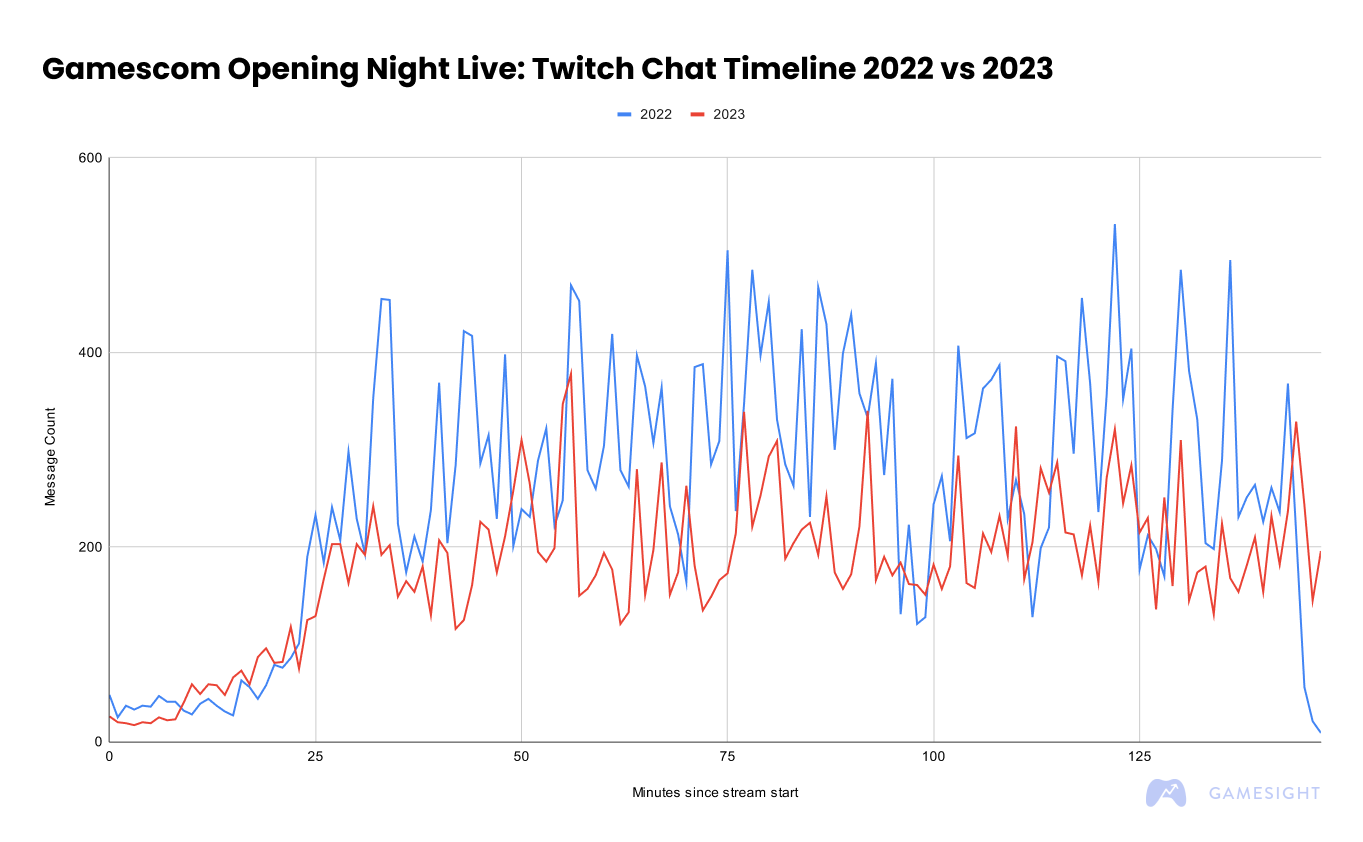 Overall, the quantity of chat engagement has gone down, but viewership by ACV, peak viewers, and viewer hours has actually increased dramatically.
The numbers provide a strong argument that Gamescom appears to have successfully stepped into filling the gap left by E3 when it comes to unveiling game releases.
Viewership has gone up without a parallel increase in chat activity, which may imply the audience has shifted to consist of a majority who are more inclined to follow updates rather than engage in Twitch chat culture.
Gamescom 2022 had 428K total viewer hours, even when considering co-streams, so 2023 still saw an increase of 64.7%.
Additionally, the viewership percentage that co-streams captured decreased from 77.6% to 64.3% year to year. This could indicate how many more viewers knew of Gamescom and watched it on the official channel.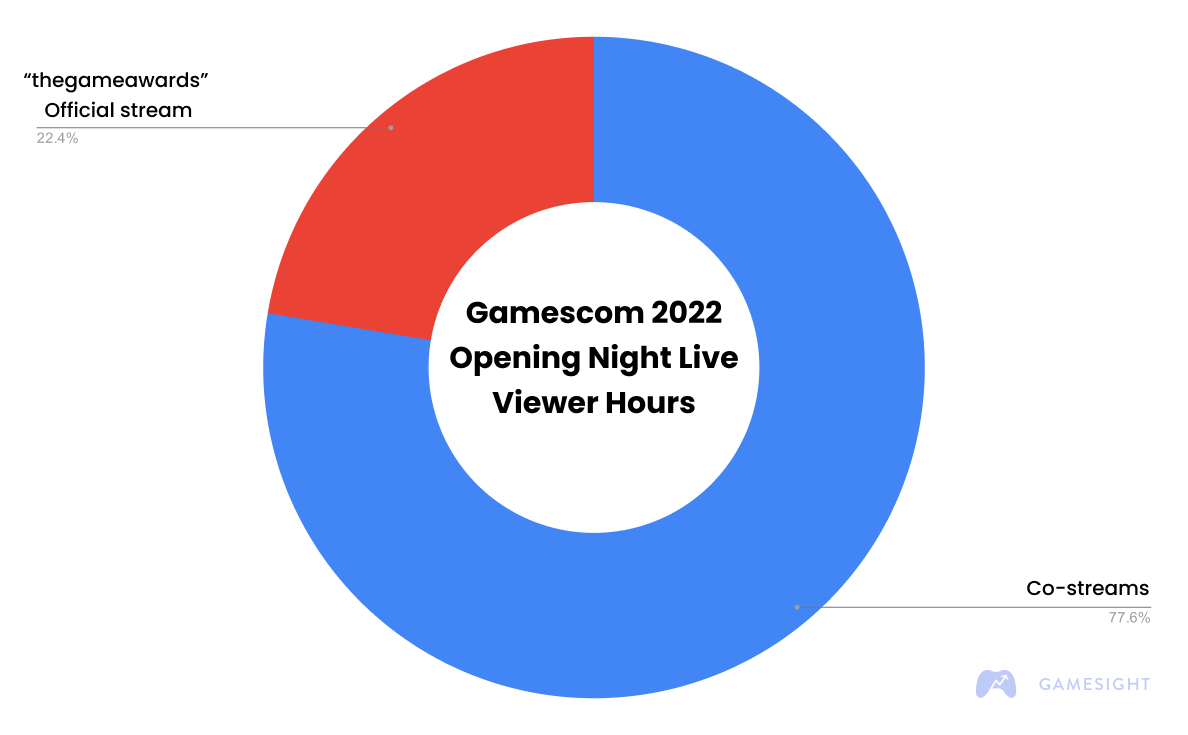 ---
Top 10 Moments Twitch Chat Got Hype For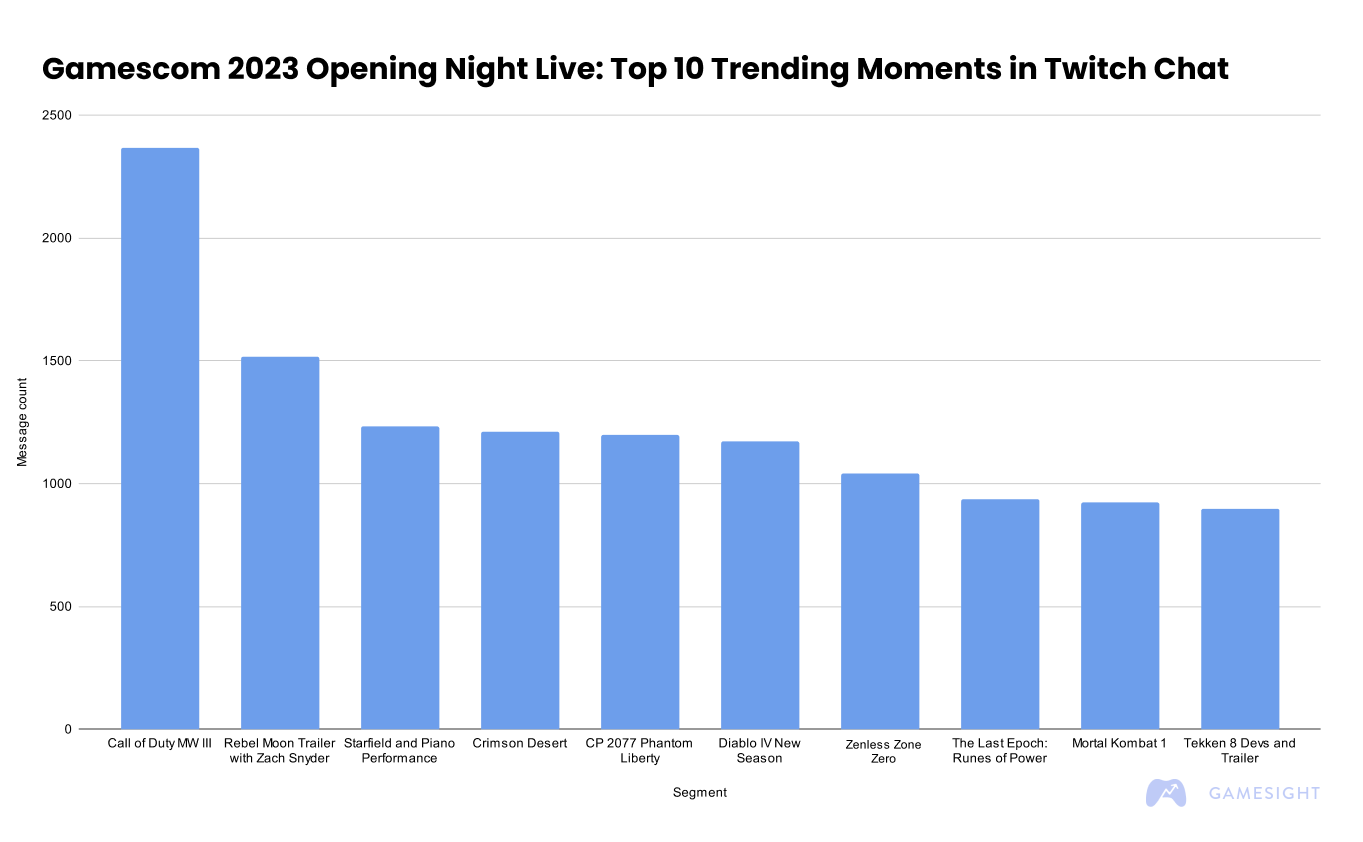 Call of Duty Modern Warfare III: Activision revealed brand new gameplay for the first campaign mission of Modern Warfare 3, dubbed Operation 627. The direct sequel to Modern Warfare 2 will include open campaign missions, the return of slide canceling, and the classic minimap.
Rebel Moon Trailer with Zack Snyder: Movie director Zack Snyder made a major guest appearance to debut the trailer for his upcoming sci-fi epic, Rebel Moon, coming to Netflix in two parts. The overwhelming success of his appearance in terms of engagement may indicate that he made a successful connection with the gaming audience.
Starfield Piano Performance and Trailer: Starfield released a live-action trailer after an impressive live piano performance by Starfield composer Inon Zur. Director Todd Howard also spoke more about the process of creating Bethesda's first new IP in 25 years.
Crimson Desert: From the creators of Black Desert, Pearl Abyss announced their extremely feature-packed game trailer for their newest game, Crimson Desert, impressing viewers.
Cyberpunk 2077 Phantom Liberty: CD Projekt Red released a new gameplay trailer for Cyberpunk 2077 Phantom Liberty DLC, and also announced that the Cyberpunk 2.0 updates and improvements would be free for all players.
Diablo IV New Season: Diablo IV's new season, Season of Blood, will add a vampire hunter companion voiced by Gemma Chan. They also announced a new questline, endgame bosses, and other quality-of-life updates.
Zenless Zone Zero: HoYoverse announced updates to this brand new title they're adding to their lineup. Producer Zhenyu Li also appeared on stage to give a glimpse into the game's world.
The Last Epoch: Runes of Power: This time travel ARPG revealed a trailer for its newest class, the Runemaster. This game is well-known for having developers who are closely engaged with their player base.
Mortal Kombat 1: The creator of Mortal Kombat, Ed Boon, came on stage to reveal four more characters joining the roster with a new gameplay trailer.
Tekken 8: Bandai Namco revealed Tekken's official release date on January 26, 2024, and a gameplay trailer of single-player mode featuring nostalgic old moments and exciting new features.
Employing Gamesight's robust chat analysis tools gives us a powerful understanding of how livestreams spike internet engagement. We're thrilled to continue to provide comprehensive analyses of the games industry.
---
About us

At Gamesight, we use data to help games find commercial success. If you are looking for help getting your game's performance or influencer running and want to talk about this article, identify the right influencers, or measure your advertising needs, please contact us at gamesight.io.