Top Rising and Falling on Twitch: 2/15-2/13
Which games are rising on the Twitch charts? Which titles are sliding? We bring you the hard numbers and reaction, every week, in the GAMESIGHT power rankings!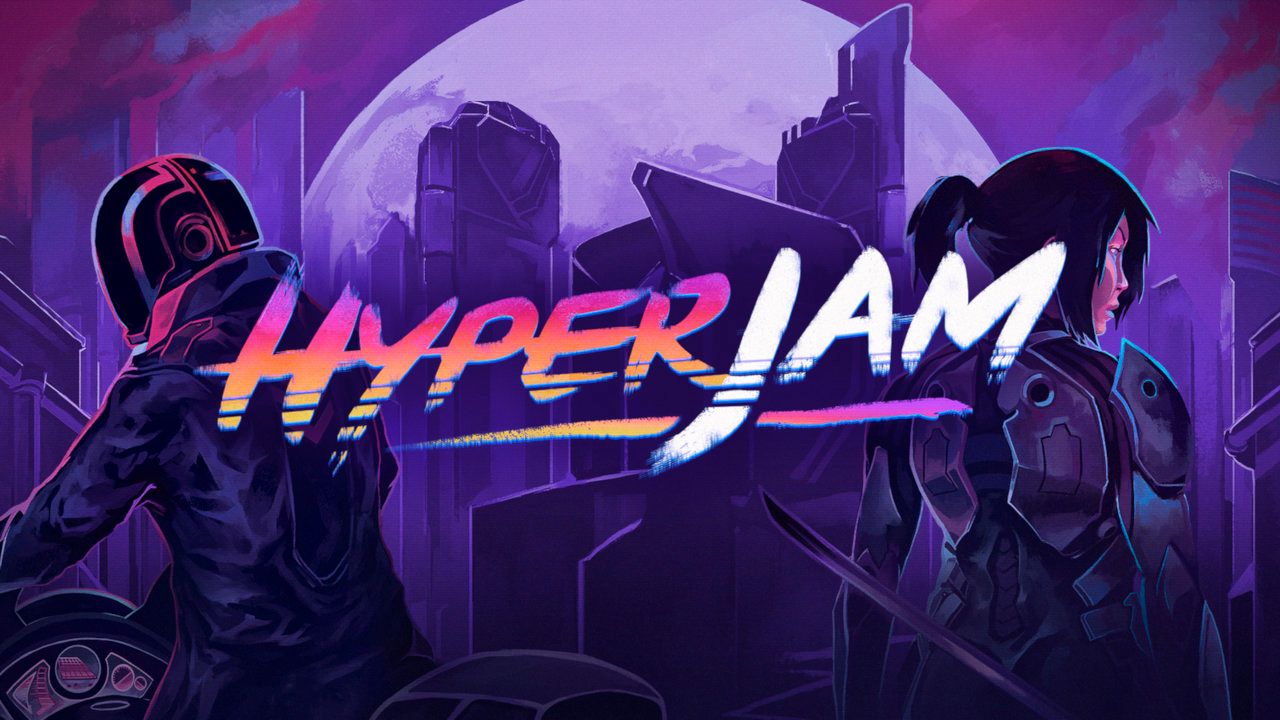 Which games are rising on the Twitch charts? Which titles are sliding? We bring you the hard numbers and reaction, every week, in the GAMESIGHT power rankings!
Note: The following rankings are based on multiple data points to more holistically represent trends on Twitch as opposed to raw viewership numbers, so the biggest titles like Apex Legends and Fortnite won't be listed.
Top Risers:
1. Hyper Jam (+9128.48% Viewership, +125% Streams)
Hyper Jam is an arena-brawler with a neon 80's theme cranked up to eleven, and it's an interesting example the power an influencer can have over your game's audience, even when you don't reach out to put your title in their hands. Bit Dragon's latest released on the 12th of February, the week prior to this week's rankings, and saw little to know Twitch viewership for the first several days. It doesn't appear that the game saw much of a marketing push, and they certainly didn't sponsor streamers to start streaming it day one, something we often see from bigger publishers.
It wasn't until the Saturday after release that sodapoppin decided, on a lark, to pick up the game during his variety stream, and bam, Hyper Jam finds itself at the top of our list of rising games. Sodapoppin is responsible for both of the huge bumps in viewership you can see in the graph above, and that lead to a whopping 45,970 total hours of exposure from his channel alone. It's interesting to note that the game was also picked up for an hour by Lirik and Giantwaffle only yesterday, beyond the range of this graph, for an additional 25,075 hours.
Nobody has been paid to play Hyper Jam, from what we can tell, but it managed to reach an enormous audience this week based on the reach of the streamers who organically found themselves playing it for their audience. We don't yet know whether other creators will follow in their footsteps and help to create a long-term audience for the title, and we are, of course, unable to see how many sales were made based on the power of these streams, but this is is already a great example of what Twitch can do for you organically, without spending a dime.
2. Battlerite Royale (+1578.54% Viewership, +669% Streams)
Battlerite is a free to play MOBA that was released in November, 2017, and its standalone battle royale companion followed in September of the following year. The game actually saw pretty great numbers on Twitch following its release, with peak viewership just over 38,000, and a peak overall ranking of seven. There were other peaks and valleys over the months that followed, sustaining a decent foothold on the platform right up to the new year, where its audience fell off to almost nothing.
What changed this week? Now the game is free to play.
Yes, the title that originally launched at a price point of $19.99 now costs absolutely nothing, and that has lead to a healthy renewal of its apparent playerbase. It's only been a few days since this drastic change, and in those days the title has dramatically improved its Twitch ranking from beyond 2000 to a new peak of 72. The biggest channels haven't picked the game back up, and that's why you're not seeing a return to where it was just after its initial release, but after seeing a maximum of three streamers featuring the title in the week prior, now we're seeing approximately 30 at its daily peak. It's a humble success, sure, but an interesting example when it comes to the impact the switch to free-to-play can have. They're not the first to make the switch, and they won't be the last, so it's worth keeping an eye on.
3. Dark Souls II (+1939.47% Viewership, +14% Streams)
The speed-running community is one of the most organized and well established in the streamer and content creator space. Single player narrative experiences tend to have short legs on Twitch, as the novelty of the experience quickly wears away and everyone has quickly seen most of what the game has to offer. Should it develop a healthy contingent of speed-runners, however, trying to find all the secret tips and tricks to one up each others times, world records constantly changing hands, a single player game can live on the platform seemingly forever.
Such is it for the games of the Dark Souls and Bloodborne universe, their difficulty, lore, and myriad potential strategies for success creating the perfect backdrop for a healthy community of gamers constantly trying to break their best times. The European Speed-runner Assembly held their second annual "ESA Winter" event from February 16-24, a marathon of runs by different fixtures of the European scene, all to raise money for charity. Many games were played, but, naturally, the biggest draw was Dark Souls, in this instance Dark Souls II.
During the event, Dark Souls II was streamed to a maximum of 18958 viewers across several ESA channels in different languages, culminating in the game climbing to 14 on the Twitch charts. It's a testament to the community's power that, when a big event occurs, the classics always seem to rise back up towards the top. The "Souls" series has carved out a unique niche for itself in this space where, even when they don't release a new title, their games maintain a healthy long term life on the Twitch platform, punctuated by huge audiences during speed-running events. It's an interesting direction to consider when figuring out how to best support your game(s). Could the speed-running community be the secret to your success?
4. Life is Feudal: MMO (+2664.17% Viewership, +400% Streams)
This survival RPG mmo has been out on the market as an early access title since January of last year and never really established a strong foothold on Twitch, reaching a maximum of 3502 viewers shortly after release, then falling to an average below 50 before May. Brief spikes not withstanding, that's been the norm for the title ever since.
This past week, however, the title released its latest 0.2.0 patch, adding a slew of new challenges, tweaks, and new content. The release has been a success, at least on Twitch, as the title has reached an average of 131 viewers and risen from an overall rank of beyond 1500 to as high as 128. Relative to where the game was, this is a substantial jump in both playership and viewership, and for an early access title it could mean that they're taking steps in the right direction. At the same time, however, actual player reaction to the release might not be as strong as these numbers would indicate, with it currently holding a "Mostly Negative" rating on Steam given 230 recent reviews. Can the team at BitBox Ltd. build on this modest success, or will we see it falling hard in the next week's rankings? We'll have to wait and see
5. King of the Hat (All Increases from Zero)
Instead of going free-to-play, King of the Hat was just flat-out free, this week, as the featured giveaway on the Discord store, and as a result had a momentary explosion of viewership thanks, primarily, to the contribution of streamer Northern Lion. With the price-point of zero, he was able to join up with is friends for a stream that lasted less than an hour, but reached over 7000 viewers. As it was essentially unwatched, prior to this point, this is enough of an upward swing to take its place as the last of our rising titles of the week.
Interestingly, there's probably more to learn here about the Discord Store than the game itself. As a storefront that hasn't yet taken its place alongside the big dogs like Steam, the release of a free game is, in many ways, a test of the platform's reach. How many will be enticed to use the store, and how many will, in turn, stream that title? Each is, in many ways, an indicator of the health and momentum of the store overall. Only the team at Discord can know how the over 500 streams in four days relates to engagement with their store in general. We'll be watching other free releases in the future to help paint a more full picture.  
Top New Games:
Devotion (1.1 Million Hours Watched, 70 Avg. Streams)
The follow up to Detention, a side-scrolling horror steeped in the real-life history and folklore of Taiwan that has carved out a small but meaningful niche in the gaming space, Devotion has taken the streamer space by storm. Released on February 19th, the title had reached a peak audience of over 101,000 viewers within three hours, at which point it was the fifth ranked game on Twitch overall. It's dropped as low as 103 since then, but still has managed to rise time and again into the top 50 games.
All signs point to this level of success being short-lived. Horror titles, particularly lesser-known indie titles, are the perfect material for a lot of streamers. The opportunity for jump scares and tension always make the interplay between the game and a quality creator deeply entertaining, but they're typically narrative driven games, the scares yielding diminishing returns as the mystery wears away, and the audience no longer feels the same drive to dive back in, now that the story is done. Devotion, in particular, is a short title, so it may experience a particularly short time at the top.
Still, this doesn't mean failure for the title; achieving this kind of immediate success can only be a positive indicator for sales of a title this small, and I'd imagine the time it spends in front of people over the next week or so will yield great dividends. It will be interesting to see how long it can hold the community's attention.
2. Trials Rising (96739 Hours Watched, 16 Avg. Streams)
This title actually doesn't see a full release until tomorrow, but the open beta went live on the 21st, and, during this test period, the game's seen healthy viewership on Twitch. Reaching a peak of nearly 110,000 viewers in its first day, and just under 170,000 on Saturday. All this has been achieved without a major streamer dominating their numbers, as well, with a healthy distribution of viewers across dozens of channels. That's one heck of a start.
The Trials series is one of those perfect set-ups for long term streaming. In addition to featuring exciting and chaotic multiplayer, the community that inevitably builds itself around each title in the series focuses on custom made courses, created by the players themselves, being shared as challenges. This kind of endless content is outstanding when designing with streaming in mind; it means there's always something new, something insane, something exciting for streamers to try, and they're often challenges from other members of the community, viewers and creators alike. That's part of the reason it seems people are already excited about the game; they know it's going to have a healthy lifespan on the platform.
The next week or two will be very telling as the title reaches full release. Will there be a paid influencer campaign to help it rise even higher on the Twitch charts, or will it rely on organic growth? We'll have to wait and see, but I'm excited to see how this game grows in the current streaming landscape.
3. Yakuza Kiwami (87828 Hours Watched, 19 Avg. Streams)
The Yakuza series continues to grow its fanbase in the Western market, this time with the PC release of Yakuza Kiwami, a remake of the original Yakuza, itself released way back in 2005. This new version has actually existed since early 2016, but only on the Playstation 3 and 4 consoles. Opening up to a new platform has clearly tapped into a new player-base that has been eagerly awaiting the opportunity to jump in.
Like Trials Rising above, there doesn't seem to have been a paid influencer campaign to coincide with the title's release; these viewership numbers are organic, and the total viewership is pretty evenly distributed across its channels, meaning this success might, in the short term, be sustainable, or even something to grow on. We're still early, here, and we'll have to wait until next week to see how it performed over the course of its first full weekend, but the appetite for this title is clearly there.
Now, once again, we have to add the caveat that any single-player, story-based title is going to have a limited lifespan on Twitch, unless it can carve out a more specific niche for itself. But, while we don't expect this success to last forever, it will be interesting to see how much excitement can be wrung from this expansion to the PC platform. It could be informative for other publishers looking to branch out in the future.
4. Dirt Rally 2.0 (30,721 Hours Watched, 7 Avg. Streams)
Like Trials Rising, Dirt Rally 2.0 doesn't fully release until tomorrow, but those who've purchased the "Deluxe Edition" have had access since 2/22, and some creators have actually had their hands on the game since the 17th, though we have no insight as to why this would be the case. Still, early viewership reached approximately 1000 viewers, with a peak of 59 channels streaming the title for an audience of almost 4000 viewers by the 23rd.
Unlike Trials, Dirt Rally is more of a pure racing game, and their success on Twitch is somewhat variable. Games that focus on constant additions of new upgrades and vehicles while also sponsoring frequent competitions tend to do well, while those that rely on the content that came at release will usually have a shorter lifespan.
Dirt Rally 2.0 features a large number of such options, and plans a fortnightly DLC schedule to support the game moving forward. These are strong decisions that should put the game in a strong position. As we enter the full release period, we'll have to watch to see if playership and viewership increase. Sometimes, an early access audience represents the largest audience you'll draw. It's possible to peak to early, and while I don't expect that to happen here, the next week will be very telling. We'll be watching intently.
5. KurtzPel (30,979 Hours Watched, 54 Avg. Streams)
KurtzPel is a PvP/PvE action title featuring stylized anime action in a third-person perspective. While not yet released, the title held its global open beta from February 20-25, and the result was a healthy surge of viewership, reaching an average of 551 viewers over that time and accruing nearly 37,0000 hours of streams watched. Not a ton of creators had access to this title, with a peak of 219 channels at launch quickly dwindling to an average closer to 65. The game reached an average of 50 viewers at any given time during its beta.
There's not a ton that can be gleaned this early, particularly when even an early access release date is still under wraps. It's unclear when the next beta or any such release will take place. Still, with no major streamers having signed up to overly influence their numbers, there's clear evidence here that the team at KOG might be onto something. A steadily engaged audience during a small beta like this is a positive sign that players and viewers are both interested. We'll be keeping an eye out on how the rest of their beta goes, and what else is in store for the future.
Top Falling
1. Metro: Last Light (-90.12% Total Viewership)
This is what happens when the excitement leading up to a new release of an IP gives way to the release itself. In the weeks leading up to the release of Metro: Exodus, players and viewers everywhere were excited to prime the pump by reliving the previous entries in the series. That's what led to the dramatic rise of Metro:Last Light the previous week, and it's what leads to its fall now.
Of course, this is really a good sign. Particularly if Metro Exodus is doing well (We checked. It is.), this generally means that the people who were playing and watching Last Light the previous week have transitioned over to Exodus, and that the work that was done hyping up the new title is bearing real fruit. It's always interesting to watch this dance, between old entries and new entries in established franchises, and as we get to see more examples, we look forward to identifying the patterns that indicate which titles will succeed, and which will not.
2. Project Winter (-93% Total Viewership)
Project Winter was the big surprise of last week's rankings. An eight person competitive survival arena, the combination of the perfect number of players, a unique setting, and the promise for consistent development quickly attracted the attention of some big-time players in the streaming space. It doesn't seem that attention has lasted.
Right now, Project Winter sits at a "Mixed" overall review score on Steam from 147 reviews, and while that's not always a reliable indicator of how a game has been received, its coinciding with such a steep drop off in playership doesn't bode well.
General themes of their negative feedback have mostly been based on the game's price, and that's actually a positive sign; players seem to think the team itself is on to something potentially quite fun and exciting. Still, since the previous week, the title's viewership numbers have dropped a whopping 93%. It's going to take a lot of consistent updates and openness to player feedback to turn that around.
3. The Stillness of the Wind (-98% Total Viewership)
I love games like The Stillness of the Wind, and it's exciting to see that others still love them too. An atmospheric adventure game, the title combines old school mechanics with a novel and mesmeric art design. And yet, like all adventure games it was never going to last long on Twitch.
Indie games of this type, in particular, are never likely to see huge viewership numbers over the long haul. They already have to struggle to be seen or noticed, and even then they're appealing to an increasingly niche audience. Meanwhile, these games have to contend with the issues that all single-player story-driven games must face, being that once it's over the first time, there's not much interest in going back, for the player or the viewer.
All that to say, The Stillness of the Wind fell off to almost nothing this week, but it was after reaching an audience in excess of 12,000 peak viewers during the previous week, a real success for a game of this size. I'm pumped that so many were able to experience this game, even if it was over such a short time. I hope we hear, soon, that it translated to healthy sales to go along with its "Very Positive" score on Steam.
4. Sunless Skies (-94% Total Viewership)
Sunless Skies, the spiritual successor to its ocean-baring cousin Sunless Seas, experienced the typical drop-off for a single player game entering its second real week of viewership. As covered above, this neither represents a surprise, or a failure for a game of this type. These games leverage text to tell the majority of its story, and legitimately might be more fun to play than watch. That being said, in its first week of release, it drew significant enough interest to reach a peak of over 12,000 viewers across an average of of 852 channels. That's a nice chunk of eyeballs.
Yes, that viewership has fallen off dramatically, but we'll be anxiously awaiting any news about the game's sales numbers, as we believe this initial burst of streams to be a strong indicator of early success. We anxiously await more information.
5. Hand Simulator (-94.7% Total Viewership)
In our one example this week of a single streamer wildly affecting our Twitch rankings, streamer Squeezielive streamed Hand Simulator to a peak of 41,538 viewers on February 14th. Given that the title has been out since July of 2017, this was a massive swing for the title's viewership, rocking it from an overall Twitch rank of 2595 on the 13th to a peak of seven only a day later.
But, between February 15-22, no such stream occurred, outside of a less than 30 minute foray from sodapoppin that reached well below his average viewership, and so it has fallen back towards the bottom of our rankings. It will be interesting to watch and see if anyone with a large audience picks the title up again and draws more attention to the game. Until then, we expect Hand Simulator's times in the spotlight to be few and far between.

---
Follow us on Twitter and LinkedIn for all the latest blogs, announcements, and game marketing news from the team at GAMESIGHT!