#Top5OnTwitch May 11th - 17th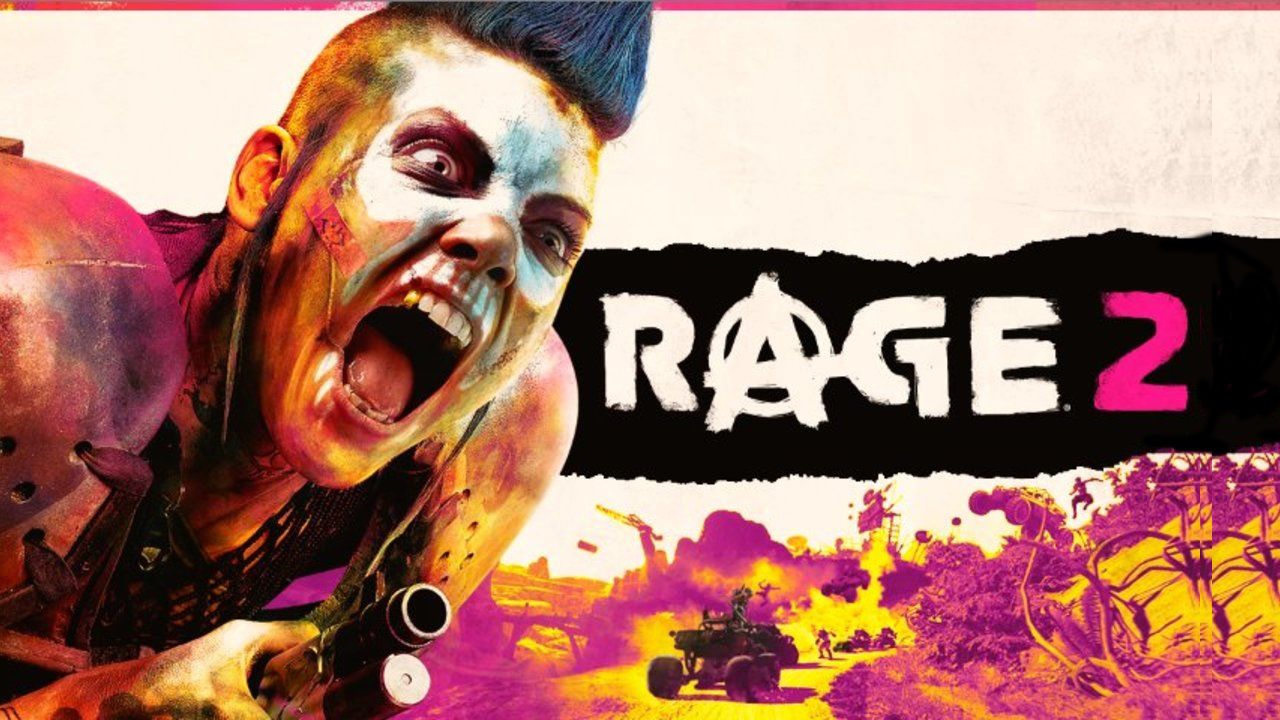 Which games are rising on the Twitch charts? Which titles are sliding? We bring you the hard numbers and reaction, every week, in the GAMESIGHT power rankings!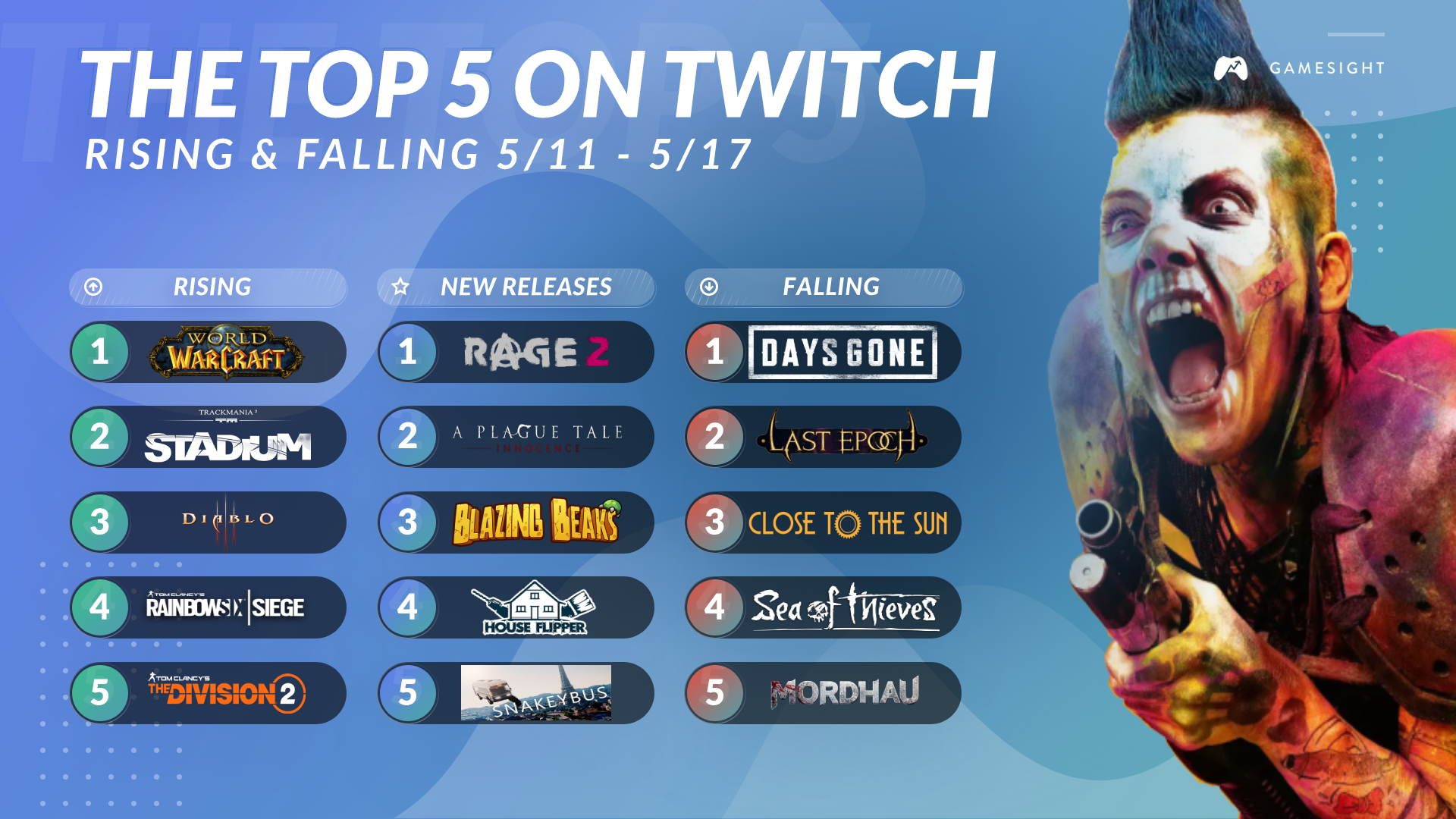 Note: The following rankings are based on a combination of both gross and percentage change to viewership and total streams. As such, dominant and stable titles near the top of the charts will not always, or often, appear. To compare to last week's rankings, click here.
---
Top 5 Rising
1. World of Warcraft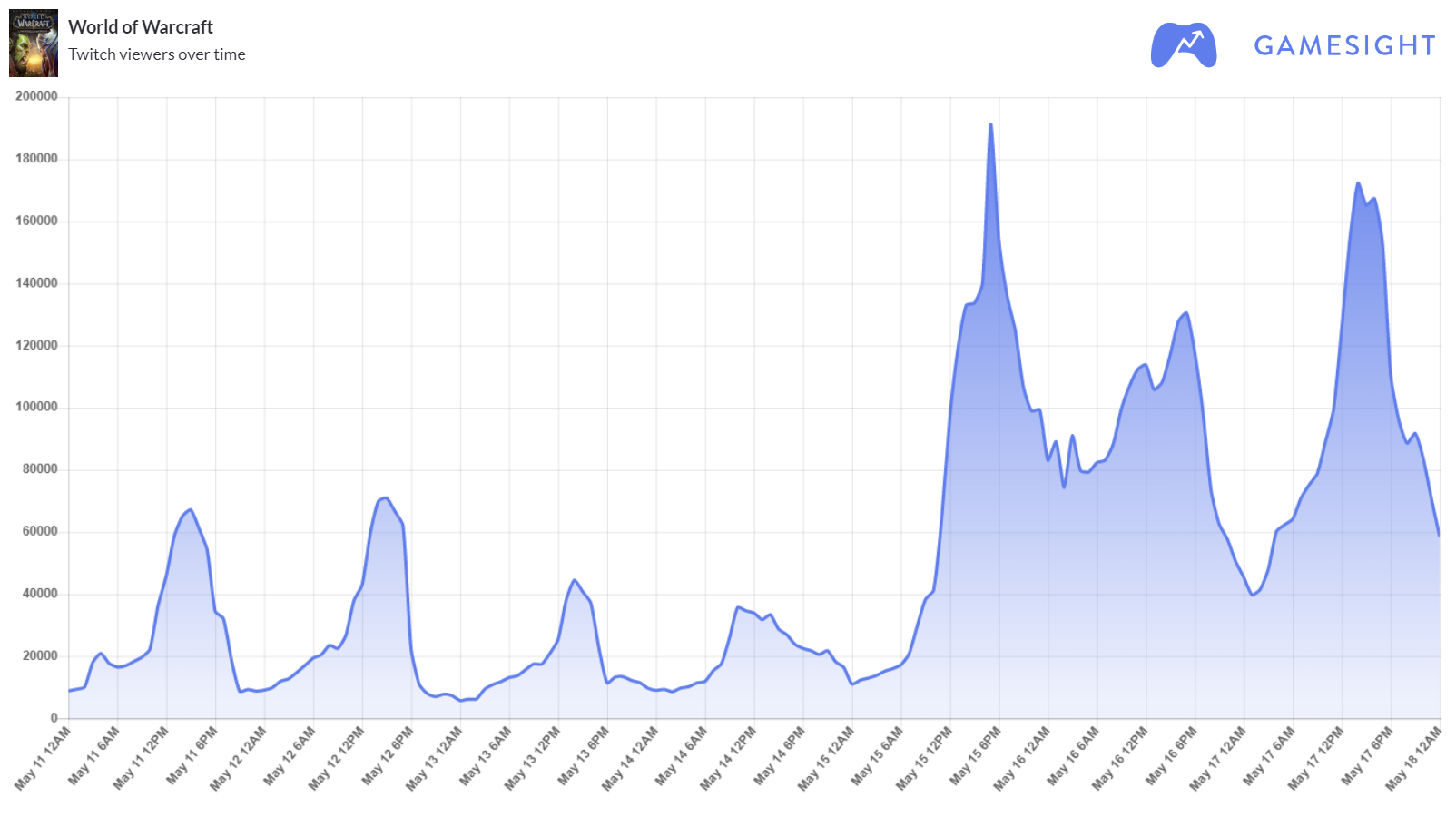 Increase Total Viewership: 7,760,155 Hours (264.26%)
Increase Total Streams: 3473 Channels (16.40%)
World of Warcraft Classic is a forthcoming relaunch of the seminal MMORPG's original version, before the myriad changes and expansions made over the last fifteen years, and the community is pumped. Already, some of the most influential creators in the space have participated in the beta, and that plus the buzz of the forthcoming release this August have resulted in a huge spike in WOW's overall viewership, the largest raw increase on Twitch for the week.
Much of this increase comes from two creators: Sodapoppin (2.2 million hours) and Asmongold (1.7 million hours), who are responsible for approximately half of the title's total gains in viewership. This seems to indicate that this boost in attention might be temporary, at least for now. There's still a significant amount of time before WOW: Classic releases, and it stands to reason that top creators will move on in that time, at least until they can dive into the game properly. Still, this fantastic week of viewership shows just how much the community is anticipating this release, and how effectively WOW has entrenched itself in the gaming and streaming spaces. Fifteen years after release, it's still hitting the top of the charts.
2. Trackmania Stadium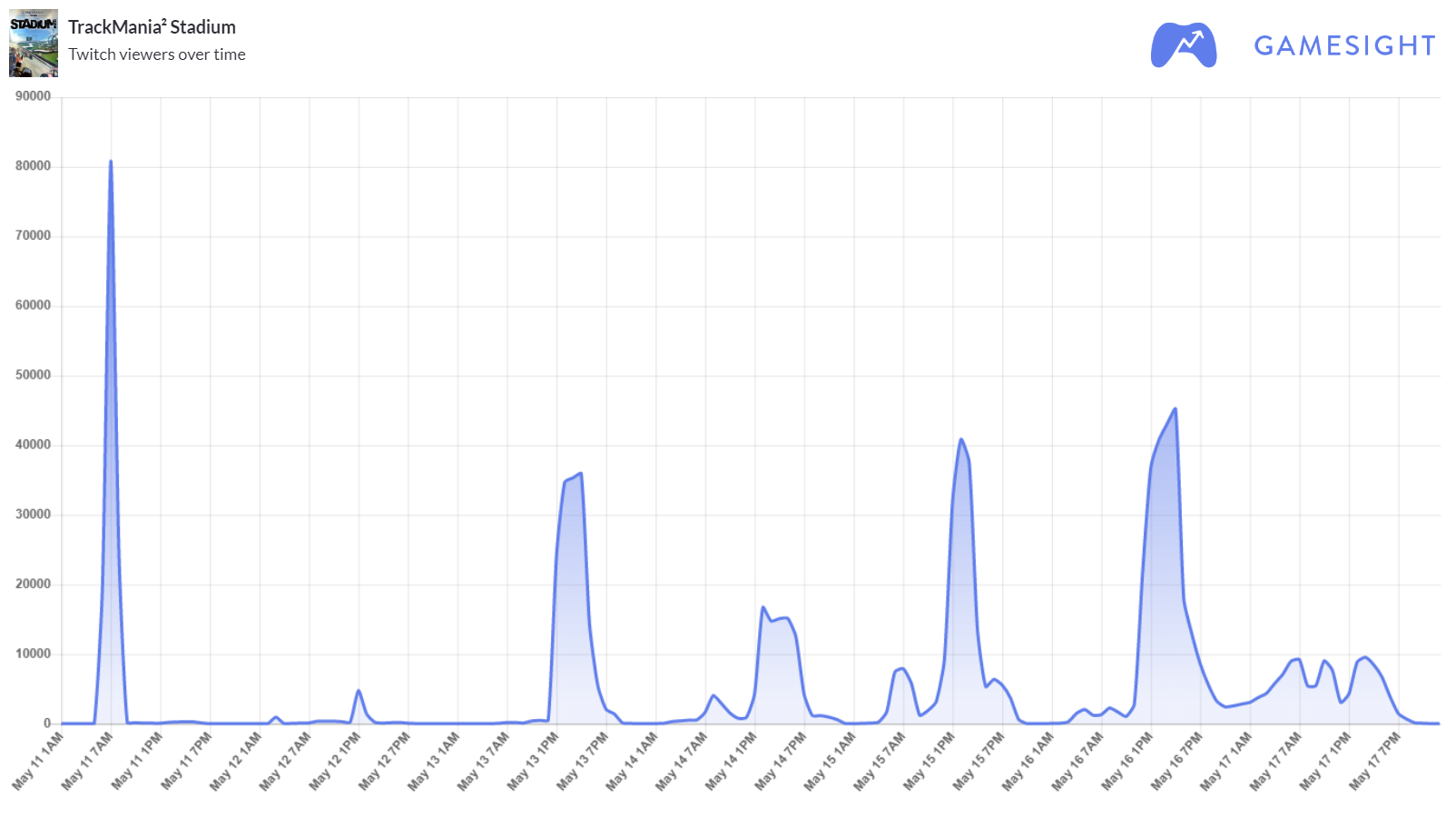 Increase Total Viewership: 1,004,945 Hours (1014.34%)
Increase Total Streams: 710 Channels (229.03%)
Here we have a less than well-known title rising up the charts on the strength of an upcoming competition and all of the training that goes into preparation. The "ZrT Trackmania Cup," held by creator and Esports organizer ZeratoR since 2013, is set to take place on June 29th, and his announcement of that tournament, plus preparation for it, resulted in one of the largest relative increases in overall Twitch presence for the week. Given how little attention the game was receiving prior to this point, it will be fascinating to watch how long this energy can be maintained, and if it lasts all the way up to the tournament itself. Regardless, its enormous growth over the past week is very impressive, enough to take one of our top spots for this week's rankings.
3. Diablo III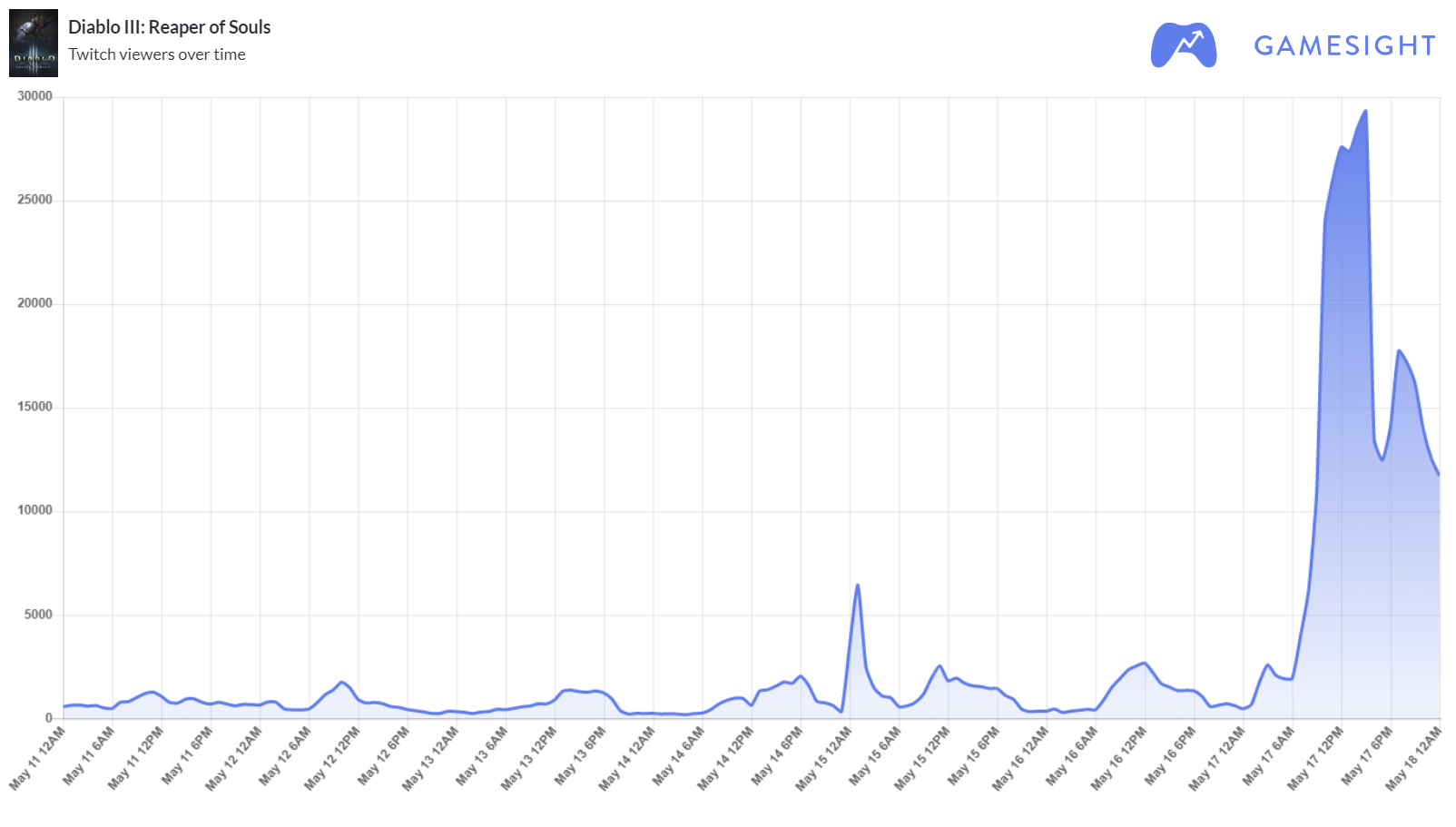 Increase Total Viewership: 665,216 Hours (567.03%)
Increase Total Streams: 4316 Channels (246.49%)
Consistent, quality updates are what keeps a game like Diablo III alive, and this week is a great example. On the final day of the week, the game's seventeenth season of content went live, adding new difficulties and character buffs to the already robust title. Immediately, this resulted in a huge spike in both playership and viewership, with nearly all of this week's impressive gains coming in just the one day.
Viewership is reasonably well distributed as well, with only one streamer accruing more than 100,000 hours, which means that this increase isn't caused by only one or a small select group of creators. Next week, we expect these numbers to increase even more, with seven full days to reach a larger audience. It's endlessly impressive when a more traditional game, without a massive open world and multiplayer, can keep hitting the charts. The team behind Diablo III clearly know how to keep their players engaged.
4. Tom Clancy's Rainbow Six: Siege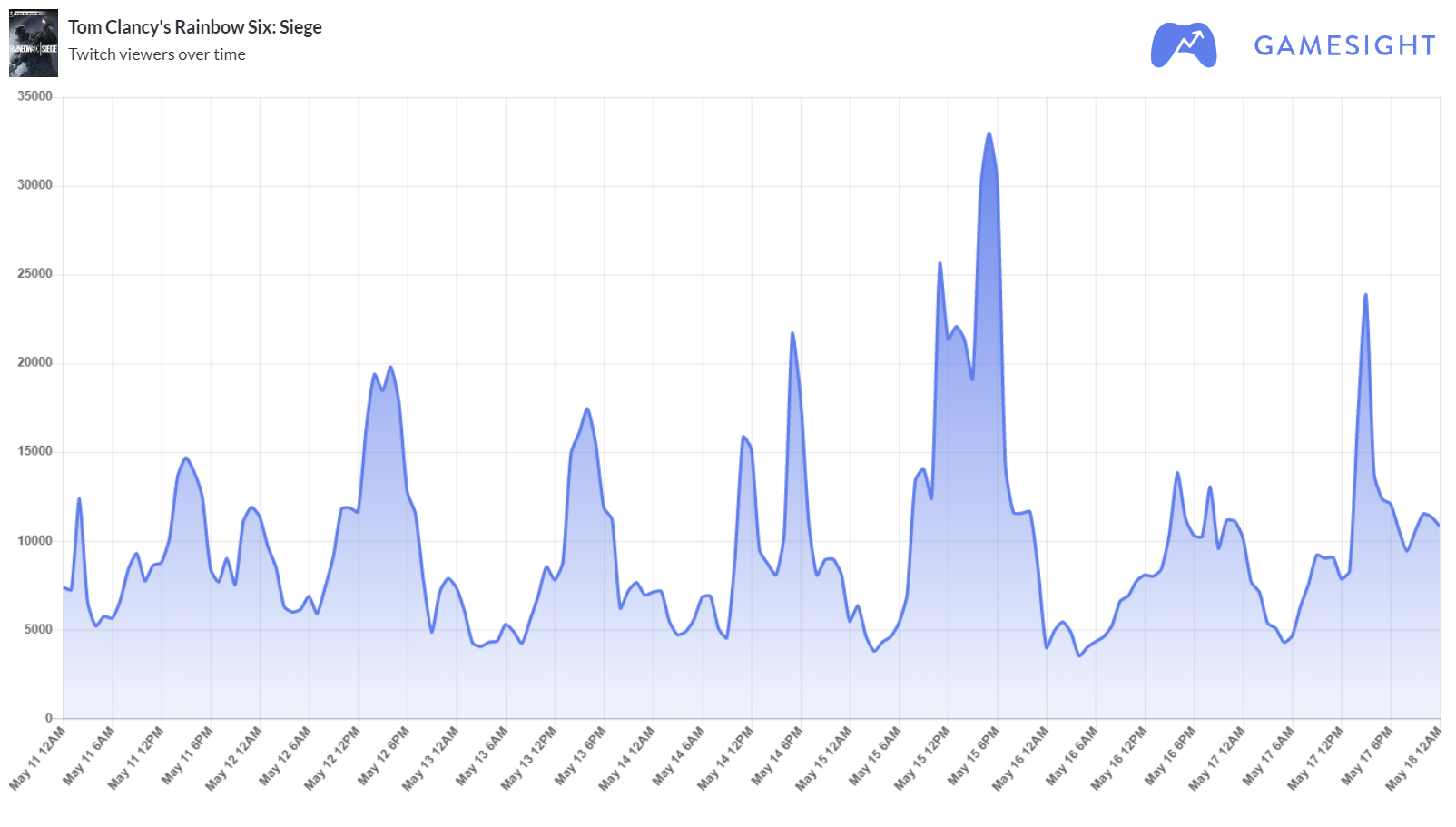 Increase Total Viewership: 1,273,736 Hours (91.53%)
Increase Total Streams: 7168 Channels (22.29%)
With hype building for the second season of "Operation Phantom Sight," the game's most recent and ongoing expansion, Siege nearly doubled its overall viewership as details began to emerge. The full reveal of the newest content actually occurred on May 19th, two days after the conclusion of week to which these rankings pertain, so it's likely that this growth will continue into next week. With viewership reasonably well distributed amongst its streamers, one big creator leaving won't tank the game's numbers, so this should be reasonably sustainable, at least in the short term. It will be fascinating to watch how this pre-release hype plays out, and whether it feeds into even more good news once the expansion actually goes live.
5. Tom Clancy's The Division 2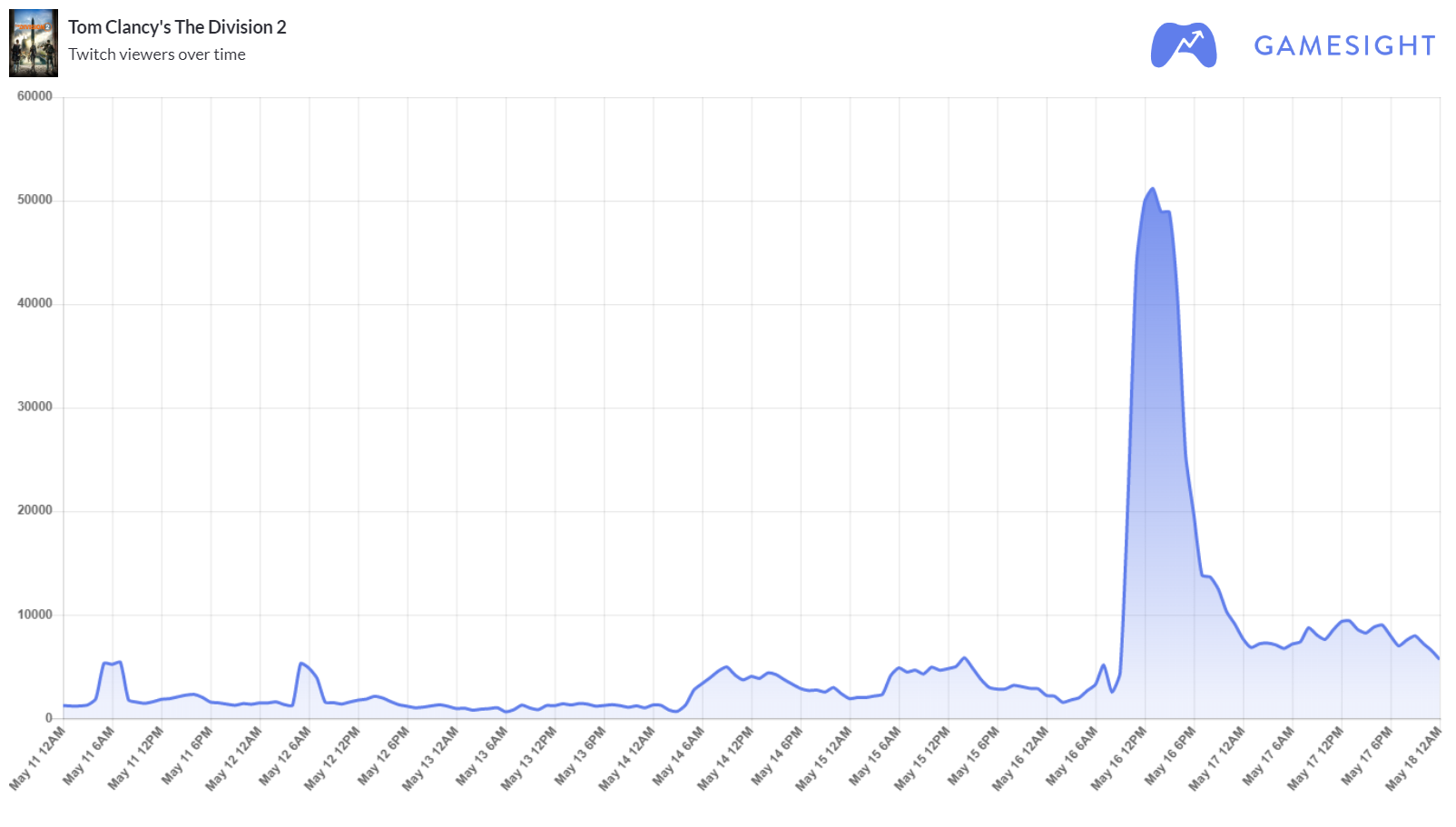 Increase Total Viewership: 779,755 Hours (289.72%)
Increase Total Streams: 3086 Channels (38.76%)
The live-service loot shooter's first ever raid, "Operation Dark Hours," was released on May 16th, and it immediately shot The Division 2 back up towards the top of the charts. Something we've long seen with its genre predecessor, Destiny, is that raids galvanize a title's entire community, bringing them back en masse and dramatically increasing the game's appeal for viewers. In addition to simply being new content, raids often revolve around complex problem solving and teamwork, things that make for great content when you're watching your favorite creators. For the aforementioned Destiny, the hype around raids tends to last at least a week. We'll have to wait and see whether The Division 2 can follow a similar pattern.
---
Top 5 New Releases
1. Rage 2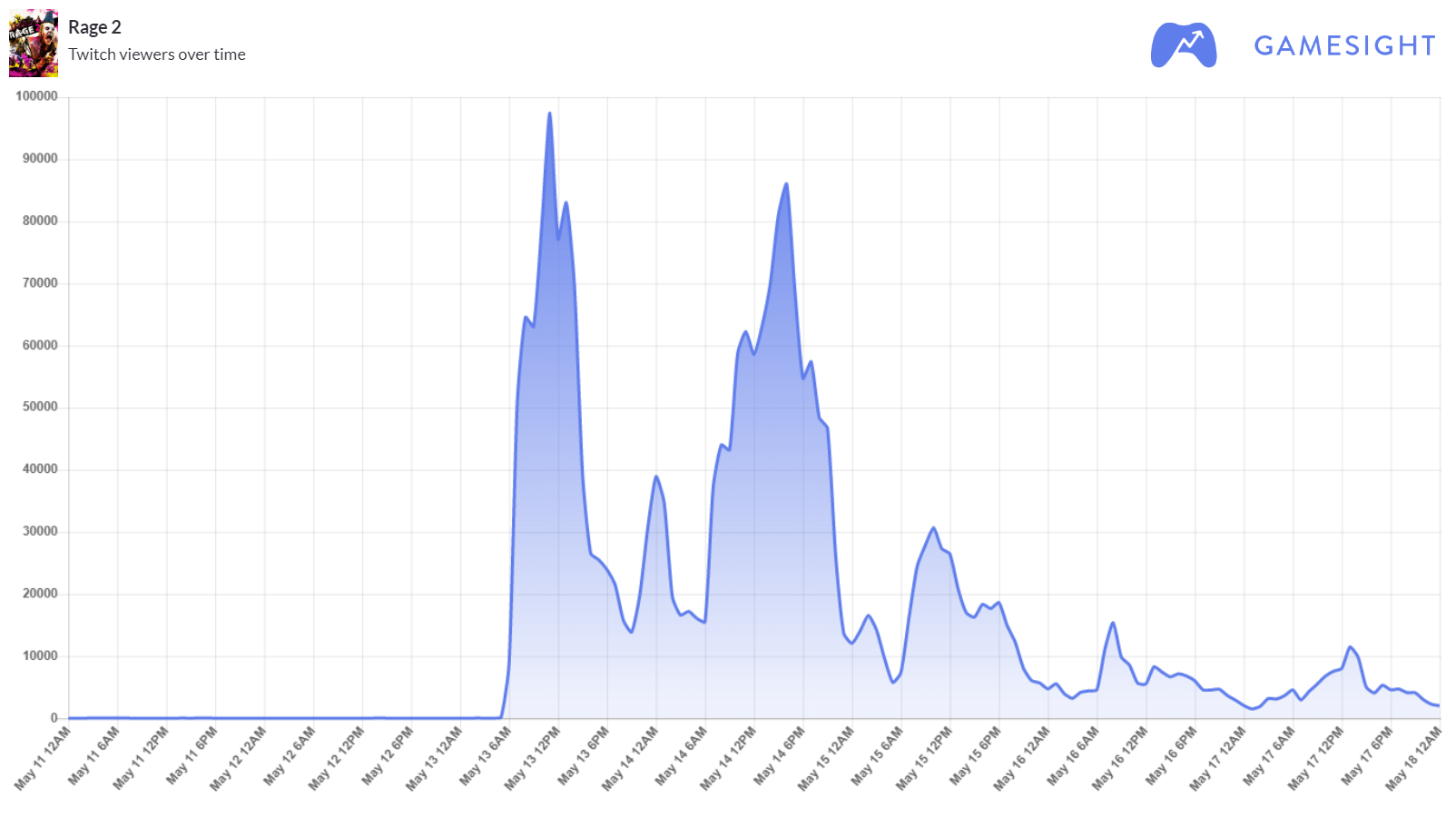 Total Viewership: 2,673,410 Hours, 12th Overall
Total Streamers: 8417 Channels, 25th Overall
No real surprise here. Rage 2 was, without question, the most anticipated release of the week, seeing an enormous marketing push leading up and coverage on all the major gaming sites, so it makes perfect sense that it would emerge as the most successful new release for the week on Twitch. With its combination of post-apocalyptia, thrilling gunplay, and lovingly crafted digital explosions, there's a lot to like in regards to the game's streaming appeal.
All that said, the title's top four contributors were responsible for nearly a third of the game's total viewership, and there was a substantial drop off in audience by the weekend, which tends to reflect a game that's having some trouble sticking with players. Reviews of the game have been a bit all over the place, as well, which can't help. So, while it's our top performer for the week, it will be very important to wait and see how it performs in the week to come. If the trends seen above continue, it won't remain an important player in the streaming space for very long.
2. A Plague Tale: Innocence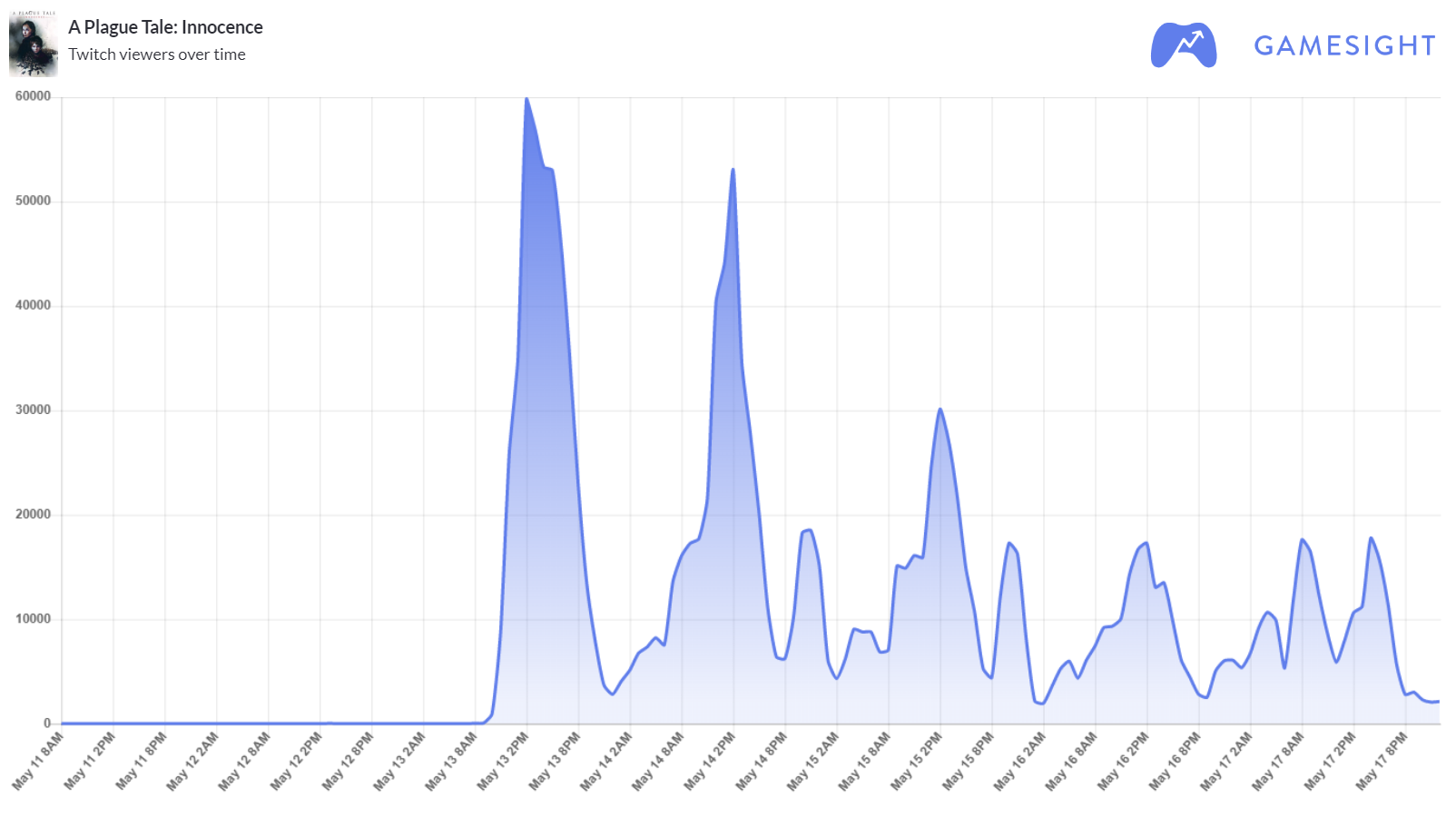 Total Viewership: 1,812,645 Hours, 19th Overall
Total Streamers: 4919 Channels, 43rd Overall
It's really cool when a smaller game, built around a tight story and affecting gameplay, can emerge on Twitch, seemingly out of nowhere. A Plague Tale is one such game, something that typically wouldn't see much success in streaming, but emerged during its release week seemingly because it was simply just that good. The stealth-oriented title was picked up by big-time creators like LIRIK, Alanzoka, and CohhCarnage, but also more than 4900 others, creating this big wide platform of streamers all showing the game off for their audiences.
How long can success like this last? Likely not much longer. While the game is, apparently, spectacular, it's not particularly long, and once creators have finished the story its unlikely they'll dive back in, as it's not a very replayable title. Creators seem to get all the way through within three streams, typically. Still, this week along is evidence that the game has been a surprising success, and, given its genre, it's likely that this extends well beyond streaming and has led to fantastic sales. We're unlikely to see this game in our rankings again, but that doesn't make it any less impressive.
3. Blazing Beaks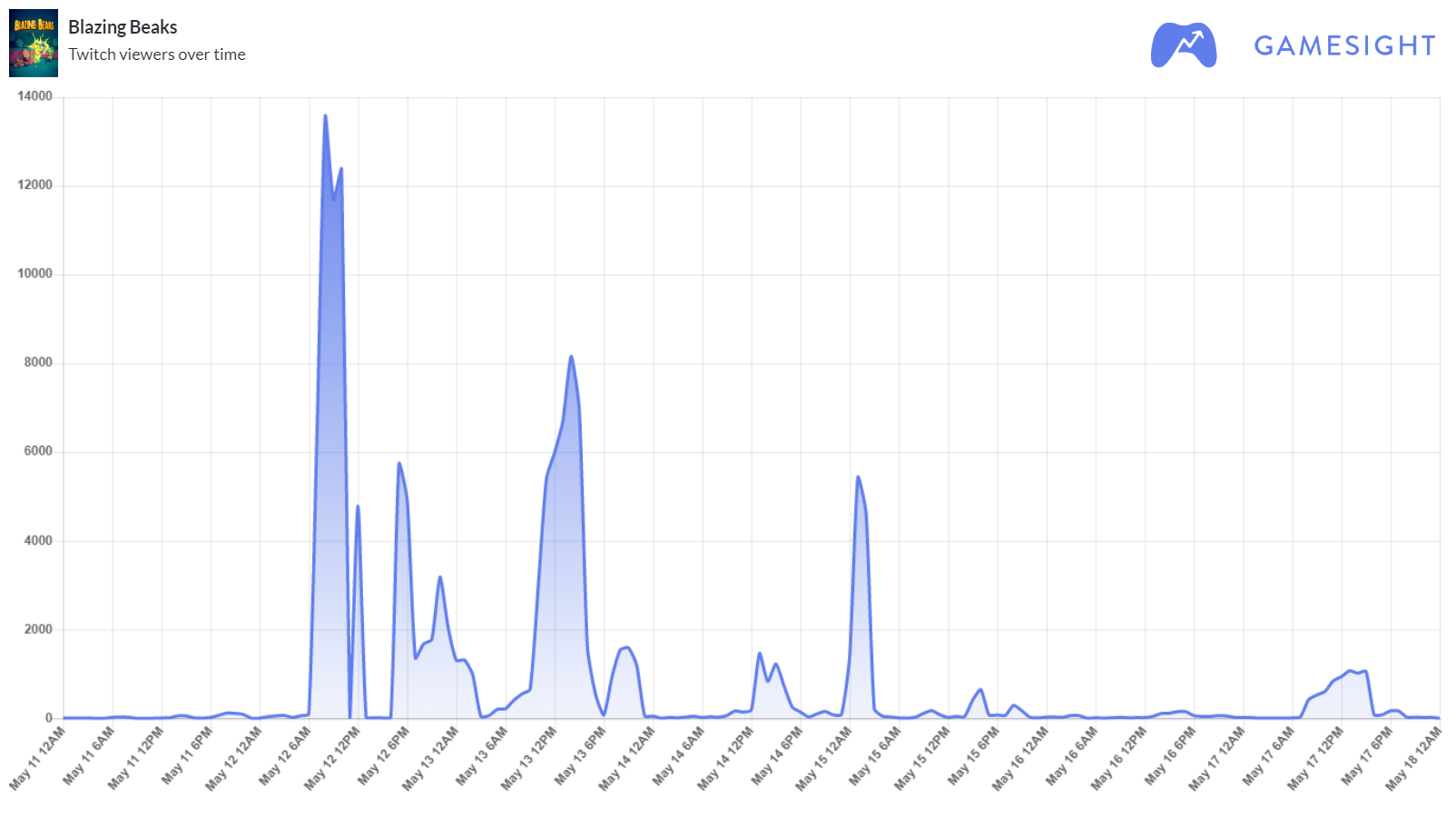 Total Viewership: 150,394 Hours, 98th Overall
Total Streamers: 299 Channels, ~430th Overall
Extending beyond the major releases of the week, we find that Blazing Beaks takes the third spot in our rankings based on its impressive top-100 overall viewership. While the title did attract some larger streamers, even LIRIK, none seemed to play the game for more than a couple hours. This results in large chunks of viewers from shorter, more fleeting streams. As you can see above, this viewership did not maintain well as the week went on, and it's thus unlikely that this title will continue to rise up the charts. Still, a very solid debut for this small game from Applava.
4. House Flipper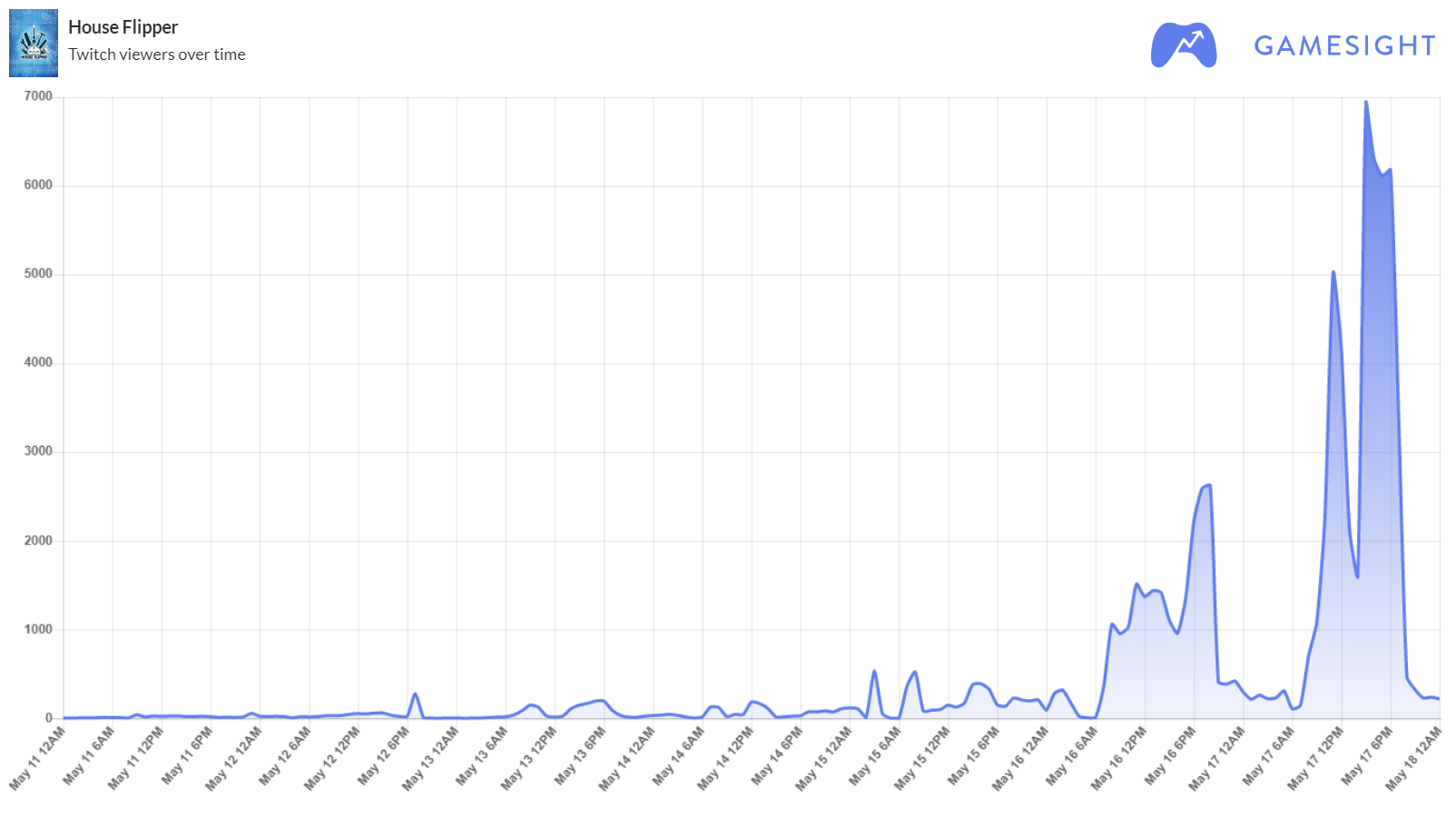 Total Viewership: 120,801 Hours, 116th Overall
Total Streamers: 852 Channels, ~205th Overall
House Flipper is a home renovation simulator that released on the final day of the week for our rankings, and while its numbers don't compare to the top two titles on this list, it was a close call between it and the title immediately preceding it for the third and forth spots. Once again, we have reasonably well distributed viewership across the channels streaming the game, so while the audience remains small, its possible that it will enjoy some real stability, at least for the next week, as no one or handful of creators are responsible for the majority of its views. Is it a small success? Sure. But, this week, it was good enough to take one of the top spots for new releases, and that's something to be proud of.
5. SnakeyBus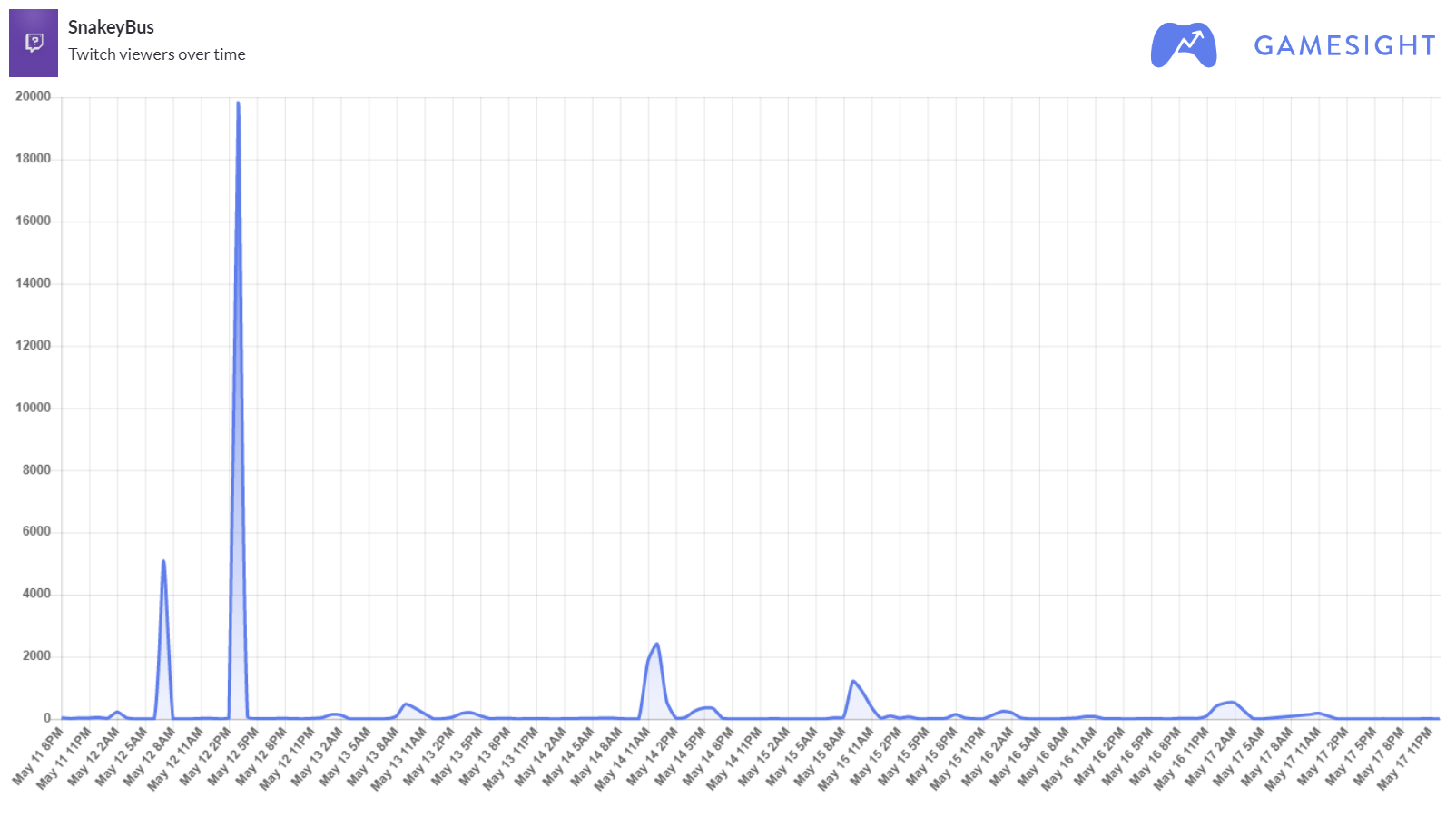 Total Viewership: 37,227 Hours, 263rd Overall
Total Streamers: 158 Channels, ~650th Overall
Crazy Taxi and Snake had a baby, and it's called SnakeyBus. With very limited viewership outside of a single day, this title makes our list entirely because of the participation of a major streamer. Once again: LIRIK. While he didn't play the game for even an hour, his limited interaction brought in nearly 20,000 viewers, more than half of the title's overall total. Once he put the game down, the game's numbers fell nearly to nothing, as you can see above. This serves as a great example of just how important a single streamer can be when you're promoting such a small title. Without him, this game would never have reached even its modest level of Twitch success. With him, it takes the final spot in our list of the top 5 new releases.
---
Top 5 Falling
1. Days Gone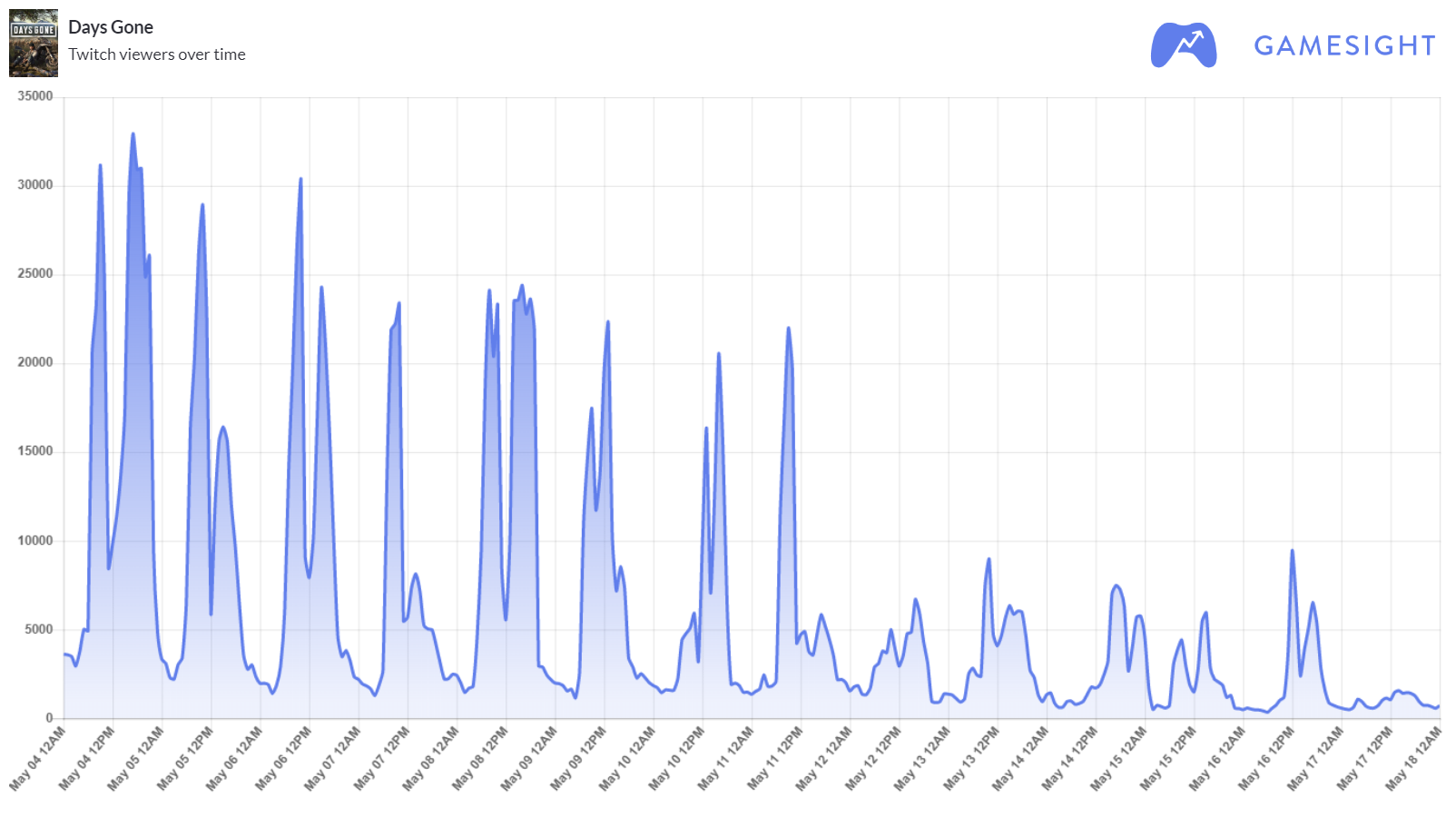 Decrease Viewership: 940,841 Hours (64.22%)
Decrease Streamers: 2506 Channels (21.52%)
The predictable fall which began last week continues now, as Days Gone loses an increasing number of viewers and streamers as they latter finishes the main story and finds they've seen all they have to see. We've spoken at length, in the past, about AAA single-player titles and how, even though they don't last more than a month, typically, on Twitch, it doesn't mean the game's aren't successful. This game only has so much to lose because it emerged so strongly upon release, and the fact that it rose to the top of our charts first is a strong indicator of quality sales. It might be that we're coming to the end of its run, but Days Gone has proven to be a massive success on Twitch. It's position on this list, now, shouldn't be anything but a source of pride for the game's team.
2. Last Epoch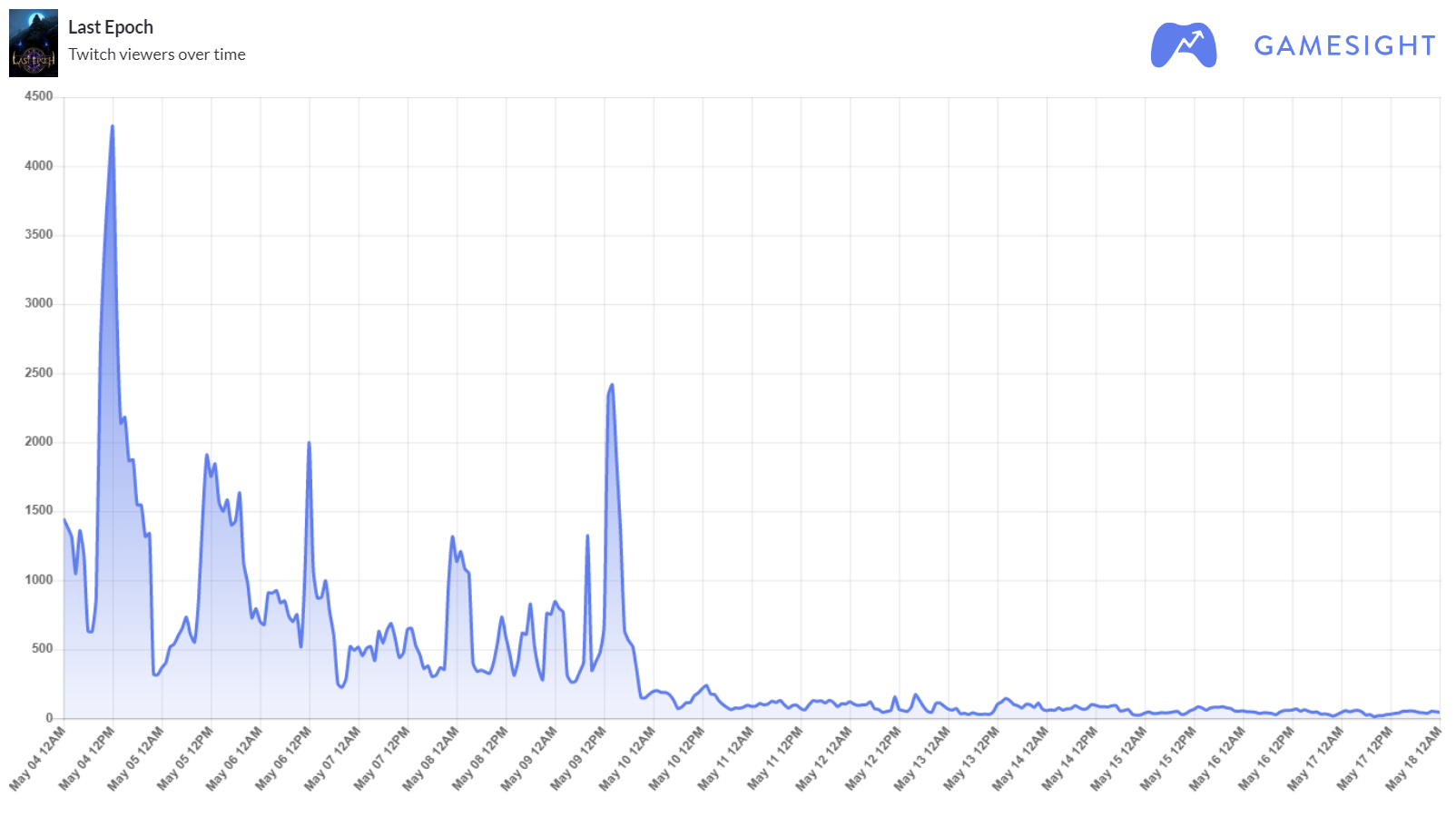 Decrease Viewership: 92,292 Hours (87.97%)
Decrease Streamers: 284 Channels (61.33%)
Unlike the game above and it's somewhat gradual decline, this hack and slash action RPG from Eleventh Hour Games completely fell off the map, this week, losing more than half of its creators and nearly all of its viewership. An early access title, particularly one following in the footsteps of Diablo III and similar action RPGs, needs to see constant updating and improvement to keep players engaged. It doesn't seem that Last Epoch has much to offer that players haven't already seen, and, as a result, all of its streamers with real audiences have moved on. Major updates in the future could bring the title back from the brink, but it's going to take a lot of work to make Last Epoch relevant again.
3. Close to the Sun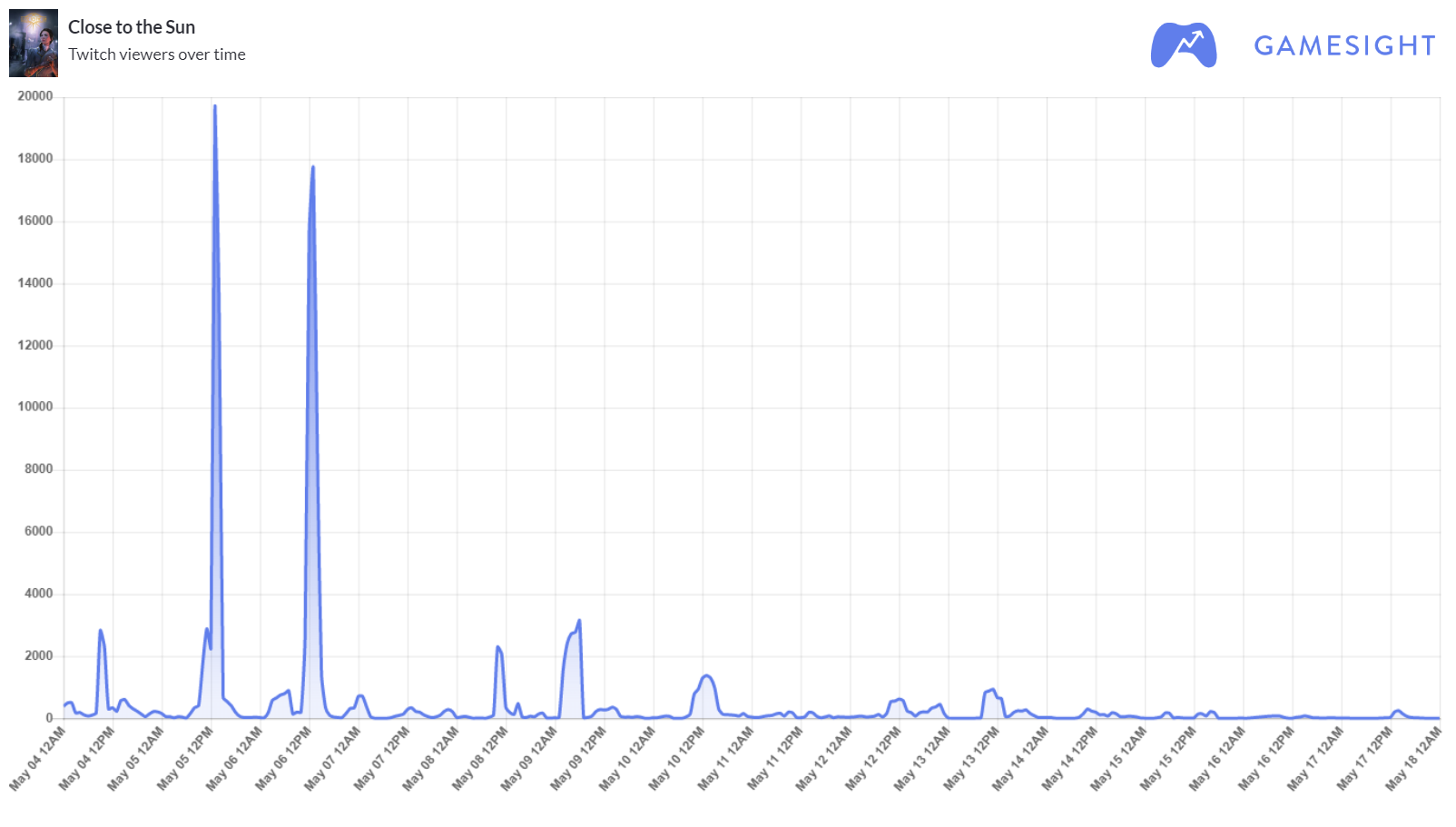 Decrease Viewership: 110,917 Hours (84.39%)
Decrease Streamers: 163 Channels (41.48%)
Here we have another small-scale single-player title, built around story and atmosphere, that simply didn't grab on to Twitch contributors as well as it would have liked. With a game like this, you hope that its initial surge of players love the game so much that their recommendation to play it really carries weight. This is a story to be experienced, played instead of watched, as opposed to multiplayer action titles, so the hope is that creators push viewers into experiencing it for themselves. At least as indicated by the streaming numbers, it doesn't seem to have been the case here.
4.Sea Of Thieves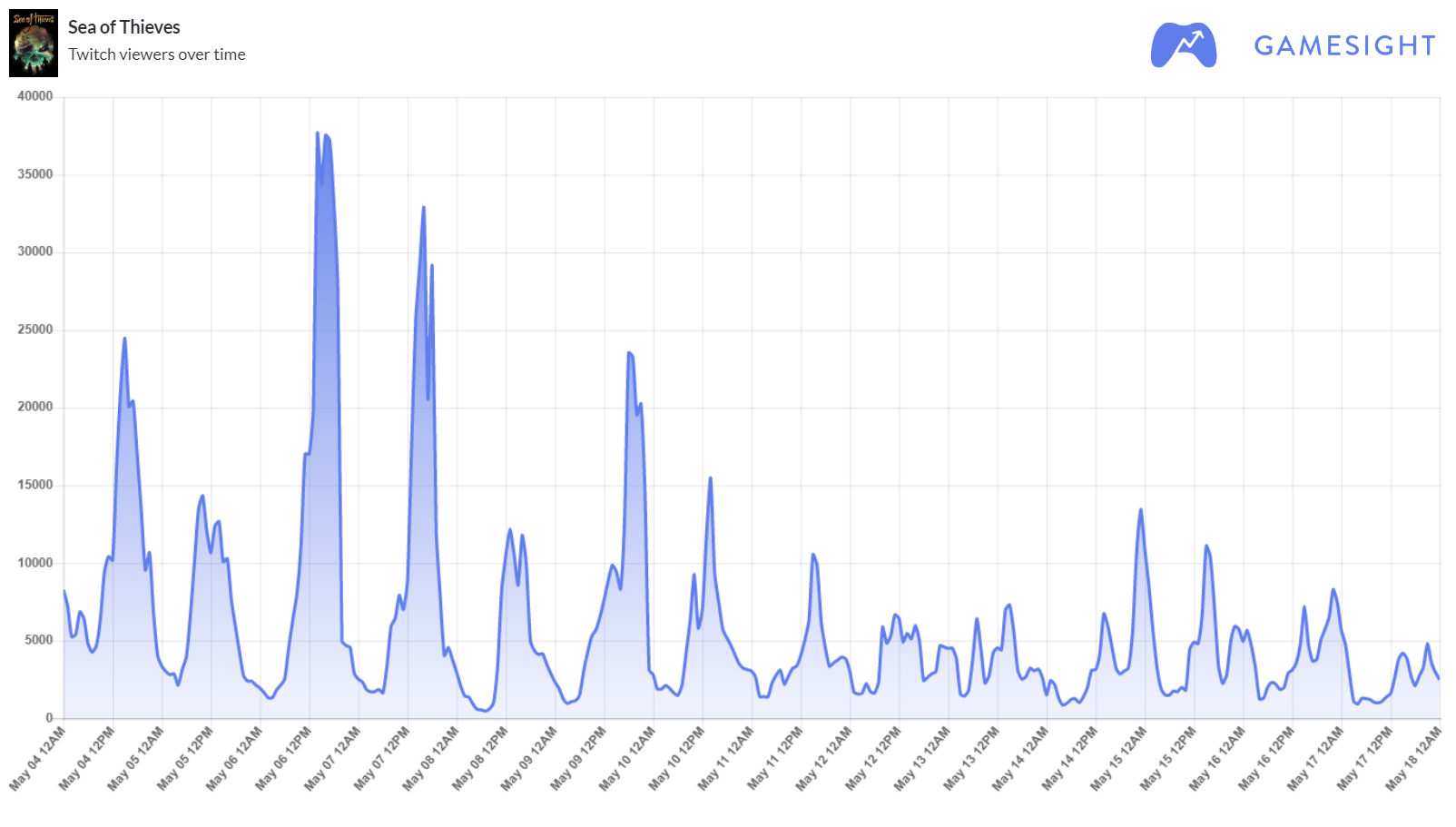 Decrease Viewership: 623,224 Hours (47.26%)
Decrease Streamers: 440 Channels (4.22%)
Our last two titles on this list are actually in fantastic places, in regards to their streaming presence. Looking at Sea of Thieves first, it's true that the hype of their latest update, which rose it to the top of our charts recently, appears to have worn off, and that's resulted in a significant reduction of viewers. However, this did not coincide with a comparably drop off in total streamers. In fact, very few streamers left at all. It seems that this latest update did, indeed, draw players back in, and did so sustainably. With a solid foundation of streamers sticking around, even as it's losing viewership, Sea of Thieves is in a great place.
5. Mordhau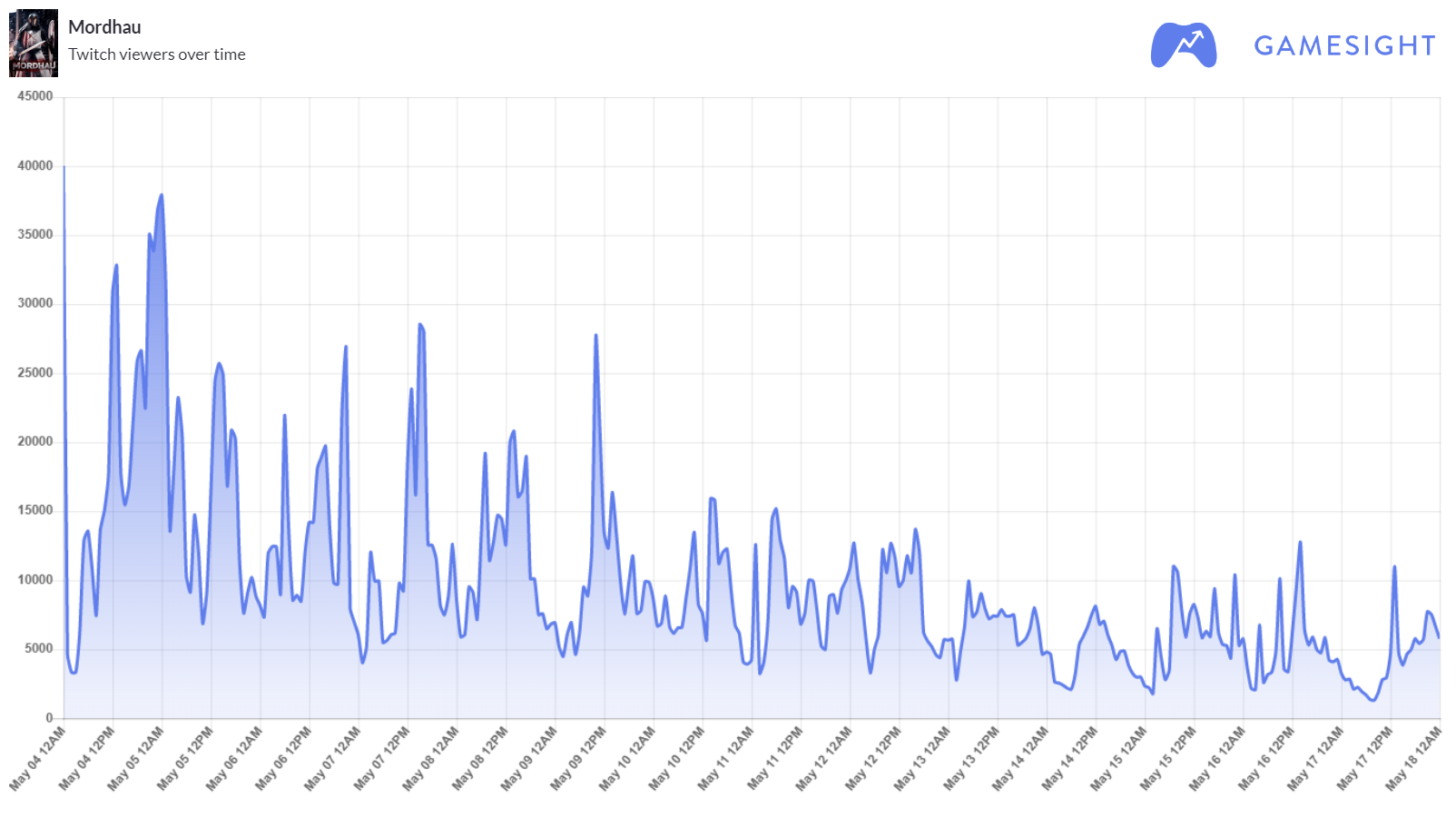 Decrease Viewership: 851,832 Hours (42.17%)
Decrease Streamers: 130 Channels (1.01%)
And, if Sea of Thieves is in a great place, Mordhau is in a spectacular one. While, once again, there was a rather sizable reduction in overall viewership, the game lost practically none of its large population of creators. For a multiplayer title, built upon community and interaction, that's a stable as you can get, and it speaks to a game that has the potential to stick around for a long, long time. If you can keep your streamers engaged to this degree, it gives you an incredible foundation upon which to build moving forward, as more content and updates see release, increasing the game's relevance and pulling in more and more players. While it takes the final spot of our falling list for this week, Mordhau finds itself in an extremely enviable position. It'll be exciting to see where it goes from here.
---
To compare to last week's rankings, click here. We also broke down why rumors of Grand Theft Auto: Roleplay's downfall might be totally unfounded, here. Follow us on Twitter and LinkedIn for all the latest blogs, announcements, and game marketing news from the team at GAMESIGHT!