#Top5OnTwitch for August 3rd - 9th
Which games are rising on the Twitch charts? Which streamers are dominating the most popular titles? Check out our official rankings!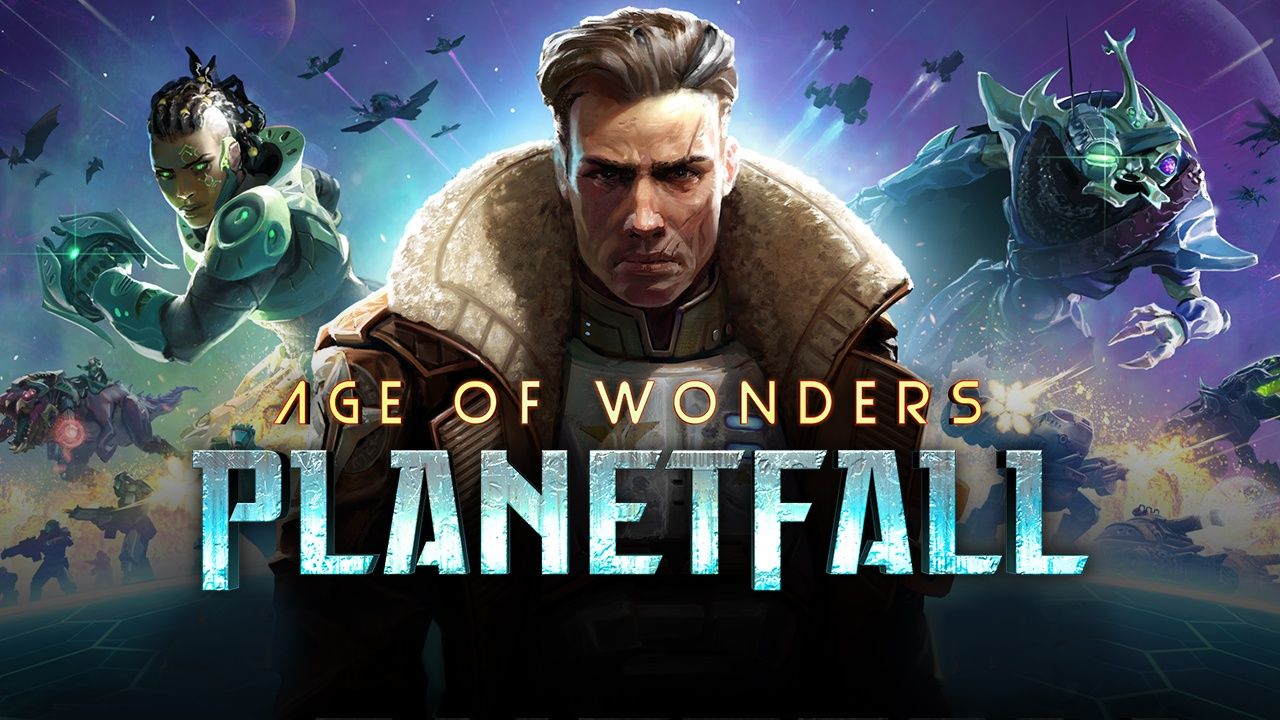 Which games are rising on the Twitch charts? Which streamers are dominating the most popular titles? Check out our official rankings!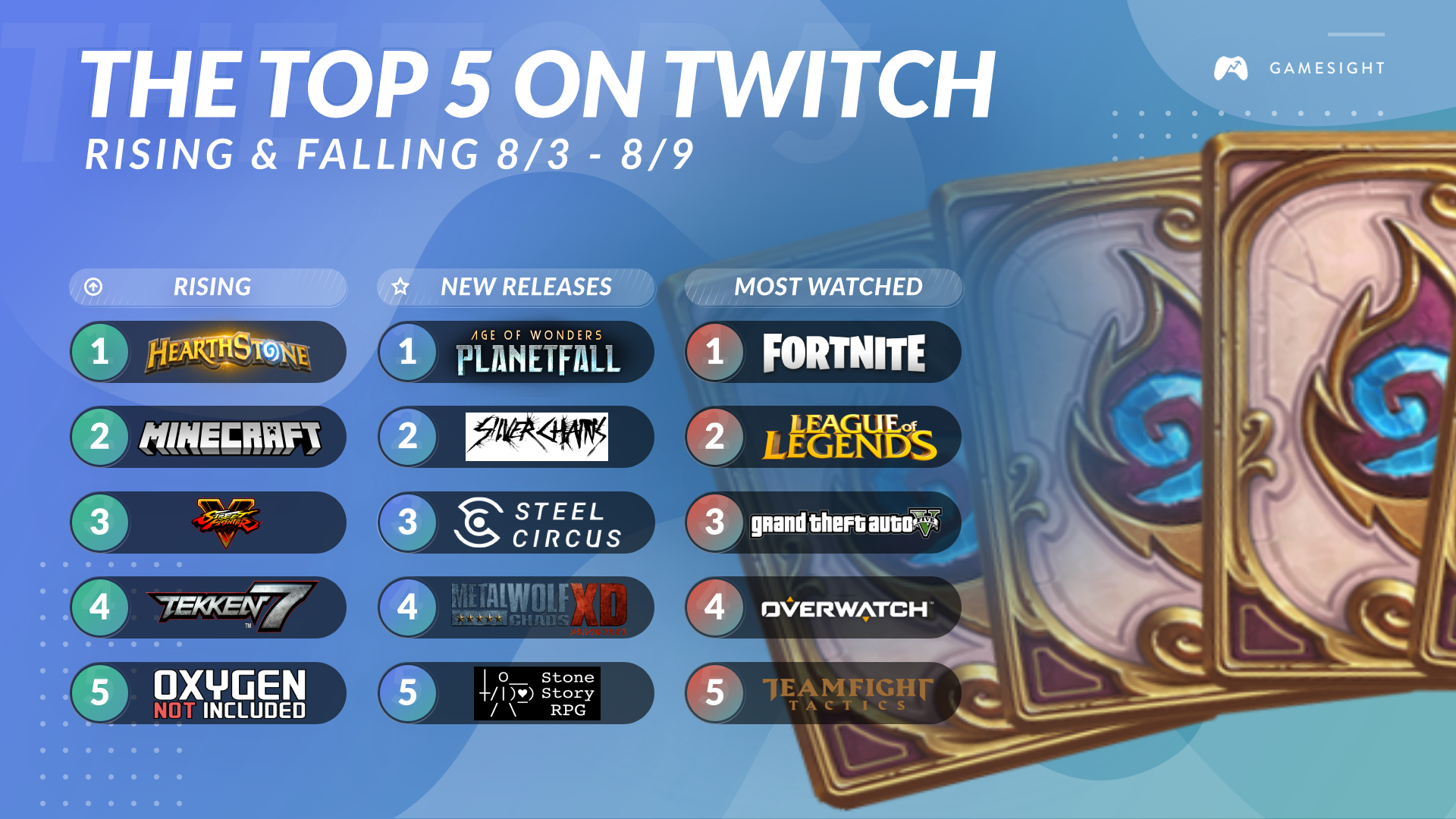 Note: The following rankings are based on a combination of both gross and percentage change to viewership and total streams. As such, dominant and stable titles near the top of the charts will not always, or often, appear. To compare to last week's rankings, click here.
Graphs for Top Rising titles show previous two weeks for context.
---
Top Five Rising

1. Hearthstone
Increase Viewership: 4,331,158 Hours (145.43%)
Increase Channels: 3983 Channels (91.19%)
Twitch's most popular collectible card game launched itself into the top spot for the week on the strength of its latest expansion, Saviors of Uldum, which released on August 6th. Blizzard's genre-dominating title has been around since 2014, and the team behind it has been dedicated to maintaining a consistent schedule of new content, introducing new cards and mechanics at a regular pace to keep players and viewers interested. The latest release, which will also bring a new solo adventure has more than doubled the game's viewership over the previous week, and is also doing an excellent job bringing in new or returning streamers.
Expansions are becoming increasingly important for Hearthstone because it's seeing more and more competition. Other CCG titles like Magic The Gathering: Arena are picking up steam, while the auto battler genre, started by Auto Chess, is attracting many of the same players. In this landscape, it's even more important to make sure your community is consistently engaged, that you're releasing new content to keep the game healthy. This latest expansion demonstrates that, even in this changing space, Hearthstone still has what it takes to maintain its top spot.
2. Minecraft
Increase Viewership: 4,034,025 Hours (80.11%)
Increase Channels: 17,503 Creators (24.55%)
Minecraft is undergoing a bit of a renaissance right now, with streamers and their communities flocking to the game in surprising numbers, considering how long the game's been around. It's not that the game has undergone some sort of dramatic change. For the most part, Minecraft is the same game now as it was six months ago. And yet, for a few weeks now, it has consistently found itself as one of the most trending titles in streaming. What's happening?
Julia Alexander of the Verge points out that it might be Pewdiepie, YouTube's most successful gaming creator, who has brought the content creator community back to Minecraft. Two months ago, he began focusing on the game, once more, on his YouTube channel, and the result seems to be that many other creators have returned to the game as well. Given how closely this coincides with the game's increased presence on Twitch, it seems possible that Pewdiepie's influence extends beyond YouTube, and indeed has drawn an increased number of streamers to the game on Twitch. Whatever the reason, Minecraft is doing better as a streaming title today than it has in a long, long time, and it's a testament to the game's staying power that it can once again rise to the top of the charts.
3. Street Fighter V
Increase Viewership: 1,096,000 Hours (219.97%)
Increase Channels: 1285 Creators (96.11%)
The world's largest competitive event in the fighting game genre took place from August 2-4 in Las Vegas, and its impact was absolutely felt on Twitch. The EVO Championship Series has been held every year since 2000, and has seen an increase in participation, attendance, and viewership every subsequent year. This year's event featured over 9000 competitive gamers and nine games, one of which was Street Fighter V, which grew more on Twitch as a result than any other featured title.
Special competitions like EVO are some of the most watched events on Twitch, and carving out a niche for yourself in the fighting-game space means an opportunity to be featured for an audience in the hundreds of thousands. It's one of the things that makes a fighting game's presence on Twitch interesting. Day to day, these titles don't pull in enormous numbers because it's all about the skill of the individual players, as opposed to the evergreen open-ended content of games like Fortnite, and while there's a robust community of fans who love the genre, it'll never be as consistent in terms of size; it's a niche. But, the competitive events remain some of the most popular on the platform, meaning in punctuated moments, being at the top of the genre also means being featured in major events with significant viewership. Evo is the biggest such opportunity, and this year it was Street Fighter that gained the most.
4. Tekken 7
Increase Viewership: 1,043,443 Hours (174.58%)
Increase Creators: 980 Creators (42.98%)
After Street Fighter V, Tekken 7 gained the most from this year's EVO event, nearly tripling its overall viewership, finding itself one spot below the former title due to its relatively smaller increase in participating streamers. Everything said above regarding the utility and power of competitive fighting game events applies here as well: the genre might be a niche in terms of its dedicated community, but its presence in the competitive space means there are frequent opportunities to get in front of a large audience of viewers and fans. This boost obviously won't last, but it speaks to just how powerful its position in events like this can be, and how further competitive events can bring it rising back to the top once more.
5. Oxygen Not Included
Increase Viewership: 650,040 Hours (170.25%)
Increase Channels: 1168 Creators (77.40%)
After officially launching out of early access in the latter half of last week, Oxygen Not Included has continued to climb up the Twitch charts in its first full seven days of availability, nearly tripling its overall viewership and increasing its participating streamers by 77%.
Everything that made it one of the fastest rising titles on the platform last week still applies today, and it's the fact that even more large-audience streamers are getting their hands on the title that are responsible for its continued success. Participants include Lirik (16k avg. viewers), CohhCarnage (13k avg. viewers), hanryang1125 (11k avg. viewers) and others big-platform creators, and it was enough to keep the game chugging along and remain one of the fastest rising title on Twitch for the second consecutive week.
---
Top Five New Releases

1. Age of Wonders: Planetfall
Total Viewership: 362,643 Hours, 67th Overall
Total Channels: 1015 Creators, 185th Overall
Traditional strategy titles have an interesting place on Twitch, often pulling in large numbers upon release and then carving out a smaller, but consistent community of contributing creators that support the games in the long term. They don't become the biggest titles in streaming, but they do attract dedicated audiences with zeal for the genre and the games themselves. This week saw the release of one such title, with 4X turn-based strategy title Age of Wonders: Planetfall becoming the fastest rising new release on Twitch.
The fifth title in the series, Planetfall exchanges the typical fantasy setting for a sci-fi scenario, with factions competing for cosmic dominance. With over 1000 participating creators in the first week, it seems the community has been anxious to get their hands on it. It remains to be seen how long this momentum can last, as, again, the genre doesn't sustain the type of communities that keep titles at the top of the charts into perpetuity, but this remains a very successful launch for the teams at Triumph Studios and Paradox Interactive.
2. Silver Chains
Total Viewership: 320,209 Hours, 69th Overall
Total Channels: 596 Creators, 289th Overall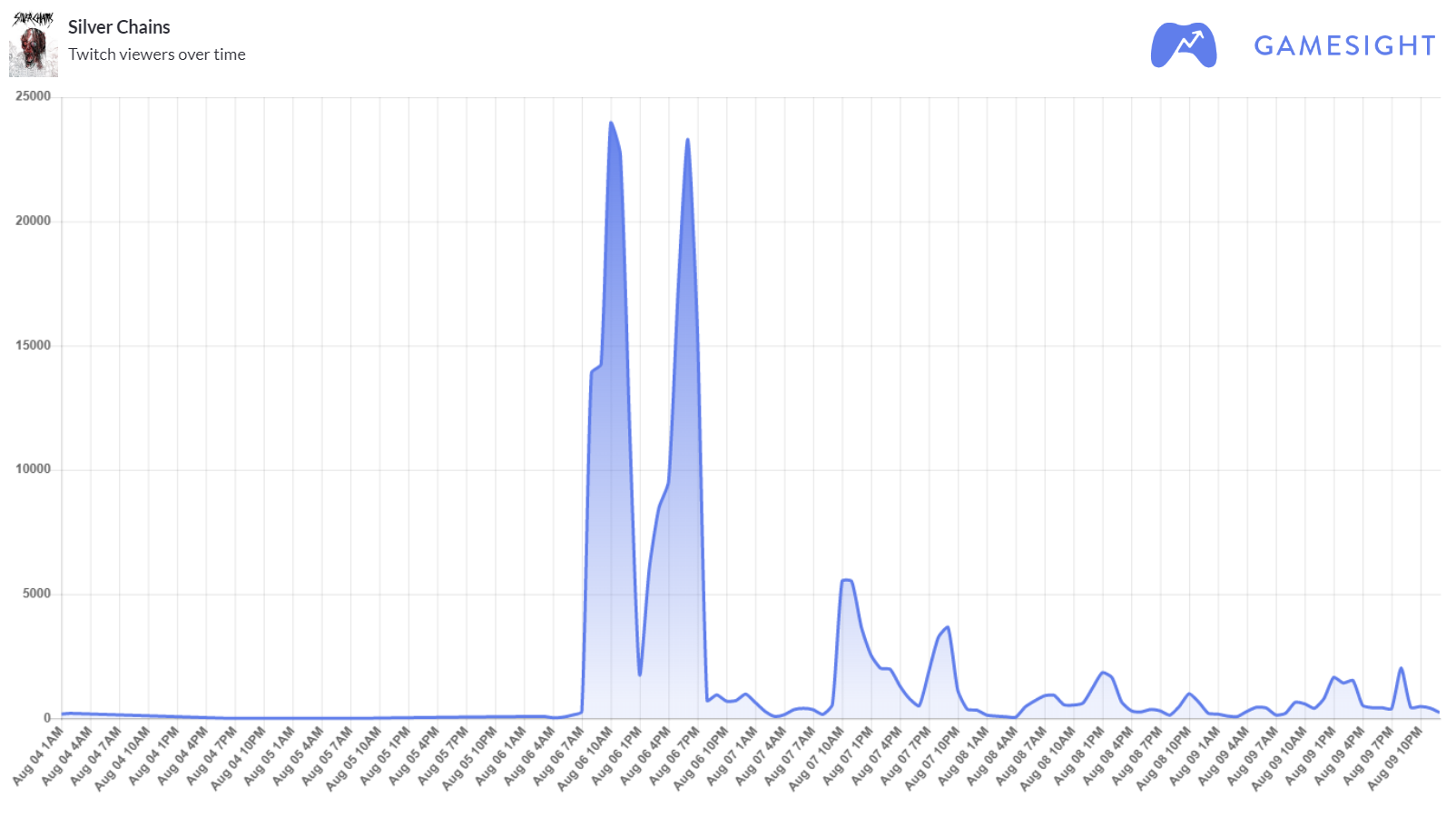 Games like Silver Chains emerge and climb towards the top of the charts seemingly every month. A first-person horror title focused on story and exploration, it features the kind of deliberate, careful gameplay filled with jump scares, quick decision-making and challenges that most any variety streamer can use for new, engaging content. Since the early days of Amnesia: The Dark Descent, first person horror has been the bread-and-butter for many such creators.
Silver Chains isn't reinventing the wheel, in this regard, but rather delivering on what makes the genre so perfect in the first place. With a dark, nerve-racking setting and slow, deliberate gameplay, the game features the same kind of tension and fight-or-flight shocks that have made the genre a mainstay of the streaming space since the beginning. It won't stick around very long, as games like this have relatively short shelf lives when it comes to content creation, but, for now, this classic appeal has been more than enough to make it one of the fastest rising new titles on the platform for the week.
3. Steel Circus
Total Viewership: 79,368 Hours, 202nd Overall
Total Channels: 1011 Creators, 186th Overall
There is a lot to like about Steel Circus, and the community seems to agree, as its performance over only two days was enough to make it the third fastest rising new platform on Twitch for the week. Like a love-child born of the union between Rocket League and SmashTV, the title combines the soccer-like structure of the former with the top-down gameplay of the latter, and the combination is an exciting, quick, and easy-to-digest eSport with a lot of room to grow.
Simplicity can mean a lot for a competitive title. Rocket League remains one of the biggest eSports on the planet largely because while the players themselves demonstrate incredible skill, the actual game is very easy to understand: whoever scores more goals wins. The same appeal could make Steel Circus similarly successful. But, it's important to remember that Rocket League built its community organically over a long period of time. Steel Circus could have what it takes to carve out a similar community, but it will have to do so deliberately, piece by piece as they continue to develop through their early access period. We'll be watching to see how successfully they can accomplish just that.
4. Metal Wolf Chaos XD
Total Viewership: 70,829 Hours, 223rd Overall
Total Channels: 507 Creators, 322nd Overall
Remasters are all the rage these days, and FromSoftware, along with Devolver Digital, have gotten in on the action by upgrading and refining their classic 2004 mech shooter, Metal Wolf Chaos, for new audiences.
A cult classic of which it was difficult to obtain an original copy, the 3rd-person action title is now available to the masses, and it pulled in a healthy audience of streamers and viewers, making it the fourth fastest growing new release on the entire platform. Now, this isn't the sort of title that maintains a position at the top of the Twitch charts. While it features multiplayer, this game is more counting on the leveraging of nostalgia to attract players, which means that while it's presence on Twitch may indeed give it the sort of promotional platform it needs to get into more players' hands, it's not going to establish a long-term consistent community of players dedicated to the title. But, it's not really meant to last in streaming, but rather to satisfy the dedicated fans who've been anxiously awaiting its release. As such, this has been a spectacular debut for the title, and should put the game in a great position for success.
5. Stone Story RPG
Total Viewership: 80,566 Hours, 200th Overall
Total Channels: 96 Creators, 1398th Overall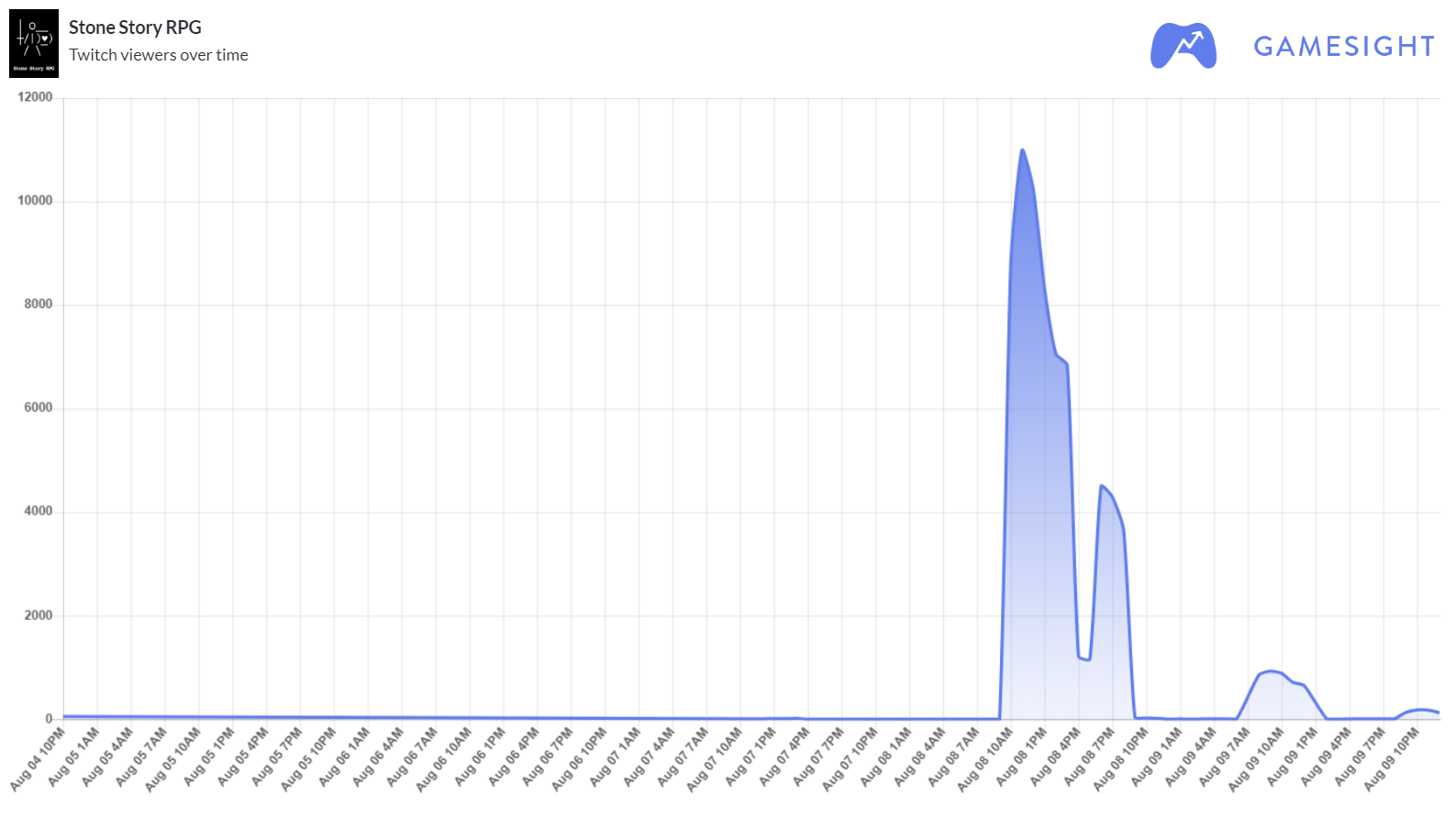 Rounding out the top five is this unique early access RPG animated entirely in ASCII symbols, which, in spite of its smaller number of participating streamers, actually was viewed more than the two titles preceding it on this list. A single-player story-driven title in the vein of classic Zelda adventures, it doesn't feature the typical elements that make a game successful on Twitch. It's the sort of experience that, as a Twitch viewer, you only really experience once, watching your favorite creator work through it from start to finish, but not really wanting to watch others do the same.
Still, it is the sort of title that fans love to watch their favorite variety streamers work through, and if it manages to attract one or two larger creators, it could wind up getting into the hands of a lot of viewers looking to enjoy the experience themselves. At this point, it was only really picked up by one such creator, Forsen, who played the game for one five hour stream which accounted for half of the title's overall viewership. Getting players like this to return as further updates emerge during its early access period will continue to get the game in front of more and more potential players. If the team can keep providing those reasons to come back, the game should continue to leverage its streaming platform into real growth.
---
Top Five Overall By Viewership

1. Fortnite (Same Position)
Total Viewership: 26,220,180 Hours (-8.37%)
Total Channels: 369,391 Creators (+14.69%)
Top 5 Channels by Overall Viewership
1. Tfue - 2.5 Million Hours
2. TimTheTatman - 912,000 Hours
3. NICKMERCS - 789,000 Hours
4. dakotaz - 680,000 Hours
5. DrLupo - 592,000 Hours
2. League of Legends (Same Position)
Total Viewership: 24,912,986 Hours (+38.99%)
Total Channels: 93,621 Creators (+19.83%)
Top 5 Channels by Overall Viewership
1. Riot Games - 2.6 Million Hours
2. LCK Korea - 850,000 Hours
3. 앰비션_- 386,000 Hours
4. LCK- 385,000 Hours
5. Sardoche - 376,000 Hours
3. Grand Theft Auto V (Same Position)
Total Viewership: 18,605,457 Hours (+34.15%)
Total Channels: 51,825 Creators (+3.32%)
Top 5 Channels by Overall Viewership
1. Lord Kebun - 704,000 Hours
2. Vader - 569,000 Hours
3. Summit1g - 498,000 Hours
4. dasMEHDI - 447,000 Hours
5. h3x_TV - 405,000 Hours
4. Overwatch (↑1)
Total Viewership: 11,602,523 Hours (29.43%)
Total Channels: 47,749 Creators (+12.27%)
Top 5 Channels by Overall Viewership
1. Overwatch League - 4.2 Million Hours
2. Overwatch League (KR) - 525,000 Hours
3. Overwatch League (FR) - 268,000 Hours
4. dafran - 253,000 Hours
5. xQcOW - 214,000 Hours
5. Teamfight Tactics (↓1)
Total Viewership: 10,460,970 Hours (-3.54%)
Total Channels: 37,132 Creators (-1.01%)
Top 5 Channels by Overall Viewership
1. itsHafu - 685,000 Hours
2. dogdog - 583,000 Hours
3. DisguisedToast - 437,000 Hours
4. Scarra - 301,000 Hours
5. kyo1984123 - 269,000 Hours
---
For a complete breakdown of the most watched leagues, tournaments, and competitions on Twitch in the month of June, click here, and he sure to check out last week's #Top5OnTwitch to compare to this week's numbers. Also follow us on Twitter and LinkedIn for all the latest blogs, announcements, and game marketing news from the team at GAMESIGHT!