Historic Esports Weekend: League of Legends Breaks Twitch Peak Viewership Record
To recap, it was an absolutely historic weekend for video games and esports all around.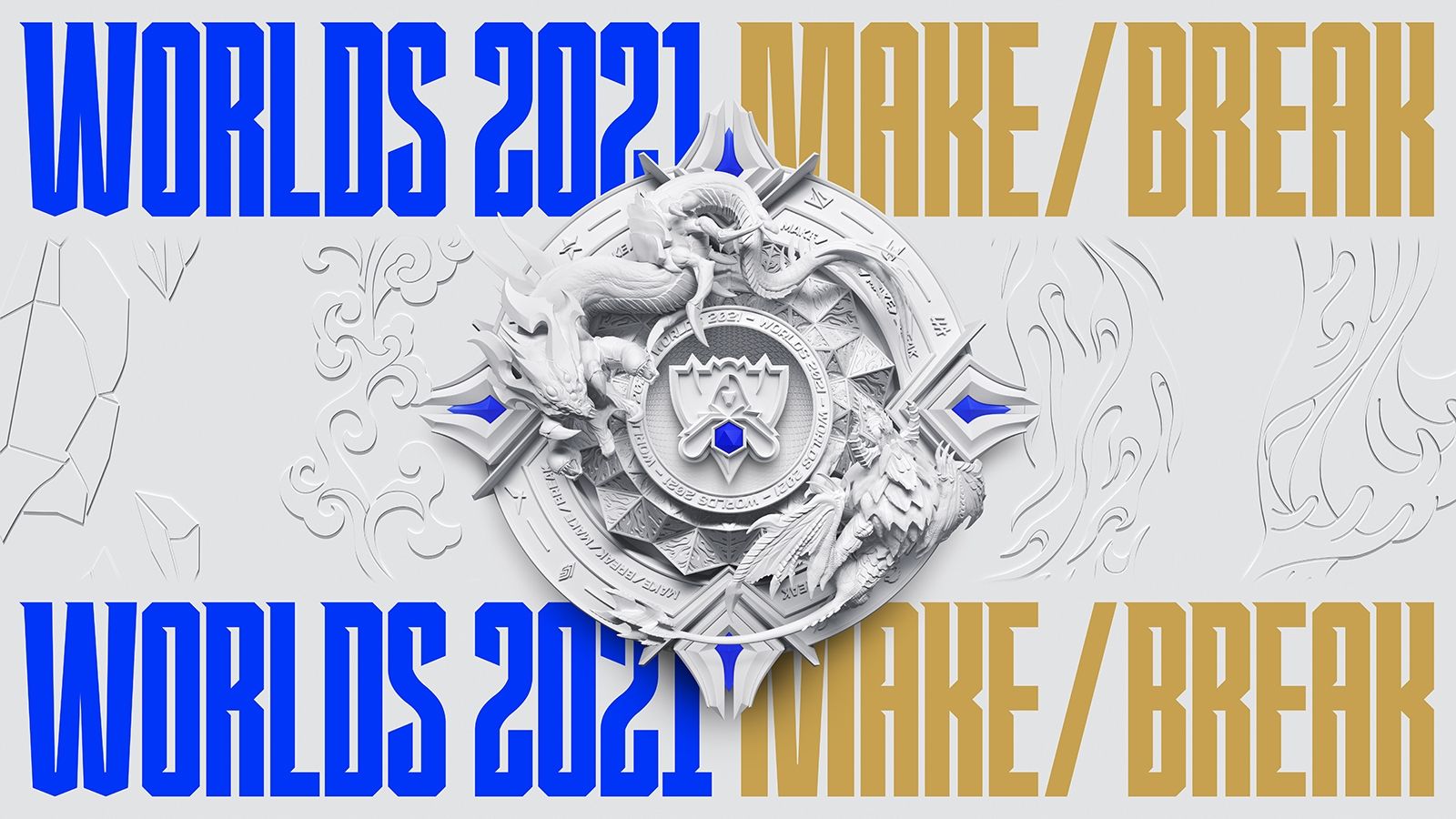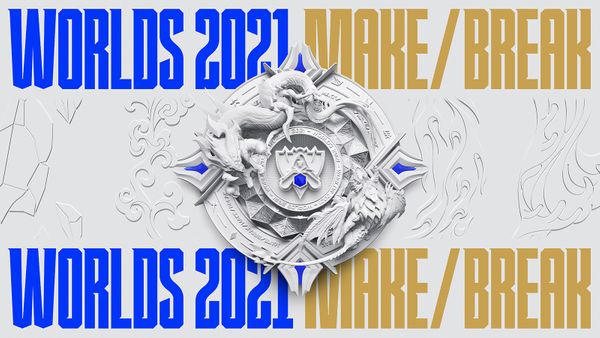 Well... The title says it all, the finals between Edward Gaming (EDG) and Damwon (DWG KIA) this past weekend broke the all time Twitch peak viewership record. During the climax of the match, when the series was tied at 2-2 with the championship on the line, 3,111,854 concurrent viewers watched underdog EDG take down DWG KIA. The previous record was set by the PS5 Future of Gaming event on June 11th, 2020 with 3,053,471 concurrent viewers. The best of 5 series resulted in around 13 million total viewer hours between the beginning of the opening ceremony and the end of the closing ceremony. This new record comes just a week after the match between T1 and DWG KIA set the all time Twitch concurrent viewership record for League 0f Legends with 2,424,536 peak viewers.

Adding to the drama of this fateful matchup, some of the players on EDG saw this bout as a bit of a revenge match for T1, who they share a friendly rivalry with. Many of the players on EDG and T1 are friends or old teammates. Flandre, the top laner for EDG can be heard saying "DK... We need to avenge our good friends on T1" during their pre-game mic check. While Scout, the current mid laner for EDG, former T1 mid laner, and Worlds 2021 MVP, said "I helped take revenge for Faker" during the postgame interview. Faker is the current mid laner for T1, and Scout's old mentor. One can only imagine that the sentiment helped fuel the hype around this matchup of legends.
---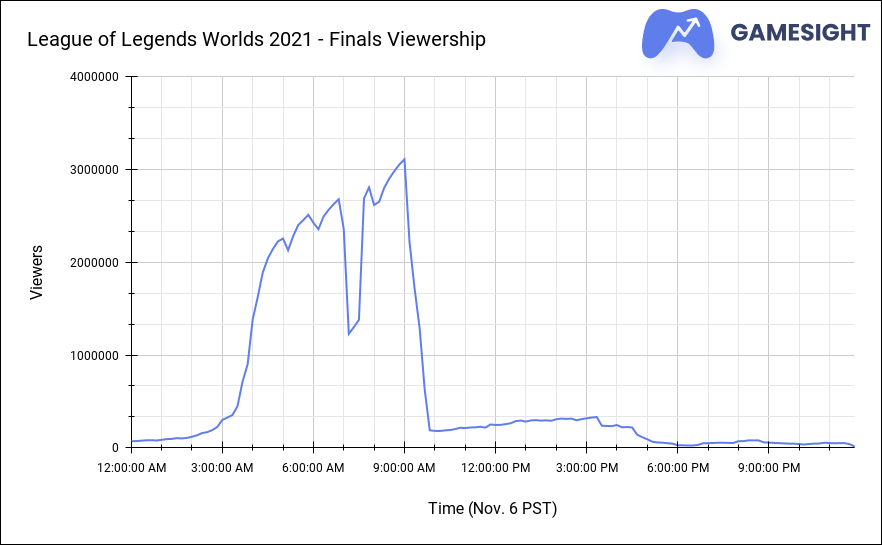 ---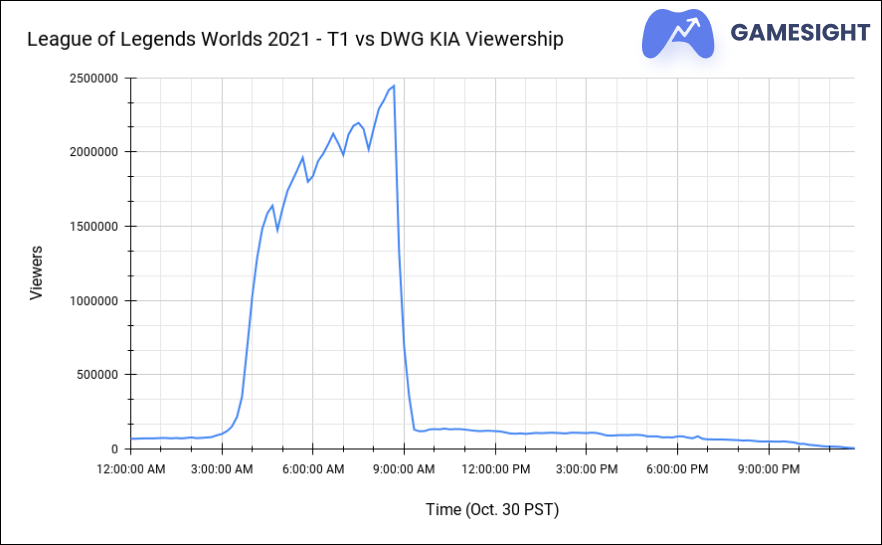 ---
Riot Games also debuted their RiotX Arcane event on Twitch later that day (Nov. 6th) which allowed content creators to host viewing parties of the first episode of Riot's new Netflix show, Arcane, with their audiences. Peak viewership for the event occurred at around 6 PM PST, with 1,843,206 concurrent viewers watching the first episode of Arcane along with their favorite streamers. The series has received critical acclaim from both critics and viewers alike, with a 9.4/10 rating on IMBD from 7.7k ratings as of writing this article.
---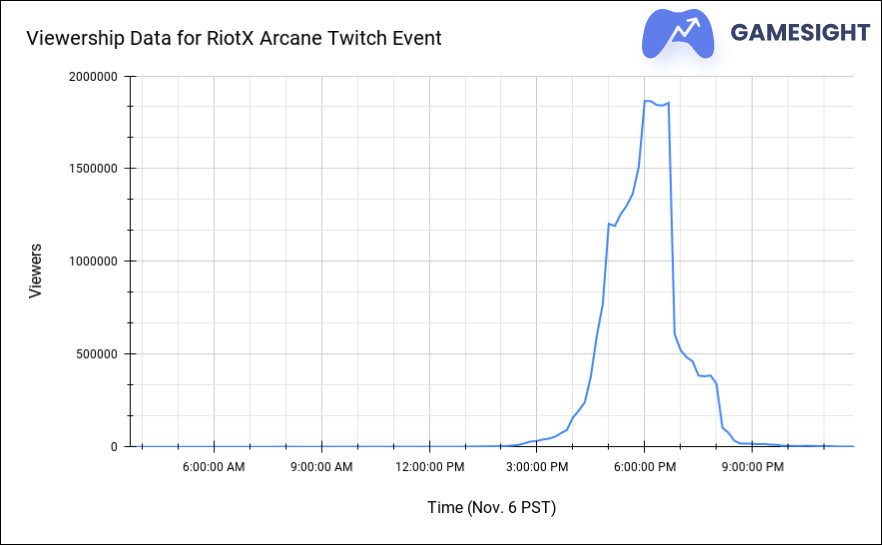 ---
On the FPS side of esports, Counter-Strike: Global Offensive (CS:GO) set it's own peak viewership record. The PGL Stockholm 2021 CS:GO major ($2 million dollar prize pool by the way) resulted in about 6 million viewer hours, peaking at 1,964,548 concurrent viewers (10th highest all time) at the end of the final match between Natus Vincere (NaVi) and G2 Esports (G2). NaVi prevailed over G2 in their Bo3 finals match, earning the trophy and going home with the $1 million dollar first place prize. The last time CS:GO had anywhere close to these viewership numbers was in January 2018 during the ELEAGUE Major: Boston tournament. That major resulted in a peak viewership of 1,307,913. It might feel like League's viewership overshadows this accomplishment, but a new record is a new record.
---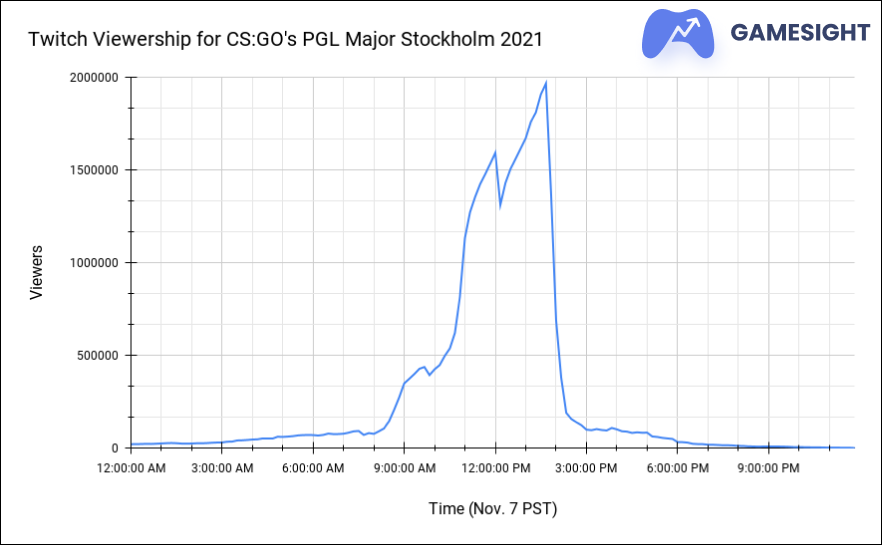 ---
To recap, it was an absolutely historic weekend for video games and esports all around. The RiotX Arcane event was one of the first of it's kind, allowing streamers to host watch parties of the first episode of a Netflix exclusive show with their audiences. Time will tell if other companies follow suit, but the event was a massive marketing and PR success. League of Legends not only broke it's recently minted viewership record, but Twitch's viewership record as well. CS:GO had it's best weekend ever on Twitch, making it into the top 10 all time most watched category. We here at Gamesight can't wait to see what happens next.
---
About us
At Gamesight, we help PC and console marketers implement performance marketing techniques for their games. If you are seeking help setting up and measuring your campaigns, working with influencers, or would like to simply talk with us about this article, please reach out on our website!