Top 10 Games in Esports - July 2019
Which games have the most watched eSports scenes on Twitch? Check out our rankings to find out.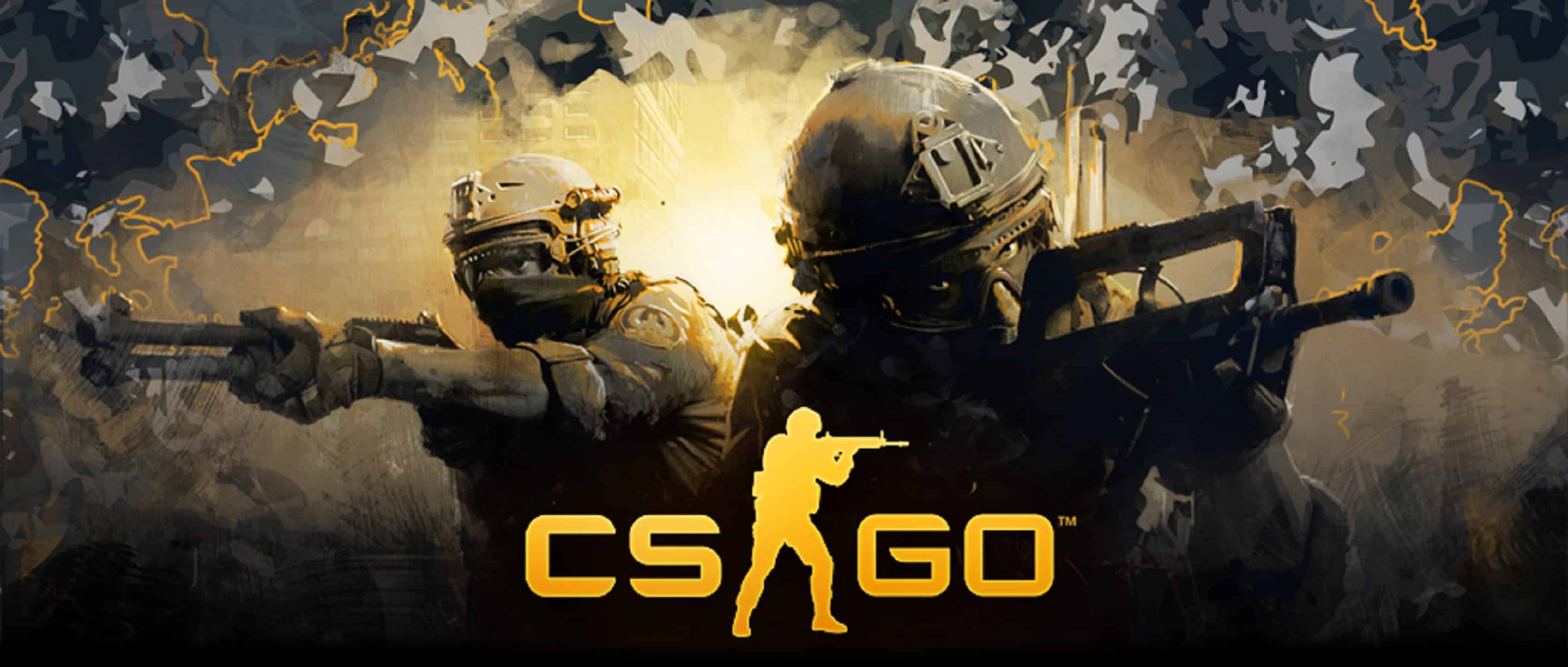 Which games have the most watched eSports scenes on Twitch? Check out our rankings to find out.
Esports communities and the games they play account for a large percentage of the content consumed on Twitch. Every week, official leagues, tournaments, and competitions bring in huge viewership numbers and raise titles to the top of the Twitch charts, but figuring out just how successful a game's competitive scene has been can be incredibly complicated. Twitch itself doesn't distinguish between competitive and creative streams, which means all of the data regarding which esports communities are the most active on the platform is either buried deeply within streaming metrics or non-existent.
That's why we decided to do it ourselves.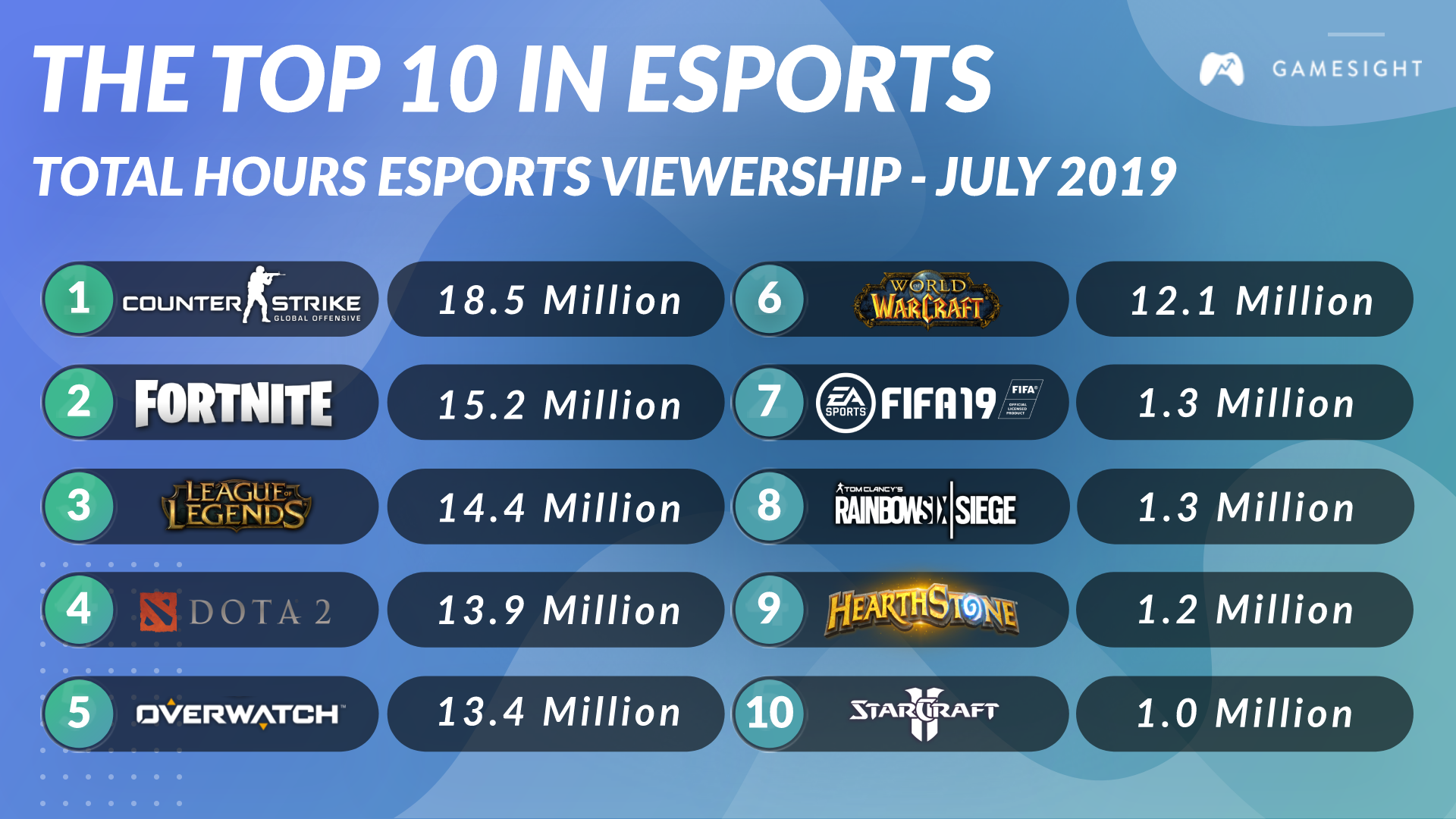 Below, you'll find our breakdown of the top ten performing esports titles on Twitch for the month of July 2019, along with analysis of each game's competitive scene. Keep reading to get the complete picture of just who is rising and falling in the world of eSports. To compare to last month's numbers, click here.
---
1. Counter-Strike: Global Offensive
18.5 Million Hours Viewed
Events: Starladder, UCC League, ESL One: Cologne 2019
Counter-Strike: Global Offensive has been around seven years, and in that time many other genres and games have emerged into not just the competitive space, but the streaming space at large. It can be easy, sometimes, given the attention received by its more recently released competitors, to overlook the still enormous impact the title has on the world of esports. Looking at the numbers for July, though, make that impossible.
The squad-based tactical shooter had the most substantial esports viewership on Twitch not because of a single event, but a combination of tournaments and competitions that, together, made it the top competitive scene on the platform. ESL One: Cologne 2019 was held from July 2nd through the 7th, and hosted a $300,000 CS:GO tournament featuring some of the biggest teams in the space. This was followed up by the Starladder regional minors, held between July 17th and the 28th, and in anticipation of their Berlin Major one month later. Finally, the U Can Company, or UCC League hosted both the UCC Summer Smash and CS.MONEY Asian Emperor tournaments. The fact that all of these events managed to contribute significant viewership numbers to the game's overall total shows just how widespread this community is, how many different organizations, players, and fans continue to show it support. Many titles struggle to develop and maintain a dedicated audience for even a fraction of the time CS:GO has managed to stay healthy, and its continued success is something worthy of envy.

2. Fortnite
15.2 Million Hours Viewed
Events: Fortnite World Cup 2019
While CS:GO pulled in the biggest overall numbers, the single largest event on the platform for the month of July was unquestionably the first ever Fortnite World Cup. The $30 Million prize pool along with the unparalleled hype led to a new record for concurrent viewership during an esports event at 1.3 million, and combined with YouTube its peak actually reached as high as 2.3 million. During and for days afterwards, major news outlets were reporting on the competition, its winners, and what it means for esports growing place in popular culture. This was a watershed moment for esports, one that brought untold numbers of new eyes to the space, and helped to solidify its legitimacy.
The platform Epic Games have created and cultivated in Fortnite is unparalleled, but, to this point, it hasn't cultivated the sort of dedicated competitive following you might expect. If the World Cup is a sign of things to come, that will likely be changing quite a bit in the not-too-distant future.

3. League of Legends
14.4 Million Hours Viewed
Events: Summer Split, Rift Rivals
The top performing esports title for the month of June, League of Legends accrued 3.4 million fewer hours of competition viewership in July, still finding itself in the third spot during a very competitive month. The LCS Summer Split continued in July, which featured weeks five through eight of the round-robin tournament. In addition, the Rift Rivals 2019 event featuring top teams from Korea, China, Vietnam, and the League Masters Series, was held from July 4th through the 7th in Seoul.
Like CS:GO, the LoL competitive community is long-lived and wide-spread, with a plethora of leagues, tournaments, and participating regions. That global footprint is one of the big reasons its esports scene has some of the most stable viewership on Twitch. It's performance in July continues what has been an already strong summer.

4. Dota 2
13.9 Million Hours Viewed
Events: The International 2019 Qualifiers, DOTA Summit
Valve's The International tournament, the concluding event of the official Dota Pro Circuit, was first held in 2011, at the time featuring a $1 Million grand prize which made it the biggest prize pool in esports. It's only grown in size since, even being carried by ESPN networks beginning in 2014.
Even in a more crowded marketplace, the competitive community around Dota 2 in general and The International in particular has maintained its position as one of the most consistent, popular games in the competitive space, which is why it finds itself near the top of this list, again, even during a very competitive month. Open and regional qualifier rounds for the International 2019 were held from July 3rd through the 14th, and these were followed by the Dota Summit 10 event, originally scheduled for last December, but eventually moved to the last week of July to position it as the final major tournament before the International in August. These two events combined to make up the majority of the game's competitive viewership on Twitch for the month, and raise it to the fourth spot overall.

5. Overwatch
13.4 Million Hours VIewed
Events: OWL Playoffs
The Overwatch League leverages the franchise-style makeup of teams associated with specific cities or regions to host one of the most popular formal esports leagues in the space, delivering an exciting esports experience with the trappings of a traditional live sports league. The result has been one of the most consistently watched esports titles on Twitch, along with a dedicated community of viewers and fans.
July saw both the end of Stage 3 of the OWL season, including that segment's playoffs, and the beginning of stage 4. While this it accrued 2 million fewer hours of viewership compared to June, its total of 13.4 million hours remains impressive, and would have been good enough to land it in the second highest spot during the previous month. With Stage 4 now well underway, only the final playoffs and grand finals remain on the schedule, which makes it likely that these numbers will grow in the months ahead. This is, indeed, an impressive showing from one of the most consistent games in the space.

6. World of Warcraft
12.1 Million Hours Viewed
Events: Race to World First, AWC Summer Cup
World of Warcraft might not be the first title that springs to mind when one thinks of esports, but its competitive scene has been experiencing a bit of a rebirth this summer, as new partnerships and returning events have combined to make it one of the faster growing games in the space. The big development has been the growing relationship between WoW and energy drink Red Bull, who organized and sponsored the Race to World First event, wherein teams from across the globe compete to complete the game's latest raid, Azshara's Eternal Palace. These competitions have taken place before, with competitive raids being very popular on Twitch, and this formal event has only made the competition more popular. Combined with the game's official competitive league, the Arena World Championship, which held several of its Summer Cups, these events were enough to make LoL one of the fastest growing esports on the platform.

7. FIFA 19
1.3 Million Hours Viewed
Events: eWorld Cup 2019
The FIFA eWorld Cup 2019 held its playoffs in July, with the Xbox tournament taking place from the 5th through the 7th, and the Playstation round from the 12th through the 14th. It's interesting to note that traditional sports titles, while popular, don't seem to establish the kind of esports viewership that other genres, like MOBAs and battle royales, have cultivated. Part of this is likely the annualization of the franchises, with new titles every year supplanting the previous, but, really, it just seems to be appetite of the viewers. That's part of what makes Fifa's presence in this month's rankings impressive. It's likely a high point for the title, with the next entry due soon, but still, a solid showing for this traditional sports title.

8. Rainbow Six Siege
1.3 Million Hours Viewed
Events: Rainbow Six Nationals, ESL
Another title taking advantage of a major tournament, Rainbow Six Siege held stage two of its 2019 US Nationals under the auspices of publisher Ubisoft and esports organizer ESL. With another stage to go before the wild card round and then, ultimately, the finals in December, it stands to reason that this league will pick up momentum in the weeks and months ahead, as anticipation builds for the grand finale. It had a lot of competition this month, which might account for its slight reduction in viewership numbers, and it's unclear whether that's going to change anytime soon. Still, even under these circumstances it remained one of the ten most watched competitive scenes on Twitch, and it should maintain that position moving forward, barring unforeseen circumstances.


9. Hearthstone
1.2 Million Hours Viewed
Events: Grandmasters
Hearthstone remains the top CCG game in esports for the month of July, even as its overall numbers fell by almost 75% from June. The previous month featured the Masters Tour Las Vegas event, which accounted for most of that period's viewership, and while the competitive season continued, the lack of such singular events meant less viewers. July saw the conclusion of the first of 2019's two Hearthstone's Grandmasters seasons, including the playoffs from July 12th through the 14th, and it pulled in 1.2 million hours of viewership. With a rapidly changing landscape around it, and increased competition from games like Magic the Gathering: Arena, there's reason for the team at Hearthstone to consider strategies to reinvigorate their competitive scene. It's not yet time to be concerned, but an increase in negative momentum could spell trouble.


10. Starcraft II
1.2 Million Hours Played
Events: WCS Challenger Qualifier, WCS Challenger Season, ESL, GSL
StarCraft II has a dedicated community of players, viewers, and competitors, which have supported the title's competitive community for years and years, even as other titles accrue more headlines and dominate the conversation. In July, its World Championship Series held the 2019 Global StarCraft II League Season 3: Code S event, with its Group Stage #1 matches taking place between July 3rd and the 19th. The winners of this event will be invited to the WCS Global Finals in November. StarCraft's community is regionally focused, with a level of popularity in Korea and nearby areas that can't be matched anywhere else, and while that makes the esports scene somewhat niche, it also makes it consistent, and, in an increasingly international competitive space, gives it a lot of room for growth. It may not be the first game you think of when you think of esports, but don't sleep on StarCraft II; its community is for real.

Methodology
"Esports viewership numbers" were acquired by collating the total Twitch viewership on official competitive channels and streams for each title, including alternate language broadcasts. Participation in competitions streamed from personal accounts were not included in our metrics. This excludes certain forms of content which could be considered esports related, such as practice-sessions from professional competitors, smaller tournaments that don't have official streams, friendly competitions or creative content from professional competitors, etc. For Fortnite World Cup: the presence of viewing parties made the above methodology ineffective for this event. Its numbers were calculated using the overall viewership numbers for the title during the hours where the event was live.
---
Be sure to check out last month's rankings, and to follow us on Twitter and LinkedIn for all the latest blogs, announcements, and game marketing news from the team at GAMESIGHT!