#Top5OnTwitch: 4/13 - 4/19
Which games are rising on the Twitch charts? Which titles are sliding? It's the weekly #Top5OnTwitch!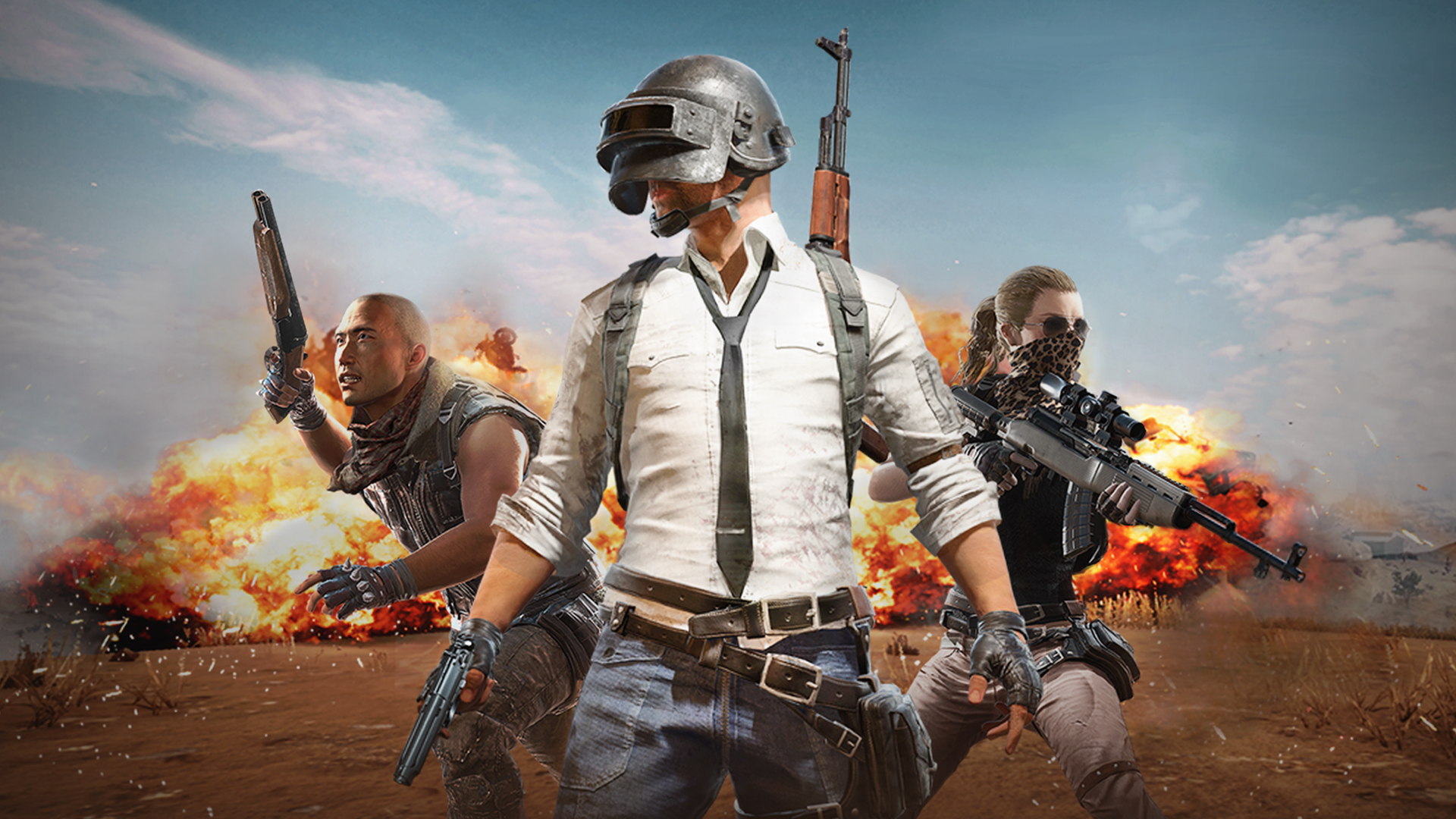 Which games are rising on the Twitch charts? Which titles are sliding? We bring you the hard numbers and reaction, every week, in the GAMESIGHT power rankings!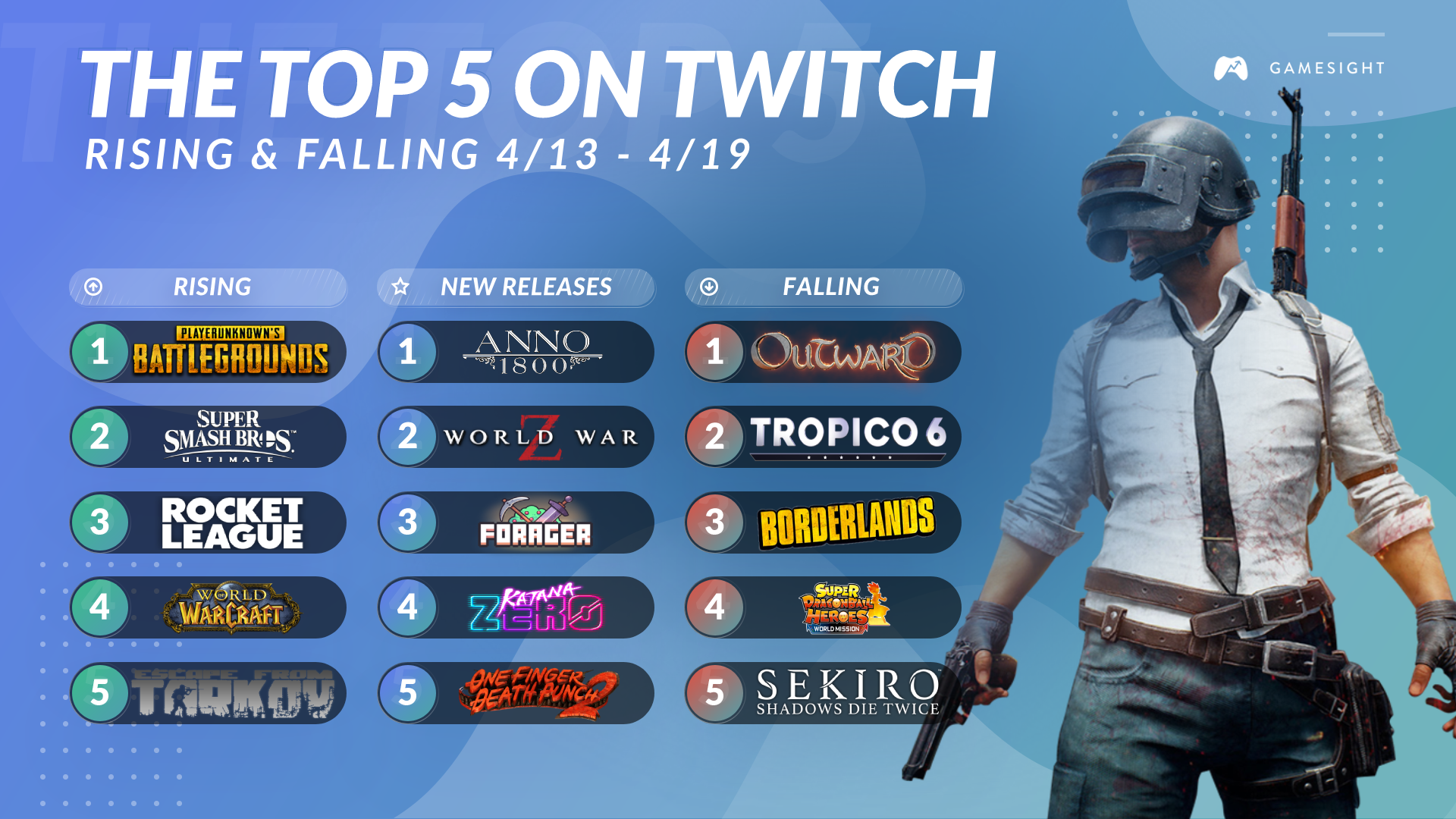 Note: The following rankings are based on a combination of both gross and percentage change to viewership and total streams. As such, dominant and stable titles near the top of the charts will not always, or often, appear. To compare to last week's rankings, click here.
---
Top Rising
1. PlayerUnknown's Battlegrounds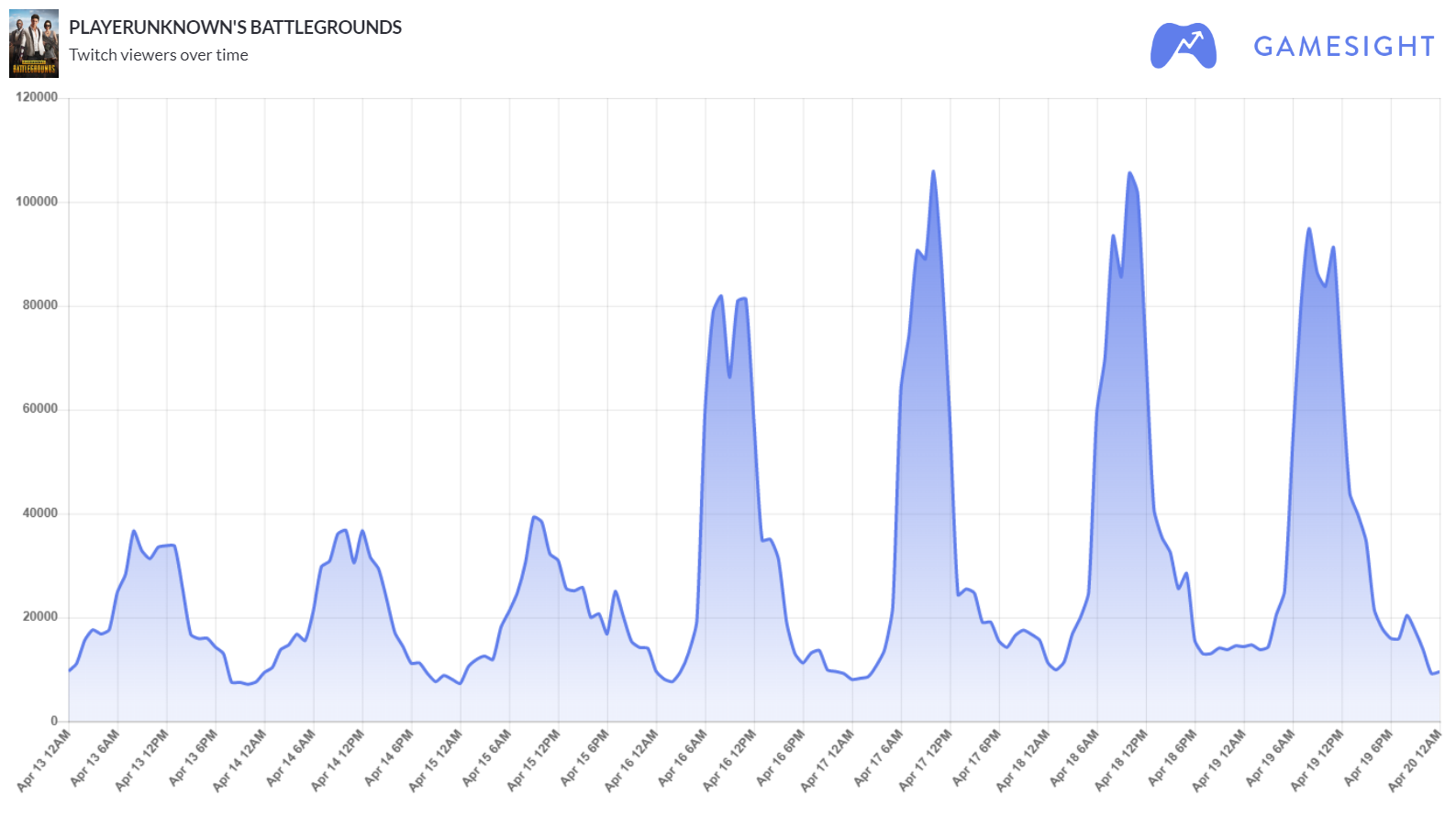 Increase Viewership: 3,327,104 Hours (94.56%)
Increase Total Streamers: 7641 (24.47%)
Few games lost as many players and streamers to Apex Legends as PUBG. One of the longest running titles in the battle royale genre, it has mostly lagged behind titans like Fortnite as it and games like it have exploded over the last year or so. This week, though, saw the release of the brand new "Weapon Mastery" system, and with it came an enormous increase in viewership and engagement. The free update adds a progression system for weapons and a plethora of rewards, including "charms," keychain like items placed on weapon barrels for added customization. This goes to show that, even when competing with the largest games on the planet, a steady stream of updates and support can still yield big dividends and go a long way towards keeping your title's audience and community healthy. Many times, it seems, people like me have said that PUBG's time was drawing to a close. Weeks like this are a big reason why we've all been so wrong.
2. Super Smash Bros. Ultimate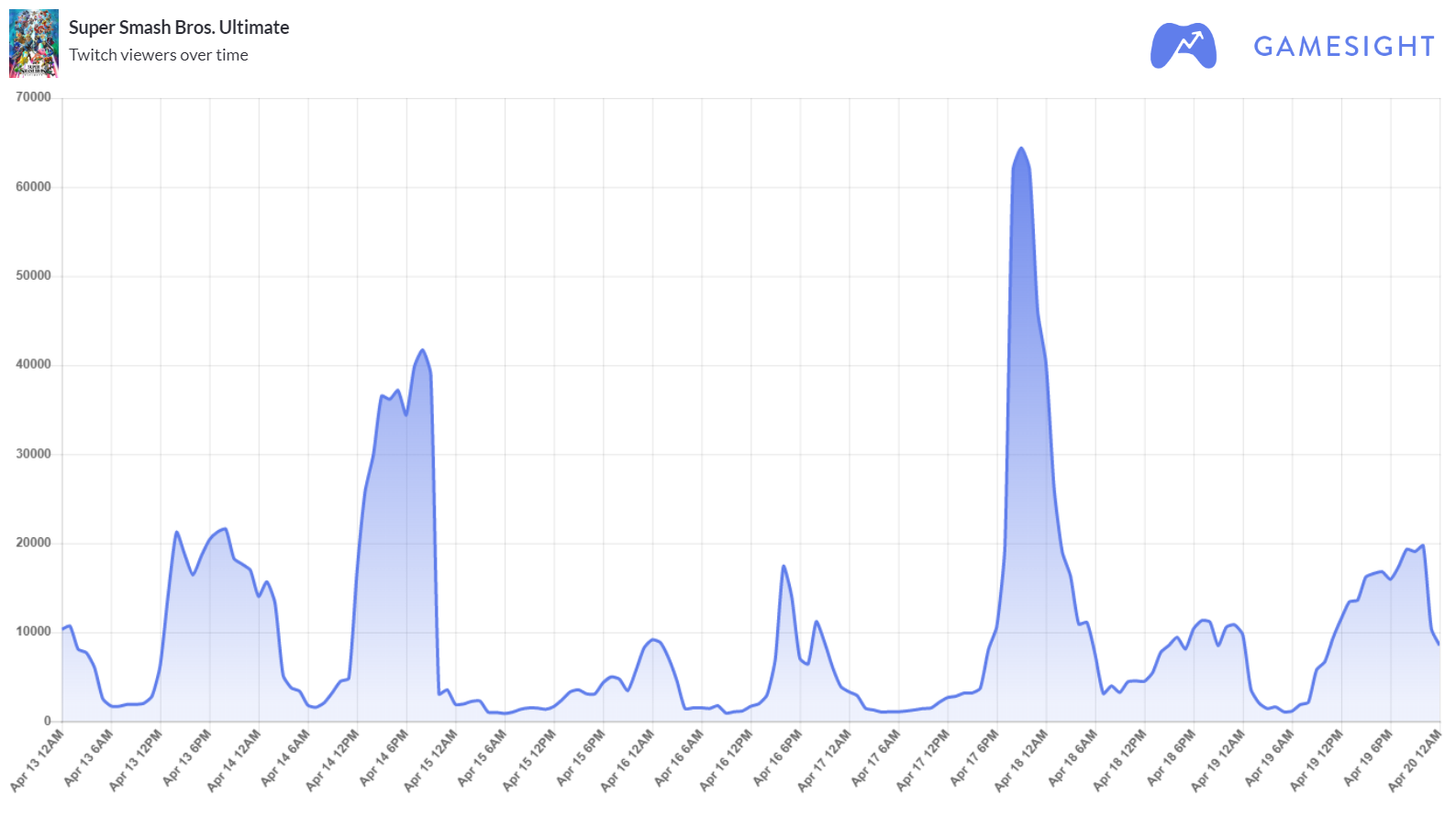 Increase Viewership: 1,639,741 Hours (303.45%)
Increase Total Streamers: 3260 (66.72%)
Super Smash Bros. Ultimate is featured in tournaments and competitions with such incredible frequency that there's typically a contest to watch multiple times a week. Most are smaller affairs, but larger scale events do bring in similarly large audiences. Such was the case this week, as the Prime Saga tournament was held in La Mirada, California from April 13-14. But, that wasn't the only reason Smash made the top five. On Wednesday evening, Nintendo announced a brand new character, live, via stream, and the community exploded. The addition of Joker from the Persona series not only drew in enormous viewership numbers, but also provided a strong platform for Smash creators to play the game up to and following the announcement, leading to a strong night for many streamers in the community. Nintendo has been one of the best companies out there as far as leveraging the streaming platform to build hype for games, updates, and announcements, and this is just the latest example.  
3. Rocket League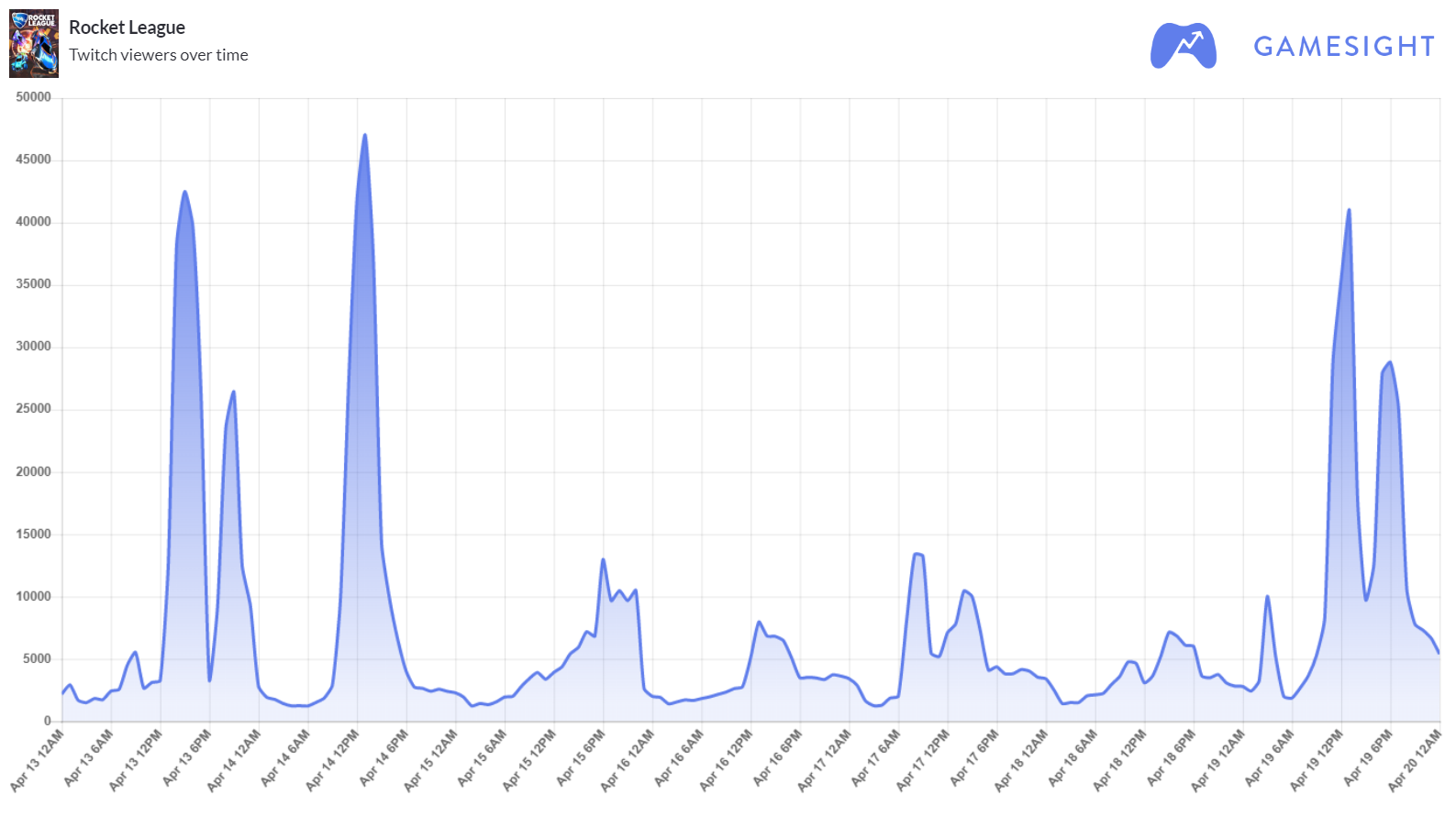 Increase Viewership: 918,343 Hours (103.83%)
Increase Total Streamers: 7641 (32.21%)
The Rocket League Rivals Series continued last week, with matches taking place over the weekend and then the following Friday, and the game's viewership numbers continued to climb as more and more fans were drawn to the competition. We already spoke last week of the incredible staying power provided by a strong competitive community, but it's still worth keeping in mind. Rocket League has been around for a long time, by now, and it continues to pull in solid Twitch numbers whenever it has a tournament. When you have a hit in the esports marketplace, you can hang around for a long time.
4. World of Warcraft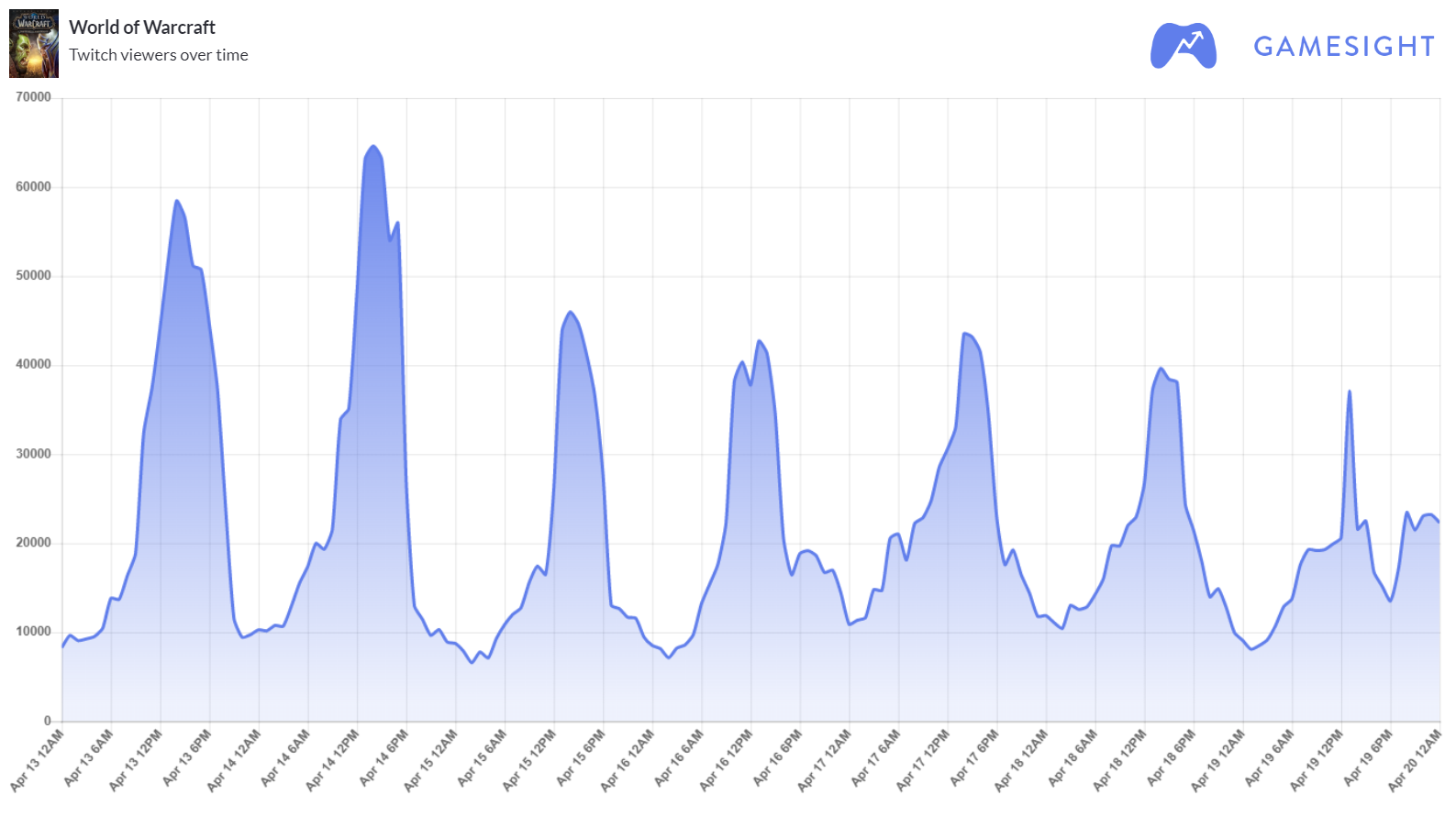 Increase Viewership: 2,171,584 Hours (91.03%)
Increase Total Streamers: 2984 (13.83%)
Speaking of esports, it's yet another competition that's responsible for the king of MMORPGs taking a spot in our weekly top five. The 'Mythic Dungeon International' pits teams against each other in time-trials, the squad who completes the dungeon faster being declared the winner. It began with the Western Cup on March 30th, and continues through today, with the second round of the aforementioned cup taking place on April 13-14, and another stage beginning on April 19. While the increase in total streamers is somewhat modest, it's clear that this competition is bringing many new viewers. World of Warcraft isn't necessarily the first title that springs to mind when thinking of competitions and esports, but, even here, the tournament has done amazing things for the game's streaming community. It's even more stark evidence that cultivating that kind of environment can do incredible things for your title's longevity and engagement.
5. Escape from Tarkov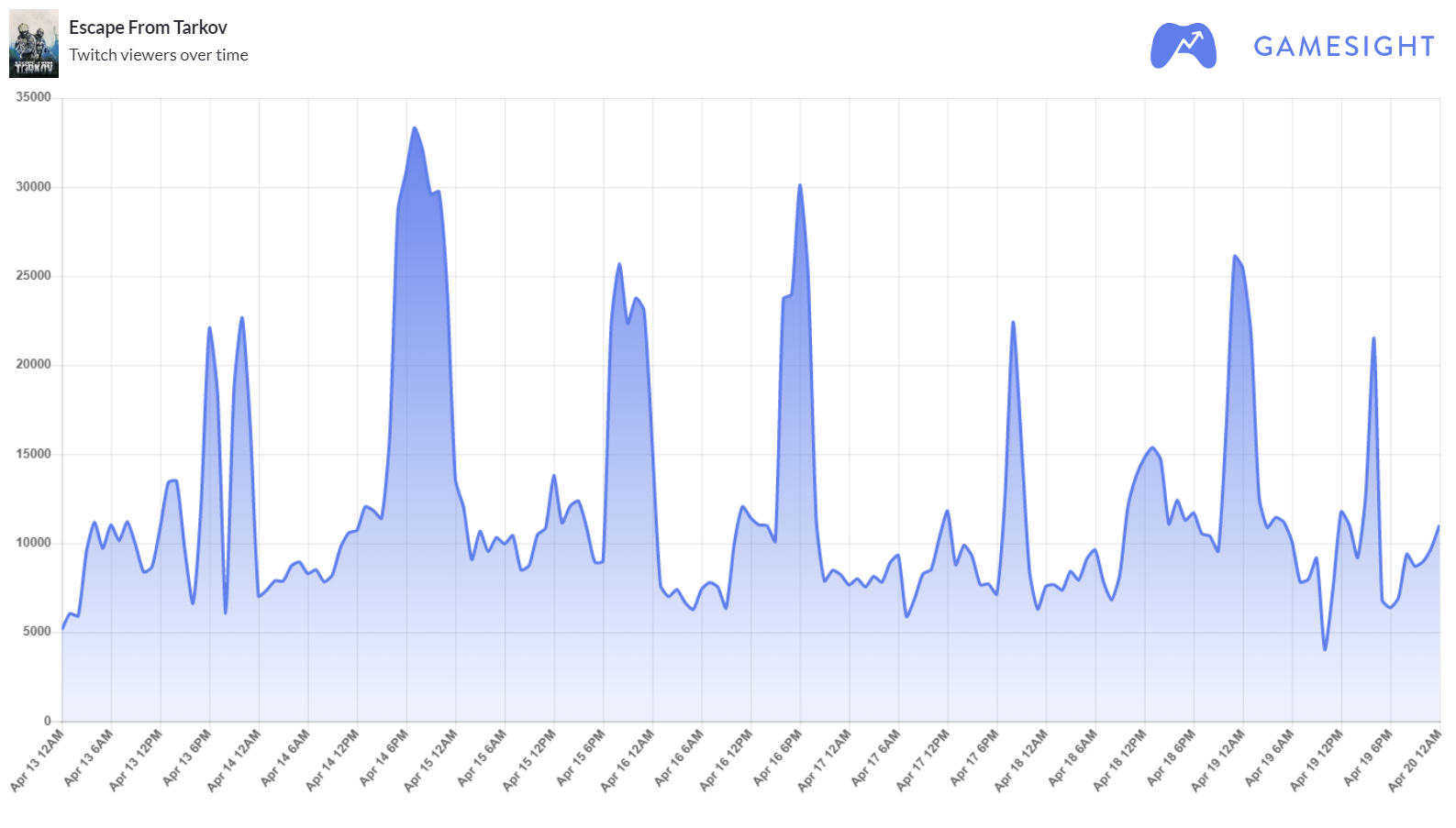 Increase Viewership: 1,297,089 Hours (101.05%)
Increase Total Streamers: 1505 (23.45%)
It fell a few spots since last week, but the constantly evolving tactical first-person shooter from Battlestate games continues to grow as it moves through its very, very long 'pre-release' phase. Primarily a multiplayer game, for the moment, the title has grown week after week, in spite of only being available through the game's website. The fact that it's not just growing, but holding on to its players and streamers, keeping their attention, is a positive sign for the future. As the game continues to see development, we wouldn't be surprised if it pops up again and again on our fastest rising list. This is a title to watch.
---
Top New Releases
1. Anno 1800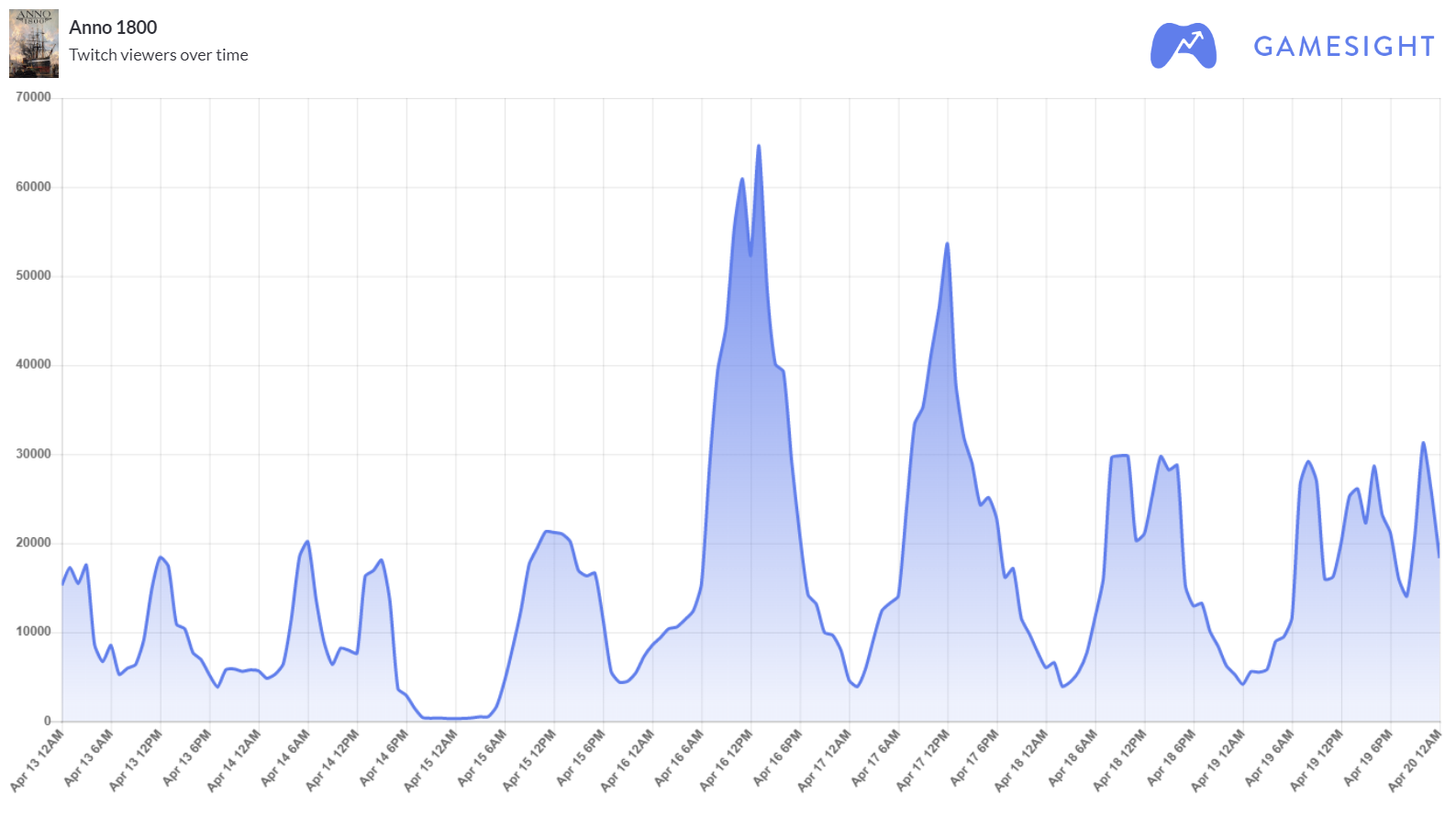 Total Viewership: 3,316,915 Hours, 11th Overall
Total Streamers: 6998 Channels, 35th Overall
We've spoken about Anno 1800 before as it moved through its early access periods, the alphas and betas, as we had yet to refine our rankings by holding back games that had not yet been "fully released." It was incredibly popular then, which is why it made its way into our rankings, and, this week, it emerged in its final state, shooting up to the top and becoming our fastest rising new release on the platform. To be clear: streamers have had their hands on this title already. Many creators were given early access, and those that pre-ordered the game were given access to earlier versions as they were released. Still, its engagement exploded this week once everyone could get their hands on the completed game, and its community has absolutely embraced the title. Strategy building simulators like this are typically niche games; their players are some of the most engaged and excited to play, both at release and during updates, but the game's reach is typically somewhat limited. As such, we expect Anno 1800's audience to retract, now that the hype of its initial release is over. Still, we also expect it to carve out a solid and stable baseline of streamers, and to remain relevant for some time. It's been an incredibly successful lead up to and execution of the game's release, and we're excited to see how that translates to the rest of the title's lifespan.
2. World War Z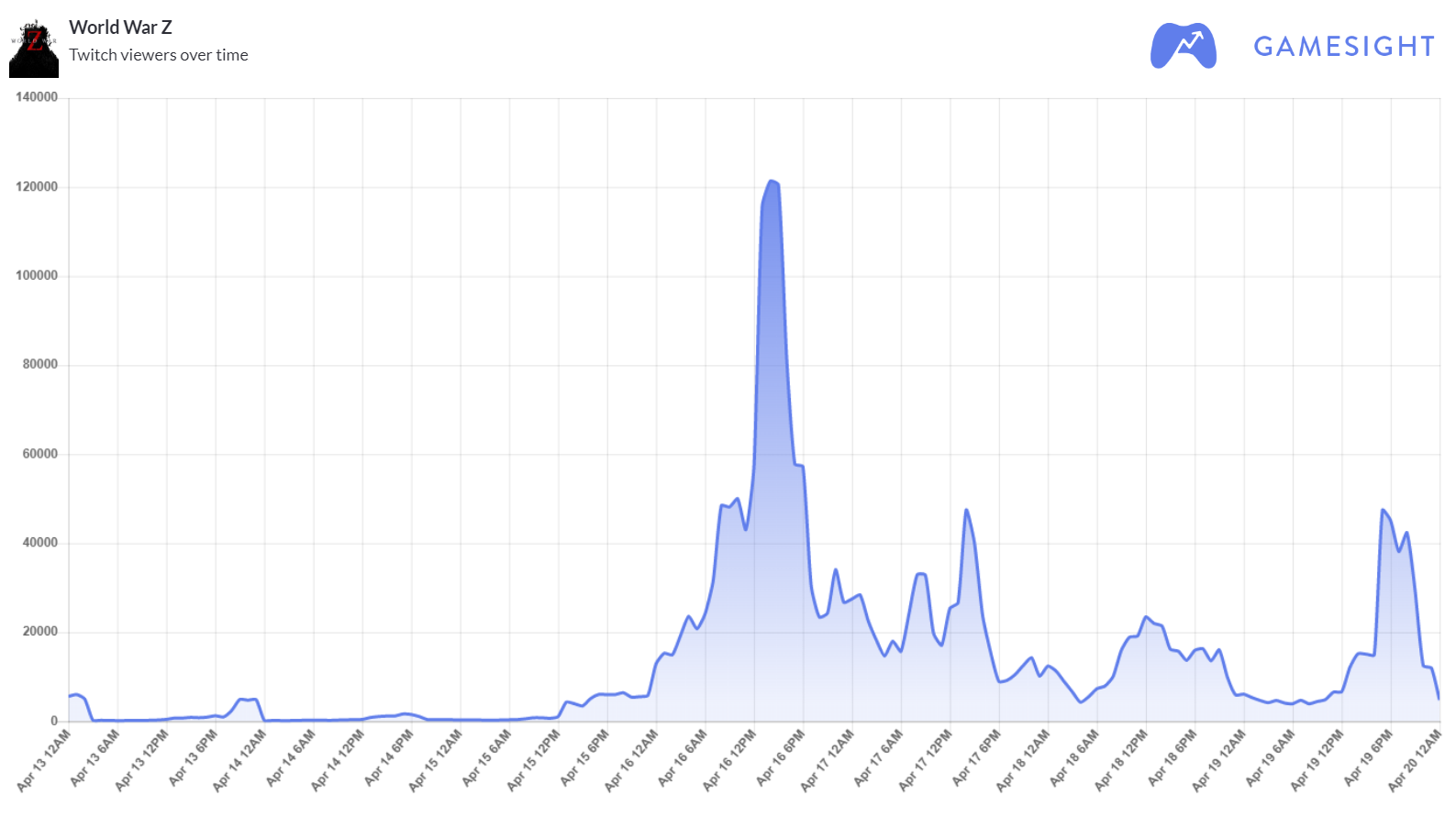 Total Viewership: 2,778,177 Hours, 12th Overall
Total Streamers: 22,135 Channels, 16th Overall
After initially being announced at the 2017 Game Awards, WWZ became another title that ditched Steam for Epic Games Store exclusivity. As discussed here, this move did get the game back into the news cycle, and likely resulted in a lot more attention for its release than it would have otherwise enjoyed. That's one of the big reasons that the game did so well, initially, with a peak of over 130,000 viewers. But, that success was very short lived, as you can see above. Viewership fell to a peak of approximately 50,000 the following day, and only 25,000 the day after. These are the signs of a title with a short shelf-life. Not all is lost, of course. Those that are playing tend to come away impressed. But, without sustained viewership and engagement from streamers, a title like this cannot survive. It was one of the largest new releases of the week, but if it doesn't recapture some of that energy moving forward, we won't be seeing it again.
3. Forager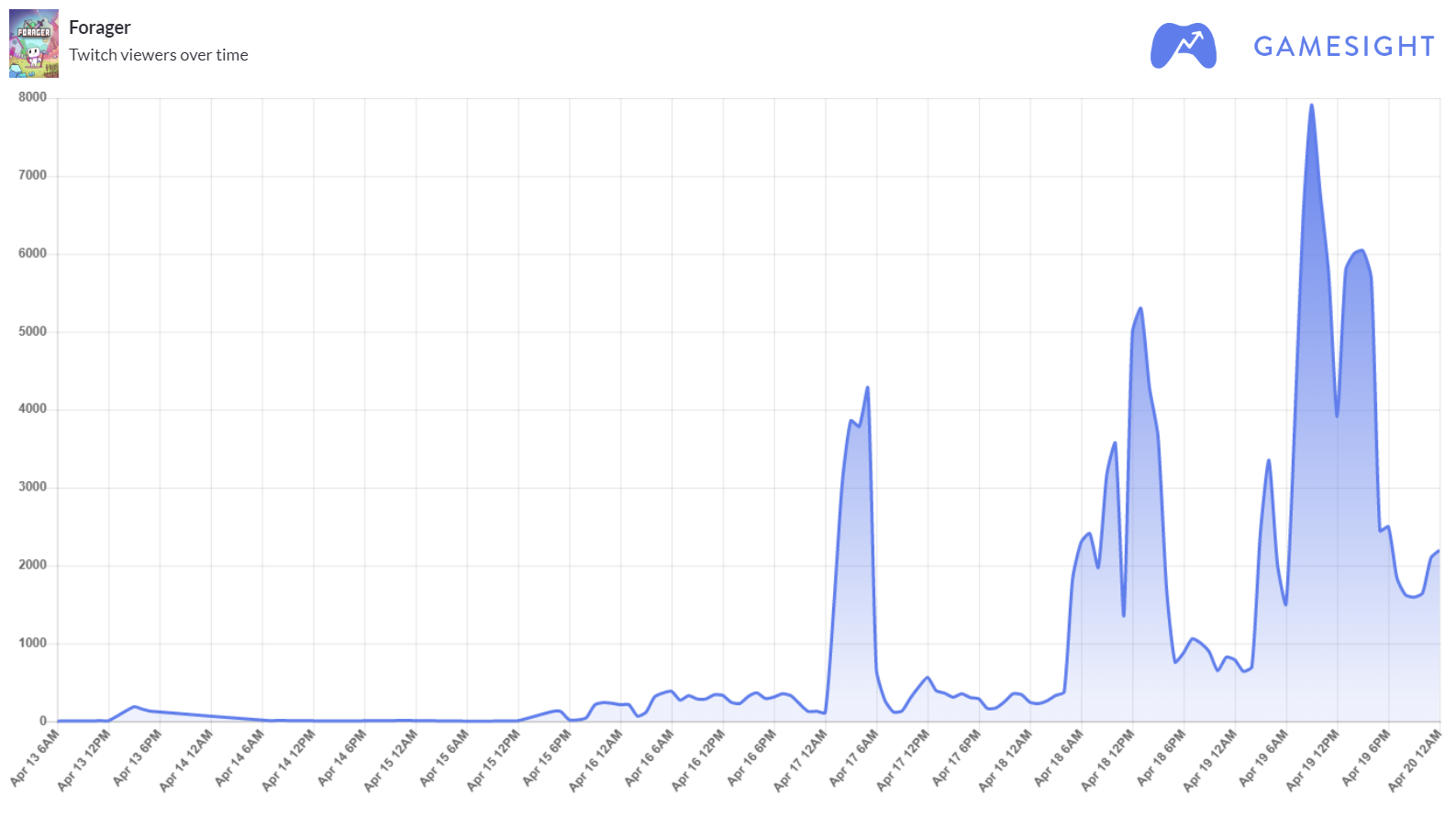 Total Viewership: 468,940 Hours, 42nd Overall
Total Streamers: 1735 Channels, 100+ Overall
Following in the footsteps of exploration and creation games like Minecraft, Don't Starve, and Starbound, the latest from Humble Bundle and developer HopFrog had a very solid first week for a smaller title, and looks to be trending upward looking into the future. This is the sort of game that can carve out a healthy niche for itself as a regular title in rotation for variety streamers and strategy fans. It doesn't have the potential to reach the top of the Twitch charts, but it could stick around for a long time if it continues to see active development and community engagement.
4. Katana Zero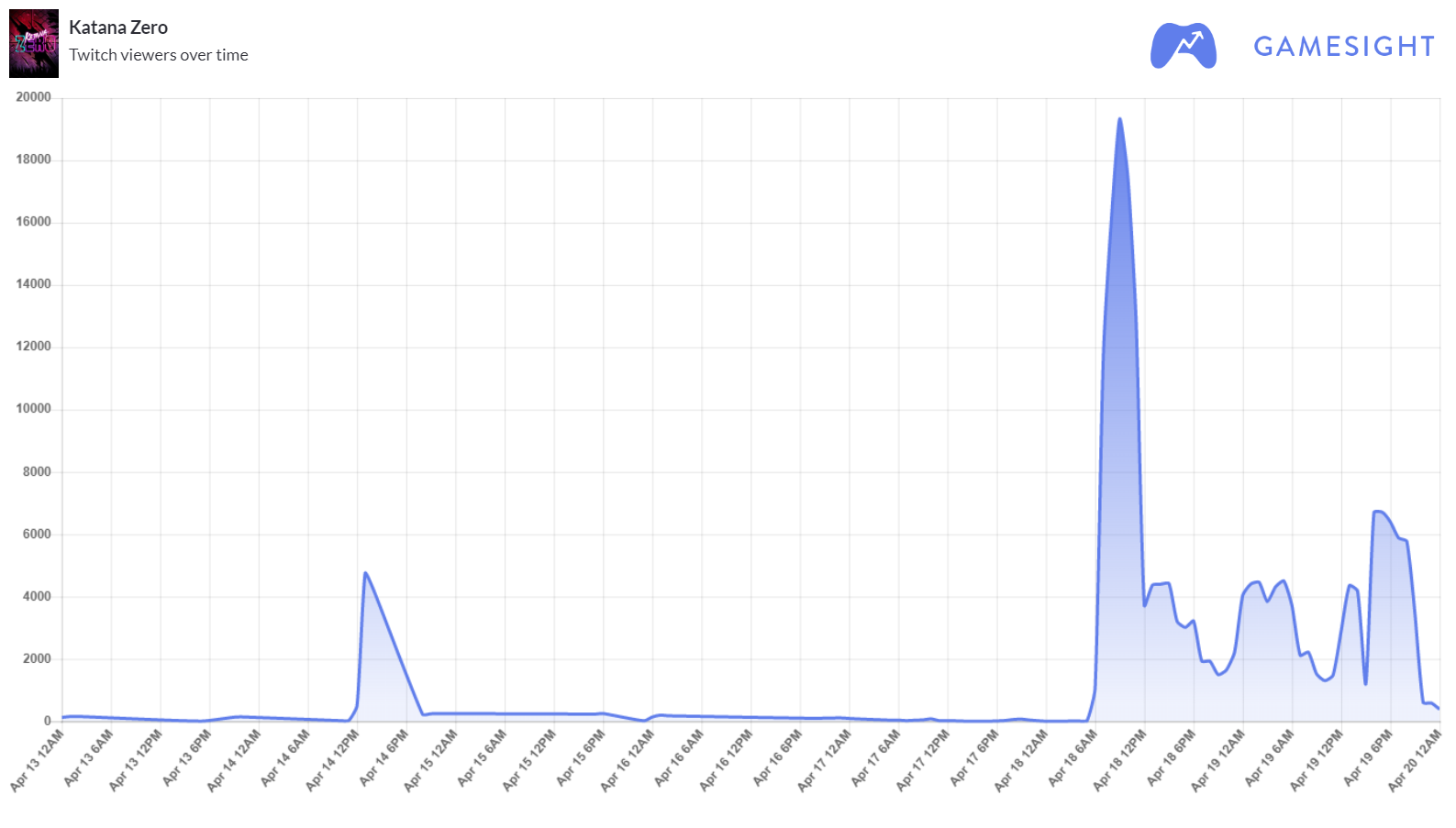 Total Viewership: 309,265 Hours, 55th Overall
Total Streamers: 1241 Channels, 100+ Overall
A side-scrolling action title with gore-filled pixel-style graphics, Katana Zero pulls in at fourth on our list of new releases on the back of its very strong first day on the platform. s you can see, while it peaked at just under 20,000 total viewers on the day of its release, it fell to at or around peaks of 6000 quickly thereafter. This is typically a sign that a game doesn't have much staying power, as streamers quickly move on once the novelty wears off. We could be mistaken, and, of course, particularly for a smaller title like this, this doesn't preclude the game from being a success in regards to playership and sales. Still, at least in regards to Twitch presence, this might be the most engagement the game will see.
5. One Finger Death Punch 2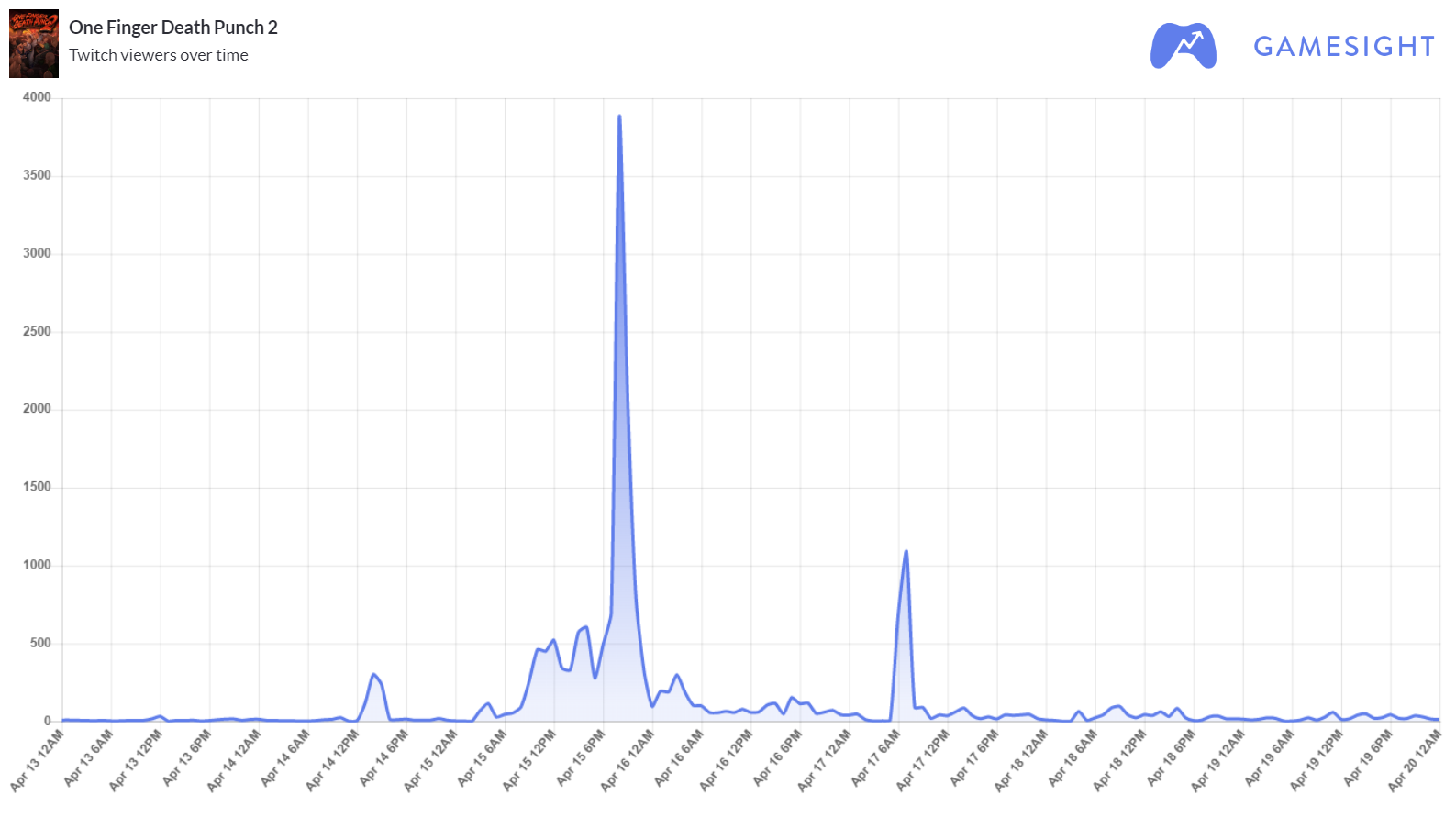 Total Viewership: 21,450 Hours, 300+ Overall
Total Streamers: 872 Channels, 100+ Overall
It was a somewhat light week for new releases, which is why the very simple but positively reviewed One Finger Death Punch 2 rounds out our list in spite of its relatively small audience. While games like this are addictive and exhilarating, it doesn't provide much in the way of dynamic visuals or varied gameplay, which makes it less rewarding as a viewer. It's fun, to a point, to watch a creator struggle against adversity and slowly improve, bit by bit, but that energy doesn't maintain for very long, and a creator will typically move on rather swiftly. So, while it takes the final spot in this week's list, don't expect to see it in our rankings again.
---
Top Falling
(Graphs show previous two weeks of viewership, for context.)
1. Outward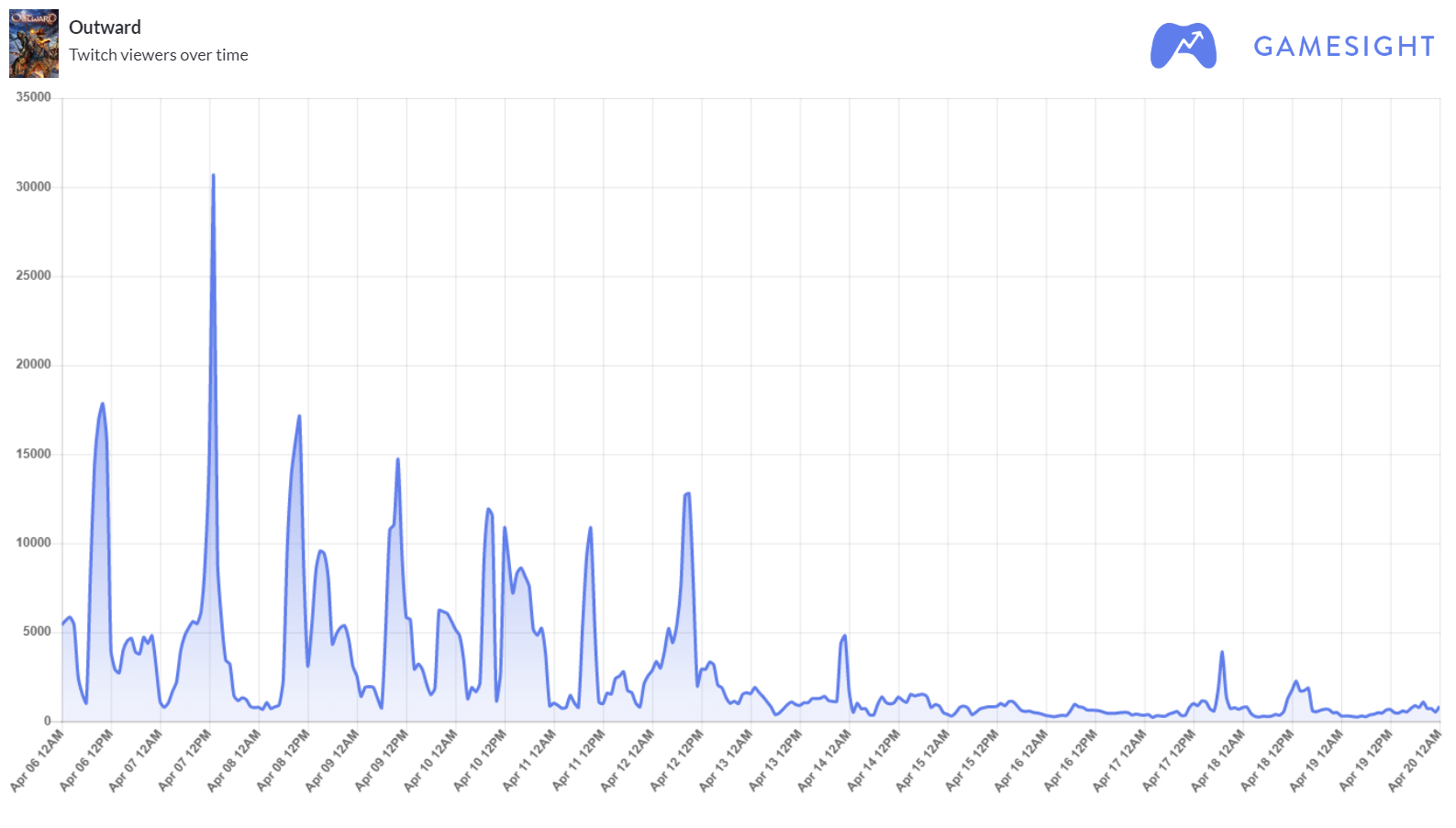 Decrease Viewership: 557,549 Hours (77.45%)
Decrease Streamers: 494 Channels (19.07%)
One of our fastest rising new releases last week, the arrow seems to have spun around for the open-world RPG from Deep Silver and developer Nine Dots Studio. With the novelty wearing off, it doesn't appear that audiences are very interested in diving deeper into the world of Outward alongside their favorite streamers. While, again, this doesn't preclude the game from being a success with players, it doesn't seem it will have much of a lifespan on Twitch.
2. Tropico 6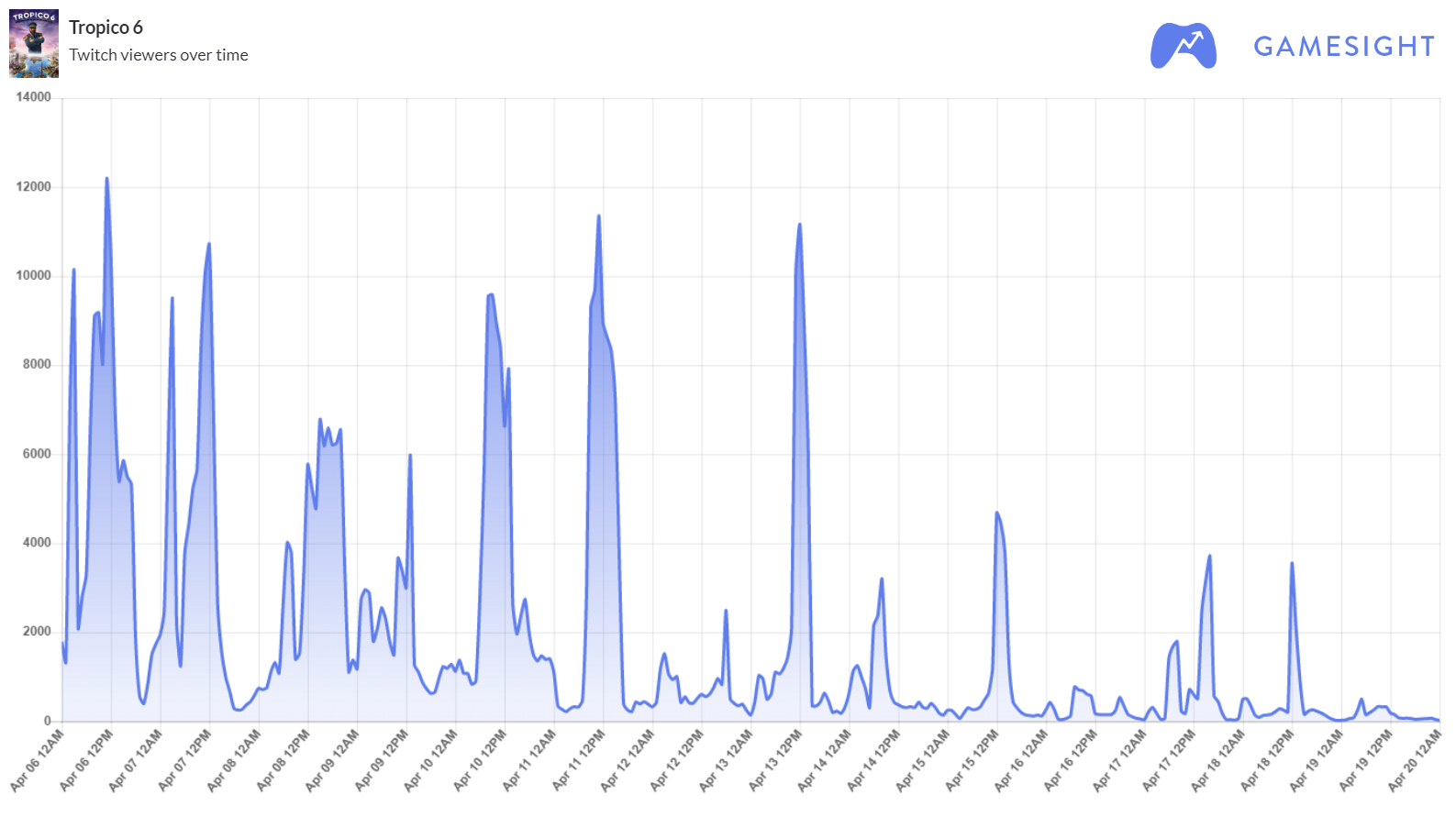 Decrease Viewership: 269,536 Hours (64.81%)
Decrease Streamers: 271 Channels (24.30%)
Viewership continued to decline, this week, for Tropico 6, with the energy of its release all but fading and leaving behind only the die-hard fans. Interestingly, the title didn't lose nearly the percentage of streamers as it did viewers, which seems to indicate that while the top-tier creators have moved on, streamers do remain, simply with smaller audiences. It seems unlikely that we'll be seeing this title reach the top of the charts again, but an expansion or update could bring all of those top creators back, if only temporarily. We'll be keeping an eye on it moving forward to see just where it goes from here.
3. Borderlands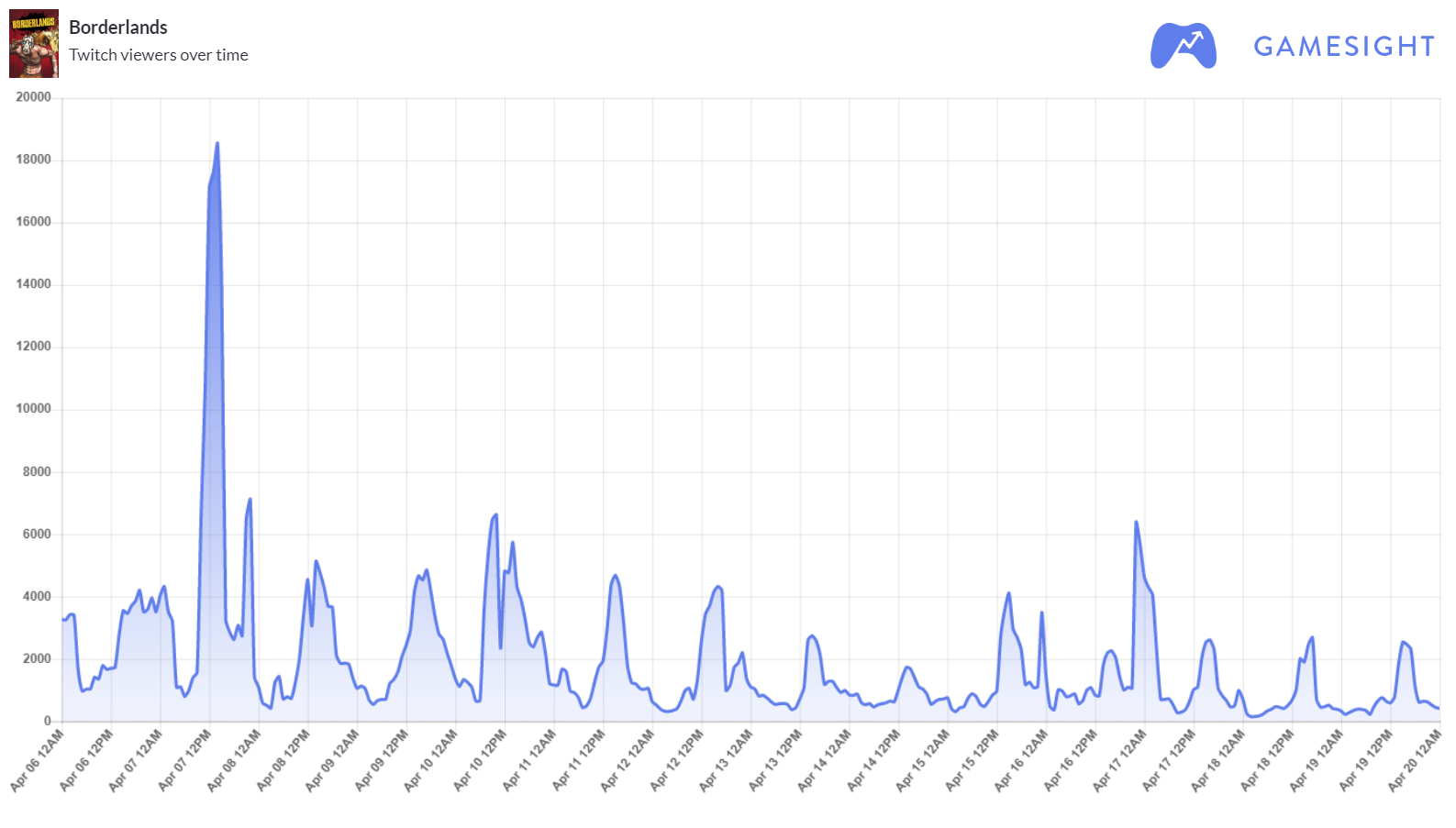 Decrease Viewership: 223,717 Hours (53.09%)
Decrease Streamers: 1894 Channels (32.58%)
Nothing mysterious going on here: the release of the brand new hi-res texture packs for the Gearbox classic drew many players back to the original Borderlands as hype for the new Borderlands 3 builds, but that energy always had an expiration date. Now that players have had their fill, diving back in, it would appear that streamers and audiences are once again moving on from the classic loot shooter. Still, this was a powerful demonstration of the impact such a rerelease can have on a game's, or IP's, audience. Even with the Epic Games Store controversy, expect this energy to carry over to the new title when it comes out this fall.
4. Super Dragonball Heroes: World Mission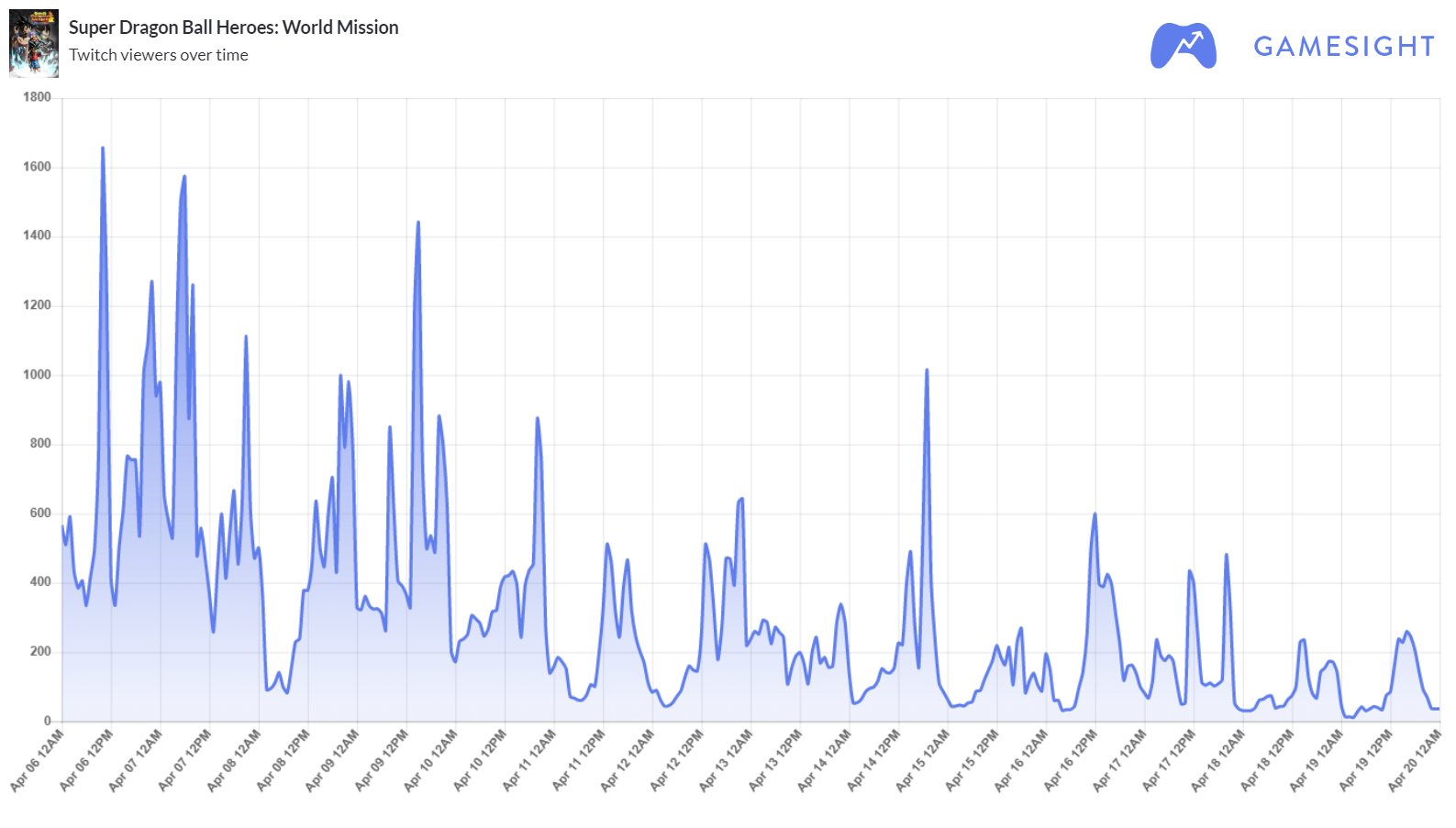 Decrease Viewership: 38,394 Hours (55.13%)
Decrease Streamers: 223 Channels (31.10%)
Once again, the novelty appears to have worn off, as the DCCG title set in the Dragonball Super universe has lost more than half its viewership since the week of its release. Competition in the collectible card genre is fierce, and if you don't hit it big it's very easy to get lost in the pile. It seems that might be the case here. Either way, daily viewership peaks of approximately 200 won't get the job done, and certainly won't encourage a healthy and robust community of players and viewers. The Dragonball IP is strong, but it seems it might not be strong enough to carry this title to success.
5. Sekiro: Shadows Die Twice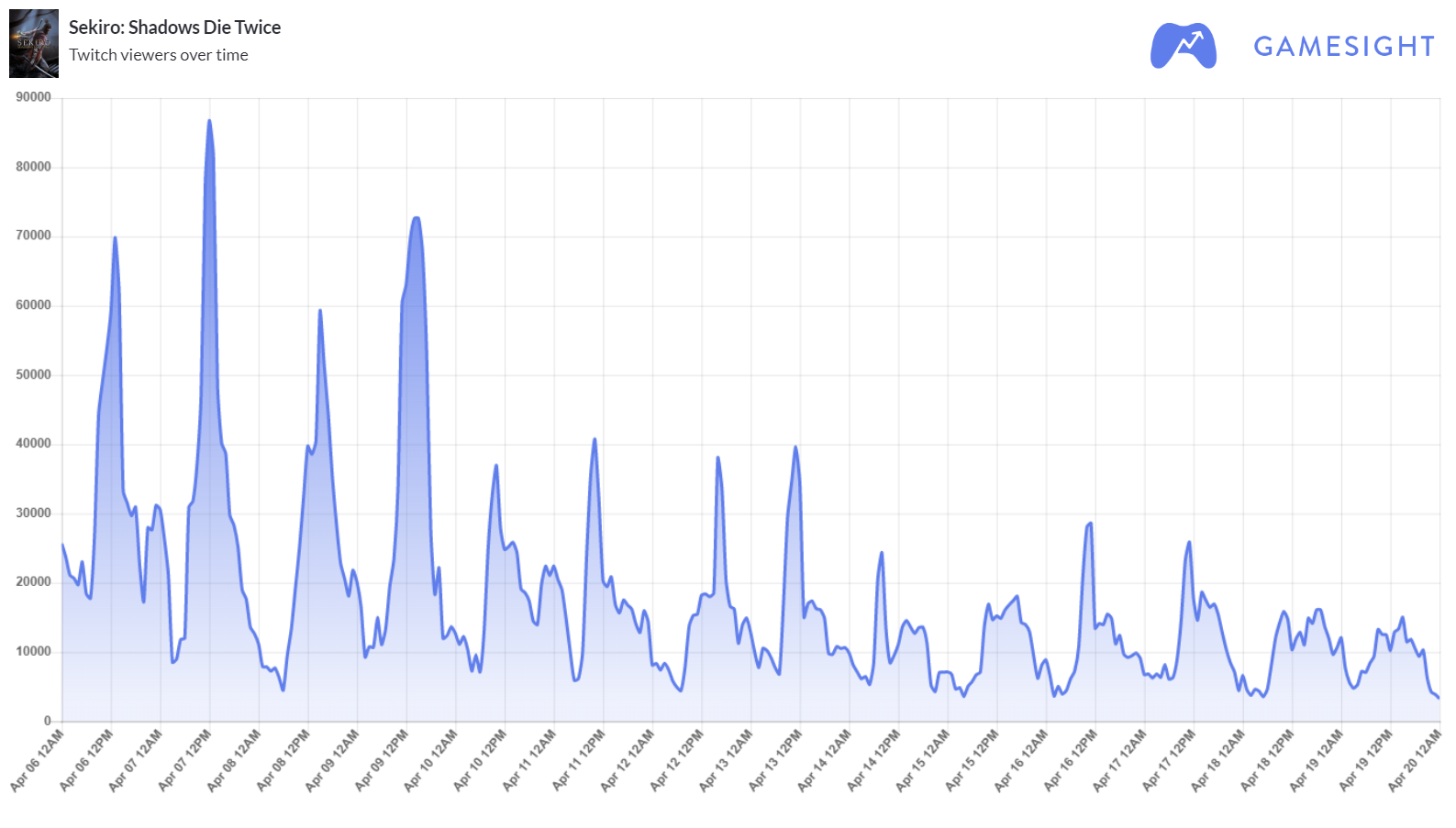 Decrease Viewership: 1,305,784 Hours (35.46%)
Decrease Streamers: 3113 Channels (11.06%)
To be clear: Sekiro is doing just fine. When a title, particularly a single-player one, is such a massive success, it leaves it with nowhere to really go but down, and that's what happens as more and more players "finish" the game and move on to something new. What remains, though, will be a dedicated community of speedrunners, lore-enthusiasts, and fans that should keep the game relevant for years to come, just like its predecessors in the 'Soulsborne' series. While the graph above doesn't look great, it's important to remember that it's undergoing that transition, from new release to established title, and that it will achieve a new healthy equilibrium.
---
To compare to last week's rankings, click here, and be sure to check out our ongoing series breaking down Auto Chess. Follow us on Twitter and LinkedIn for all the latest blogs, announcements, and game marketing news from the team at GAMESIGHT!