#Top5OnTwitch for 9/21 - 9/27
Which games are rising on the Twitch charts? Which streamers are dominating the most popular titles? Check out our official rankings!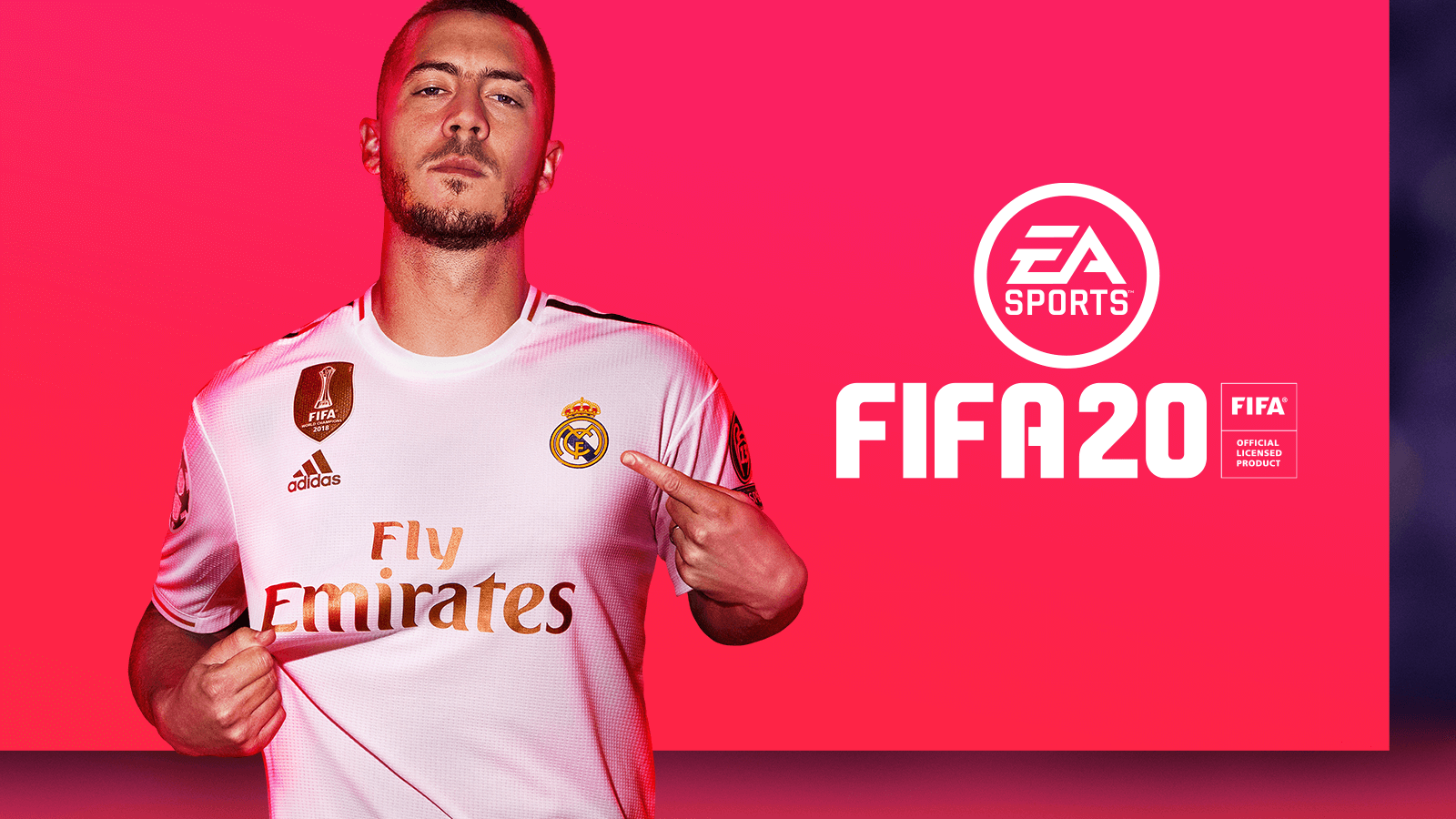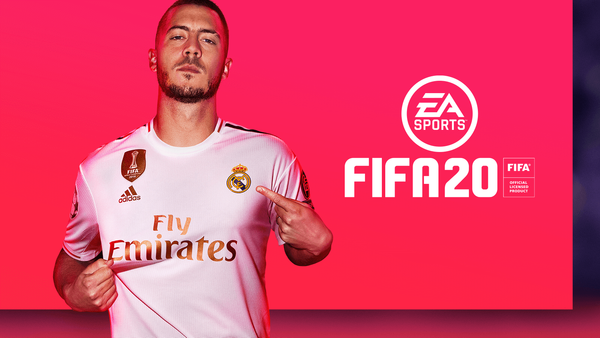 Which games are rising on the Twitch charts? Which streamers are dominating the most popular titles? Check out our official rankings!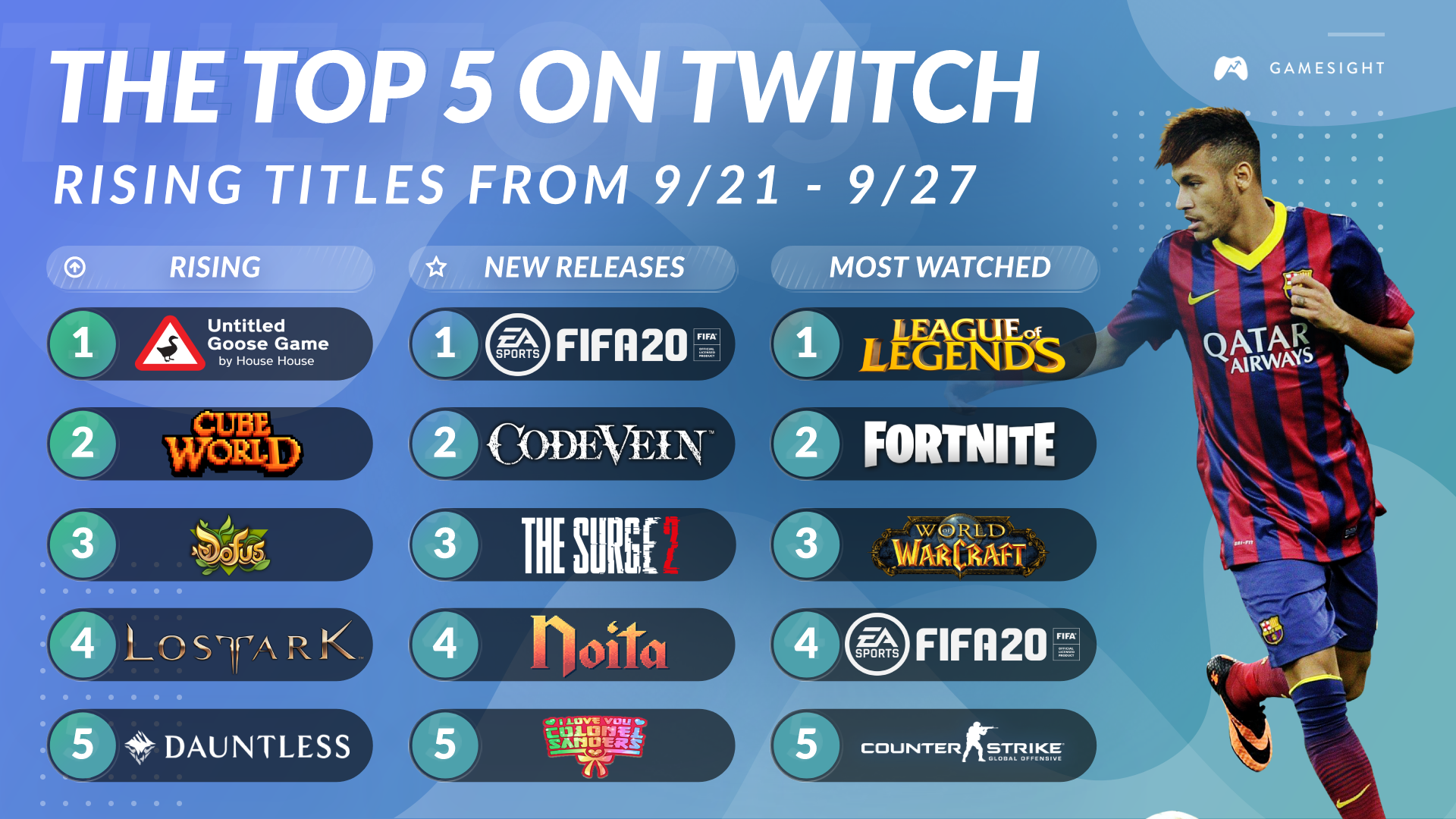 Note: The following rankings are based on a combination of both gross and percentage change to viewership and total streams. As such, dominant and stable titles near the top of the charts will not always, or often, appear.
Graphs for Top Rising titles show previous two weeks for context.
---
Top Rising

1. Untitled Goose Game
Increase Viewership: 763,204 Hours (868.40%)
Increase Channels: 2925 Creators (376.44%)
Last week, in spite of only being available for one day, Untitled Goose Game made it to the top of our rankings for new releases on Twitch, with its debut alone pulling it ahead of all but the most high-profile of competition in the remake of The Legend of Zelda: Link's Awakening. But, while the latter title just barely missed this week's list of returning titles, the puzzle game staring the eponymous annoying avian rode its momentum into the top spot, becoming our fastest rising title on Twitch.
Seventeen creators accrued at least 10,000 hours of viewership during our rankings period, including top performing talent like Alanzoka (67,219), Lirik (57,767), and CDNThe3rd (34,470). At the same time, though, those top creators only streamed the game an average of 1.6 times, for an average of just over four hours. None of that is meant to take away from the accomplishment this first full week has been for developer House House and publisher Panic Inc. Not every title is meant to provide hundreds of hours of content; the measure of success for a single player comedy puzzle game on Twitch should instead be whether it managed to seize its moment. Untitled Goose Game's streaming numbers indicate it absolutely has.

2. Cube World
Increase Viewership: 587,280 Hours (4732.04%)
Increase Channels: 2742 Creators (862.26%)
The first playable version of Cube World, a voxel-based RPG adventure, was released all the way back in July of 2013. With the look of Minecraft and the dungeon-crawling, character-customization focused gameplay of Skyrim, the game's alpha was initially well received, but in the time since, with little communication between the game's audience and the two-person development team, many in the community have since moved on, believing that the completed version of the title would never be released.
Then, just last month, creator Wolfram von Funck announced that the game would be released to Steam on September 30th, and on September 23rd players who backed the alpha version of the game, way back when, were granted early access to the Steam version of the title, quickly resurrecting the long-dormant community and making it one of the fastest growing on Twitch. A peak of 348 streamers reached nearly 36,000 simultaneous viewers on its first day, showing that the enthusiasm is still there, even after six years of silence. Keep in mind, this is just the first wave of players, as well. Will its numbers climb even higher once it becomes widely available? That's a story for next week...
3. Dofus
Increase Viewership: 667,393 Hours (702.21%)
Increase Channels: 930 Creators (201.29%)
One of the big stories on Twitch over the last month has been the rise of World of Warcraft Classic, the re-release of the original state of the iconic MMORPG which has returned the game to the top of the streaming charts. Seeing Blizzard's move paying off in a big way, it's no surprise to see other games following suit. Enter Dofus, the Flash-based tactical MMORPG from Akama Games which was first released world-wide in 2005. In a decade and a half, Dofus has accrued over 40 million players, and as with WoW, many of those players have been around the whole time, fondly remembering things the way they originally functioned, even as they've appreciated the title's growth.
This week, the team at Ankama Games gave their community a treat with the release of Dofus Retro, a "treat from another time for our most nostalgic players," and it resulted in a huge explosion of growth on Twitch, enough for it to take the third spot in our list of the fastest rising titles on the platform. Indications are that the resulting spike in viewership and streams has already reached its peak, and will slowly fall over the coming weeks, but that doesn't mean this wasn't a huge success, and it certainly brought the game back to streaming relevance.
4. Lost Ark Online
Increase Viewership: 137,756 Hours (318.65%)
Increase Channels: 855 Creators (440.72%)
The reach of Twitch and the streaming community goes well beyond the English-speaking world, and even though a Western release for Lost Ark Online is still far from confirmed, it continues to grow.  An MMO-ARPG similar in game-play to titles like Diablo, Lost Ark comes from Korean developer Smilegate, and was released into open beta in that region last fall. On September 25th, the game became available outside of Korea for the first time, with a closed beta beginning in Russia. This opened the doors to an entirely new population of creators and viewers, and the game exploded from its previous average peak of approximately 25 creators each day to an initial peak of 255, a more than ten-times increase.
Smilegate is playing it slow with Lost Ark, perfecting the game in each region before moving on to the next, and it seems to be yielding positive results. Again, an English language version has not yet been announced, but its success in Russia seems to indicate that the title has appeal beyond Korea, and could find further success in the West. We'll be keeping an eye on the title's continued expansion in anticipation.
5. Dauntless
Increase Viewership: 164,339 Hours (281.01%)
Increase Channels: 454 Creators (23.72%)
Rounding out our top five this week is Dauntless, which exited early access and released its"1.0" version to its players on September 26th and saw a significant resulting increase in viewership over the just two days within our rankings period. When it first released into early access this past May, it made headlines for being one of the first heavily promoted titles to feature cross-play across PC, PS4, and Xbox One. This made for a successful release, but as time has gone on, the title hasn't sustained significant Twitch viewership. This new, large update has, thus far, brought streamers back to the game for the first time. The update brings with it a new season of content, featuring new bounties, challenges, weapons, and quests, along with the promise of even more content to come. Next week will be interesting, as players have a full seven days to engage with the new content, and we'll be keeping an eye on the game to see if it can maintain this new momentum.
---
Top Five New Releases

1. FIFA 20
Total Viewership: 10,267,757 Hours (3rd Overall)
Total Channels:  20,786 Creators (17th Overall)
EA Sports' FIFA franchise is the biggest sport simulation title in video games, with a world-wide footprint of players, streamers, and viewers across myriad regions, languages, and platforms. Each new release in the series is an enormous event, and this past week saw FIFA 20 officially finding itself into the hands of the community. As a result, it wasn't just the fastest rising new release on Twitch; it was the fourth most watched title, period.
The online FIFA community is very consistent, maintaining a solid foundation of streamers on Twitch throughout the lifespan of each new title, only really tailing off in the final three months as anticipation builds for the newer iteration. FIFA 19 debuted to a peak of 1921 streamers last year, compared to 1785 this year, close enough to show this pattern of the entire community moving on together. Initial peak viewership, meanwhile, has greatly increased, from just over 104,000 viewers on September 28th of last year, to just under 150,000 on this version's release day, and almost 175,000 only two days later. So, while the population of creators seems to be holding steady, the audience on Twitch has grown substantially. This is likely to be another big year for the FIFA franchise, and this week it's gotten off to a brilliant start.
2. Code Vein
Total Viewership: 1,083,468 Hours (29th Overall)
Total Channels: 5454 Creators (33rd Overall)
Code Vein was originally supposed to release in September of 2018, and after a year-long delay and a successful closed beta this past May, the ARPG from Bandai Namco and Shift was finally unveiled on September 26th. Marrying the classic Dark Souls formula with an anime-flavoured post-apocalyptic monster drama, the game reached a peak of 770 active streamers on its first day, and a peak of just under 55,000 concurrent viewers by the end of the week.
The game climbed up to the top of the charts thanks to big contributions from large audience creators. Alanzoka accrued over 110,000 hours of viewership, averaging more than 15,000 viewers during his seven hours playing the game. Meanwhile, Fextralife added over 180,000 hours and his average 11,000 viewers from his over thirteen hours broadcasting. All told, fifteen creators accrued at least 10,000 hours of viewership in those first two days. It wasn't just top-heavy, either, with over 5000 participating channels. With its multiplayer elements and some solid momentum, it looks like we'll be seeing Code Vein will be spending at least a bit more time near the top of the charts. But, it wasn't the only "Souls-like" title in making this week's list of the top new releases…

3. The Surge 2
Total Viewership: 1,323,790 Hours (24th Overall)
Total Channels: 1632 Creators (106th Overall)
A sequel to the original Deck13 Interactive ARPG released in 2017, The Surge 2 leverages the difficult-but-rewarding gameplay of titles like Dark Souls to tell a story in a sci-fi universe, and it was released across multiple platforms on September 24th. The "Souls-Like" genre is growing increasingly crowded, but quality titles in the genre succeed on Twitch because they're a different experience for every player, and one that lends itself to replayability. They're single player titles, which means they don't rise to the level of live-service games in terms of their streaming footprint, but the successful entries in the space tend to maintain a solid presence longer than you'd find with other genres. If it can carve out a space for itself, primarily in the speedrunning space, The Surge 2 can do the same.

4. Noita
Total Viewership: 278,055 Hours (66th Overall)
Total Channels: 1191 Creators (140th Overall)
Noita is a charming action rogue-like featuring pixel graphics and a sophisticated physics engine, and it released into early access on September 24th. Roguelikes are perfect for Twitch because they're never really over; every session is different, featuring a different procedurally generated world within you can tell a unique story to your audience. With its impressive level of simulation, Noita presents a rich canvas upon which streamers can generate content, different from creator to creator. It's hard to tell, often, which of these titles will continue to grow into the hits that maintain a streaming presence for months or years, but this one has a lot of style. It will be worth watching as it matriculates through early access.
5. I Love You, Colonel Sanders! A Finger Lickin' Good Dating Simulator
Total Viewership: 70,905 Hours (166th Overall)
Total Channels: 3246 Creators (56th Overall)
Alright. Well. This one is…. Well, it is what it is. The internet was all abuzz early last week when it was announced that KFC was releasing a dating simulator featuring their beloved mascot Colonel Sanders, and you don't get that kind of publicity without quickly following up and delivering the real deal. I Love You, Colonel Sanders! A Finger Lickin' Good Dating Simulator, and yes, that is its real and complete title, was released onto Steam on September 24th, and over the next three days it performed well enough to make it into our top five rising new releases for the week.

This is the power of novelty, really. Dating simulators don't perform particularly well on Twitch, but when you release something this weird, and you get major gaming sites to cover it, streamers will jump at the opportunity to squeeze an hour or two of content out of that enticing combination of confusion and curiosity. That absolutely seems to be what's happening here. I'm sure there's a lesson in here about non-endemic brands finding new ways to market themselves on Twitch, but really, what more can you say? Fried chicken mascot dating simulator. That's a thing.
---
Top Five Most Viewed Overall

1. League of Legends
Total Viewership: 16,702,040 Hours (-6.92%)
Total Channels: 84,266 Creators (+2.97%)
Top 5 Channels Overall By Viewership
1. Doublelift - 922,000 Hours
2. Handongsuk - 521,000 Hours
3. loltyler1 - 408,000 Hours
4. Jukes - 361,000 Hours
5. Hashinshin - 336,000 Hours
2. Fortnite
Total Viewership: 13,729,415 Hours (+7.83%)
Total Channels: 183,508 Creators (-5.25%)
Top 5 Channels Overall By Viewership
1. Fortnite (Official) - 689,000 Hours
2. NICKMERCS - 478,000 Hours
3. Dakotaz - 384,000 Hours
4. Mrfreshasian - 354,000 Hours
5. TwitchRivals - 330,000 Hours
3. World of Warcraft
Total Viewership: 13,463,921 Hours (-18.77%)
Total Channels: 47,612 Creators (-10.53%)
Top 5 Channels Overall By Viewership
1. Asmongold - 2.2 Million Hours
2. EsfandTV - 692,000 Hours
3. MOONMOON OW - 634,000 Hours
4. Shroud - 450,000 Hours
5. Warcraft (Official) - 390,000 Hours
4. FIFA 20
Total Viewership: 10,267,757 Hours (NA)
Total Channels: 20,786 Creators (NA)
Top 5 Channels Overall By Viewership
1. Castro 1021- 1.2 Million Hours
2. MontanaBlack88 - 1.1 Million Hours
3. Handongsuk - 780,000 Hours
4. LPMassive - 602,000 Hours
5. Nick28T - 555,000 Hours
5. CS:GO
Total Viewership: 8,733,158 Hours (-4.64%)
Total Channels: 57,387 Channels (-0.15%)
Top 5 Channels Overall By Viewership
1. ESL CSGO - 1.7 Million Hours
2. Gaules - 794,000 Hours
3. V4FutureSports - 425,000 Hours
4. ESL CSGOb - 243,000 Hours
5. IzakOOO - 213,000 Hours
---
Be sure to see our breakdown of the most viewed eSports on Twitch during the month of August, and to read our breakdown of the potential reasons why World Of Warcraft is once again the biggest game in streaming. Also follow us on Twitter and LinkedIn for all the latest blogs, announcements, and game marketing news from the team at GAMESIGHT!