#Top5OnTwitch for March 7th - 13th
Which games are rising on the Twitch charts? Which streamers are dominating the most popular titles? Check out our official rankings!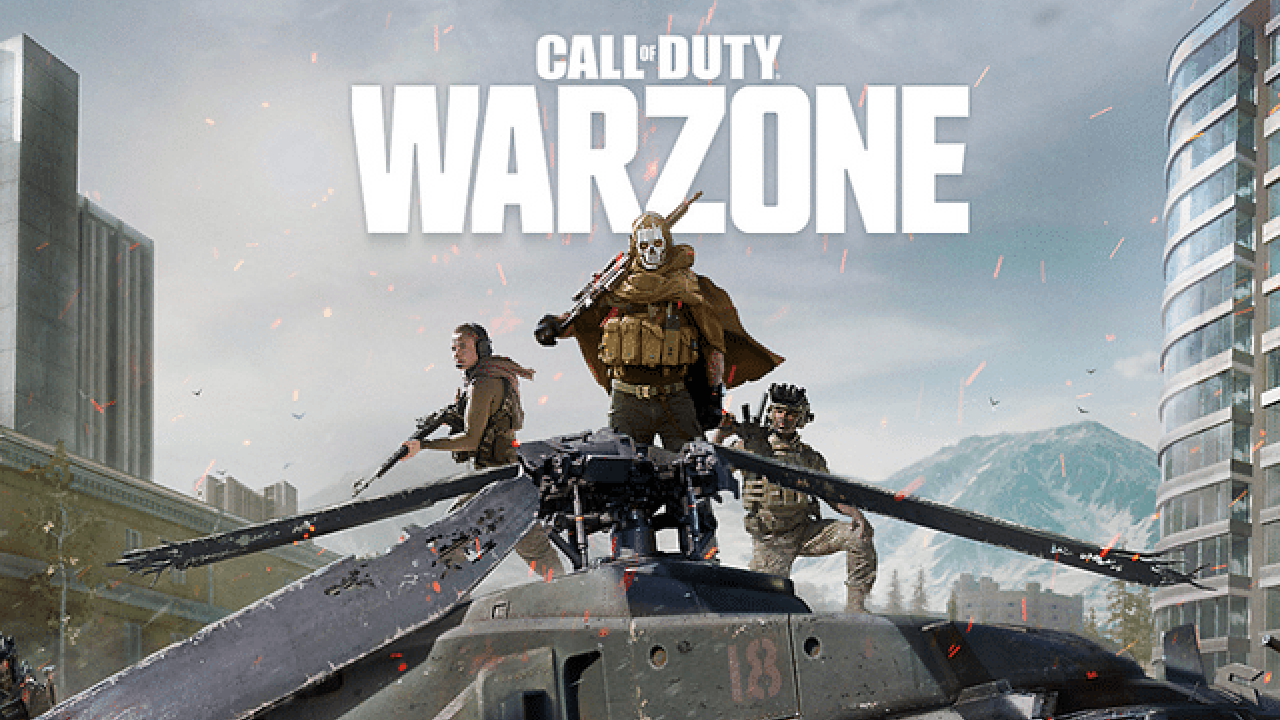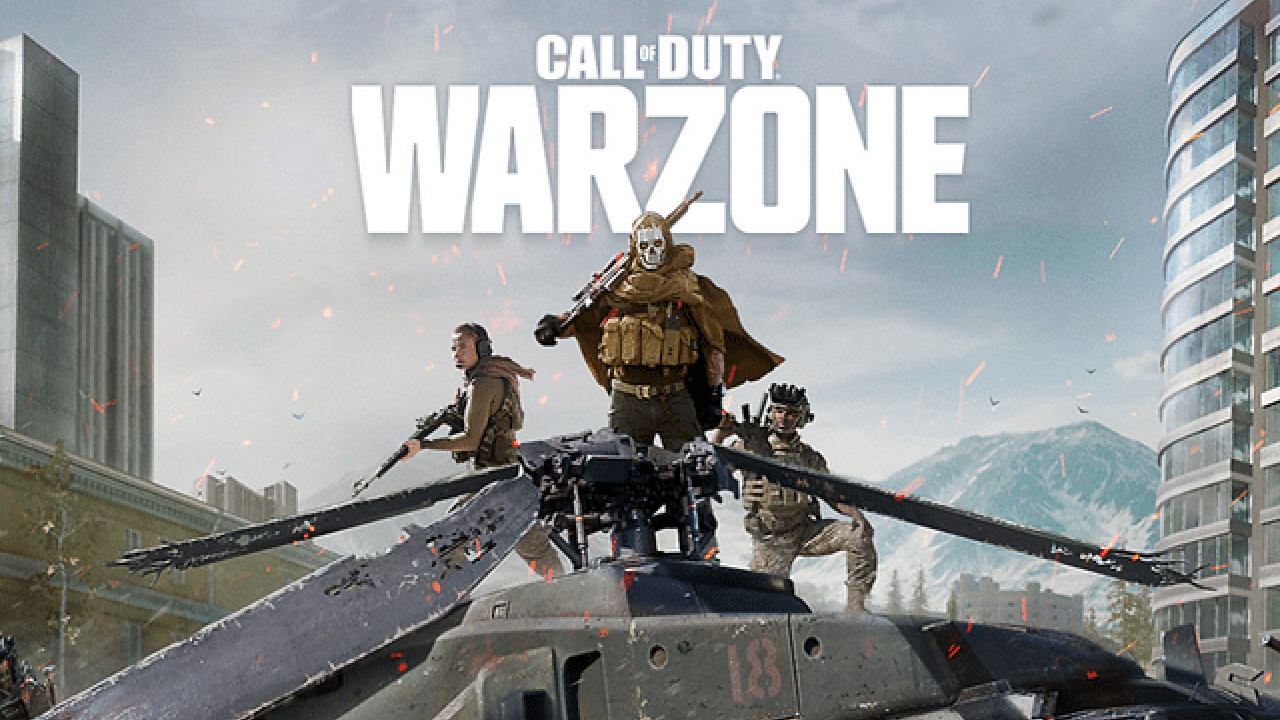 Which games are rising on the Twitch charts? Which streamers are dominating the most popular titles? Check out our official rankings!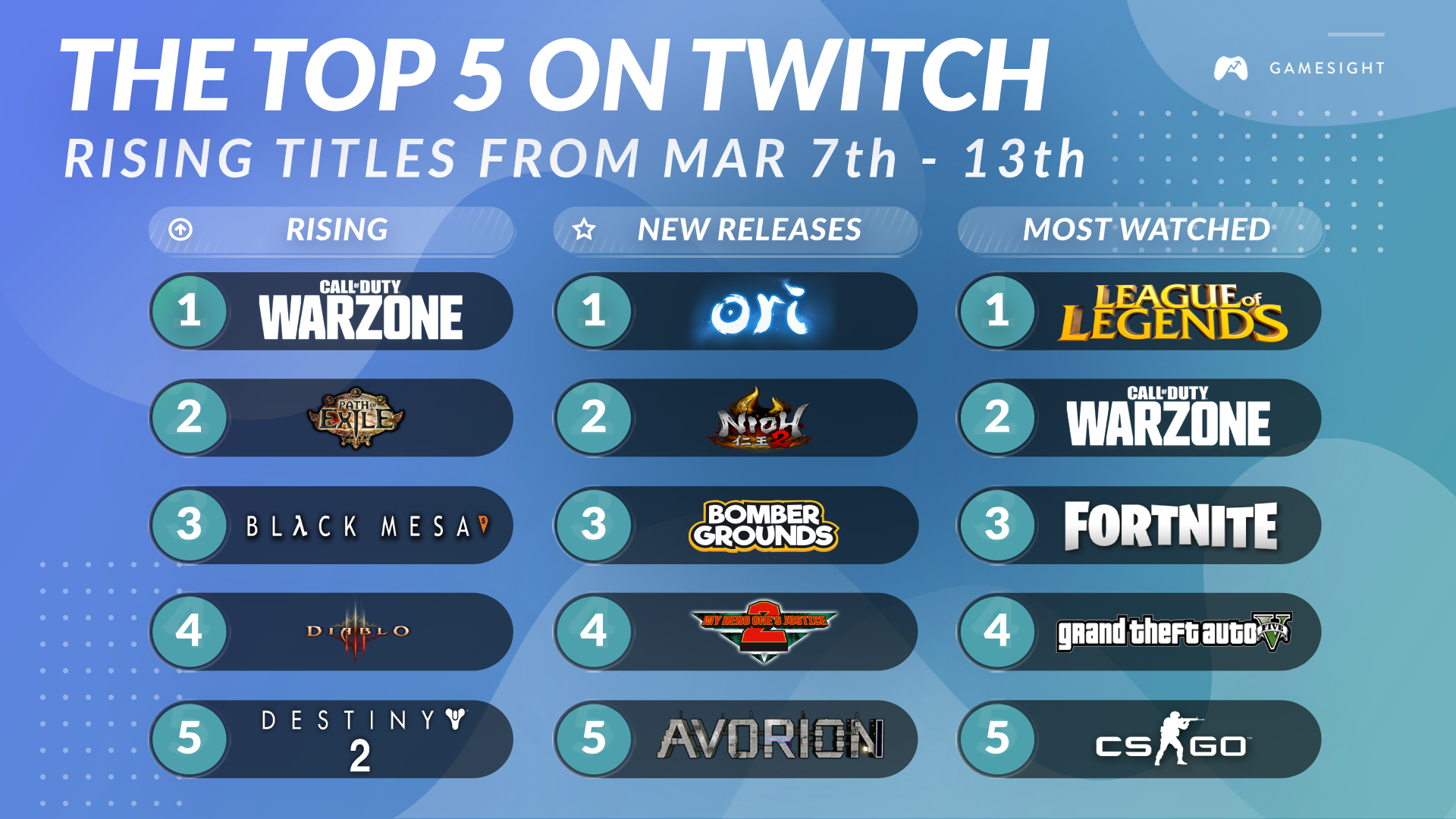 Note: The following rankings are based on a combination of both gross and percentage change to viewership and total streams. As such, dominant and stable titles near the top of the charts will not always, or often, appear. To compare to last week's rankings, click here.
Graphs for Top Rising titles show previous two weeks for context.
---
Top Five Rising

1. Call of Duty: Modern Warfare / Warzone
Increase Viewership: 19,452,535 Hours (960.04%)
Increase Channels: 120,916 Creators (190.21%)
We debated in which of our rankings to include Call of Duty's brand new free-to-play battle royale mode, Warzone, as while it is, indeed, available to those who haven't purchased the base game, it is "within Call of Duty: Modern Warfare" according to their official FAQ. In addition, the vast majority of participating creators on Twitch were labeling their streams as featuring the for-purchase title. Ultimately, we thought that made it more appropriate to include it amongst the fastest rising returning titles on the platform. And rise it did.
With over 120,000 new broadcasters streaming the title, Call of Duty experienced one of the largest single-week increases in participating channels we've ever seen, and it's not as if it didn't enjoy a healthy population of creators in the week prior. All told, 184,485 unique channels streamed the game this week, second only to the ubiquitous Fortnite. All of that happened in three days.
This new offering from Activision and Infinity Ward has made enormous waves, and at a very interesting time. Already, and again in just three days, it was the second most watched game on Twitch in terms of total hours viewed. If this trend continues, we might see League of Legends dethroned from the top spot of our overall rankings for the first time since Escape from Tarkov briefly took over in early January. We're very excited to see how this plays out..
2. Path of Exile
Increase Viewership: 1,949,703 Hours (259.15%)
Increase Channels: 3889 Creators (140.14%)
Path of Exile has been around on the PC since 2013, and in the time since has built and maintained a dedicated community of players, not across multiple platforms and many, many updates. In the final day of this week, we saw such an update, as the latest season of content, referred to as "Leagues," launched on March 13th. The promise of new challenges, loot, and competitions drew in large numbers of returning creators on Twitch, and a waiting audience of viewers interested in seeing how their favorite players tackled the new content. The resulting raw increase in total viewership was the second largest of any returning title on the platform, firmly landing it in the number two spot for the week.
That Path of Exile returns to our rankings, again and again, this far into its lifespan informs the extent to which a title can enjoy success without being one of the few megatitles that make headlines inside and out of the gaming space. The game has one of the most dedicated communities on Twitch, reliably returning to the game again and again as new content is released, and in a world where a new game can debut to nearly 200,000 participating streamers, that kind of staying power is really impressive. Congratulations to the team at Grinding Gear Games on another successful event.
3. Black Mesa
Increase Viewership: 450,833 Hours (367.38%)
Increase Channels: 1152 Creators (229.03%)
Black Mesa is something of a rarity: a third-party remake of a Valve game, Half-Life, that has been given the official green-light to be sold on Steam. It was originally published as a free mod all the way back in 2012, and has since transformed into an early-access title, constantly improving and expanding, until this week, finally, it released in its final form: a top-to-bottom recreation of the classic title in the newest version of the Source engine, including a completely reworked final chapter.
Fans have been anxiously awaiting the game's final chapter, the segment that takes place on the planet Xen, since work first began on that portion in 2015. The end result transformed what was originally one hour of content into a four hour experience, and one that has been well received critically. It's not every week we see a game release after eight years of development, much less one in the Half-Life universe, albeit unofficially. The result was the fifteenth largest increase in total new streamers on all of Twitch, and strong enough relative growth to make our list of the top rising returning titles of the week.
4. Diablo III
Increase Viewership: 281,364 Hours (312.71%)
Increase Channels: 2138 Creators (156.40%)
Diablo III's twentieth season of content began on Friday, March 13th, the final day of our rankings period, and the immediate influx of new creators and viewers was enough to make it one of the fastest rising titles on all of Twitch. The theme of this new content is 'Season of the Forbidden Archive," which eliminates certain class restrictions and encourages creative new builds and weapon combinations. This new wrinkle is joined by the typical additions of new cosmetics, character class item "sets," rewards, and myriad gameplay tweaks and quality of life adjustments.
Like Path of Exile, the team behind Diablo III have spent years, at this point, cultivating a dedicated community of players who are still anxious to dive back into the game for each new batch of content and challenges. I mean, really think about that; this is the game's twentieth season of end-game content since 2014. We're coming up on six years of updates, and each is still a big enough draw on Twitch to help the game climb back up to the top of the Twitch charts. It remains a testament to the work that's been put in keeping that audience engaged. Another stellar start to a new season for Diablo III.
5. Destiny 2
Increase Viewership: 1,117,779 Hours (95.07%)
Increase Channels: 4267 Creators (23.54%)
March 13th saw the relaunch of Destiny 2's 'Trials of Osiris,' a competitive game mode which had been available in the original Destiny, with the last such event taking place in August of 2017. Players who have been a part of the community since the original game's height remember the mode fondly, and its return has been anxiously awaited by competitive players, which meant that when this new updated version was finally made available, many veteran competiitve Destiny players were the first to broadcast it to large audiences, including big names like Tfue and DrLupo. The result was the third largest raw increase in total hours viewed on Twitch, nearly doubling its previous total and earning it the final spot in this week's rankings.
---
Top Five New Releases

1. Ori and the Will of the Wisps
Total Viewership: 2,331,574 Hours (22nd Overall)
Total Channels: 10,295 Creators (24th Overall)
Ori and the Blind Forest was first released on the Xbox One and Windows PCs in 2015, and was wildly successful, both commercially and critically. A 2D platforming title, the game was widely praised for its gorgeous and unique art style, moving story, and tight gameplay. Its sequel, Ori and the Will of the Wisps, was first announced back at E3 of 2017, and after numerous delays, it finally became available on the same two platforms as the original on March 11th. With over 10,000 streamers picking up the game and broadcasting it to their audiences, it takes home the top spot in this week's rankings of the fastest growing new releases on Twitch.
2. Nioh 2
Total Viewership: 2,859,610 Hours (16th Overall)
Total Channels: 4105 Creators (53rd Overall)
Another long awaited title, Nioh 2 is an action role-playing adventure from developer Team Ninja officially released on the final day of our rankings, although some players had access over the two preceding days. The original game, released in 2017, sold 2.5 million units worldwide, and the latest entry, a prequel, debuted to the largest total viewership of any new release on Twitch for the week.
Many times, we've discussed the difference in outlook between single player story-driven titles, like this, and live-service or multiplayer games. The former can enjoy massive success on Twitch, but it doesn't tend to last as long, with players moving on once the novelty of the story has worn off. During their debut, however, and again should they ever receive DLC, these titles can reach as high as any other games. With just over 4000 participating creators in its first week, it's been a decent debut, but we'll need to see how it performs in its first full week to truly measure its success.
3. Bombergrounds: Battle Royale
Total Viewership: 32,088 Hours (326th Overall)
Total Channels: 691 Creators (251st Overall)
Released into early access at the very beginning of our rankings period, Bombergrounds: Battle Royale is a free-to-play MMO from Gigantic Duck Games, and it comes in at number three on our list of the top ranked new releases on Twitch. Featuring cute, customizable characters, players compete to be the last ones standing in a Bomberman-like showdown, placing bombs on a grid-shaped battlefield and navigating walls and crates to eliminate the other competitors. An early access title, it managed to accrue nearly 700 active broadcasters over the course of its first week, an impressive number for a small title released with little to no fanfare. With further updates on the horizon, we're anxious to see if the game can carve out a niche for itself as a competitive option for variety streamers.
4. My Hero One's Justice 2
Total Viewership: 23,506 Hours (391st Overall)
Total Channels: 607 Creators (278th Overall)
Set in the universe of the popular anime My Hero Academia, My Hero One's Justice 2 is the sequel to the 3D battle action fighter of the same name which was released in 2018, and features classic characters from the series in big, sprawling arenas as they engage in chaotic battles. While its viewership was relatively low, the power of the anime's brand was enough to attract over 600 broadcasters on Twitch. With its over-the-top style and animations, the game is a joy to watch, an experience unlike other titles in the fighting genre. The success of most all fighting titles depends on its expanding roster of characters, so we look forward to seeing how the team at Bandai Namco supports the title long term.
5. Avorion
Total Viewership: 43,553 Hours (273rd Overall)
Total Channels: 148 Creators (743rd Overall)
Rounding out our top five is Avorion, thanks to its earning over 40,000 hours of viewership in its first week on Twitch. A procedurally generated sci-fi experience focused on building giant space-faring vessels out of dynamic blocks, the game features space battles, exploration, trade simulation, and tons of other activities gamers look for in an extra-terrestrial adventure. With gameplay that's different every time, for every player, Avorion offers an endless content generation opportunity for creators looking for its unique combination of creation and simulation. It's a smaller title, and we won't see it making these lists again, but it was a great debut for the game from developer Boxelware.
---
Top Five Most Viewed Overall

1. League of Legends
Total Viewership: 25,566,571 Hours (-14.23%)
Total Channels: 102,667 Creators (-1.72%)
Top 5 Creators by Total Viewership
1. loltyler1 - 1,256,407 Hours
2. tmxk319 - 1,227,597 Hours
3. LCS - 904,810 Hours
4. TFBlade - 799.851 Hours
5. LEC - 602,266 Hours
2. Call of Duty: Modern Warfare
Total Viewership: 21,478,745 Hours (+960.04%)
Total Channels: 184,485 Creators (+190.21%)
Top 5 Creators by Total Viewership
1. summit1g - 2,039,924 Hours
2. DrDisrespect - 1,043,079 Hours
3. TimTheTatman - 754,336 Hours
4. MontanaBlack88 - 580,317 Hours
5. Sacriel - 467,845 Hours

3. Fortnite
Total Viewership: 11,559,968 Hours (-20.15%)
Total Channels: 249,479 Creators (-3.10%)
Top 5 Creators by Total Viewership
1. NICKMERCS - 920,124 Hours
2. Tfue - 638,021 Hours
3. SolaryFortnite - 480,600 Hours
4. Bugha - 271,675 Hours
5. Clix - 267,384 Hours

4. Grand Theft Auto V/Online
Total Viewership: 10,886,741 Hours (-10.36%)
Total Channels: 42,661 Creators (-3.87%)
Top 5 Creators by Total Viewership
1. Lord Kebun - 604,263 Hours
2. dasMEHDI - 456,012 Hours
3. Vader - 434,218 Hours
4. Elraenn - 271,126 Hours
5. KendineMuzisyen - 226,499 Hours

5. Counter-Strike: Global Offensive
Total Viewership: 10,068,102 Hours (-26.65%)
Total Channels: 74,841 Creators (+0.64%)
Top 5 Creators by Total Viewership
1. ESL CSGO - 1,045,496 Hours
2. gaules - 985,980 Hours
3. JohnPitterTV - 241,580 Hours
4. fl0m - 162,303 Hours
5. flashpointcs - 136,493 Hours
---
Check out last week's rankings, and our breakdown of 2019's fastest growing games on Twitch. Also, be sure to follow us on Twitter and LinkedIn for all the latest blogs, announcements, and game marketing news from the team at GAMESIGHT!