#Top5OnTwitch for May 18th-24th
Diablo III and Dauntless rise as Rage 2 falls. Check out the details in our weekly #Top5OnTwitch Rankings!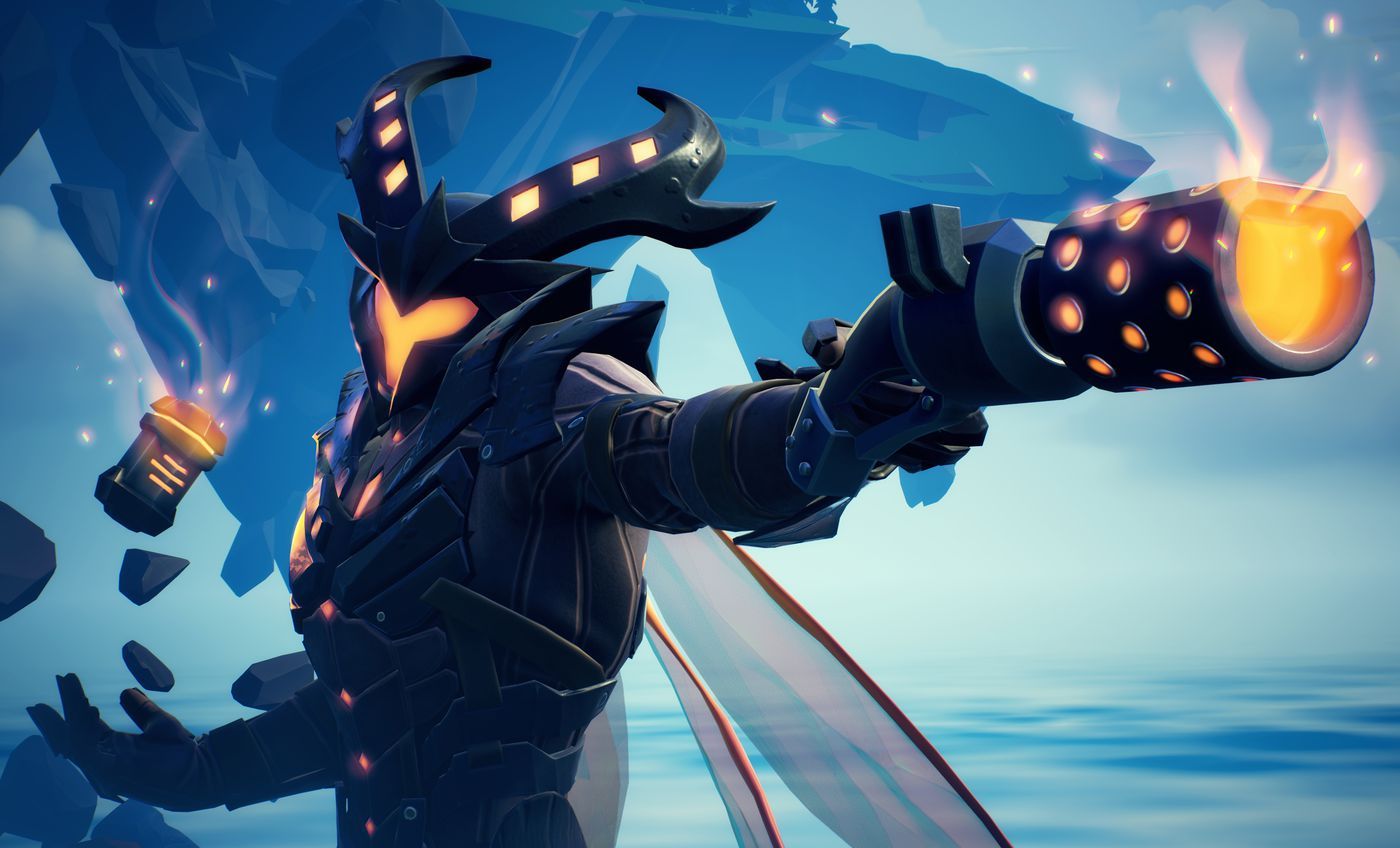 Which games are rising on the Twitch charts? Which titles are sliding? We bring you the hard numbers and reaction, every week, in the GAMESIGHT power rankings!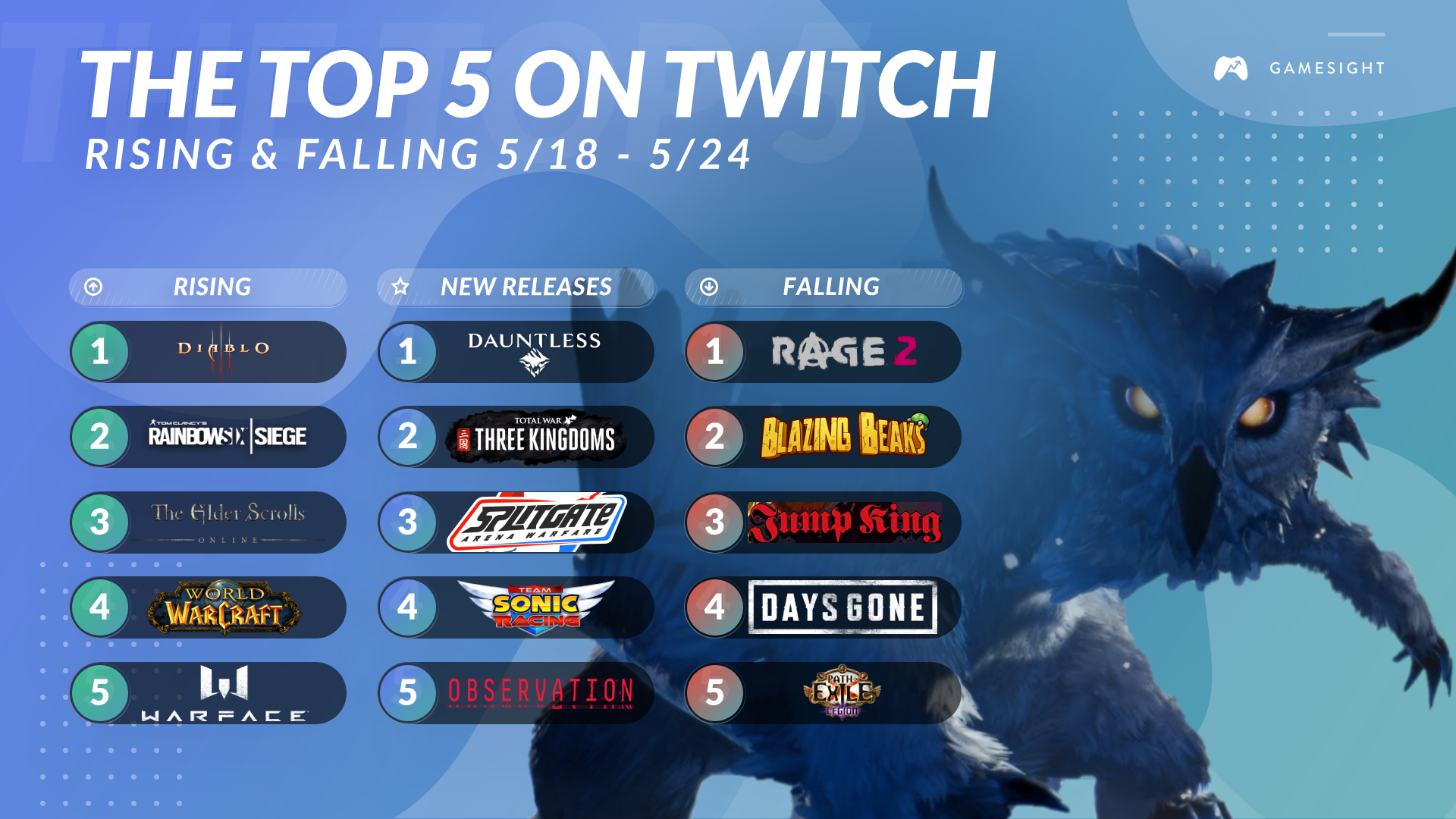 Note: The following rankings are based on a combination of both gross and percentage change to viewership and total streams. As such, dominant and stable titles near the top of the charts will not always, or often, appear. To compare to last week's rankings, click here.
---
Top 5 Rising
1. Diablo III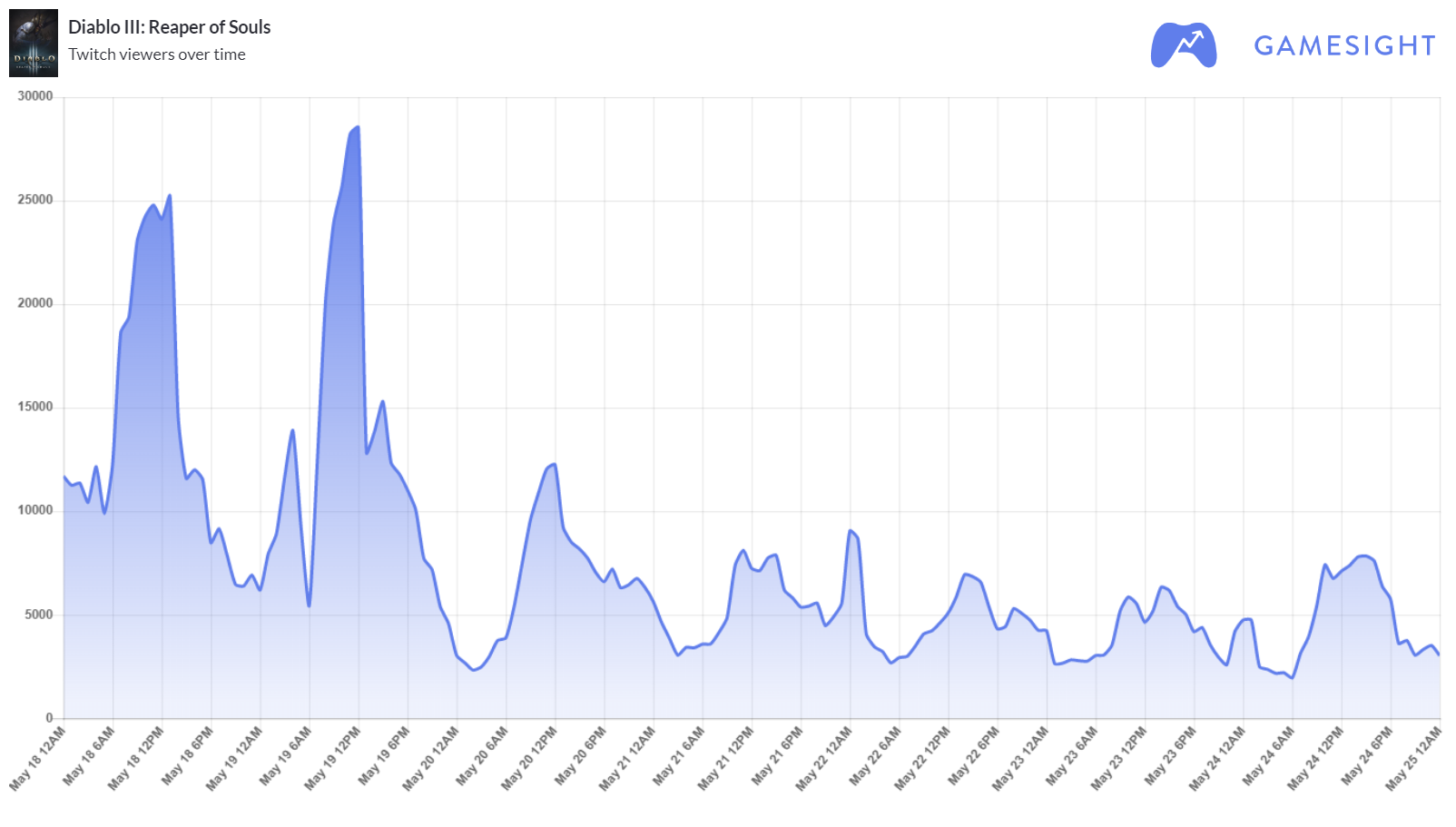 Increase Viewership: 1,069,101 Hours (11th Overall), 271.56%
Increase Streamers: 5240 Channels (15th Overall), 116.94%
Last week, Diablo III was our third ranked title due to the beginning of the game's 17th season of content. But, that update was released on Friday of that week, the final day of the rankings period. This week, with a full seven days in the hands of its players, it did well enough to take the top spot, more than doubling its total streams from the previous rankings and almost tripling its total viewership.
The increase in viewership is really well distributed as well, with only 19 of the more than 9000 channels playing the game accruing more than 10,000 hours viewed. Additionally, only five of these channels averaged over 1000 concurrent viewers, and just one averaged more than 5,000. This means that the population of streamers dedicated, at least right now, to Diablo III could lose a healthy number of streamers without it having an outsized impact on the game's overall performance. Once again, we're given a perfect example of how important a long-term content plan can be for Twitch viewership. Diablo III has been around a long time, but it still reaches the top of the charts because the team behind it is dedicated to releasing new updates and keeping the game fresh. It truly paid off this week.
2. Tom Clancy's Rainbow Six: Siege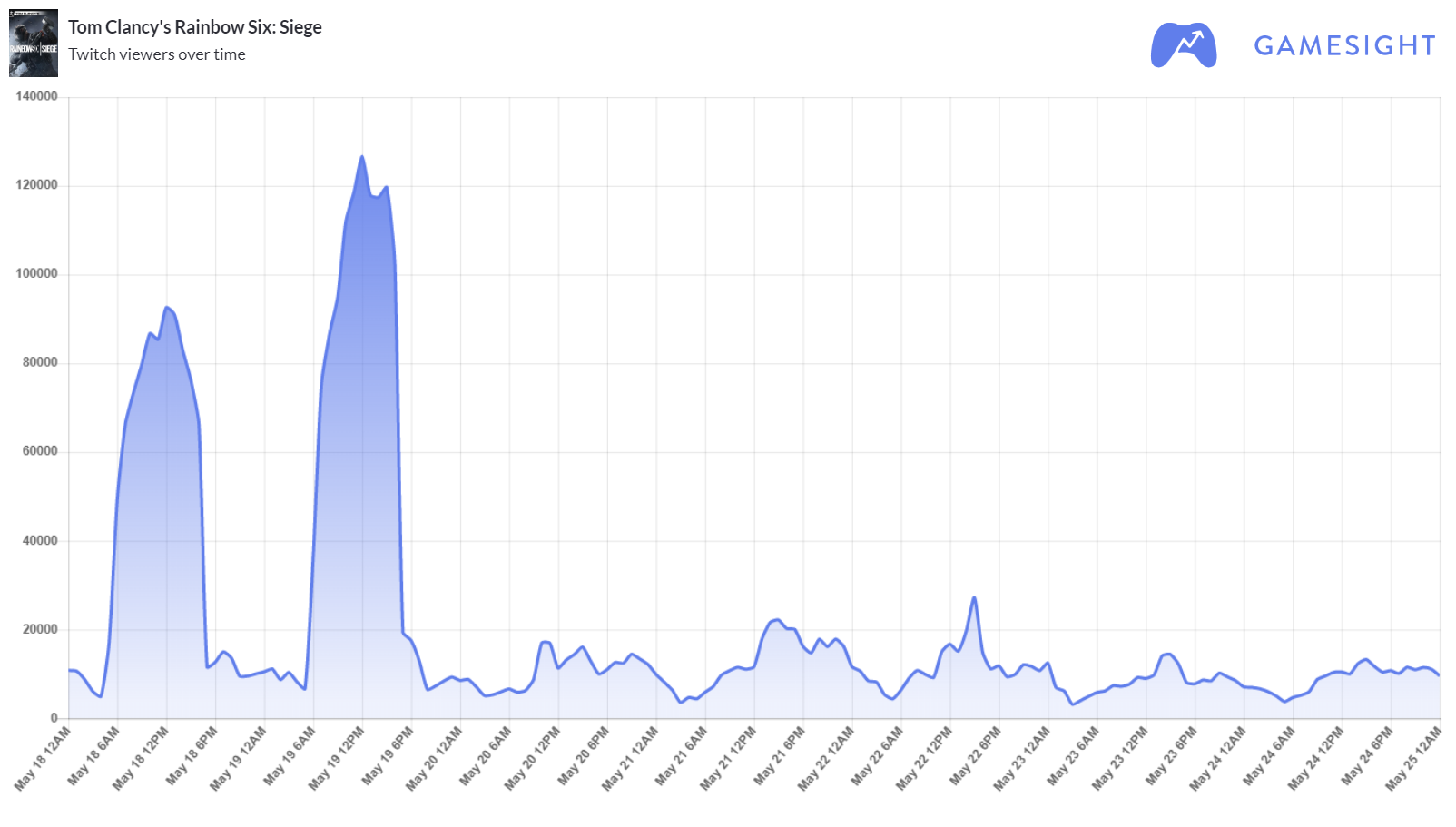 Increase Viewership: 2,194,525 Hours (6th Overall), 142.70%
Increase Streamers: 12,370 Channels (4th Overall), 37.86%
Another game making a repeat appearance in our rankings, Rainbow Six: Siege rises from the fourth to the second overall spot on the heels of the "Rainbow Six Pro League Season IX Finals," which were streamed live from Milan and featured some of the most popular and successful Esports teams on the  planet, including Team Empire, Evil Geniuses, FaZe Clan, and Fnatic. The result was top-10 overall increases in both viewership and total channels.
The increase in total channels is interesting, because it's not necessarily a direct cause of the increase in viewership. Of the top eight most watched channels streaming the game, six, including the top two and the only channel to accrue more than 1 million hours, are official Rainbow Six competitive channels focused on different languages or regions, which each carried the tournament in different localizations. There was a new update released on May 10th, and the tournament was used as an opportunity to announce the beginning of the upcoming new  season of content, entitled "Phantom Sight," but neither seems to be the cause of the dramatic increase in streamers. Rather, it would seem that those, combined with the tournament, drew a large volume of players back to the game, either in anticipation of the new content, or to take advantage of the hype of the competition. Rarely do we see increases of this size because of an esports event, so this is a very interesting case, and one we'll keep an eye on moving forward.
3. The Elder Scrolls Online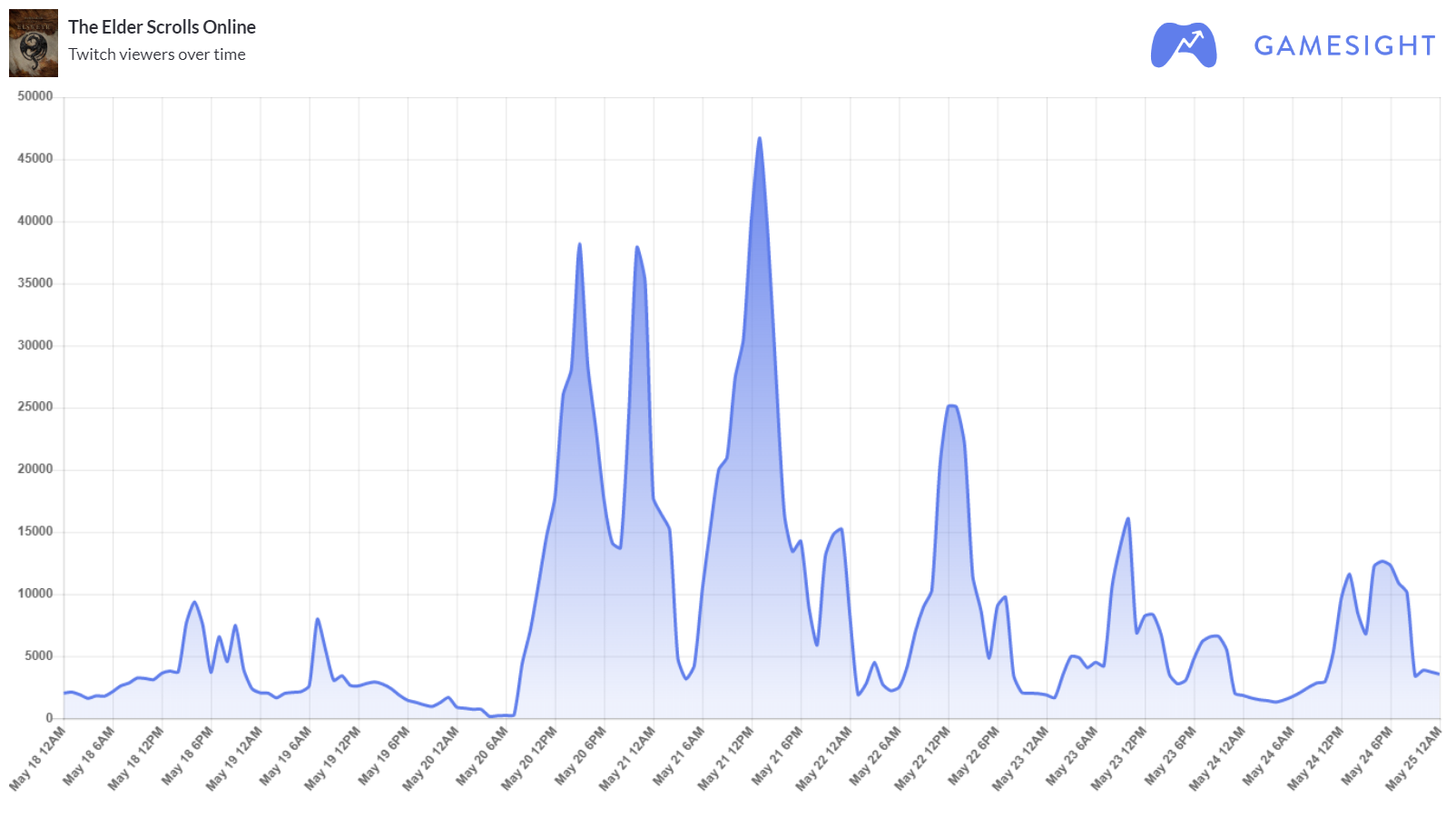 Increase Viewership: 969,525 Hours (12th Overall), 131.63%
Increase Streamers: 1177 Channels (34th Overall), 35.58%
The latest expansion to the Elder Scrolls MMO, entitled "Elsweyr," was released to the public on May 20th, and it immediately drew large numbers of creators and viewers back to the world of Tamriel, more than doubling the game's total Twitch viewership.
MMOs live and die by their expansions. The Elder Scrolls Online is more familiar with this than most, with the "One Tamriel" update, released three years into the game's lifespan, dramatically increasing the game's player-base by wildly changing the structure and core gameplay, opening up the title and allowing player freedom more in-line with the series's previous entries. Updates don't only allow you to remedy areas where the game might be coming up short, but also bring in that additional content that gets your core audience reengaged, that pulls players back in and gives everyone brand new experiences for themselves and their viewers. "Elsweyr" has proven to be another successful example of an update done right, and how effectively it can reinvigorate your title's Twitch presence.
4. World Of Warcraft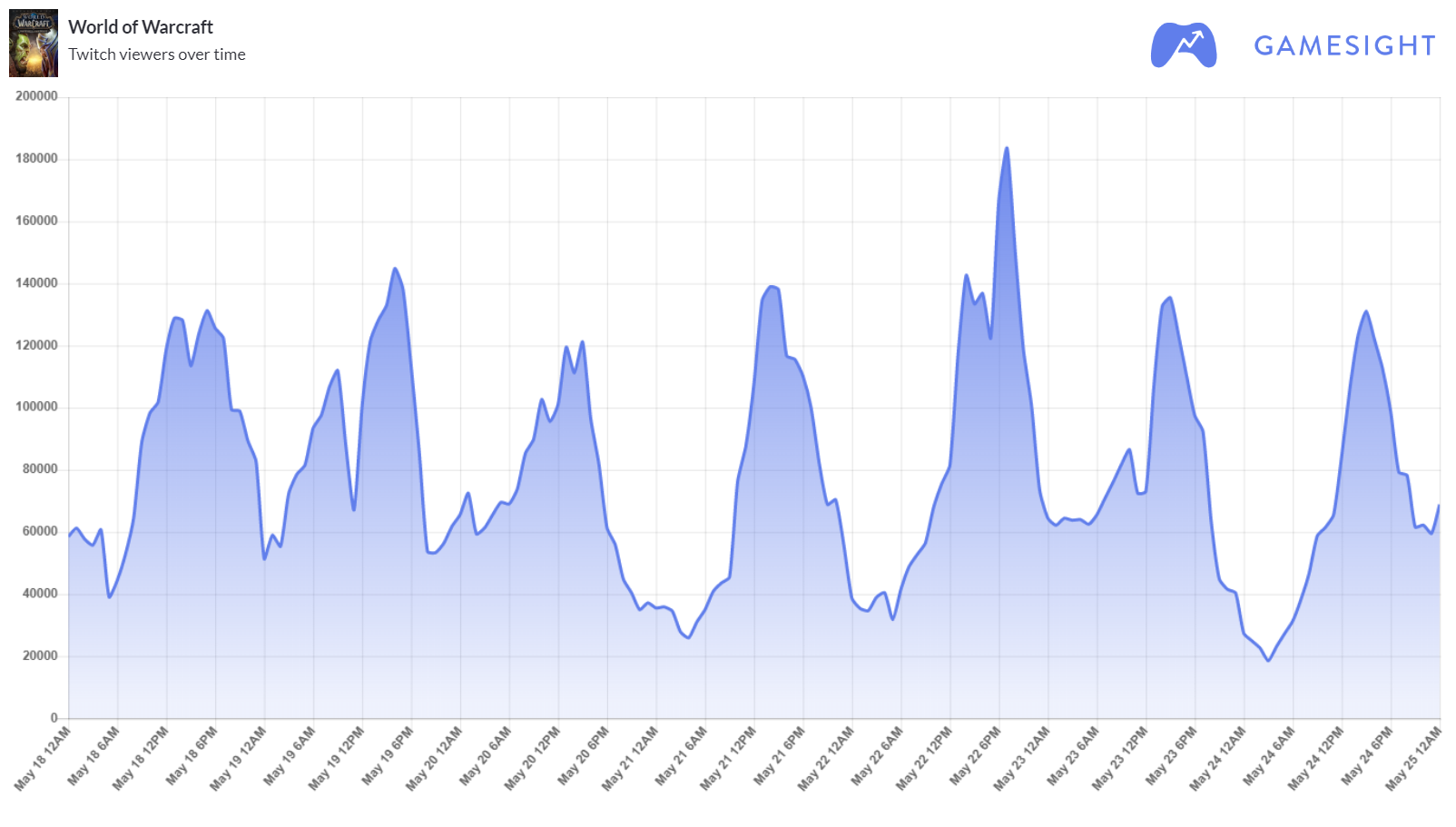 Increase Viewership: 7,442,422 Hours (1st Overall), 91.60%
Increase Streamers: 7874 Channels (11th Overall), 38.98%
Speaking of MMOs, the top performing member of the genre of all time, and our top rising title of last week's rankings, again makes an appearance based on the continued hype around this August's release of WoW Classic, as the community is diving back into the world of Azeroth in anticipation, once again getting familiar with the world, the mechanics, and their old characters. The fact that it's more than 7 million hour increase in total viewership, the top increase for the entire Twitch platform, less than doubled the game's overall performance over the previous week, shows just how much it was already growing, and is the reason it sits in the third spot of this list, instead of at the top.
As with The Elder Scrolls above, this is an example of just how important that constant support, the continuous string of updates and events, is for any MMO title. World of Warcraft is the most popular MMORPG of all time, and it's been around for nearly fifteen years. It still manages to climb to the top of the Twitch charts because its dedicated fanbase is constantly being given new reasons to dive back in. That's one of the primary reasons the title stands the test of time.
5. Warface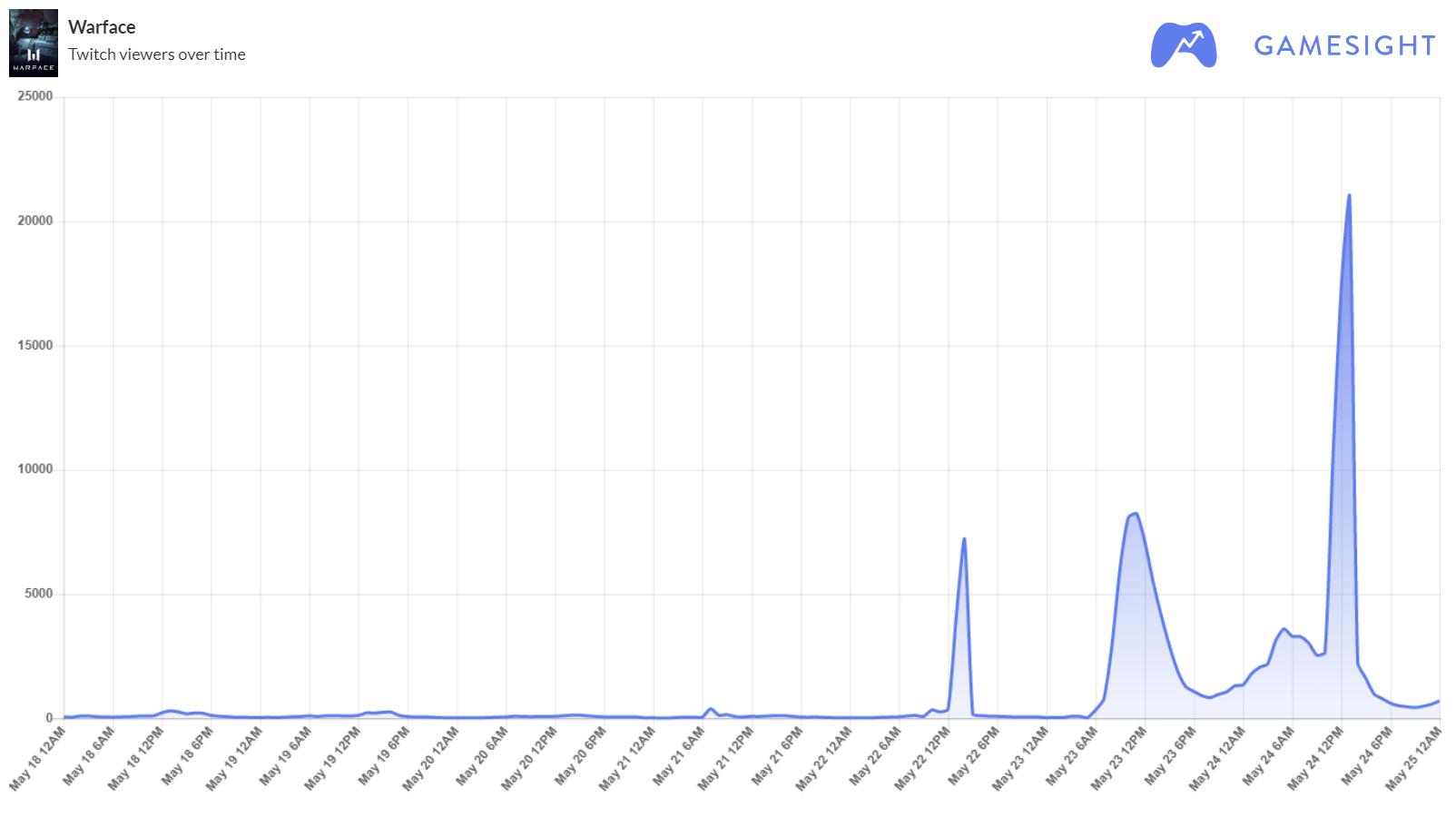 Increase Viewership: 179,207 Hours (41st Overall) , 1207.27%
Increase Streamers: 663 Channels, (55th Overall) 40.80%
Free to play online shooter Warface makes our list on the strength of its bonkers percentage increase in overall viewership, coming as a result of game's "Mars Rover" event, which released on May 23rd. Functioning as a sort of "Twitch Plays" stream, the event leverages a livestream of a fictional Mars rover, letting viewers vote to give the rover commands, which are input every thirty seconds. This stream saw significant engagement, and was responsible for about half of the title's overall increase.
But, even without those numbers, it still would have seen one of the largest relative increases on the platform. Warface's constant stream of updates, from new weapons and challenges to entirely new maps or arenas, makes it one of the more consistently changing titles out there, and for a free-to-play title, that's pivotal. It's certainly not seeing the kind of viewership the largest games in its space are seeing, and it's unlikely that we'll be seeing it on this list again, but this impressive week and interesting marketing event were more than enough to take the final spot in this week's rankings.
---
Top 5 New Releases

1. Dauntless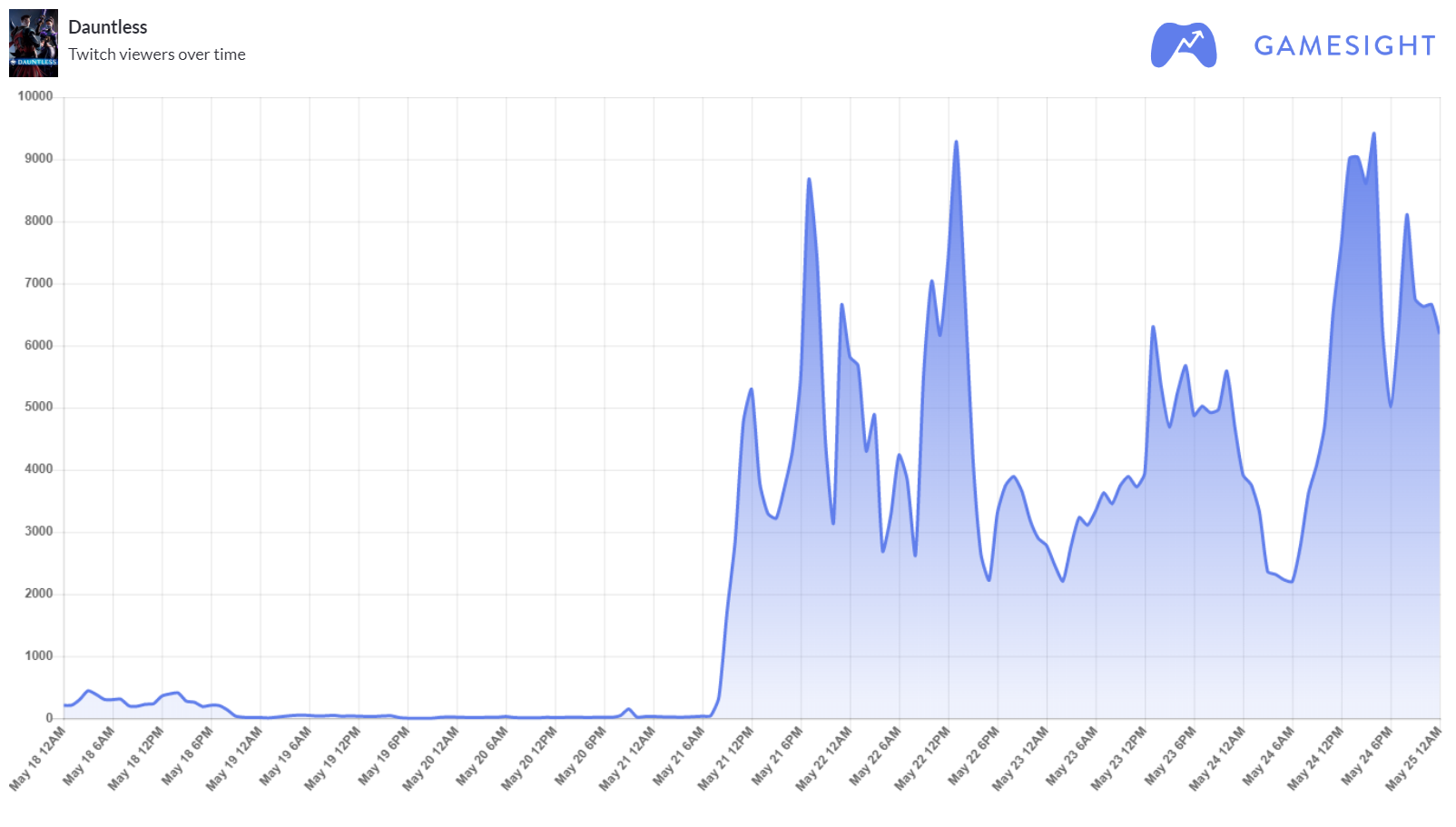 Total Viewership: 543,734 Hours, 44th Overall
Total Streamers: 23,928 Channels, 13th Overall
Dauntless, a free to play action-RPG focused on monster-hunting combat, became the first title to feature platform cross-play at launch that includes the version played on the Playstation 4, something Sony has rarely allowed up to this point. Already released in beta, the complete game accrued an additional 500,000 players to add to its already three-million-strong player-base in only twenty four hours. This increase was absolutely reflected in the game's total streamers, with its nearly 24,000 channel increase being the second largest for the entire Twitch platform.
There's a lot about this release that's interesting, but the most fascinating component is the element of cross-play. Online titles, particularly free-to-play games like this, must have engaged communities of players to keep them fun and interesting. That's why the more platforms that can play the game together, the better. We don't know for sure, at this point, but it seems that the ability to play with people on any other major platform, even the Playstation, has made the game more appealing to potential players, and is a big reason why the game has begun so successfully. The fact that it's the first game to release in this manner was enough to earn the title numerous headlines and features on gaming news sites, and likely played a large role in the title finding itself in the hands of so many new creators. The industry has long suspected that, the more open your title in terms of platform and interactivity, the more successful it will be. This is a fantastic first affirmative example.
2. Total War: Three Kingdoms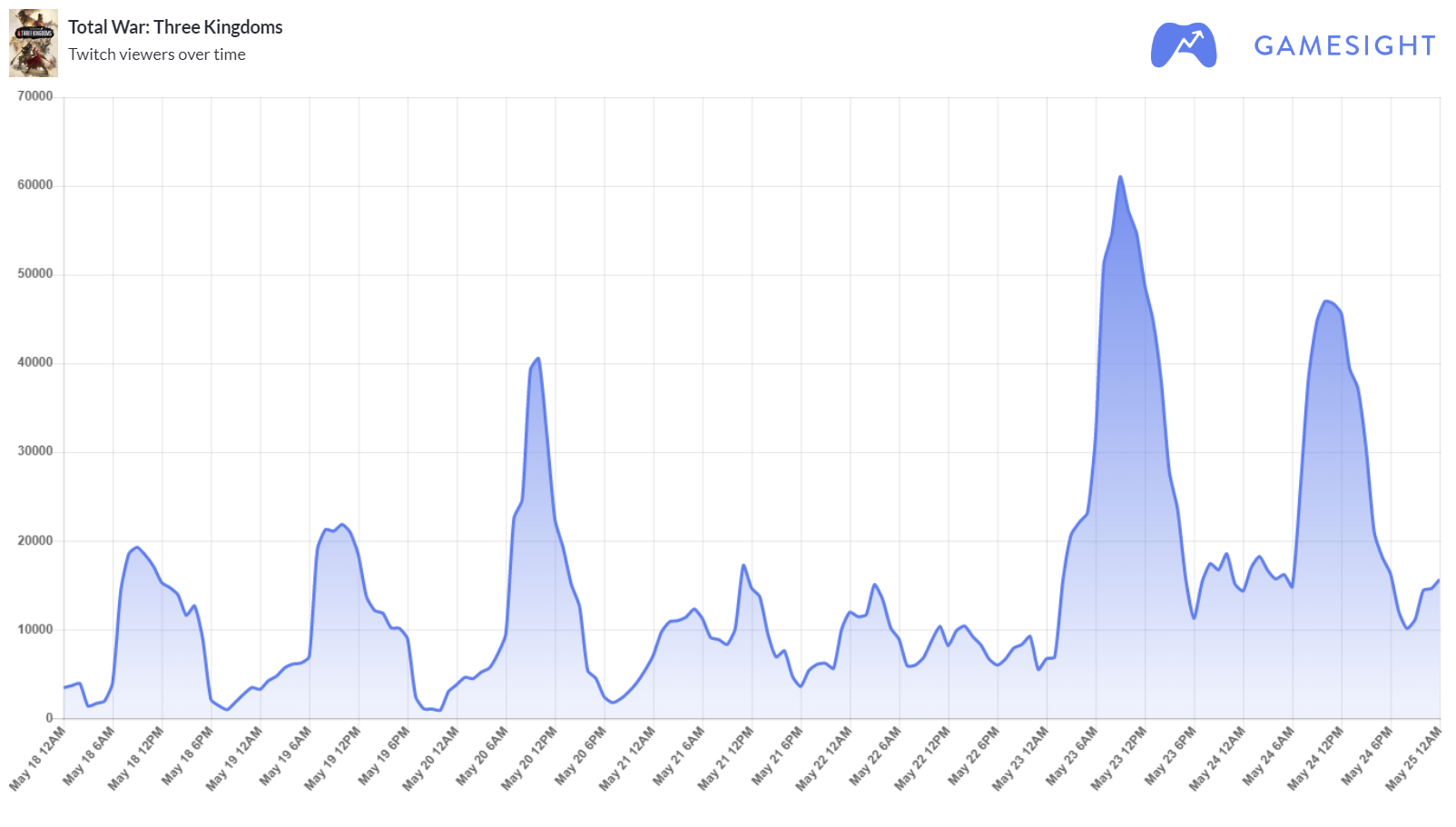 Total Viewership: 3,065,928 Hours, 12th Overall
Total Streamers: 3357 Channels, 65th Overall
It only had two days, this past week, of being officially released and available for all, but from May 23-24, Total War: Three Kingdoms accrued enough viewership, and was featured on enough channels to take the second spot on our list of top new releases.
As you can see above, much of the week's total viewership occurred prior to the game's official release, with approximately 25 creators accruing nearly 1.7 million hours of viewership during that time. That leaves nearly 1.4 million hours of viewership over the final two days of the week, after release, and over 3300 creators. Taken together, this makes it one of the most successful new titles on the platform. Interestingly, nearly all of the creators playing the title are in the Pacific region, with Korean and Chinese creators making up the majority of the top contributors. Will it continue to improve, and find itself in the list of top rising titles next week? Given that it only had two days of full release to accrue stats for these rankings, it seems likely that it will keep gaining more creators and viewers. Whether it's enough to stay at the top, we'll have to wait and see.
3. Splitgate: Arena Warfare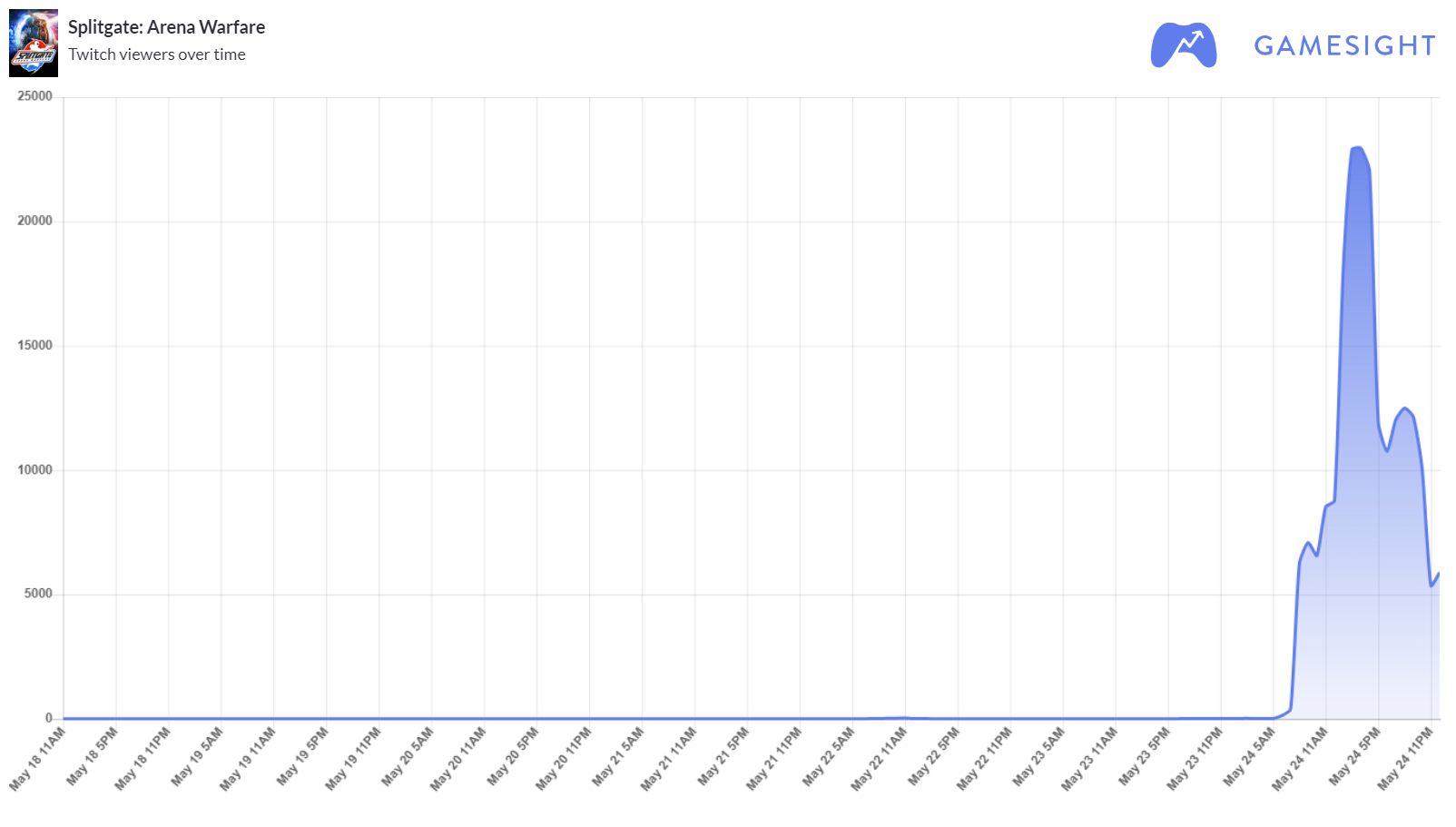 Total Viewership: 283,454 Hours, 63rd Overall
Total Streamers: 6513 Channels: 36th Overall
Splitgate: Arena Warfare's combination of Halo-esque deathmatches and portals from, well, Portal, has been making a name for itself, the last few weeks, during its brief beta events. Now, having finally released in full this past Friday, it, in one day, managed to build enough of a Twitch presence to take the third spot in this week's rankings.
Some of the top creators on the platform have taken the dive into Splitgate. DrDisrespect, summit1g, and LIRIK all spent time playing the title this past week, imbuing it with the power of their substantial audiences. Whether they stick around remains to be seen, but given that it only had a single day of numbers and it still made our list, we expect next week to be even bigger for the online shooter from 1047 Games, and that time will do a great deal to let us know just how much staying power this title might have.
4. Team Sonic Racing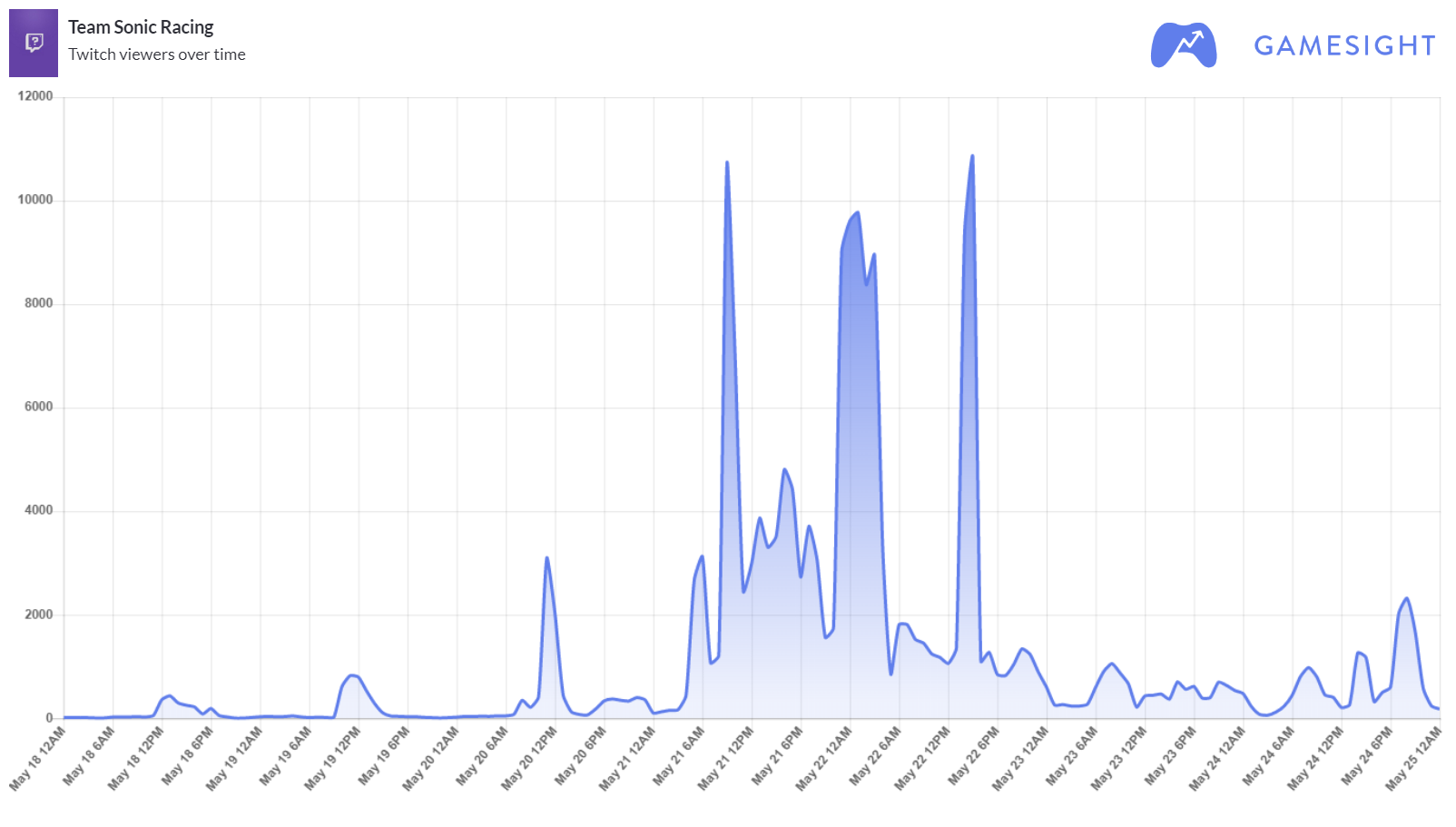 Total Viewership: 216,097 Hours, 80th Overall
Total Streamers: 1750 Channels, 111th Overall
There's not much complexity to Team Sonic Racing. If you've played any competitive kart racing title, you know what to expect. Like in Mario Kart, you race around tracks while using power ups to attack other riders or boost yourself towards the finish line, with the twist being that, in this game, you race in teams, the finishing positions of you and your compatriots being combined to determine the winners of each round.
With the power of the Sonic brand, its unsurprising to see that Team Sonic Racing made our list of top new releases for the week. What is surprising, however, is how quickly the game's viewership seems to have fallen off. While the title performed strongly in the middle of the week, after release, by the third day it had fallen back down to below 2000 peak viewers every day. This isn't a great sign when it comes to continued success moving forward. With a lack of forward momentum, and, frankly, somewhat middling critical response, we don't expect we'll be seeing this title make our top ranked games again.
5. Observation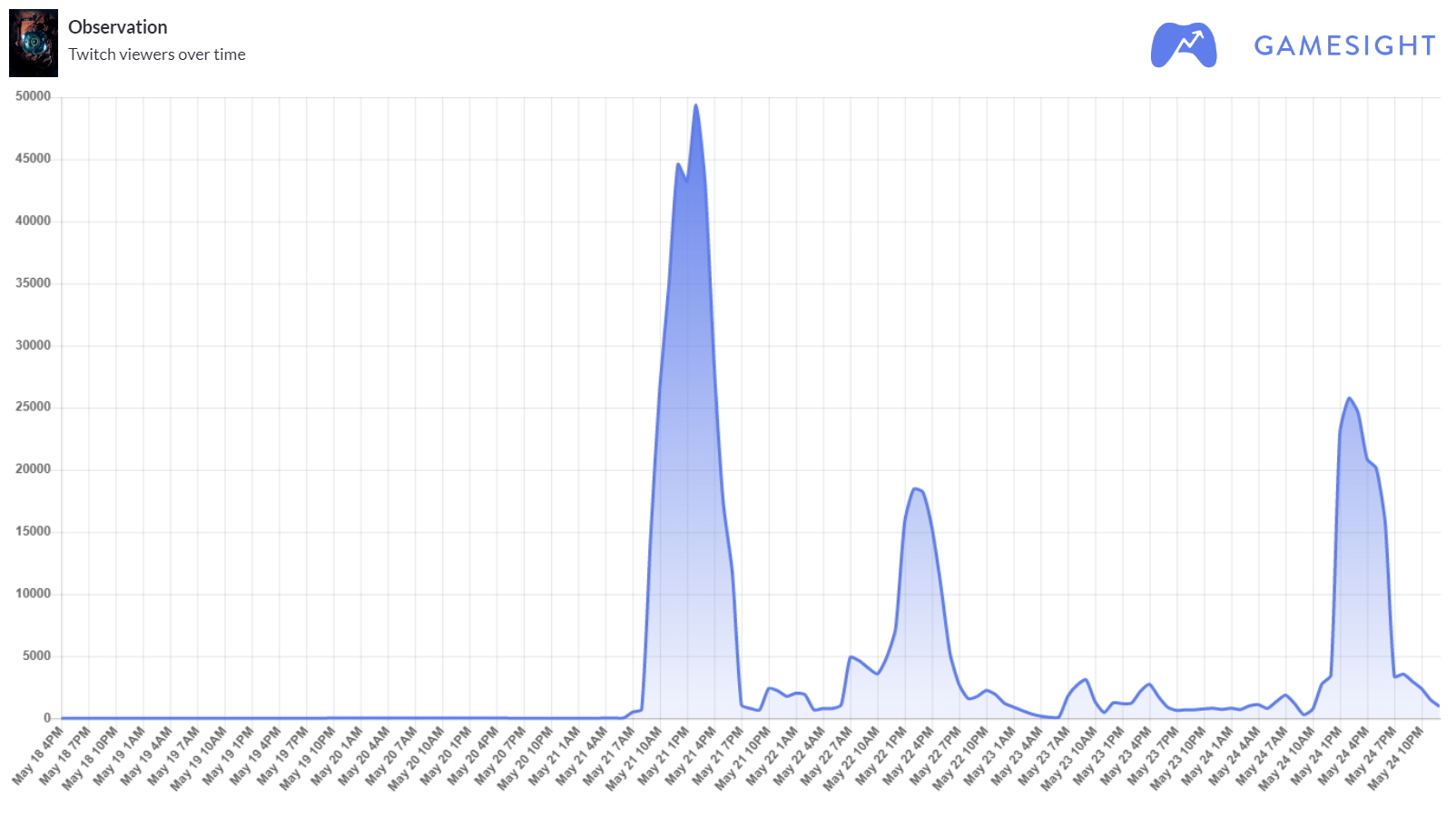 Total Viewership: 661,568 Hours, 37th Overall
Total Streamers: 950 Channels, 190th Overall
Rounding out our amazing list of new releases for the week, single-player horror/thriller Observation managed to accrue more total hours of viewership than all but one of the other games on this list, but takes the final spot due to the comparatively few total streamers playing the title.
This is the sort of game that audiences love to experience with their favorite creators. The game itself doesn't take more than approximately five hours to complete, so they rarely pick it up for more than a stream or two, but that makes it almost like a movie, watching a gaming personality you love go through the entire story, with you, in one or two sittings and being able to experience it much like you were playing it yourself. That's why big time streamers like GRONKH, alanzoka, LIRIK, and CohhCarnage all played the title for their enormous audiences, making them largely responsible for the game's impressive viewership. But, it's also why, next week, they're unlikely to pick it up again, and these numbers will likely fall. Does that mean it was a failure? By no means. There's no question that these streams drew even more players to the game, and sales have likely been dramatically improved due to the attention paid on Twitch. Single player games like this might not last long in terms of viewership, but its brief time at the top should yield incredible dividends in terms of sales. Observation might not have a great week, next week, but it's absolutely put its best foot forward.
---
Top 5 Falling

1. Rage 2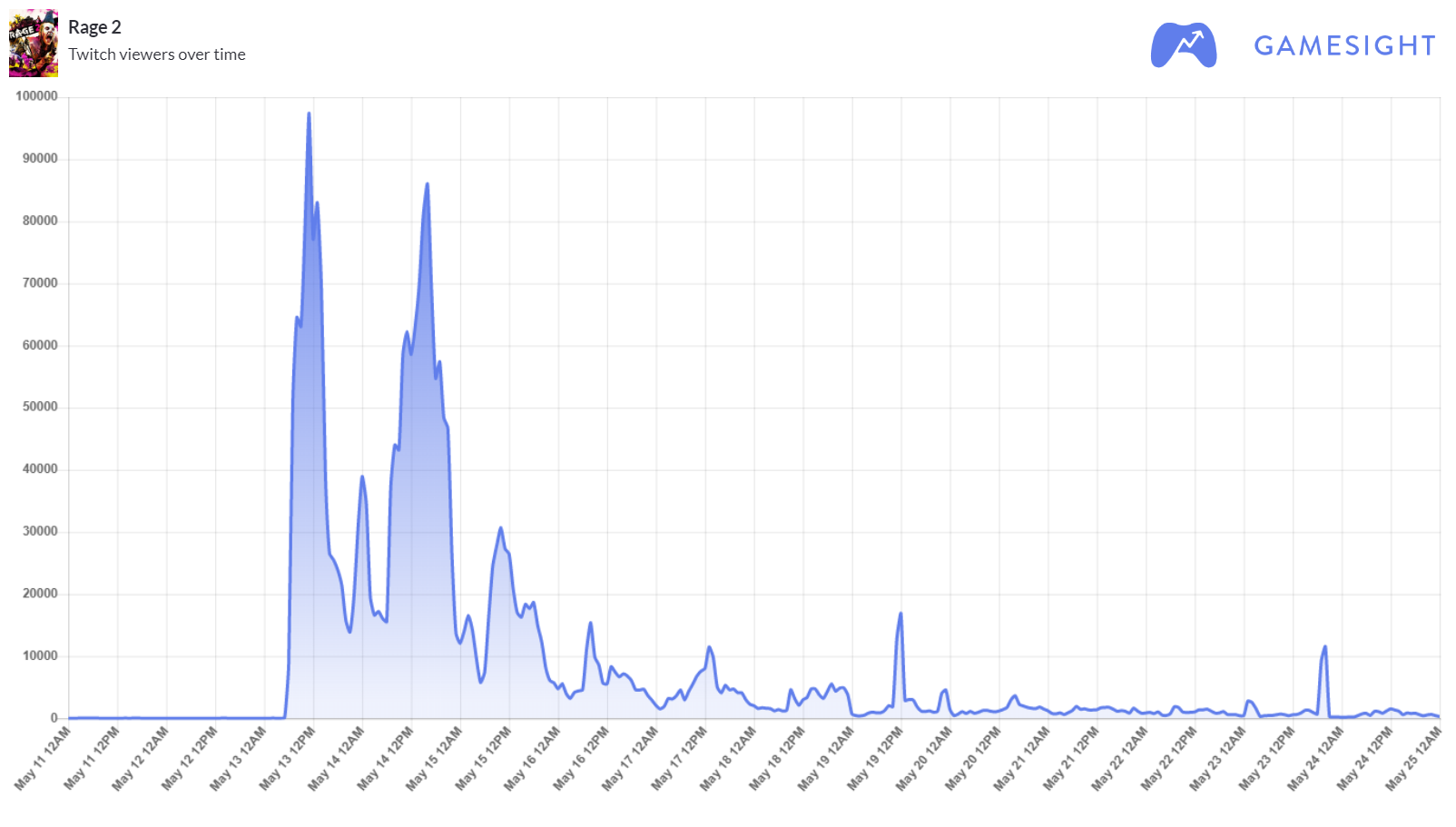 Decrease Viewership: 2,311,384 Hours, 88.54%
Decreases Streamers: 2850 Channels, 36.57%
Average critical reviews and a lack of variety seem to have quickly tanked playership for Rage 2 on Twitch, with its total losses in viewership and total streamers both the largest for any title on the streaming platform. Given that it's only the second week since release, this is a dramatic and quick drop-off that does not bode well for the game's long-term streaming health.
This past week, nearly every streamer with a sizable audience moved on to other titles, leaving only a single hour from LIRIK in terms of contributions from the top creators. Even though he only played for one hour, the just over 25,000 hours of viewership accrued in that time was the second largest total of any creator for the entire week. That's a population of creators that has simply moved on.
It's hard to say why Rage 2 has fared so poorly. Combat is a ton of fun, both to play and watch, but is often interrupted by long periods of tedious exploration. The design of the game is bright, but not altogether unique, feeling very much like a thematic extension of the developer's previous Mad Max, with orange, sandy deserts dominating the landscape. For whatever reason, audiences have found little to go back for, once they either complete the story or lose interest. The result is a game that's quickly losing the majority of its audience, and seems unlikely to rise again.
2. Blazing Beaks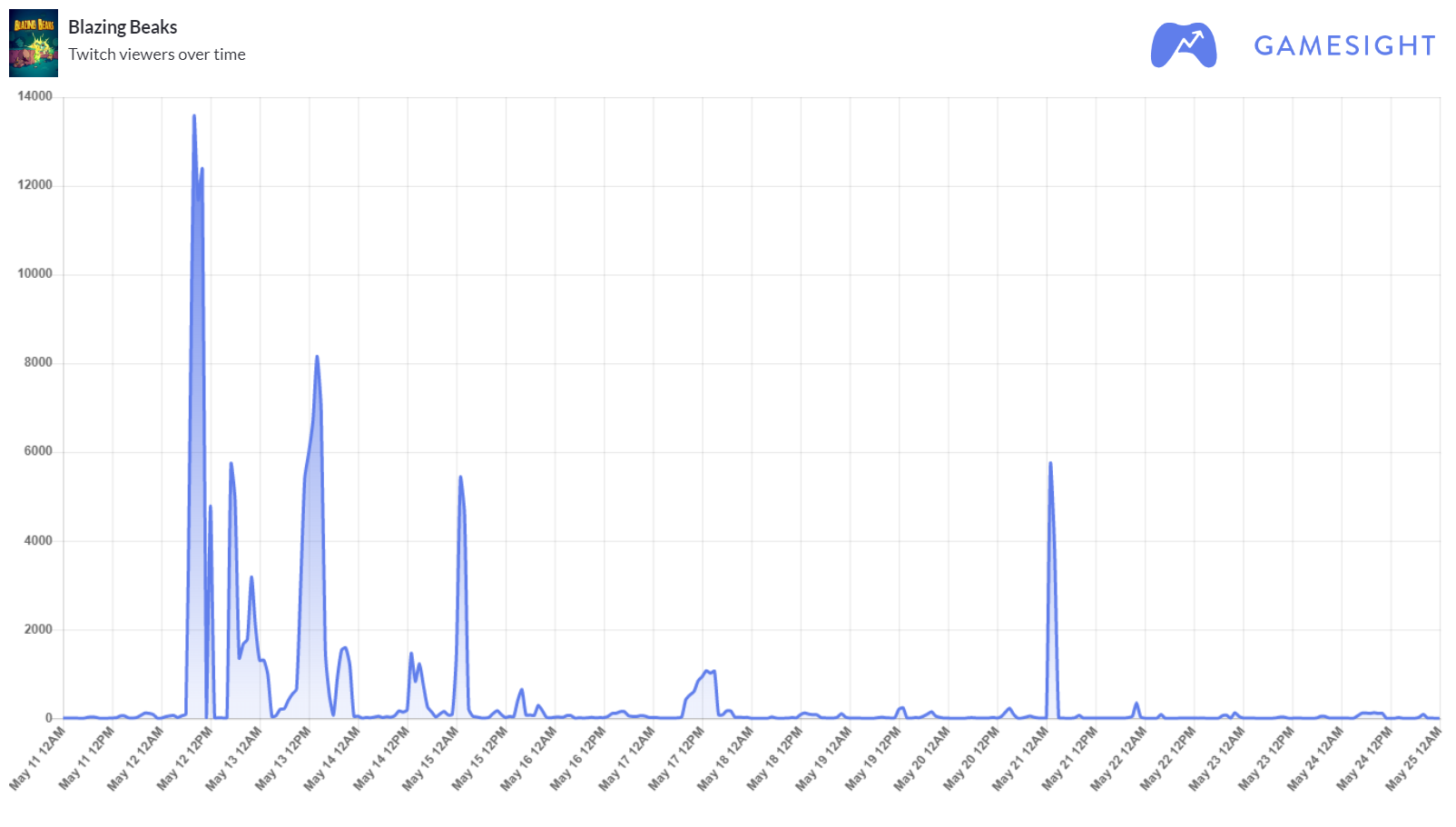 Decrease Viewership: 134,193 Hours, 89.72%
Decrease Streamers: 117 Channels, 44.15%
When a smaller title gets picked up by larger streamers, it puts them in a place where they have everything to lose. Such was the case for Blazing Beaks, which burst onto the scene last week due to the contributions of streamers like AdmiralBahroo and CobaltStreak, and LIRIK, but this past week saw almost all of its viewership leave with them. The result is one of the largest relative drops in viewership on the platform, and a position in this week's falling list.
For a title this size, this is still a wild success. Getting your small title into the hands of big-time streamers will undoubtedly bring more attention, and thus more sales. There are, without question, hundreds if not thousands of viewers who would never have heard of this title, if not for the creators who played it last week. Its time in the spotlight may be over, but this is still a success story for the wacky indie title from developer Applava.
3. Jump King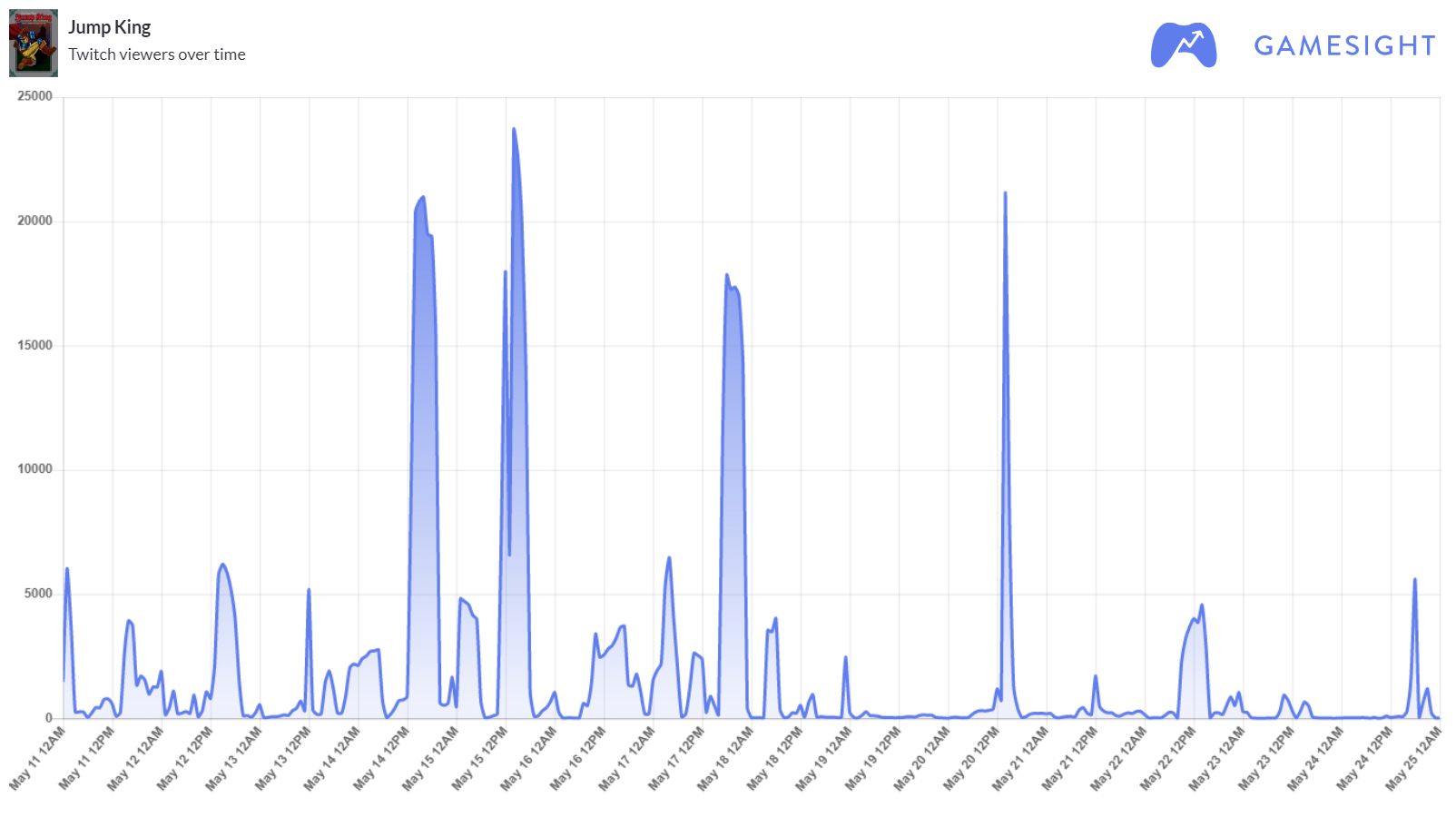 Decrease Viewership: 408,541 Hours, 78.55%
Decrease Streamers: 76 Channels, 19.05%
Like Blazing Beaks above, Jump King rode the contributions of big-time streamers to a wildly successful first week on Twitch, with creators like alanzoka and LIRIK both accruing more than 150,000 hours of total viewership. Without them, this past week, the game lost a great deal of its audience. Again, for a title this size, this is still a phenomenal debut, and there's no question that getting in front of that many potential players has given a boost to the game's total sales. Additionally, while many of the largest creators have moved on, it finds itself, still, with the majority of its streamers, and is still occasionally climbing up the charts as single streams from bigger creators boost its numbers. Jump King may not have the momentum to reach our top lists again, but its first two weeks can still absolutely be called a success.
4. Days Gone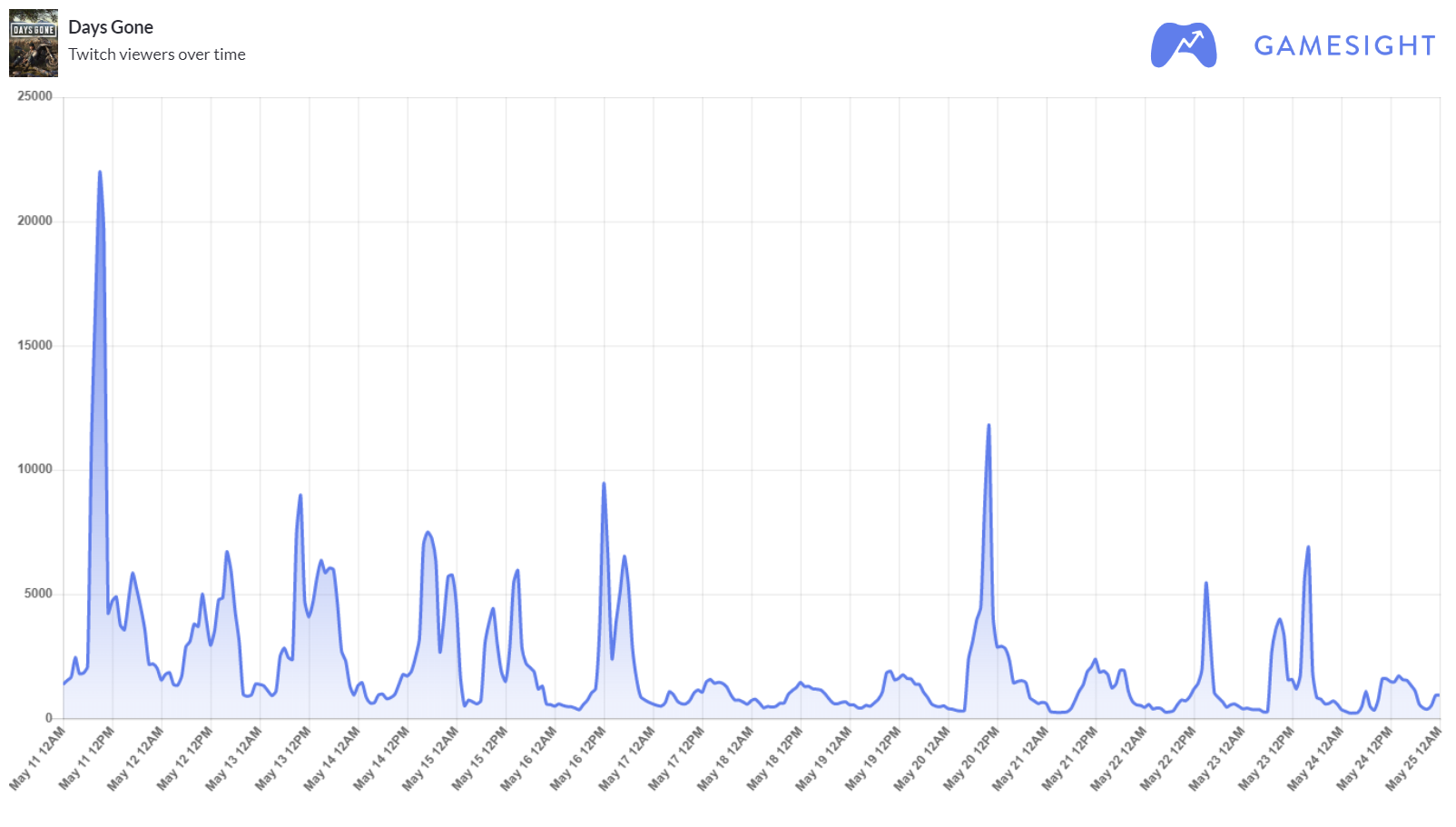 Decrease Viewership: 161,649 Hours, 40.71%
Decrease Streamers: 1319 Channels, 17.04%
The very fact that Days Gone is one of our top falling titles for the third consecutive week shows just how impressive the game's initial success truly was. In order to experience extreme falls, a game must first achieve success; you have to gain a lot in order to have a lot to lose. This title did so well that, even as it experiences some of the larger retractions on the platform, its audience remains large enough to experience such wild swings again.
And, because it's been on this list for so long, we find there really isn't much left to say. Days Gone has achieved incredible success on the Twitch platform, in particular for a single-player PS4 exclusive. It might finally be winding down to the point that it won't make our list next week, but, without question, its time spent at the top has been impressive and fruitful.
5. Path of Exile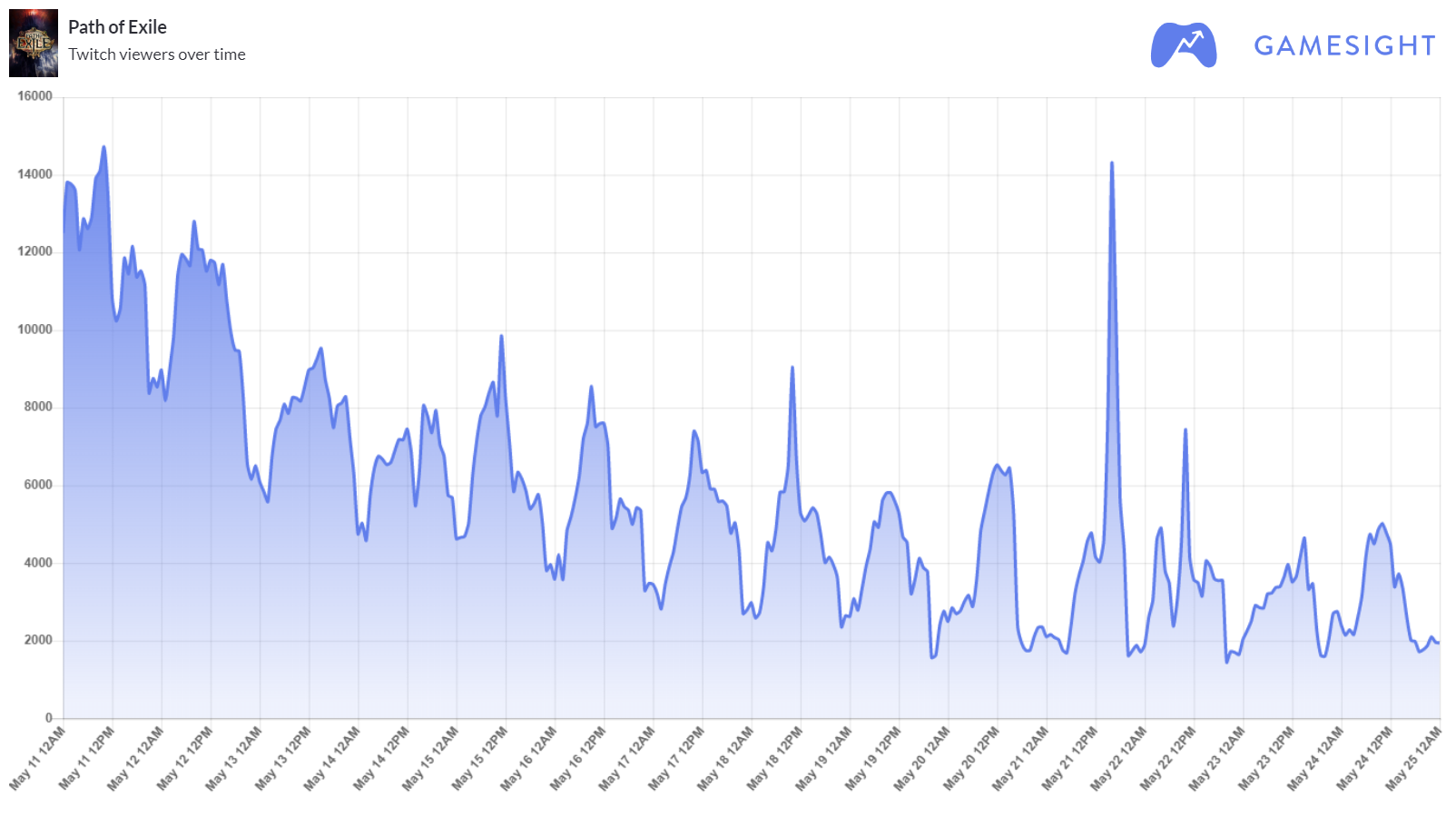 Decrease Viewership: 372,934 Hours, 33.67%
Decrease Streamers: 366 Channels, 8.94%
Path of Exile rounds out our list primarily due to the volume of its loss in viewership, which, while only accounting for a third of the game's overall total, was one of the top overall losses for the platform. Competitive play concluded its season a little more than a week previously, and with the conclusion came the release of their "Flashback" event, a hodgepodge of past mechanics and events which continues through the 4th of June. While this occasion originally brought a large enough increase in Twitch presence to make our top rising list two weeks ago, it seems the momentum has shifted, and a substantial portion of players are either pulling back or moving on. Updates and events are, of course, pivotal to the long term success of any live-service title, but this is a good example of how it doesn't always last as long as you'd like. Path of Exile is a healthy title with a dedicated player-base, which is why it remains in such a good position in spite of its losses, but there's definitely lessons for the team to learn here, in regards to how to make these moments as fruitful and long lasting as possible. We look forward to the next major content release, to see what lessons might have been learned.
---
To compare to last week's rankings, click here. We also broke down how the unique tone of Rocket Arena is the perfect way to stand out in a crowded genre, and how John Wick Hex signals a pivotal moment for the "XCom-like" genre. Follow us on Twitter and LinkedIn for all the latest blogs, announcements, and game marketing news from the team at GAMESIGHT!