#Top5OnTwitch: June 15th - June 21st
The fight to be the biggest "auto battler" is on! Dota Underlords and Teamfight Tactics dominate our weekly #Top5OnTwitch, but who will dominate the genre?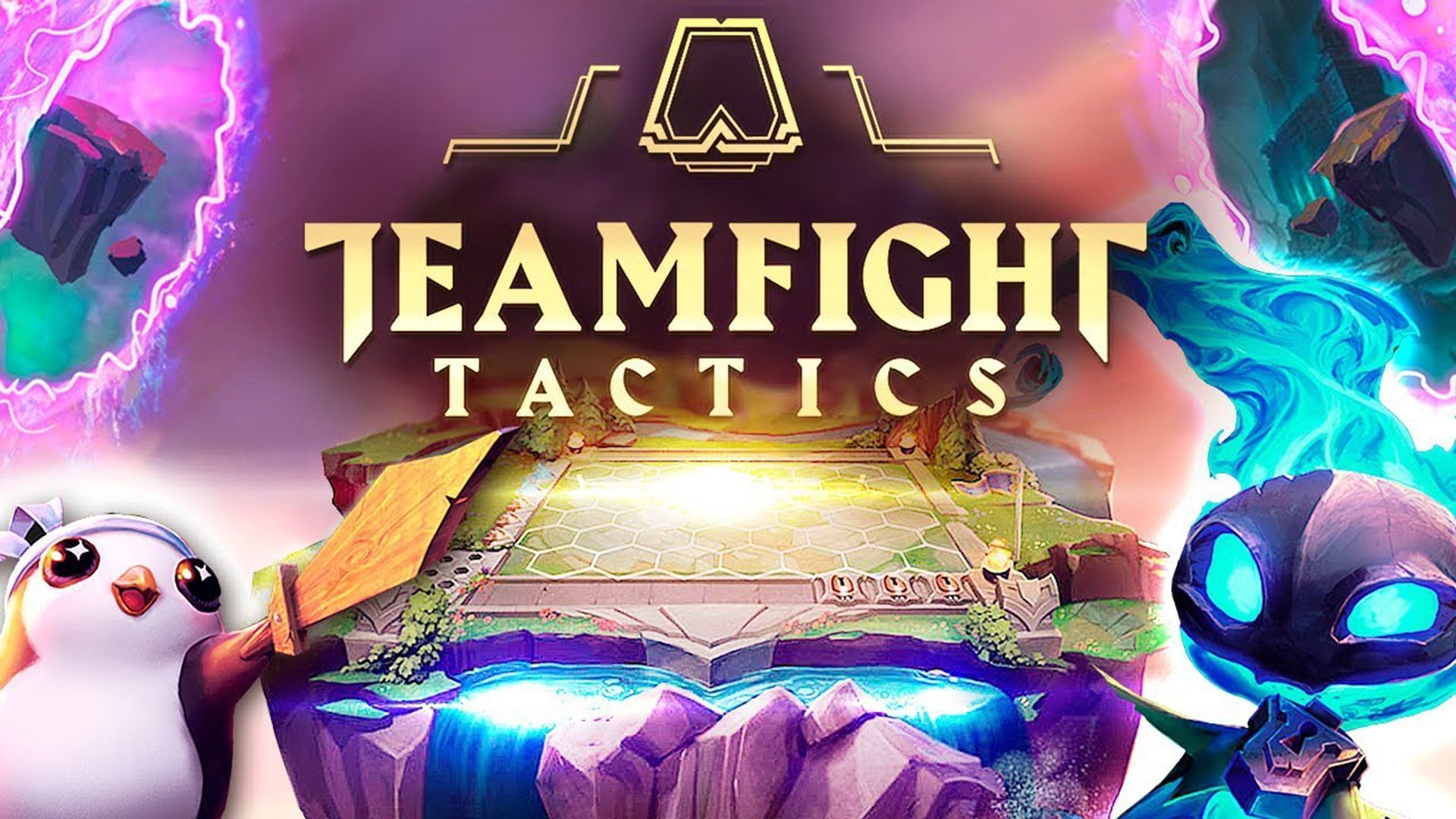 Which games are rising on the Twitch charts? Which titles are sliding? We bring you the hard numbers and reaction, every week, in the GAMESIGHT power rankings!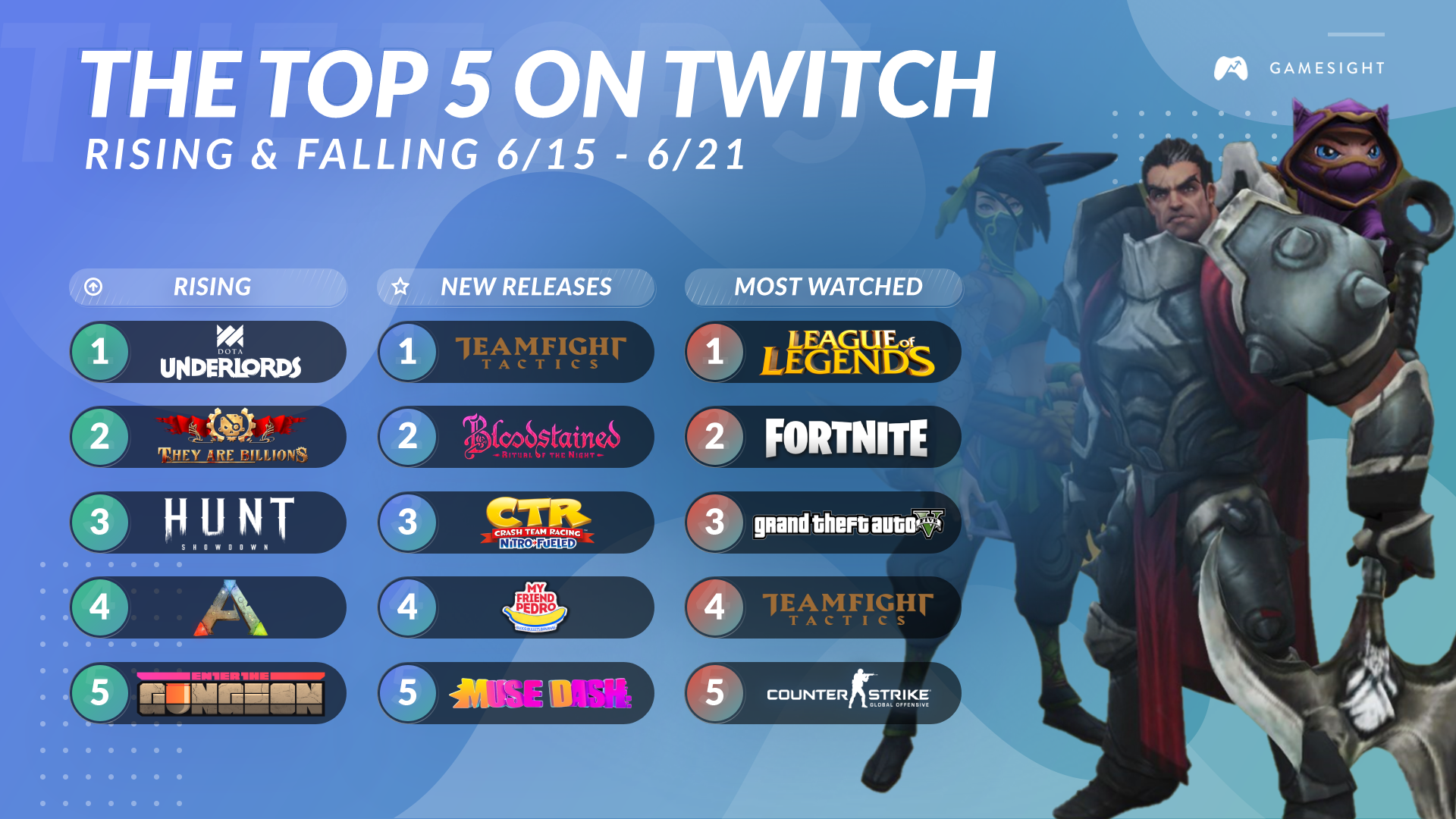 Note: The following rankings are based on a combination of both gross and percentage change to viewership and total streams. As such, dominant and stable titles near the top of the charts will not always, or often, appear. To compare to last week's rankings, click here.
Graphs for Top Rising titles show previous two weeks for context.
---
Top 5 Rising

DOTA Underlords
Increase Viewership: 1,861,077 Hours (216.22%), 7th Overall
Increase Channels: 8751 Creators (431.93%), 4th Overall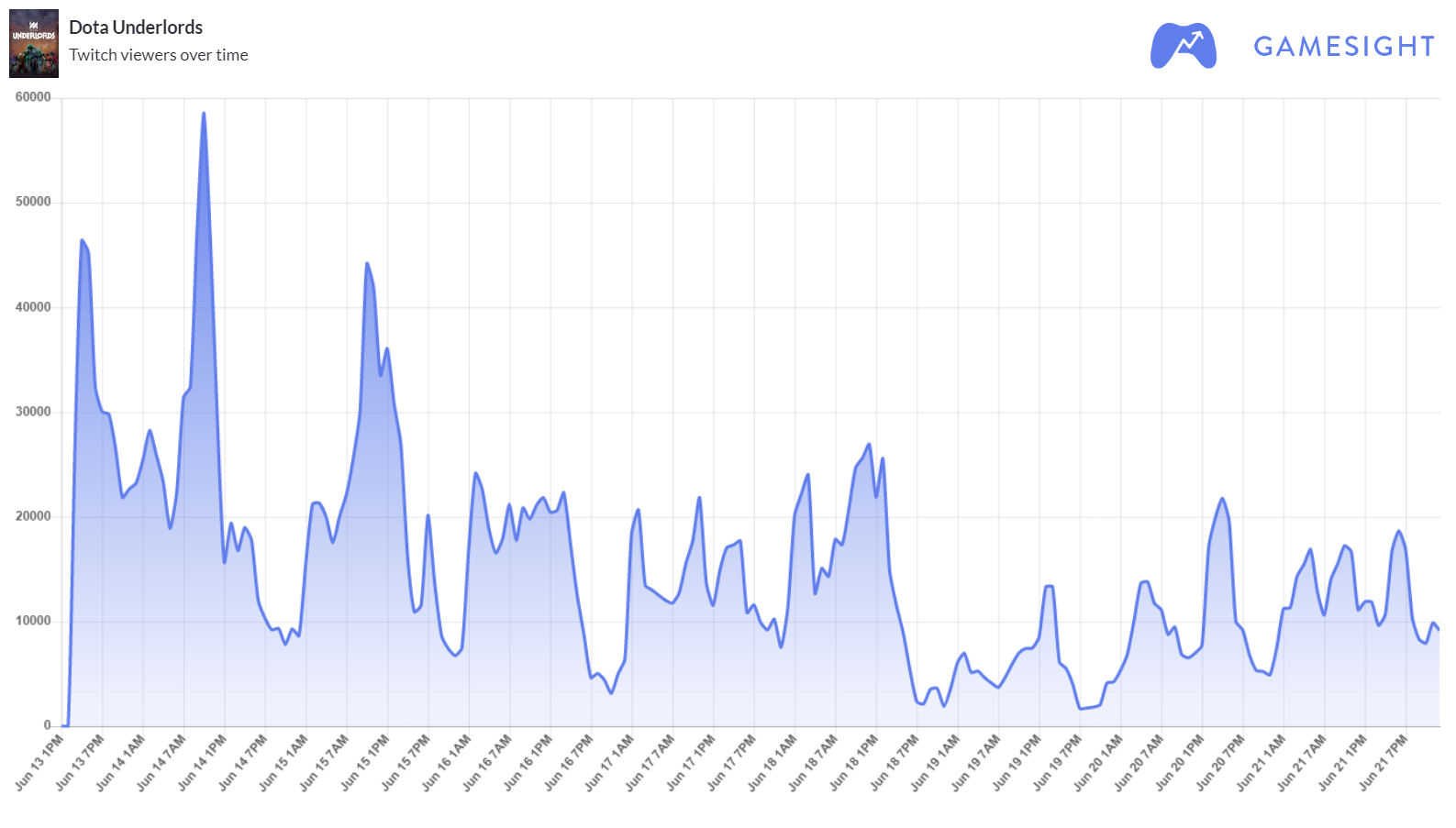 After first releasing in its initial testing phase through the Dota client last week, Underlords opened up into its official open beta and was released on Steam on Thursday, June 20th. And yet, it was the viewership it had already accumulated that made it the fastest growing returning title on Twitch. Interestingly, the two days where the title was more widely available have been among the least productive in terms of overall viewership, but we think that's more of a temporary anomaly than a sign of things to come. Next week, with a full weekend of Steam availability in the books, those numbers should climb once again.
One fascinating thing to note is the primary language of the larger contributing streamers. The original Dota 2 mod, Auto Chess, was a huge hit in the Pacific region, with Korean and Japanese-speaking players making up a large percentage of participating channels. Underlords, meanwhile, has been a larger success in the west, with all of the top thirty contributing channels featuring English-speaking creators. It seems the appeal of this official version extends beyond the reach of the initial modification.
The future for Underlords is uncertain, as its stepping into an arena filled to the brim with competitors. The success of Auto Chess did not go unnoticed, and now other publishers are getting in on the action to try and plant their flag in this new genre. The road ahead is long – it takes a long time for a new category of games to reach full maturity, as battle royales did previously – but Underlords has done a great job getting its product out there and into players hands, getting a head start on the competition. We're anxious to see how all of it plays out.
They Are Billions
Increase Viewership: 944,395 Hours (2439.45%), 14th Overall
Increase Channels: 1265 Creators (524.90%), 26th Overall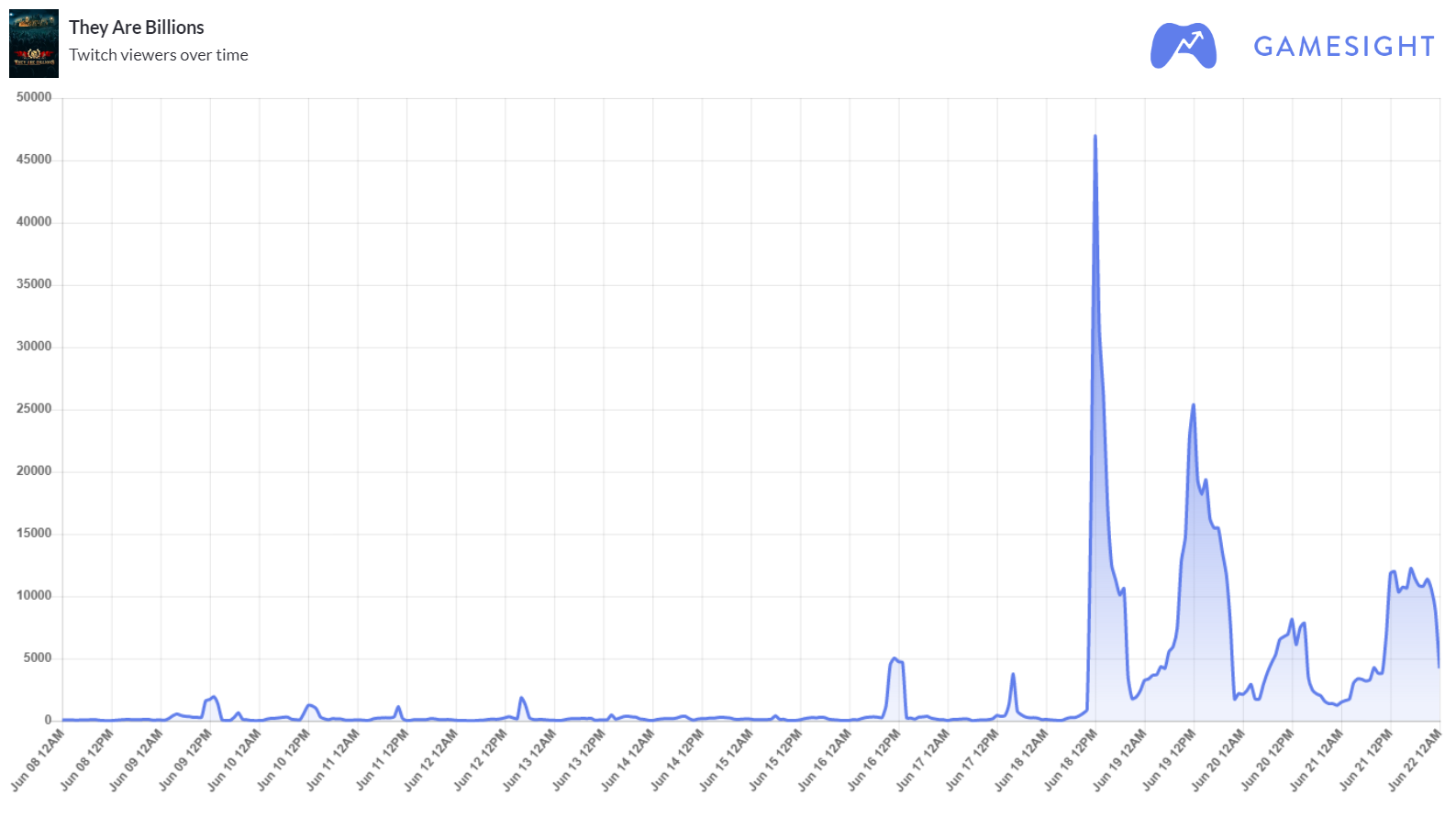 They Are Billions is a survival RTS with a post apocalyptic steampunk setting, tasking players with building colonies while defending their people from hordes of the undead. It was initially released into Early Access in December of 2017, launching with a "survival mode," a story-free open-ended experience focused on building and protecting your cities as long as you can. This past week finally saw the game fully released, with its campaign mode serving as the primary new draw, and as a result the game exploded on Twitch, gaining nearly one million hours of new viewership and receiving its biggest boost from creator AdmiralBahroo, who played the game on stream for thirty two hours and for an average of over 7,000 viewers.
RTS games like this tend to carve out smaller, but still stable communities, and even though this title has the added spice of a zombie outbreak, we don't expect that this alone is enough for the game to become a crossover success beyond its primary audience. Still, games in this niche develop dedicated communities of players and streamers, and this has been an excellent start in that direction. There have been some issues with campaign difficulty, but we still expect They Are Billions to build a comfy and productive spot for itself in its own corner of Twitch. This week has been a fantastic first step.
Hunt: Showdown
Increase Viewership: 223,752 Hours (358.96%), 30th Overall
Increase Channels: 1202 Creators (61.96%), 31st Overall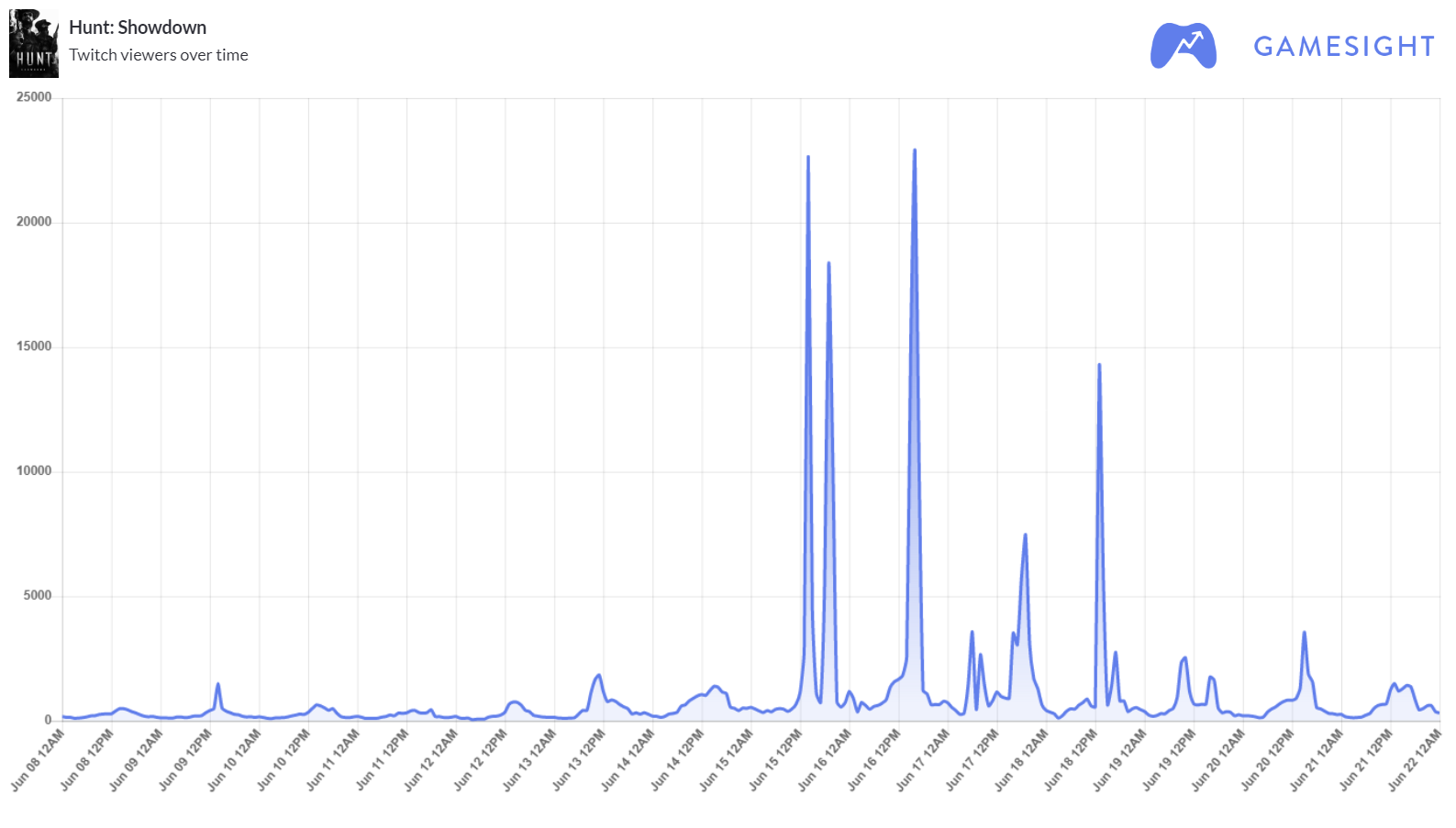 Hunt: Showdown is a PvP/PvE competitive FPS from Crytek, creators of the vaunted Crysis series. In early access, the title combines horror elements with frenetic competition and solid gunplay to create a unique multiplayer experience. After releasing its latest patch on June 12th, the title celebrated by hosting a free weekend on Steam, letting anyone try the game from June 13-17, and as a result the game hit brand new highs in viewership and total streams, earning enough momentum to make our list of the top rising titles on Twitch.
And it was quite the hit, drawing contributions from major streamers like LIRIK, xQcOW, and Michael Lorpiore along with just over 3,000 others. The result is an excellent example of just what a "free weekend" can do for a title. Long term success will still depend on how the game is updated and changed, as it is for any early access title, and it's impossible to know just how well that will do until we see the finished game. Still, this should be a lesson to other publishers and developers that events like this can be an enormous boost for in-progress titles, getting your game into more players' hands and getting more data for your team to play with. It won't return to our rankings without further updates or events, but still, this has been a great week for Hunt: Showdown, and one filled with lessons.
ARK
Increase Viewership: 360,890 Hours (137.98%), 24th Overall
Increase Channels: 2216 Creators (57.60%), 21st Overall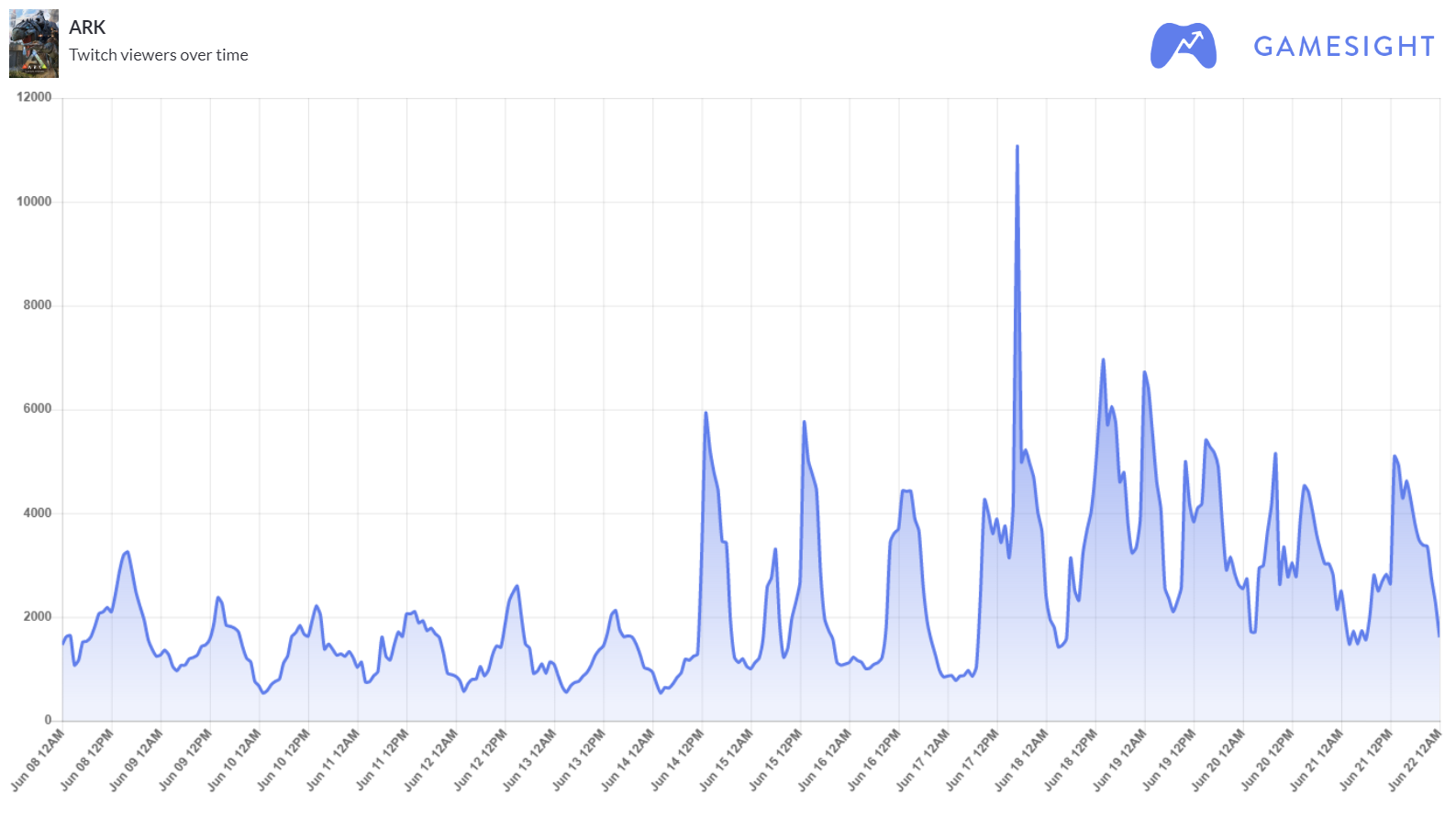 A new map has come to ARK: Survival Evolved, and with it droves of returning streamers and viewers ready to explore the brand new area and its many treasures and mysteries. Called "Valguero," it features a brand new setting filled with new unique creatures, items, and even environmental effects for players new and old to enjoy.
ARK has been around a long time, and it remains a fixture in the world of streaming because it's constantly updates, tweaked, and expanded with new experiences for its many players. This latest free update is just the most recent in a long line of new maps, modes, and modifications that have kept its community engaged since way back in August of 2017. For "live-service" titles, they're an excellent example of a publisher and developer doing things the right way, focusing on constant development, and keeping their title fresh. This is just the latest example.
Enter the Gungeon
Increase Viewership: 67,046 Hours (127.59%), 77th Overall
Increase Channels: 2218 Creators (70.66%), 20th Overall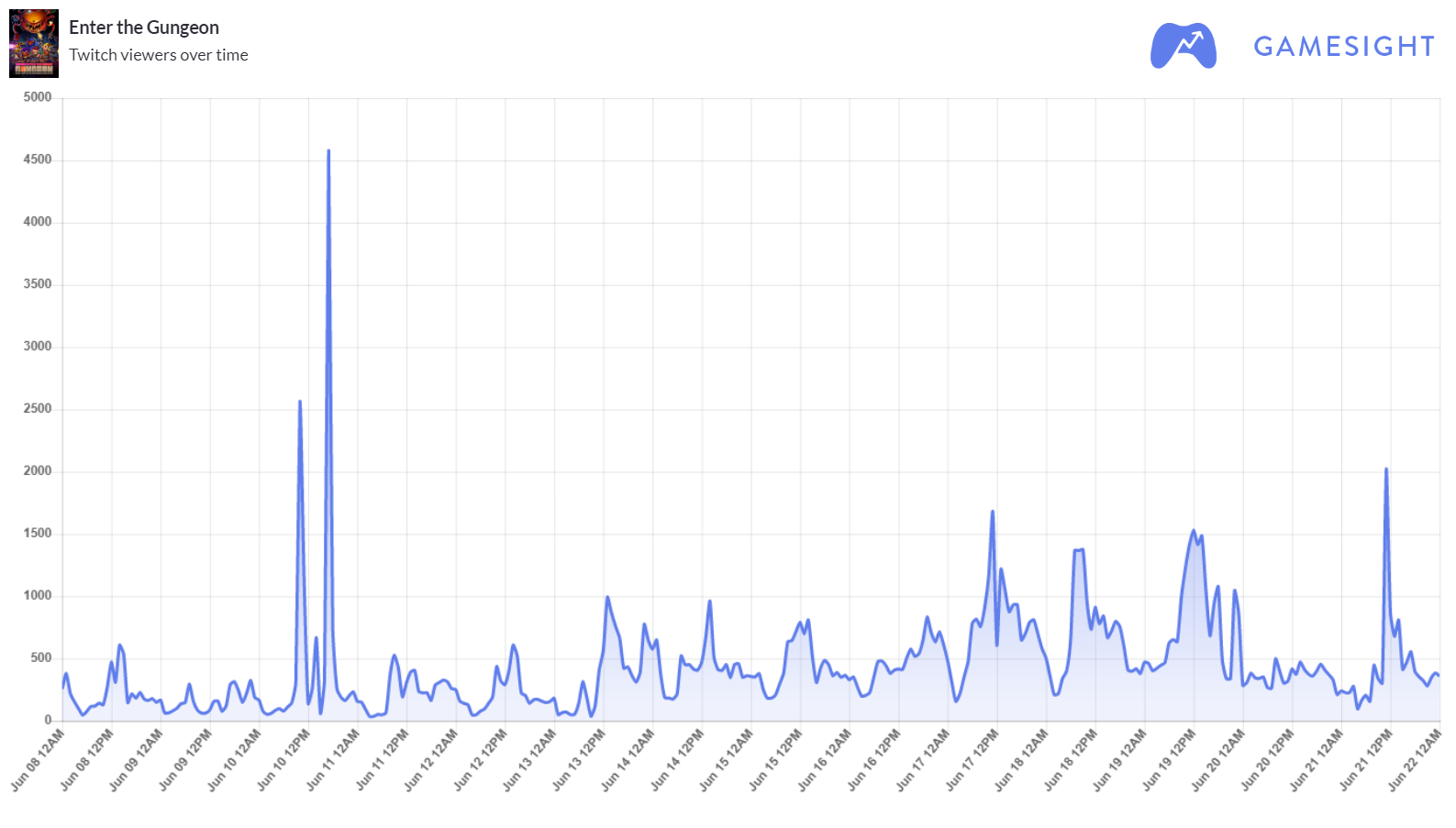 Enter the Gungeon was the free giveaway last week on the Epic Games Store, with everyone able to scoop up the game without putting down a penny. As a result, the rogue-like twin-stick shooter experienced an impressive boost on Twitch, more than doubling its overall viewership. It won't last, of course; this is an older title experiencing a brief boost due to the promotion, rather than something finding new life. Still, this is an interesting representation of the reach of the Epic Games Store, a demonstration of just how many players there are to scoop up the weekly freebie and actually engage with it. There was little doubt left, of course, but still, this is further evidence of the sheer size of that storefront's reach, the ability it has to get games into new, eager hands. We'll be watching closely to see what the next free giveaways will be, and just how their promotion impacts their streaming footprints.
---
Top 5 New Releases

Teamfight Tactics
Total Viewership: 11,311,104 Hours, 4th Overall
Total Channels: 12,313 Creators, 20th Overall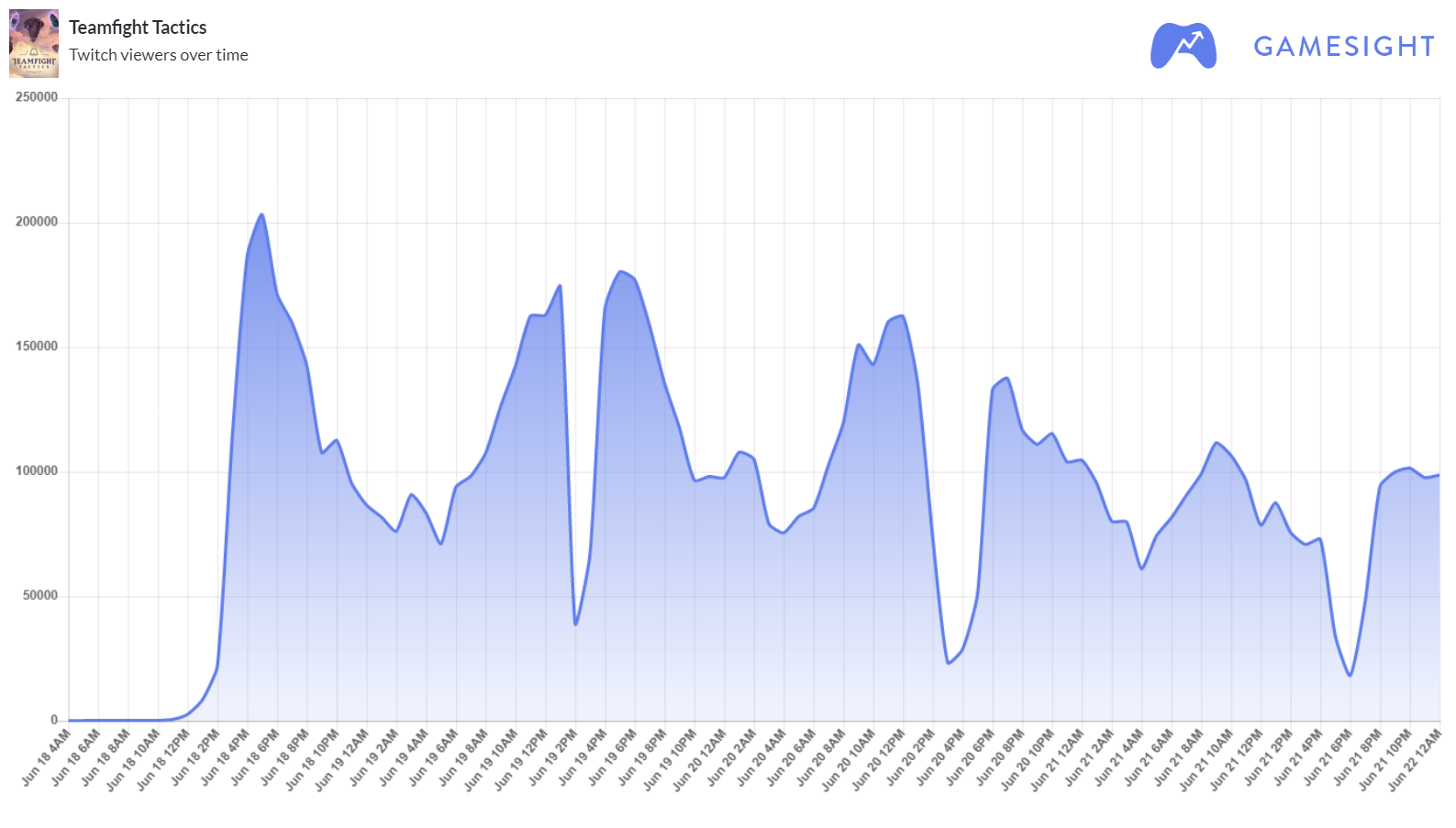 Dota Underlords may be our fastest rising returning title this week, but it has its work cut out for it now that its competition from Riot Games, creators of League of Legends, have released their own entry in the rapidly expanding "Auto Battler" genre. It's official release doesn't hit until tomorrow (Tuesday, June 25th), but an early version became available through the League launcher's PBE (Public Beta Environment) last week, and not only was it the biggest new title on Twitch, it was the fourth most watched game in terms of total overall viewership in that time frame.
As with Underlords above, one of the most interesting elements of this genre seeing official releases from major publishers is that most if not all of the top contributing Twitch streamers are English-speaking, in contrast to the more Western oriented audience of its direct predecessor. At the same time, the sheer magnitude of these viewership numbers show that just because the genre sprung from the world of DOTA doesn't mean that Valve's official offering will dominate the landscape. The competition in this space is just heating up.
Bloodstained: Ritual of the Night
Total Viewership: 1,732,230 Hours, 22nd Overall
Total Channels: 7217 Creators, 29th Overall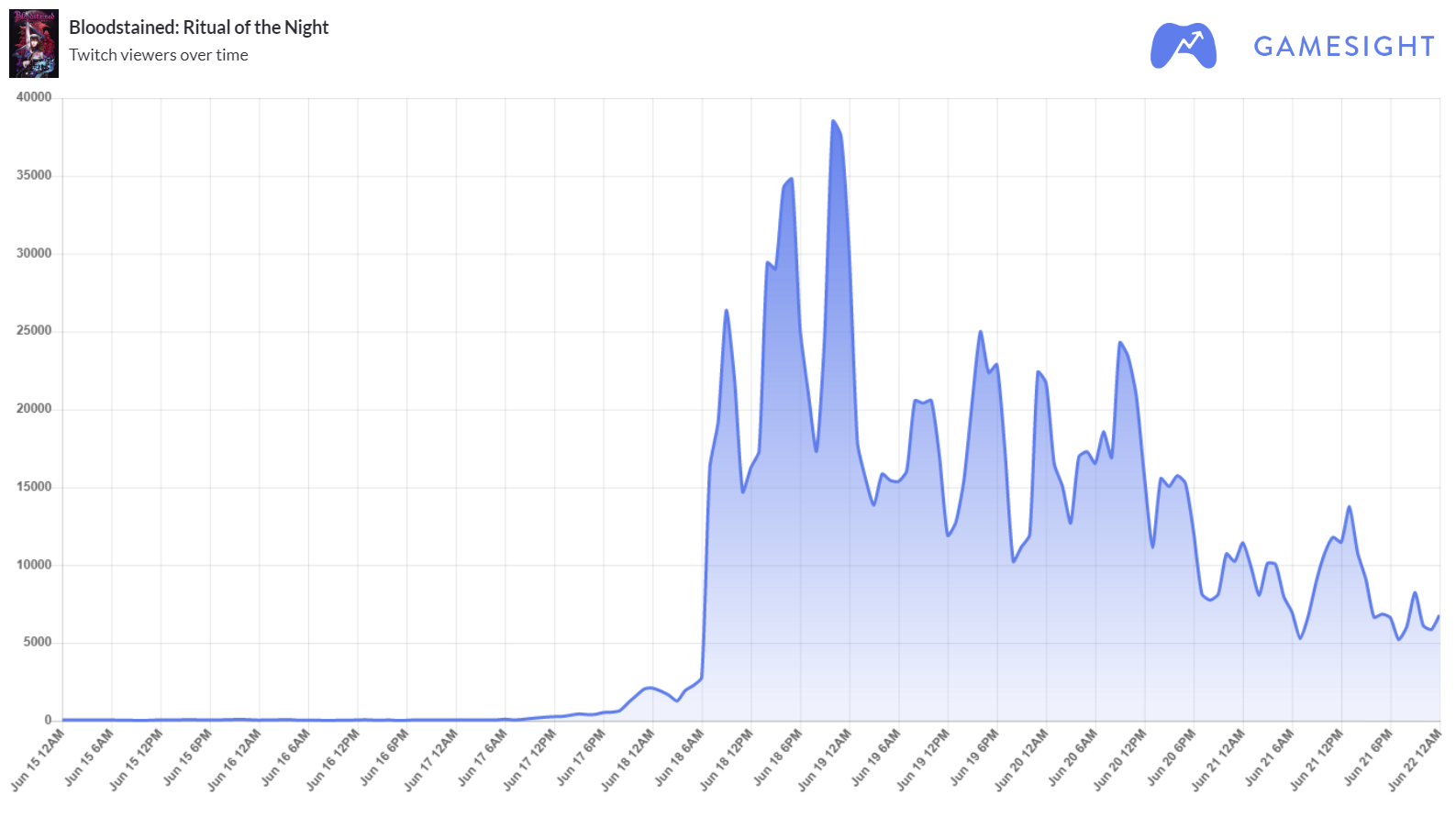 After a Kickstarter campaign that originally concluded in June of 2015, and delays past its initial projected release in 2017, the long-awaited retro-style Metroidvania from former Castlevania producer Koji Igarashi has finally been released, and the long wait did little to dampen the excitement of its community, leading to big numbers on Twitch and the second spot in our weekly list of top new releases. It's unlikely to stay at the top of the charts for very long, and, as a single-player, story-driven game we predict the peak viewership it achieved in its first few days represent the height of its popularity on the platform; a steady decline in its daily performance is already evident in the graph above. It does, however, also represent a successful launch for a niche title its audience had been waiting years to play. Our hats off to everyone involved in making it a reality.
Crash Team Racing: Nitro Fueled
Total Viewership: 1,026,239 Hours, 23rd Overall
Total Channels: 4786 Creators, 50th Overall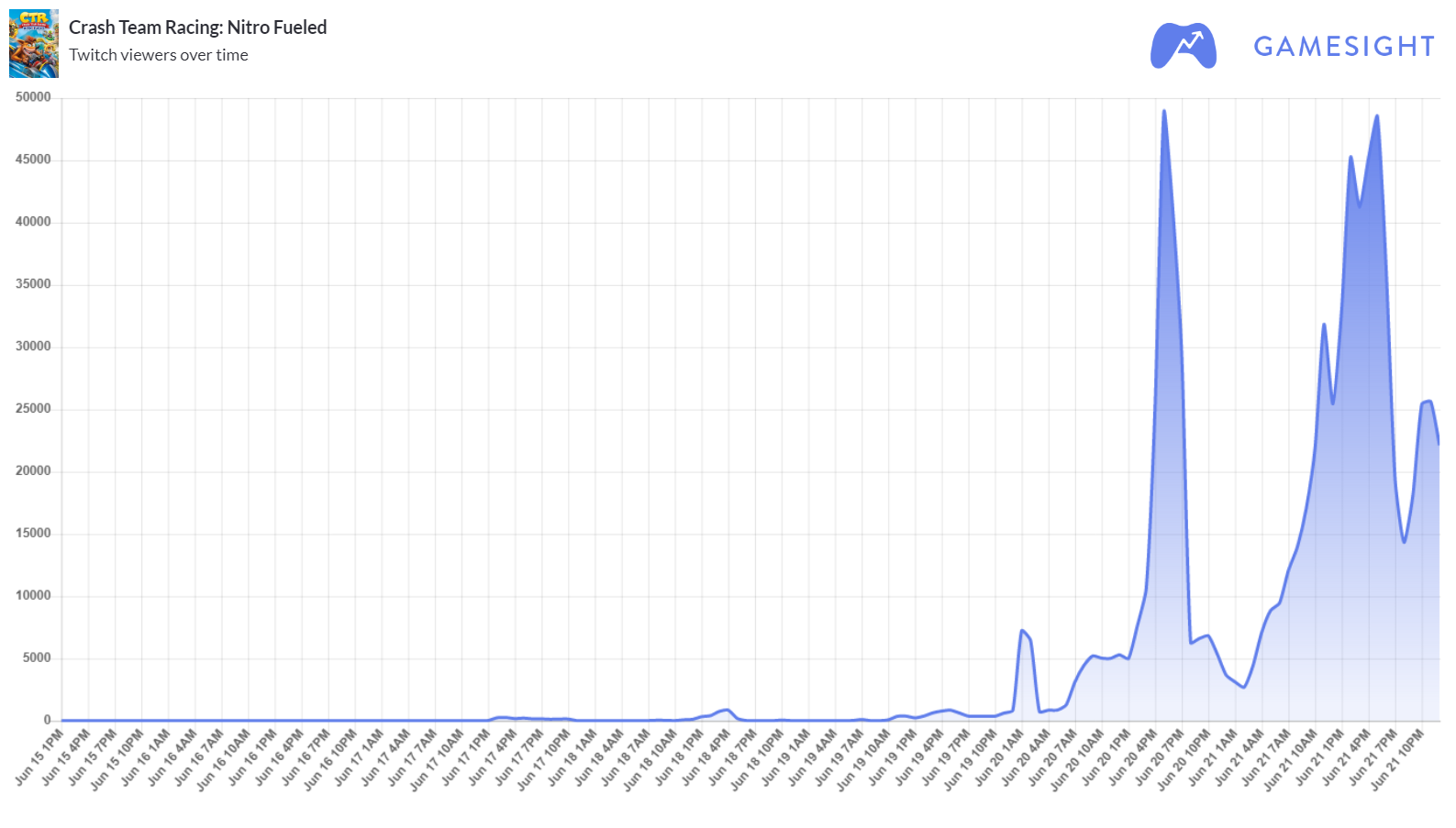 Nineties nostalgia continues to be a powerful draw for gaming and streaming fans, as it seems almost every week a new remastered or rebooted version of a PS One era title is making waves on Twitch. This week, that game was Crash Team Racing, as its remaster, Nitro Fueled, accrued impressive enough viewership in only two days to take the third spot in our list of the top new releases in streaming.
That old-school charm was enough to pull in large-audience creators like alanzoka (18,790 avg. viewers), LIRIK (18,831 avg. viewers), and CDNthe3rd (10,933 avg. viewers), along with nearly 3800 other streamers. If it can hold these players' attention into the week ahead, it could climb even higher up the overall charts. Titles like this, though, tend to rise quickly and fade fast, so the odds might be stacked against it. Even so, it's a testament to the lasting power of legacy-system titles, something of which publishers are clearly increasingly aware.
My Friend Pedro
Total Viewership: 547,285 Hours, 43rd Overall
Total Channels: 3574 Creators, 66th Overall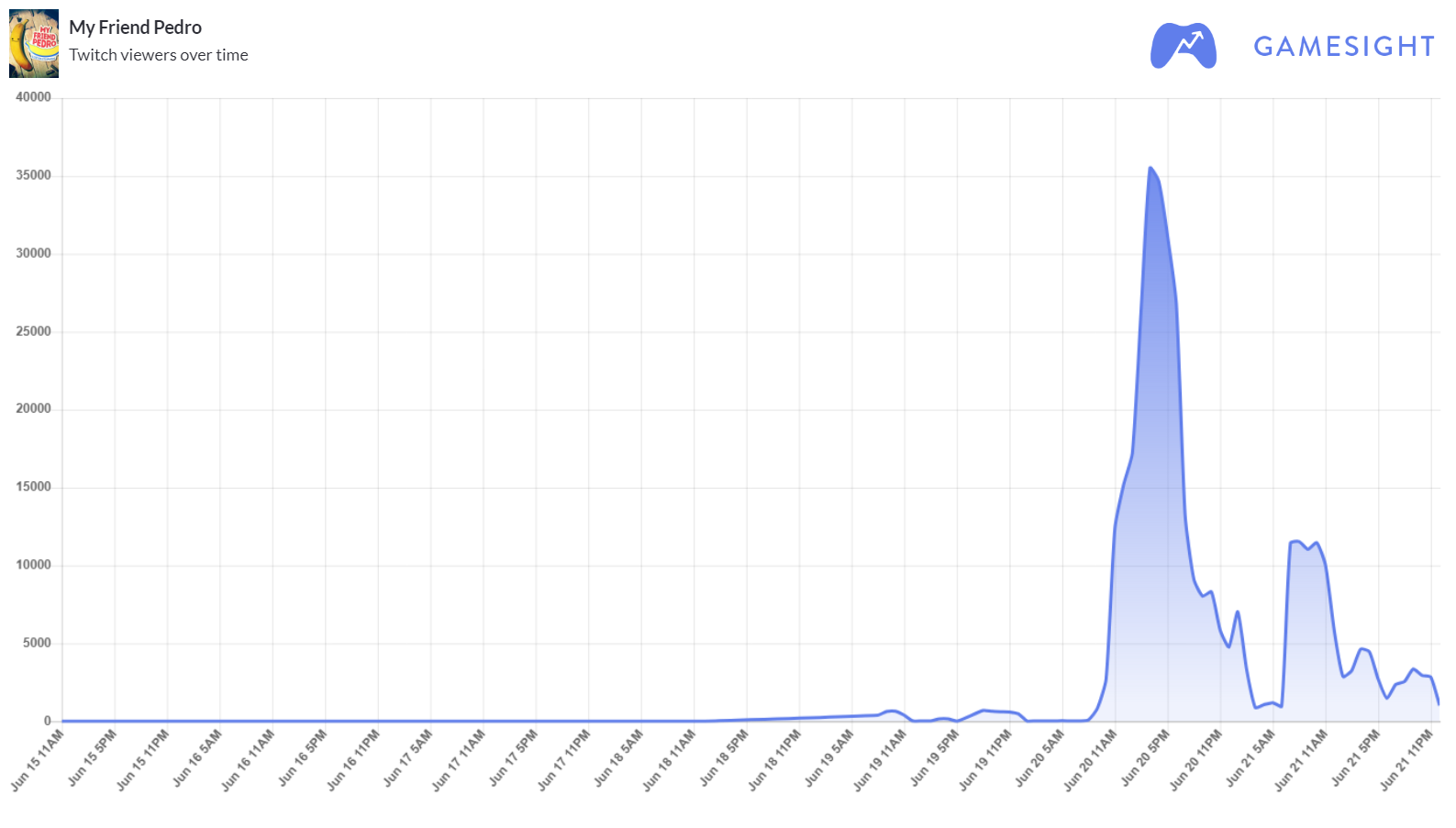 When this character-ful and uniquely kinetic action title was first revealed, its combination of acrobatic gunplay, violent imagery, and gleeful tone drew comparisons to famed Marvel character Deadpool, and that connection is a strong one. My Friend Pedro is a game about catapulting yourself into absurdity and never taking time to worry about the consequences, and if that doesn't scream "Deadpool" few things will. Devolver Digital was hoping players would be as enamored with their latest offering as moviegoers have been with Ryan Reynolds's red-suited anti-hero, and all indications are they hit it out of the park.
The game is Devolver's "biggest launch to date" on the Nintendo Switch, and its Twitch performance in only two days was enough to take the fourth spot in this week's list, indicating that PC sales won't be anything to laugh at when all is said and done. It will be worth watching next week to see if it carried this momentum forward, but we anticipate a strong showing from this indie title in the days ahead. It won't take over the world, but it will do just fine.
Muse Dash
Total Viewership 37,686 Hours, 340th Overall
Total Channels: 819 Creators, 216th Overall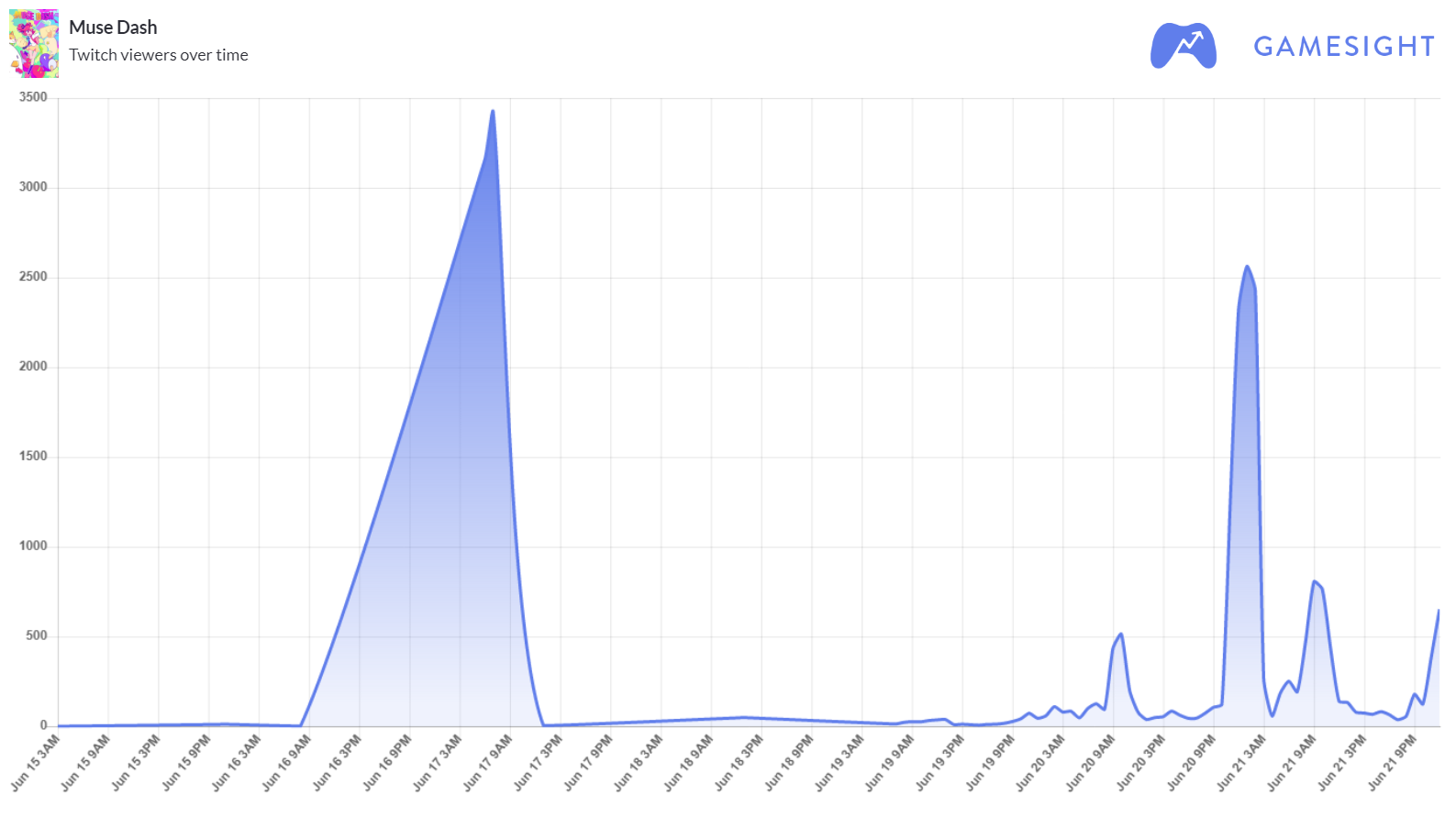 With so many heavy-hitters hitting the scene this week, there's a substantial drop off between our previous entry and this anime-styled rhythm experience, but it's still beating the competition enough to take the final spot in this week's list. All of the substantially contributing creators hail from the Pacific region, predominantly Korean and Chinese-speaking players with only two reaching peaks of more than 1,000 viewers. So, this title won't be making noise in the greater scheme of things, but it's still a respectable showing from a most niche of niche title.
---
Top 5 Most Watched Overall

League Of Legends
Total Viewership: 24,260,114 Hours (+9.98%)
Total Channels: 93,615 Creators (+12,228)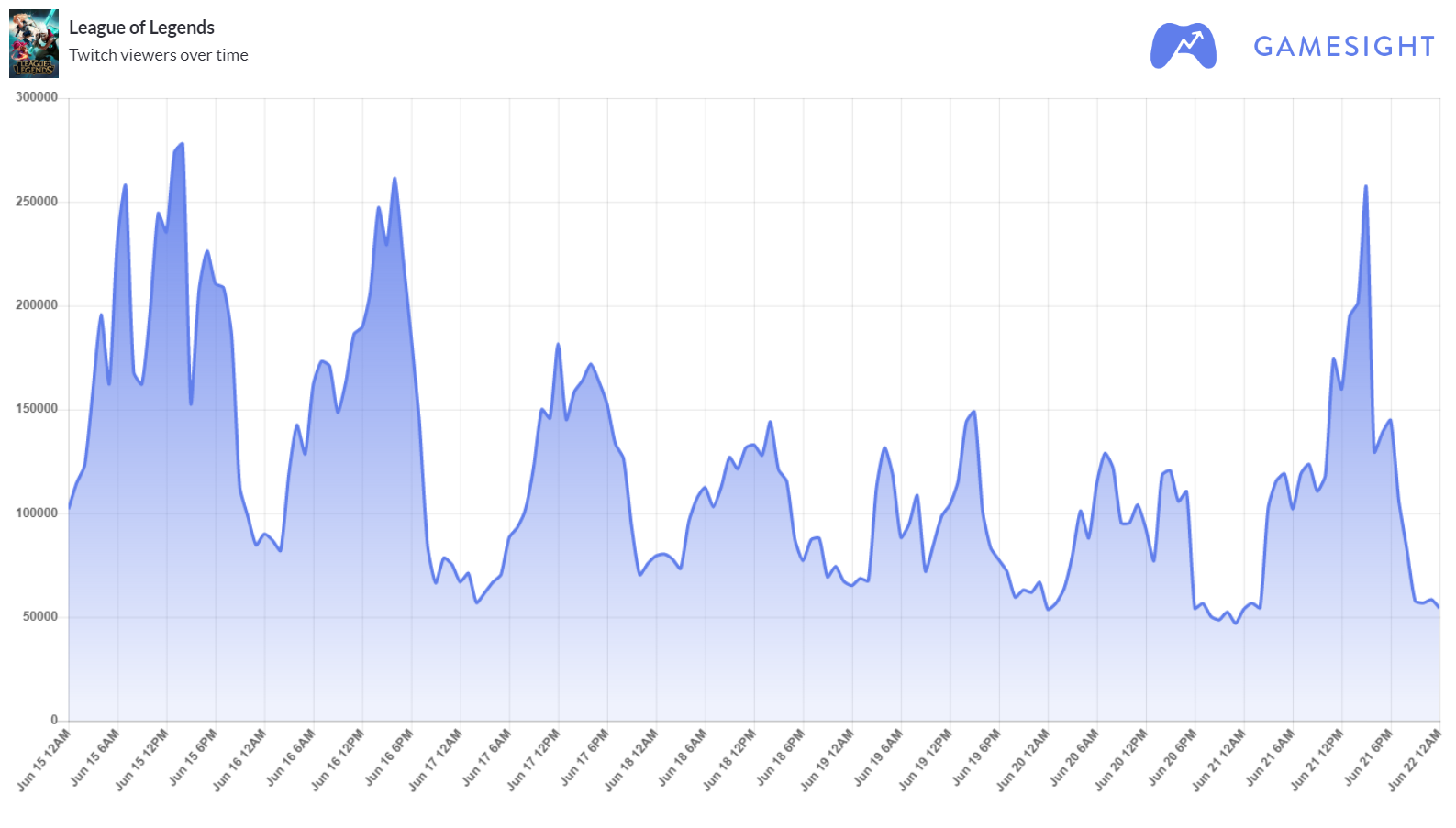 Top Channels by Viewer Hours
Fortnite
Total Viewership:24,035,080 Hours (19.95%)
Total Channels: 358,324 Creators (+10,189)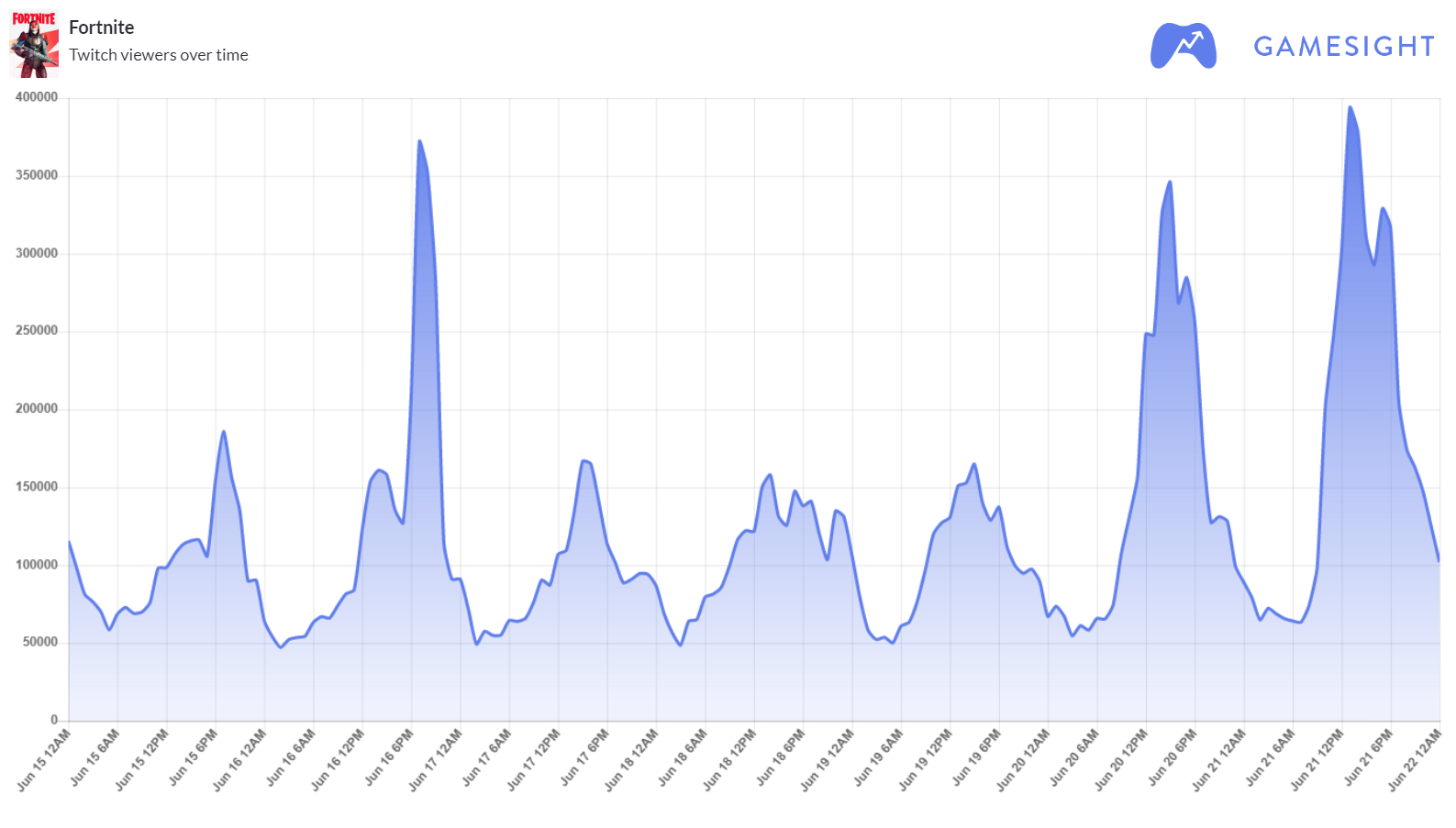 Top Channels by Viewer Hours
Grand Theft Auto V
Total Viewership: 15,223,235 Hours (+7.36%)
Total Channels: 35,596 Creators (+4925)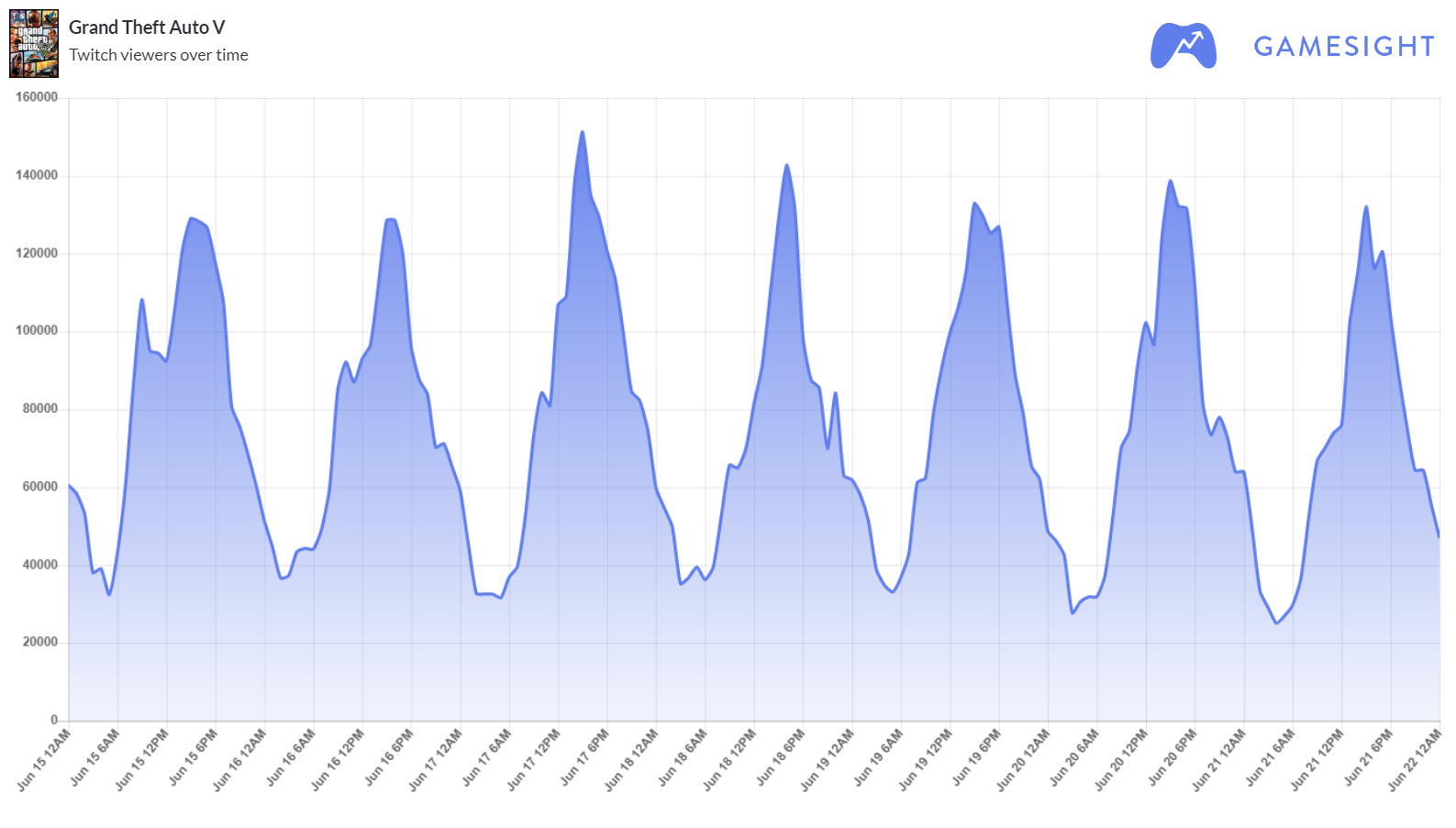 Top Channels by Viewer Hours
Teamfight Tactics
Total Viewership: 11,311,104 Hours (New Release)
Total Channels: 12,313 Creators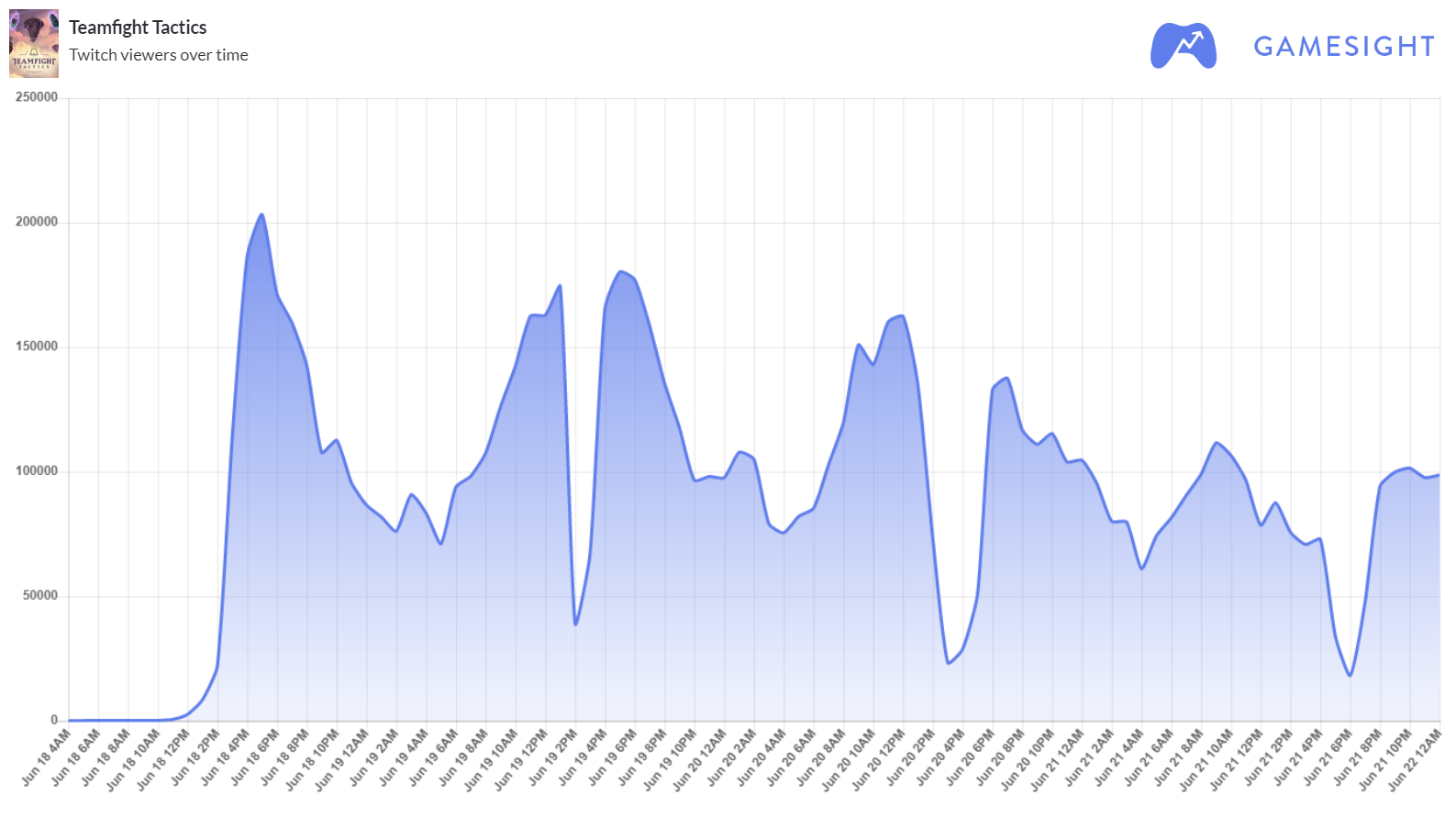 Top Channels by Viewer Hours
Counter-Strike Global Assault
Total Viewership: 9,921,403 Hours (+58.13%)
Total Channels: 61,246 Creators (+7806)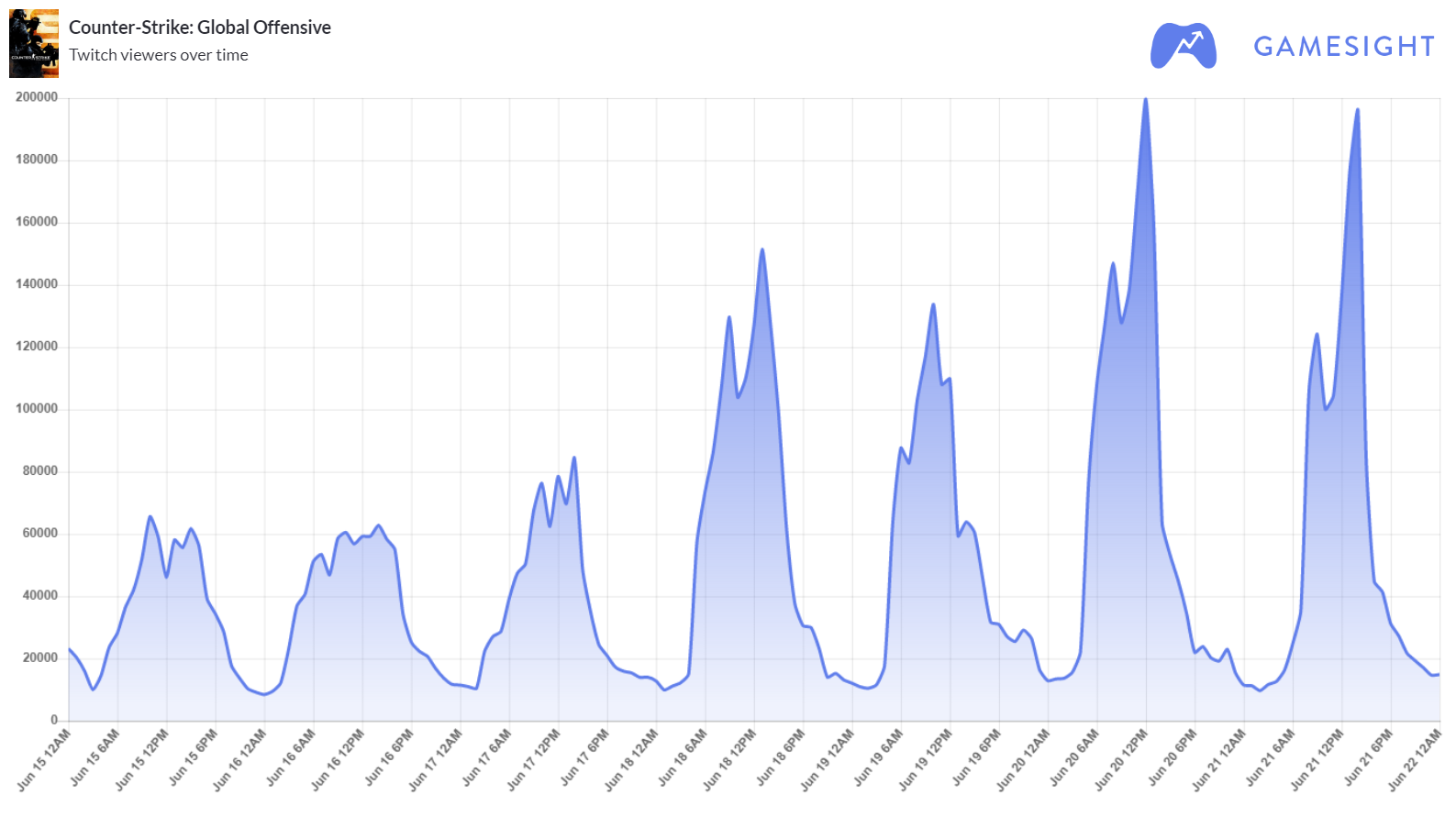 Top Channels by Viewer Hours
---
To compare to last week's rankings, click here. Also be sure to read our piece about whether Fallout 76 can pull of gaming's biggest turnaround, and to follow us on Twitter and LinkedIn for all the latest blogs, announcements, and game marketing news from the team at GAMESIGHT!