Twitch Recap of EVO 2022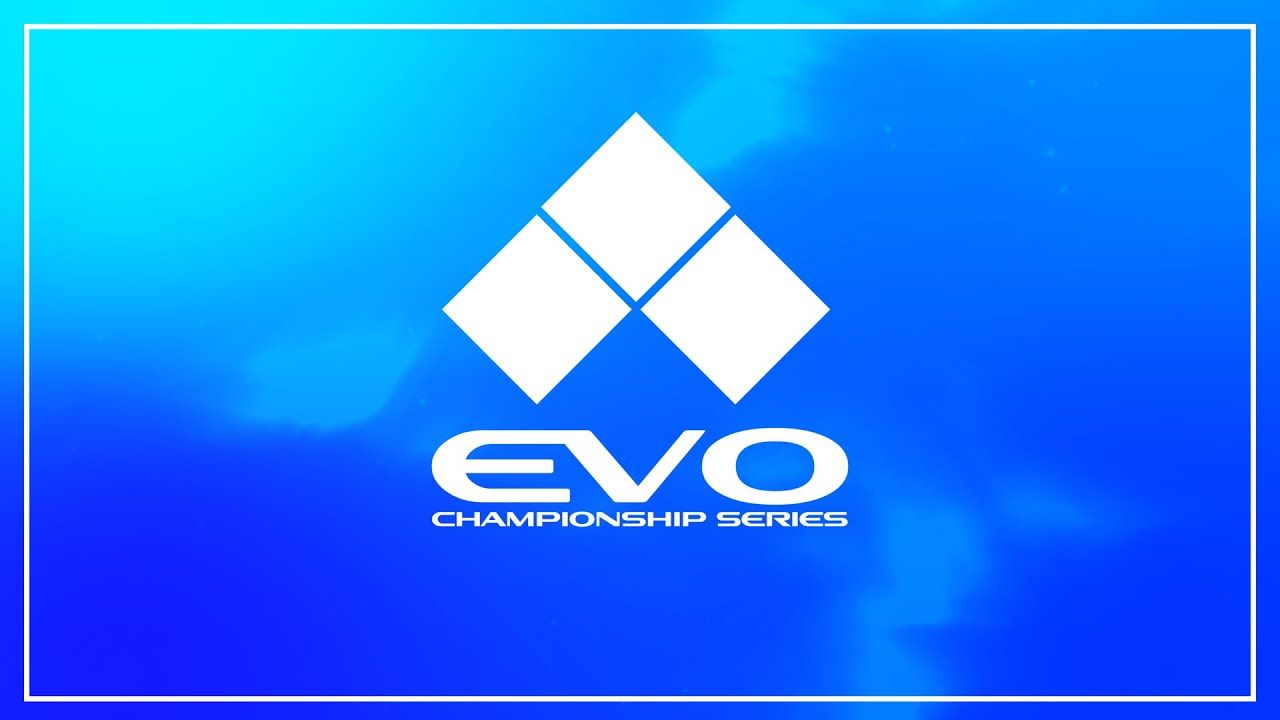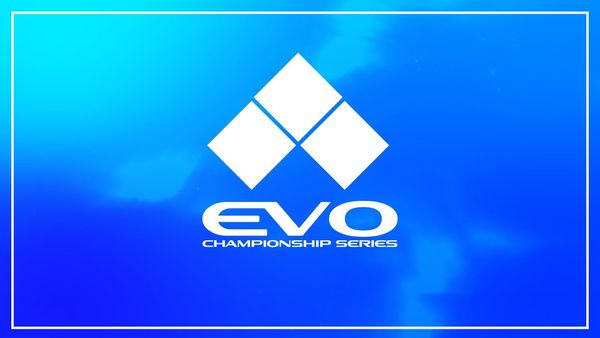 Another year, another bout of fighting game mayhem at EVO (The Evolution Championship Series), the annual esports event which focuses exclusively on fighting games. Normally a yearly endeavor, EVO 2022 was the first in-person event since 2019, due to complications presented by the Covid-19 pandemic. EVO also presents an excellent stage for new announcements regarding updates, DLCs, and upcoming releases in the fighting game genre. This years game lineup was comprised of:

Mortal Kombat 11
Skullgirls
Melty Blood: Type Lumina
Dragon Ball FighterZ
Granblue Fantasy: Versus
King Of Fighters XV
Tekken 7
Street Fighter V: Champion Edition
Guilty Gear -Strive-
In this piece, we'll be looking at a breakdown of how these games performed on EVO's official Twitch channel by observing their total viewer hours and average concurrent viewership.
---
EVO 2022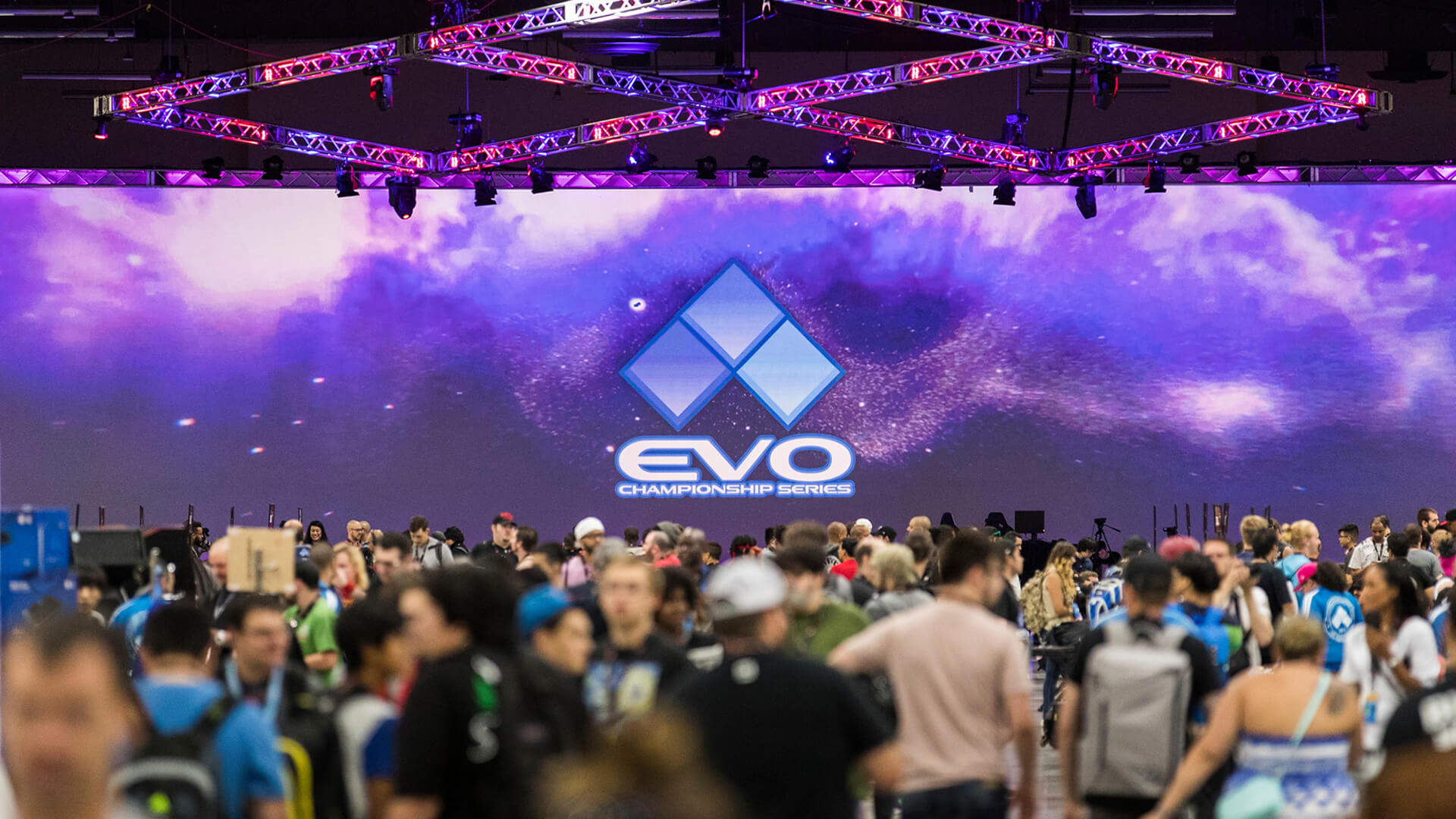 As a whole, EVO 2022 accumulated:

2,468,859 Twitch viewer hours
64,799 Average Concurrent Viewers (The average amount of people watching the stream at a given time).
157K Peak viewers (Street Fighter V)
And 37.4 total hours streamed
EVO 2022 had nearly 6 times the average concurrent viewers than EVO 2021, which only had an average of around 11k viewers. One of the main reasons this event was more popular than EVO 2021 was because there was a massive, engaging crowd. One of the best parts about watching esports events is feeling like you're one of the crowd vicariously. When the crowd screams at an amazing outplay, the viewer feels that energy too. When an event is entirely online, that aspect is missing. This is also demonstrated by the fact that EVO 2019 had an ACV of 142,839 during the entirety of its Day 3, a sizeable amount more than it's 2021 event.

With hype moments like Cell's scream during DBFZ Top 8, Bandai Namco's cryptic Tekken 8 teaser, and the reveal of Juri and Kimberly's inclusions into Street Fighter 6, EVO 2022 was full of energy and excitement. Now, let's break down each game's performance over the weekend from least average concurrent viewership to most average concurrent viewership.
---

9. Skullgirls
Viewer Hours: 105,032
Hours Streamed: 4
Average Concurrent Viewers: 26,258
Peak Viewers: 46,333
8. Melty Blood: Type Lumina
Viewer Hours: 113,952
Hours Streamed: 3
Average Concurrent Viewers: 38,346
Peak Viewers: 51,439
7. Granblue Fantasy: Versus
Viewer Hours: 142,917
Hours Streamed: 3.7
Average Concurrent Viewers: 38,450
Peak Viewers: 48,646
6. Mortal Kombat 11
Viewer Hours: 226,383
Hours Streamed: 5.9
Average Concurrent Viewers: 38,614
Peak Viewers: 67,189
5. Dragon Ball FighterZ
Viewer Hours: 224,246
Hours Streamed: 4.2
Average Concurrent Viewers: 53,048
Peak Viewers: 65,611
4. The King of Fighters XV
Viewer Hours: 264,404
Hours Streamed: 4.1
Average Concurrent Viewers: 64,920
Peak Viewers: 86,248
3. Guilty Gear -Strive-
Viewer Hours: 306,566
Hours Streamed: 3.2
Average Concurrent Viewers: 94,296
Peak Viewers: 111,803
2. Tekken 7
Viewer Hours: 409,826
Hours Streamed: 3.8
Average Concurrent Viewers: 107,472
Peak Viewers: 132,333
1. Street Fighter V
Viewer Hours: 548,648
Hours Streamed: 4.2
Average Concurrent Viewers: 129,815
Peak Viewers: 156,601
---
Summary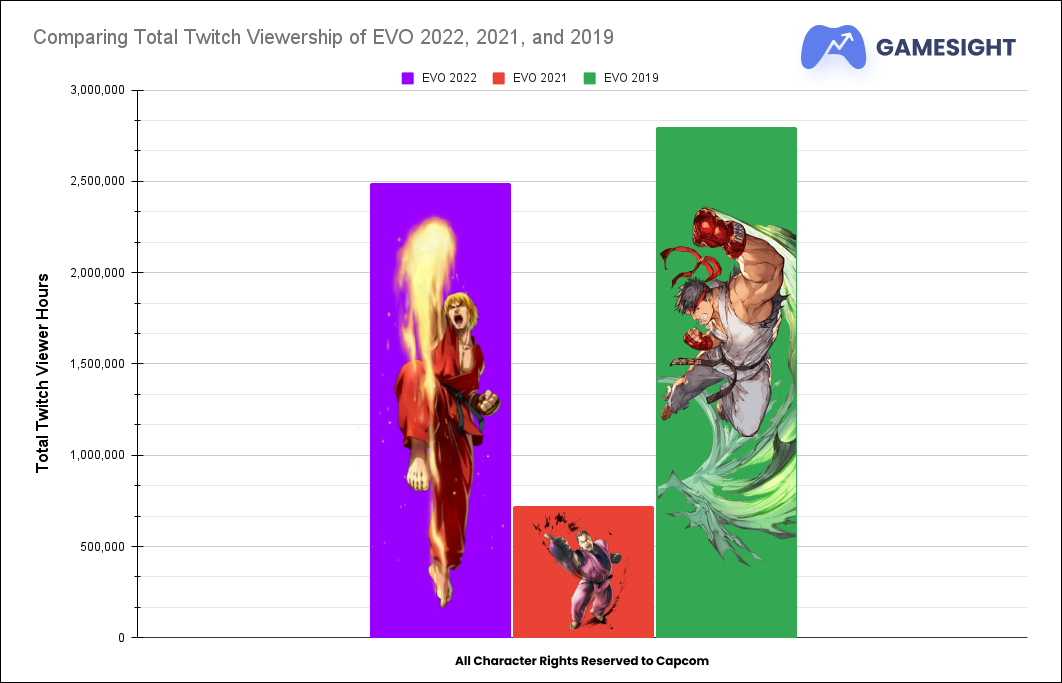 Day 3 of EVO 2022 was absolutely insane, with each game placing in the top 4 most watched fighting games over the weekend, and averaging 99,202 concurrent viewers at any given time. When compared to EVO 2019's total viewership, EVO 2022 shows that while momentum was lost between 2020 and 2021, the return to an in-person event showed that interest is still extremely high.

EVO 2022 returned to EVO 2019's level hype with its absolutely incredible viewership, almost entirely brought on by the energy of the crowd. The presentation of the event was top notch this year, which also heavily accounted towards the event's ability to retain viewership throughout the weekend. We can't wait to see what EVO 2023 brings to the table!
---
About us
At Gamesight, we help PC and console marketers implement performance marketing techniques for their games. If you are seeking help setting up and measuring your campaigns, working with influencers, or would like to simply talk with us about this article, please reach out on our website!