Wow. What an incredible month for gaming. With some big releases like Horizon Forbidden West, Dying Light 2, and, of course, Elden Ring. There were even bigger surprises in games like Lost Ark. Given the release timing of Elden Ring, we're going to only be looking at the first 3.5 days of streaming data for it, and we'll still compare it to the initial launch data of the other games. But for the rest of the games, we'll be taking a look at a week's worth of data for a more comprehensive picture.
Like always, a games streaming presence isn't always necessarily an indicator of game health or player popularity, but it's a good start. February was such a huge month for games releases, and several of those releases have a good chance of remaining relevant for quite some time. So this initial launch data would be interesting to revisit after a few months to see what trajectory each game ends up taking.
Anyways, less talk more data:
---
Dying Light 2

Average Viewers: 107.4k
Hours Watched: 20.1 million
Total Channels That Streamed: 96,620
Total Hours Streamed: 670.8k
Dying Light 2 came out of the gate guns blazing with just over 350,000 peak viewers on day one (as always these graphs show hourly data, so peak viewership might not line up visually). After a strong first 2 days, Dying Light 2 started to slump on day 3 and 4, before seemingly leveling out for the rest of the week. With such a large world and long campaign, Dying Light 2 will provide content for streamers well into the next few months, especially as more people purchase the game.
---
Horizon Forbidden West

Average Viewers: 46k
Hours Watched: 8.8 million
Total Channels That Streamed: 41,112
Total Hours Streamed: 333.3k
Horizon Forbidden West (HFW) is undoubtedly one of the most anticipated PlayStation releases this year, and reached just above 200,000 peak viewers on the second day of release. Viewership started to level off on day 3, with a slight decline on the following days. Keep in mind that the only way to stream HFW is by playing it on a PlayStation 4 or 5, so comparing it to other game releases that can also be played on PC/Xbox will present a skewed viewpoint. The game itself presents a very large open world, but many streamers opted to spend most of their time playing the main story missions. Overall, for a game released on a single platform, HFW yielded respectable viewership numbers.
---
Lost Ark

Average Viewers: 404.3k
Hours Watched: 76.3 million
Total Channels That Streamed: 123,767
Total Hours Streamed: 1 million
Lost Ark... Who would have thought? While the game itself is extremely popular in South Korea and Russia, and had sufficient hype in the west, nobody could have predicted its massive popularity. Reaching over 1.2 million peak viewers on launch, Lost Ark sunk its teeth into Twitch and YouTube and never let go. As of writing this blog (2/28/2022), Lost Ark is still the most played game on Steam, with 853,356 current players nearly 3 weeks after launch. With a massive Twitch/YouTube presence, 2+ years of content, a vibrant community, and a Free-To-Play business model, Lost Ark hits all the check marks to sustain a healthy player base for years to come.
---
Elden Ring

Average Viewers: 425.2k
Hours Watched: 51.8 million
Total Channels That Streamed: 183,670
Total Hours Streamed: 1.3 million
Finally we arrive at the game everyone has spent the last 3 years eagerly anticipating, Dark Souls 4... Elden Ring. Developed by industry mainstay FromSoftware and incorporating feedback from legendary author George R.R. Martin, Elden Ring's release has already made a case for game of the year. The last single player (not counting Co-op) game that reached the same levels of launch viewership was Cyberpunk 2077, with hardly any other single player games even coming close. Like many other souls-like games, players are going to be spending the next few years mastering the combat system while exploring every nook and cranny of the very large, very unforgiving open world of Elden Ring.
---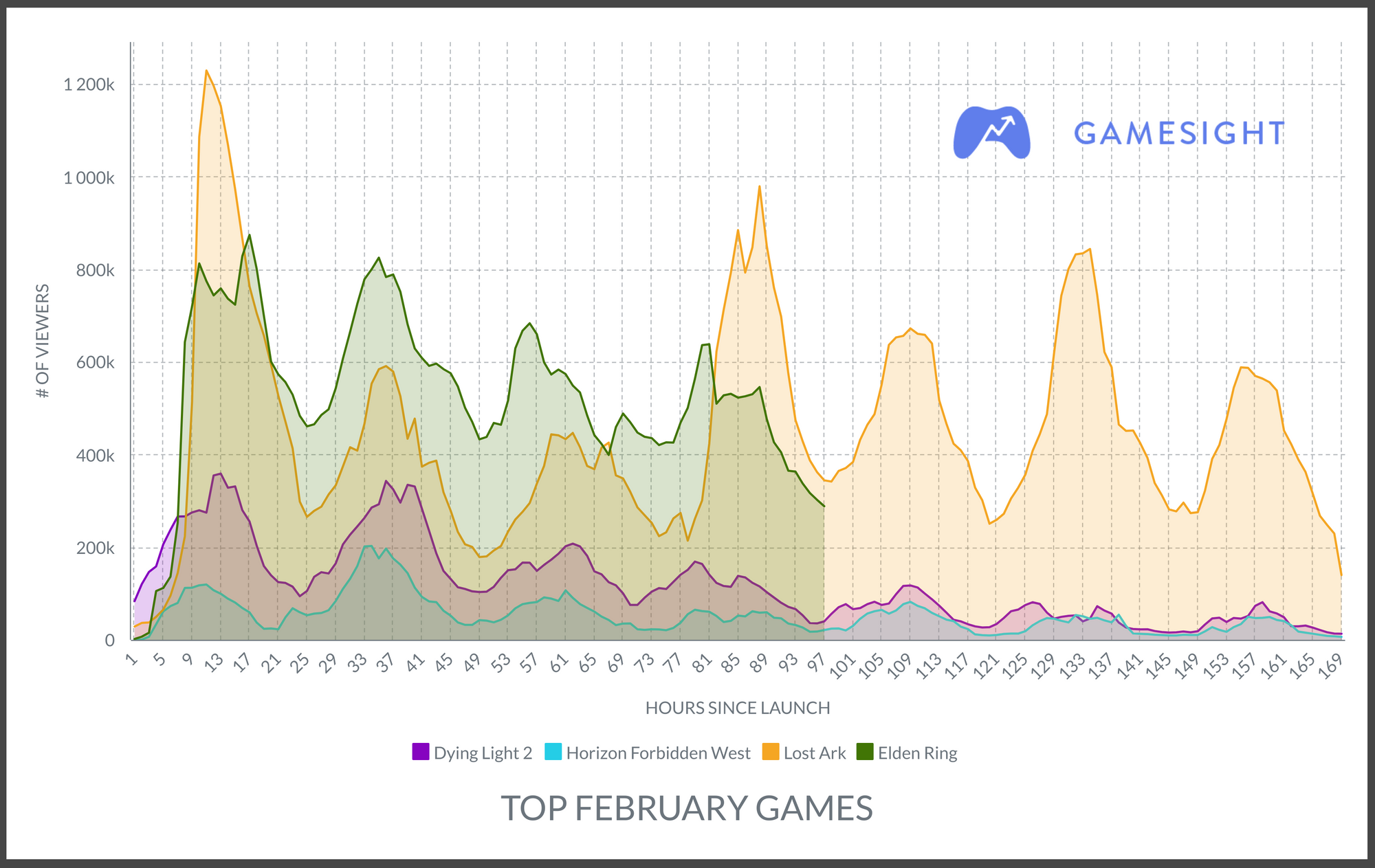 ---
About us
At Gamesight, we help PC and console marketers implement performance marketing techniques for their games. If you are seeking help setting up and measuring your campaigns, working with influencers, or would like to simply talk with us about this article, please reach out on our website!