Following this weekend's Valorant: Masters - Berlin Esports tournament, Gamesight analyzed how significantly the competition spiked the game's Twitch engagement, how its peak compares to the most viewed moments of the game's legacy, and what that activity looks like compared to the wider realm of Esports.
According to our data, the tournament's Grand Finals garnered Valorant's highest daily viewer hours on Twitch since the game launched in June 2020, surpassing all daily peaks as far back as Valorant's beta debut in April 2020: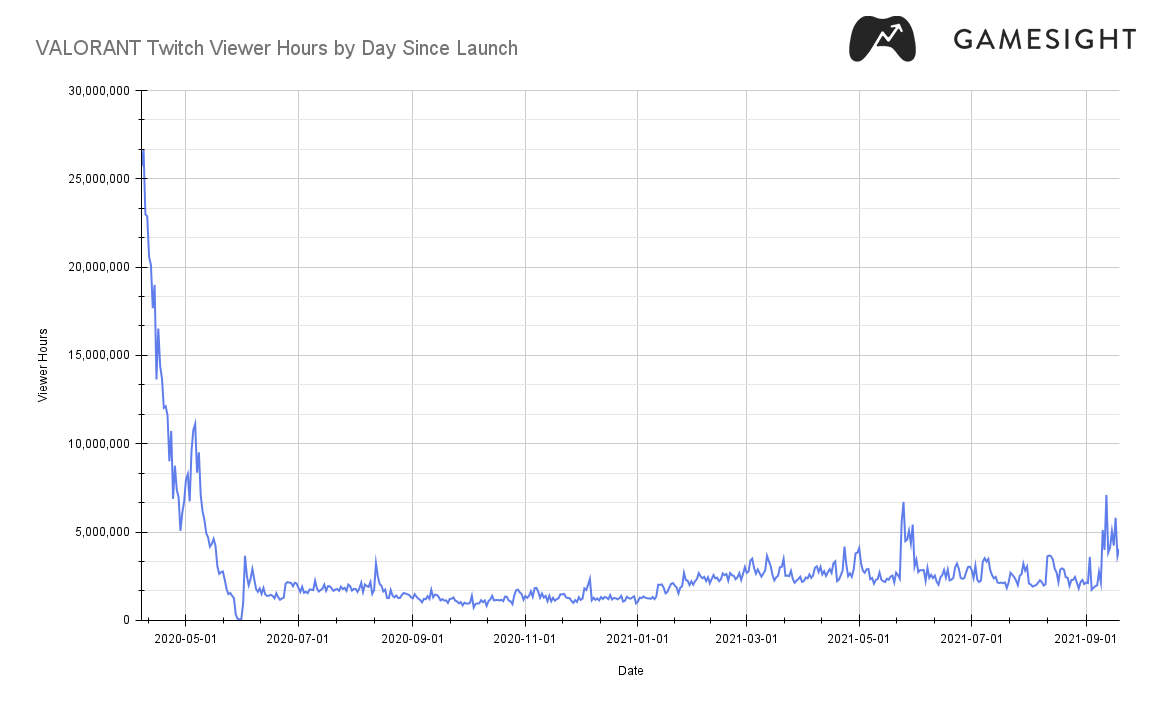 As we can see, the overall peak daily viewership of 7,100,949 on September 12, 2021, is the highest daily viewership Valorant has experienced since May, 2020.
---
Considered alongside recent Esports tournaments for FPS titles and beyond, Valorant: Masters - Berlin also eclipsed daily peak viewership for CS:GO - Berlin 2019 (the last major CS:GO championship), as well as Valorant's own previous peak during the Reykjavik stage of its Masters earlier this year. Here are several graphs that compare Valorant's viewership performance in Berlin to other major tournaments in the competitive Esports scene.

(Note, these graphs show hourly data, so some viewership peaks might visually seem a little lower than they actually are)

---

---

---

---

---

---
Even when viewed alongside massively popular tournaments however, Valorant: Masters - Berlin still attracted a surge of viewers to Riot Games' competitive shooter, a volume of engagement unmatched since the game's beta. The next and most important Valorant tournament, Valorant Champions, also takes place in Berlin from December 2 - 12, 2021. The Valorant Champions is the final event of 2021 Valorant Champions Tour, which is Valorants yearlong competitive Esports circuit. Sixteen teams across more than seven regions will fight in an offline event, with the winner declared World Champions. We will publish a follow up piece comparing the viewership data of that event to other major Esports events when the data becomes available.
---
About us
At Gamesight, we help PC and console marketers implement performance marketing techniques for their games. If you are seeking help setting up and measuring your campaigns, working with influencers, or would like to simply talk with us about this article, please reach out on our website!