Proven Approach for Selecting Influencers
Considering our company and platform is built around using our own proprietary data funnel for many of these operations, replicating our exact step-by-step process would be difficult. The overall philosophy, however, largely remains the same regardless of available tools.
Gamesight Overview
Influencer marketing has quite rapidly become the premier method of advertising for many industries. From sports stars like Tom Brady, Steph Curry, and Serena Williams appearing in Subway commercials to popular streamers playing new game releases on Twitch; Influencer marketing continues to gain traction. The video game market has especially benefited from this new trend (we even have blog posts about it here and here... what a crazy coincidence). We've even reached a point were gaming oriented content creators personalities like DrDisRespect are appearing on late night talk shows, while others like TimTheTatman are appearing as cameos in commercials unrelated to video games.
What this means is, simply put, we believe influencer marketing is the most effective way to market PC/Console (mobile to an extent) games in 2021 and beyond. We don't just believe this based on our gut instinct; We believe it based on the data from hundreds of games we've collected through our measurement product, and the data is quite clear. The largest obstacle is, quite simply, the whole process is monumentally difficult. In order to effectively deploy and maintain influencer marketing campaigns, you require a great deal of data, expertise, a developed process, and personnel. This is, however, what our team here at Gamesight specializes in.

Gamesight is uniquely positioned to combine the measurement of both paid digital media (social/search/display/console) and influencer efforts. We integrate directly with our customers so that we receive all data involved in paid advertisements associated with any particular game(s). After we integrate with the marketing data, we begin rolling out the influencer campaign. We then combine both the influencer and marketing data feeds to produce new insights. This allows us to put all marketing, influencer, and attribution data under one roof. We're then enabled to build visualizations, optimize campaigns, and deliver insights in a way no other company in the world can. We have a great deal of experience integrating this data and are continually expanding the platform to be the marketing command center for influencer marketing in the video game industry.
---
Choosing the Right Talent
Alright well, before choosing the right talent there's actually a couple more steps; Defining your goals and competitive analysis. Before you start a campaign, it's important to define what you want that campaign to accomplish beforehand. For instance, during the campaign we ran for Resident Evil: Village, our goal was for it to reside as the #1 game in its genre, as well as a top 10 most-watched game on Twitch and YouTube during a launch window. After we defined our goal, we looked at the competitive game set and market for relevant titles similar to Resident Evil: Village. Our findings are presented in the image below.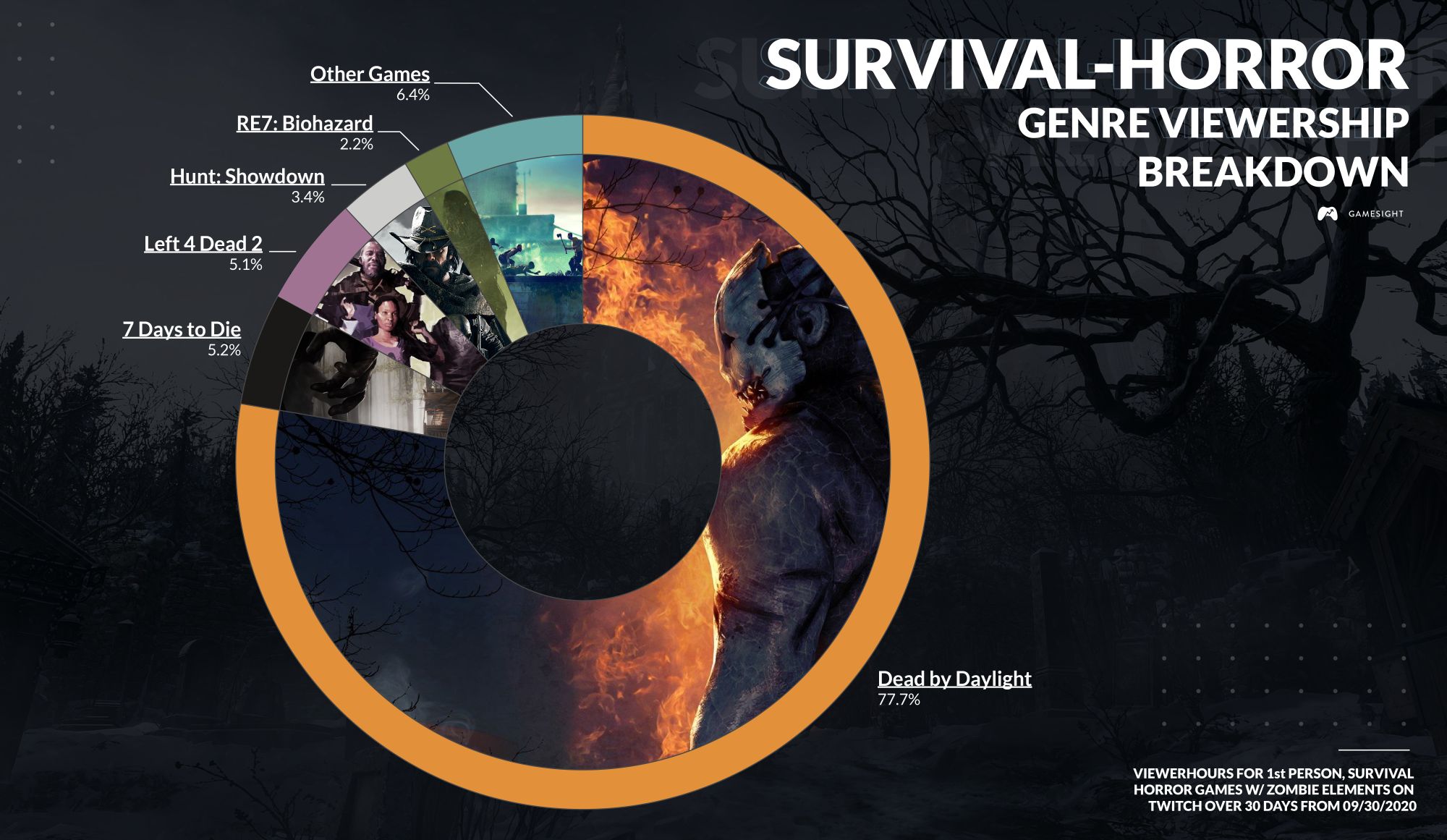 After we determined which games where Resident Evil's largest competitors, we moved onto the next phase, choosing the correct influencers.
The most important aspect of deploying a successful influencer campaign is through the correct acquisition of talent. Barring the use of a platform designed to accomplish this (like... uhhhh... Gamesight), research into prospective influencers is an absolute must and can be difficult without backing data. We often utilize a bottom-up approach where we look at every single content creator using industry-standard and proprietary data-driven metrics to arrive at our decision. Understanding a streamer's audience, what game genres generates their highest viewership, and how well they're able to showcase a game are key variables. It's crucial to have creators interested in the game, so that they put out the type of high quality and engaging content for their audience. Additionally, researching which streamers your selected influencers often like to play with can either A.) expand your prospective talent pool and B.) increase the content quality if compatible streamers play your game together.
The typical audience for prospective streamers is equally (if not more in some cases) as important as the streamer when compiling your campaign. Going back to Resident Evil: Village, finding audiences that watch the survival-horror games, and the streamers where' they're most tightly grouped, would maximize the return on whom you work with. Some audiences don't watch, let alone care about, certain games that creators put out, so avoiding these creators with audiences that feel this way about their survival-horror content is essential.
After deciding on the talent pool, some important data to provide to your selected influencers includes:
Details about the game
Key marketing beats (are there updates to the game? Key USVs?)
Digital assets enabling creators to familiarize themselves with the game (trailers/key art)
Digital assets that can be used with their content (logos, overlays, etc.)
Access to the game (Steam keys, beta invites, etc.)
In-game goodies if it will improve the quality of the content (currency to speed up progress)
Giveaway items if available (keys to raffle off on their stream)
---
Marketing During the Campaign
It's important to note that brand and influencer marketing have a crucial overlap. Influencer marketing is an unbelievably competitive space. If you want to get influencers or audiences to care about what you do, you have to convince them it's worth their time. You can always do this by "overpaying them", but short of that, you achieve this via the brand. In layman's terms, make the game/product something that people want to engage with. Show that you understand what the consumer wants, engage meaningfully with the community; Build a brand that you're proud of.
The overall lifecycle of a game also lends greatly to the overall strategy and execution of a campaign, which is generally a decision for the brand manager. We don't believe there's a one-size-fits-all approach that makes sense. For premium titles with little long-term service-based approach to game operations, we'd expect a "launch blitz" approach. For live-service-based games, generally advocate for a slower/steadier process where we can test, learn, and iterate throughout the game's lifecycle. Sometimes this will lead us to the conclusion that influencer marketing is an "always-on" function. Other times, it will lead us to conclude that influencers are best suited for key marketing beats once a quarter.
Key marketing beats and brand announcements are ideal times to engage influencers. When community members are buzzing about a new update to your game, that is the time to engage influencers, as they will be more inclined to participate in the campaign. Similarly, influencers are the best possible mouthpiece for major brand announcements and moments. Influencers can amplify key marketing beats to millions of players authentically. In our experience, the closer brand managers and marketing teams can work with content creators, the better performance you'll get. The more you treat them like "media buys", the worse performance you'll see. Ultimately, you want to build relationships between your brand and the content creators who share your message with millions. We advocate strongly for including them in crucial marketing beats and making them feel a part of the brand they are helping you build. We have an in-depth writeup about this flywheel-style relationship in our blog located here.
Wow, what a convenient segue into our next topic.
---
Influencer Relationships
Building and maintaining relationships with influencers and their agencies plays a key role in successfully deploying an influencer campaign. Establishing trusting, lasting relationships will inspire not only broker further cooperation with those influencers down the line, but will lend heavily to content quality. A feat that's easier said than done, as our greatest asset in maintaining these relationships is through the use of our database and platform. Barring the use of a platform (like... uuhhhh... Gamesight) trust takes time to establish between a game developer/publisher, the content creator, and their representatives.
If a campaign goes smoothly and everyone ends up winning in the end, those creators and their agencies will be far more inclined to work with your brand in the future. If a campaign goes poorly, those creators will understandably be more hesitant to work with your brand in the future, and if they do it might be with an added premium. Influencers often belong to similar circles, and word travels. Treat your influencers with respect and not like media tools, and you'll receive the same treatment from not only them, but their audience too.
Influencers often exist in this nebulous place between PR, marketing, and community. In our experience, PR is usually the worst place for those relationships to live. The top content creators are typically best handled by a marketing function, while smaller micro-influencers are often best handled by a community function. Our data has undoubtedly shown strong relationships between paid media, which we track through our platform, and paid influencer campaigns. We often see influencers as the "openers" and hard media like Facebook/Reddit/Twitter ads as "the closers". When we track the user journey, we often see influencer content as the first touchpoint a gamer has with a game. This positive impact results in lower CPIs across all paid media.
---
Measuring a Campaign's Success
There are several variables that combine when quantifying a campaigns success, and it really depends on what goals you set. When in doubt, start with your goals and work back from there. The most common campaigns we run tend to have the following goals:
To drive sales:
If this is the goal, the outcome is clear, sales! Tracking your sales before, during, and after your campaign is an excellent place to start when determining campaign success. Either through your own metrics or through exceedingly diligent, qualified, and experienced data analytics companies (like... uuhhh... Gamesight!).
To gain awareness
If awareness is your goal, you generally want it to be something tangible like "We want a top 10 game on Twitch during our launch window". Or "We want to have more YouTube content for our game that any other horror game during the month of our release". We will design the campaign around those targets and measure a campaign's success based on the performance compared to the goals.
To build community
Often, the goal of an activation is to build up the community around a game. In this instance, the goal is usually measured through several participants or pieces of content generated. Sometimes the goal will even be, "how many creators are now consistently making content for our game who weren't before" or even "what percent of our core audience is retained month over month.
These are just 3 typical goals we generally see from developers, in reality your goal(s) can be whatever you determine to be the most necessary for your game. But regardless of what your goals are, developing meaningful and measurable KPIs alongside those goals are essential.
---
Summary
This is just a brief overview of some of our more key strategies when approaching an influencer campaign. Considering our company and platform is built around using our own proprietary data funnel for many of these operations, replicating our exact step-by-step process would be difficult. The overall philosophy, however, largely remains the same regardless of available tools.
Hopefully this article has presented some helpful tips for any prospective game developers or publishers looking for guidance on where to begin and what to expect from an influencer campaign.
About us
At Gamesight, we help PC and console marketers implement performance marketing techniques for their games. If you are seeking help setting up and measuring your campaigns, working with influencers, or would like to simply talk with us about this article, please reach out on our website!