Top 10 of 2019 on Twitch Part 2: New Games
In the second piece of this series, we first take a look at which new titles were the biggest sensations on Twitch over the past year.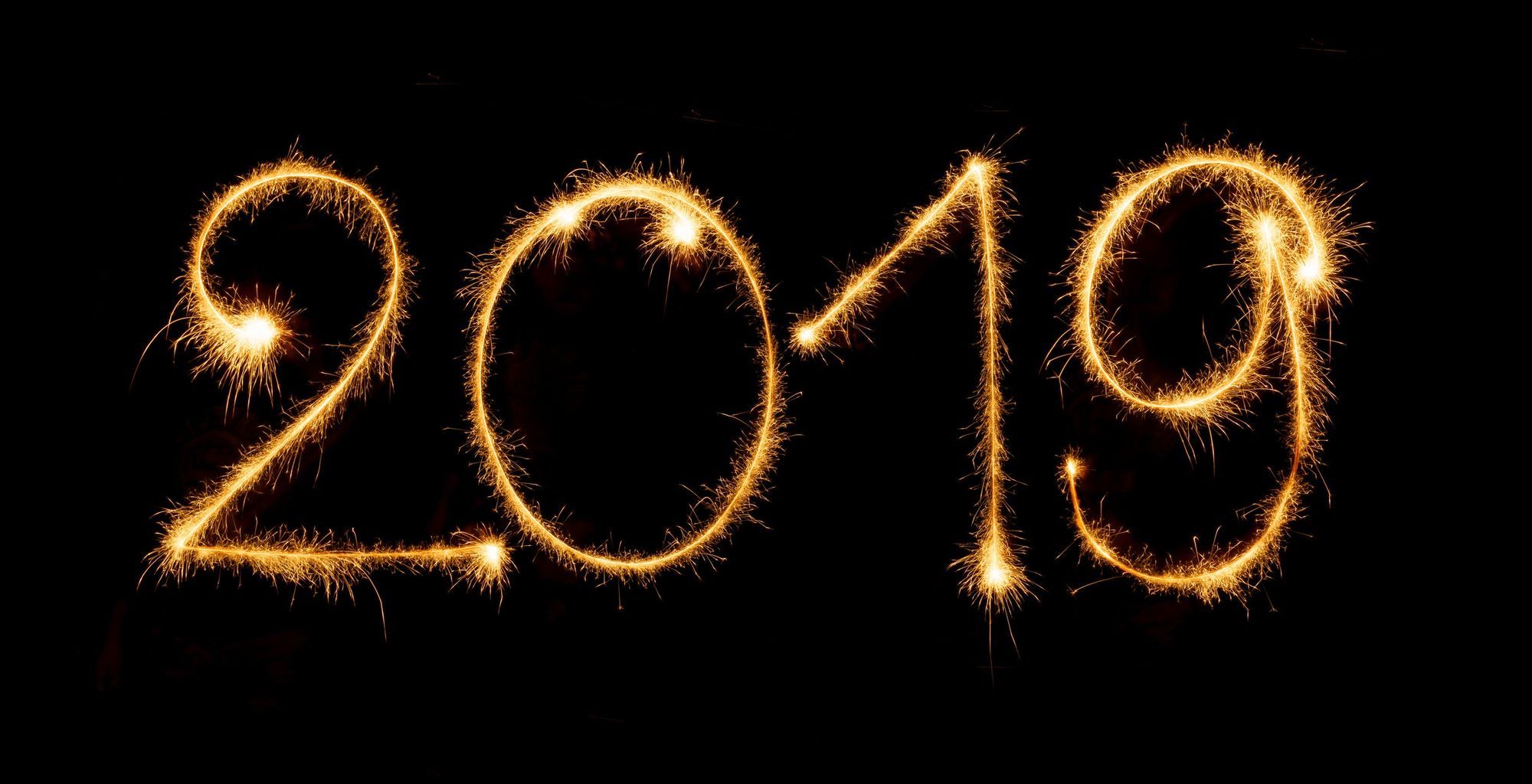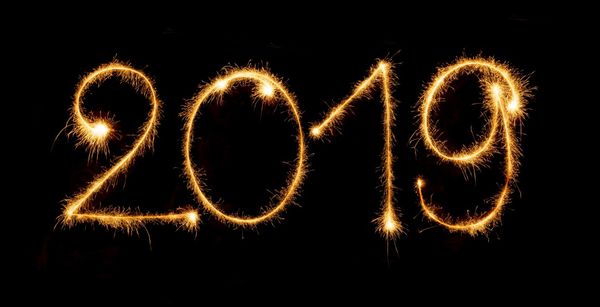 Which new titles were the most popular on Twitch in 2019?
The year has come to a close, and 2019 was, without question, the biggest year in the history of streaming. From Twitch's continued growth to the explosion of esports, the continued ubiquity of Fortnite to the unexpected arrival of the auto-battler genre, it has been a year of huge announcements, record-shattering audiences, and an ever expanding impact on wider gaming and popular cultures. In that context, we think it's important to take a look back at the year that was and break it all down.
In the second piece of this series, we first take a look at which new titles were the biggest sensations on Twitch over the past year.
Jump to Top 10 New Titles by Total Streamers
---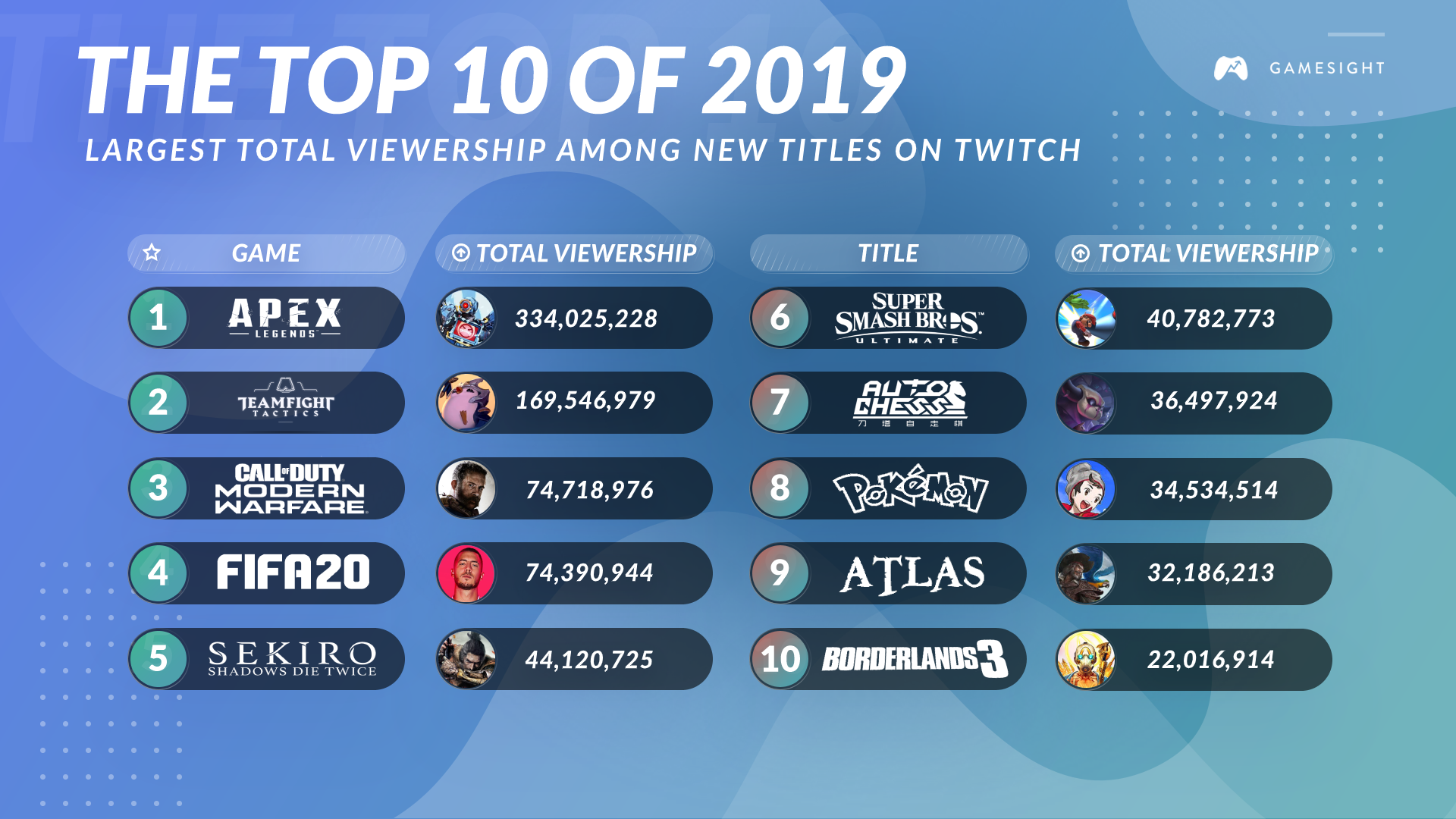 1. Apex Legends
Total Viewership: 334,025,228 Hours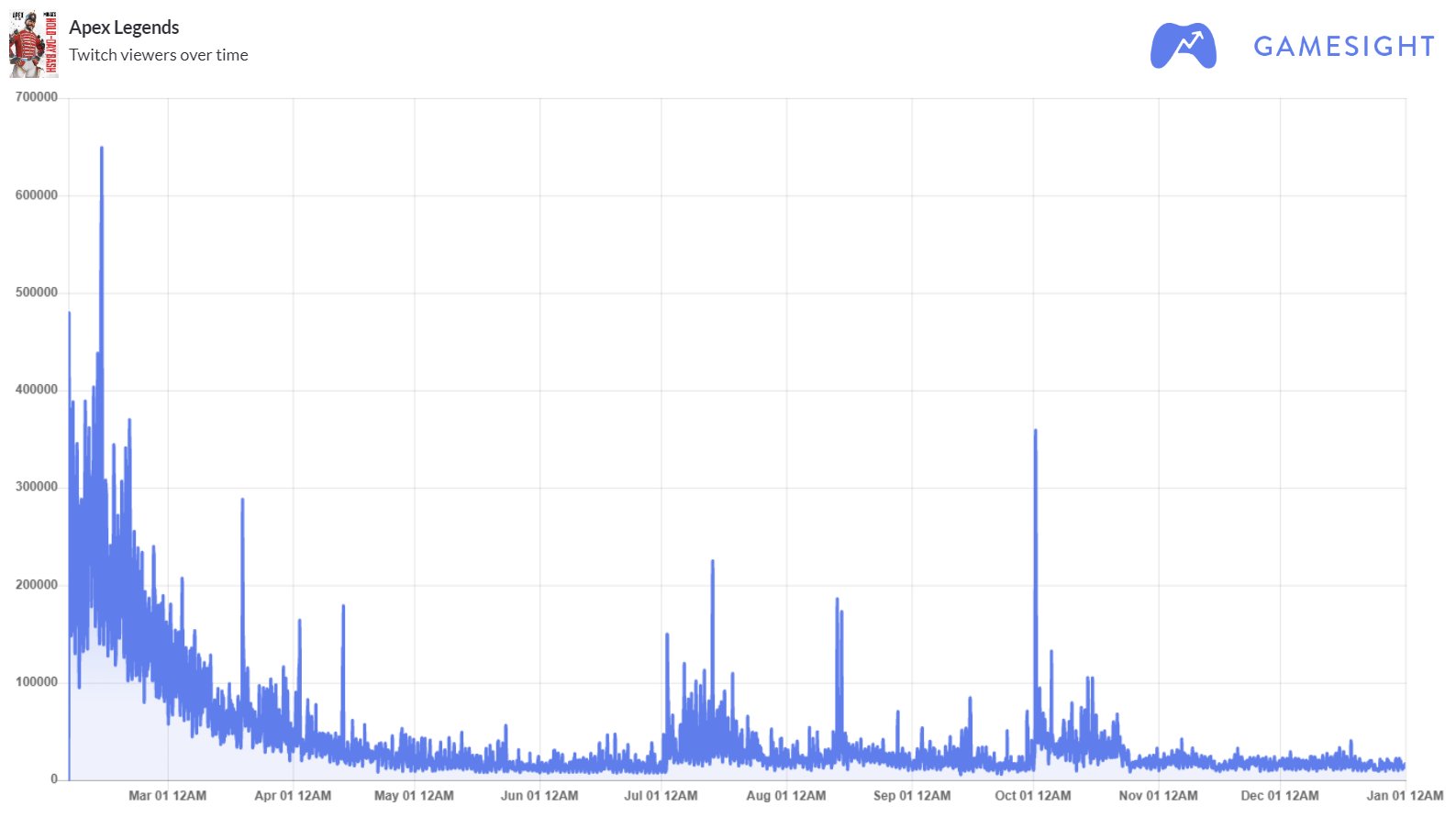 A complete surprise when it was released in February, Respawn's first-person battle royale set in the Titanfall universe quickly became one of the most watched games on Twitch, with many in the gaming press wondering aloud whether Apex Legends was the "Fortnite killer," poised to take on the Epic Games megahit for the long haul. While time eventually showed that not to be the case, the former title still enjoyed as spectacular first year, becoming the 11th highest ranking game by viewers for 2019. This is large part thanks to a well implemented system of seasonal content releases, with each subsequent update visible as spikes in viewership in the graphic above. This combined with the phenomenon that was the title's initial release was more than enough to make it, by far, the year's most viewed new title on the platform.
2. Teamfight Tactics
Total Viewership: 169,546,979 Hours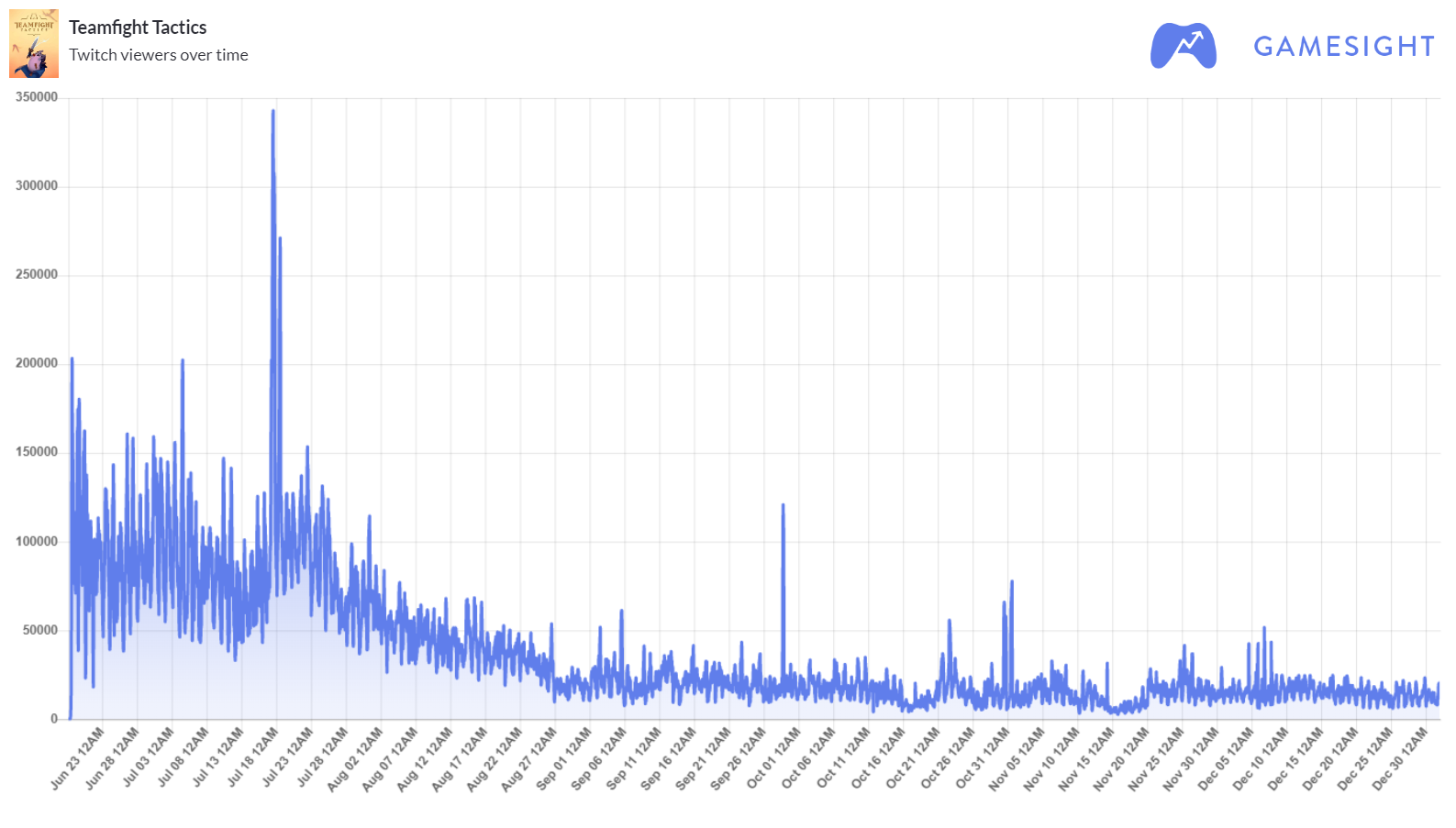 While the so-called 'auto-battler' genre first came into its own with the release of the original Autochess mod within Dota 2 this past April, it was Teamfight Tactics, from League of Legend developer Riot Games, that quickly emerged as the biggest title in the space, blowing past the original and competition from other major developers to take one of the top spots on all of Twitch. Even with approximately half of Apex's total viewership, Tactics sits nearly right behind it as the 13th ranked title in terms of viewers in 2019, and while that mostly springs from the incredible numbers of its first month, it has since settled into a steady equilibrium, still the 17th ranked title on Twitch from the beginning of September through the end of the year. While this new type and style of game never quite exploded to the heights some had expected when it first emerged near the beginning of the year, Teamfight Tactics has emerged as the biggest name in what is a still growing genre.
3. Call of Duty: Modern Warfare
Total Viewership: 74,718,976 Hours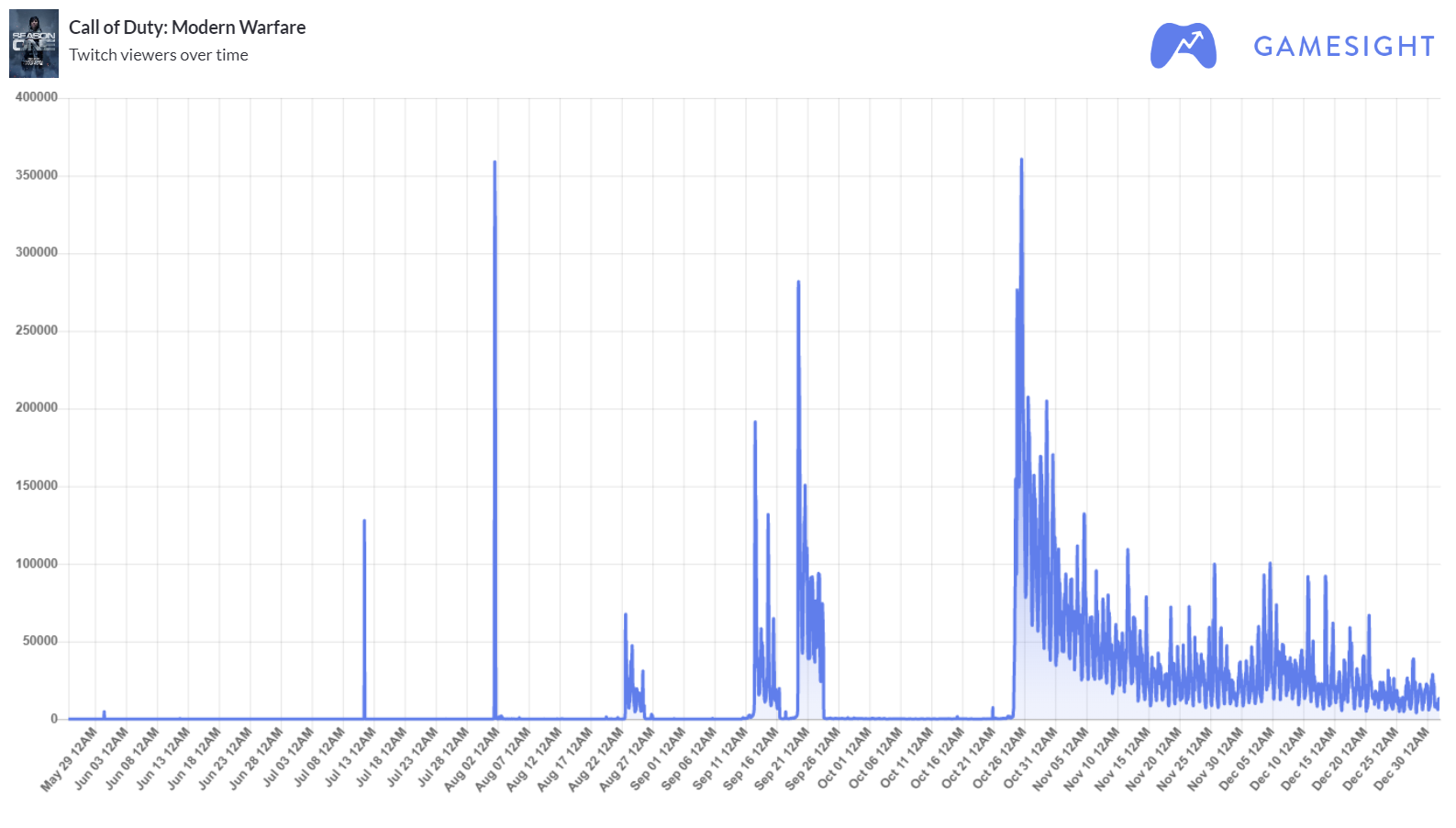 Fortnite and League of Legends may be the biggest titles within today's gaming landscape, but that doesn't mean that longer-lived IPs and series aren't still climbing up the charts, and Call of Duty: Modern Warfare is case in point. Since its release in late October, the latest in the long-running series which redefined multiplayer gaming has been the eleventh ranked title on Twitch, in terms of viewers, and as the year reached its conclusion, it was outperforming both of the titles ranked above it. It will be interesting to see how it performs over the next few months, and how those numbers compare, but, for now, it's achieved this high ranking in spite of its limited time of availability. A spectacular start, and further proof that the franchise is still alive and well.
4. FIFA 20
Total Viewership: 74,390,944 Hours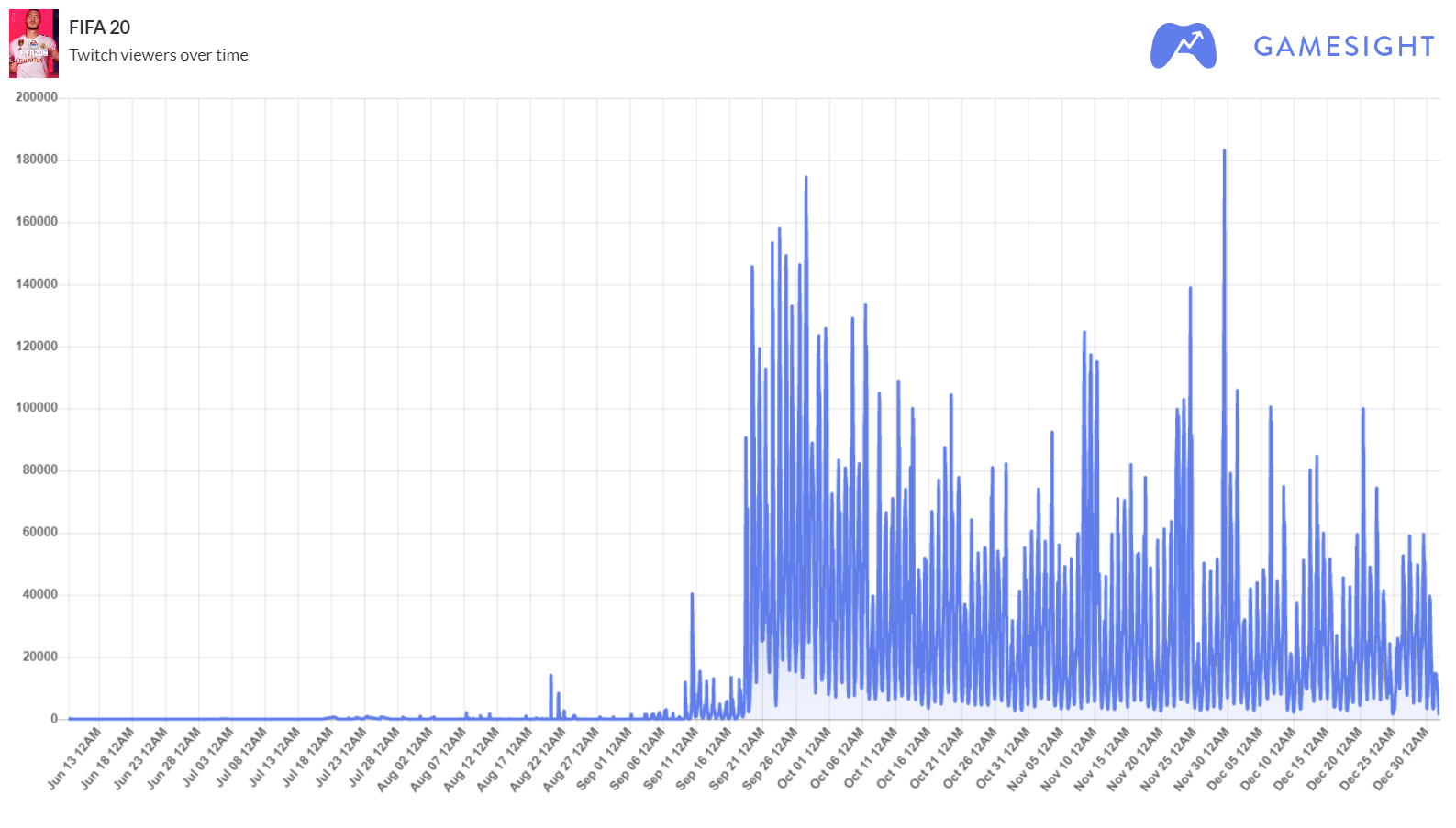 EA's FIFA series is one of the biggest games on the planet, owing to its constantly improving simulation of the game and the actual sport's international ubiquity. It's the 'Ultimate Team' game mode, however, and its featuring surprise packs of cards to improve teams and players, that have made it such a hit on Twitch. Even as other sports titles adopt similar systems, none manage to reach the heights of the original, and, again, FIFA 20 was the most watched new sports title in the world of streaming. Had the game released in January, it's likely that it would land has high as the number two spot on this list. The franchise is showing no signs of slowing down as gaming orients itself more and more towards the world of content creation.
5. Sekiro: Shadows Die Twice
Total Viewership: 44,120,725 Hours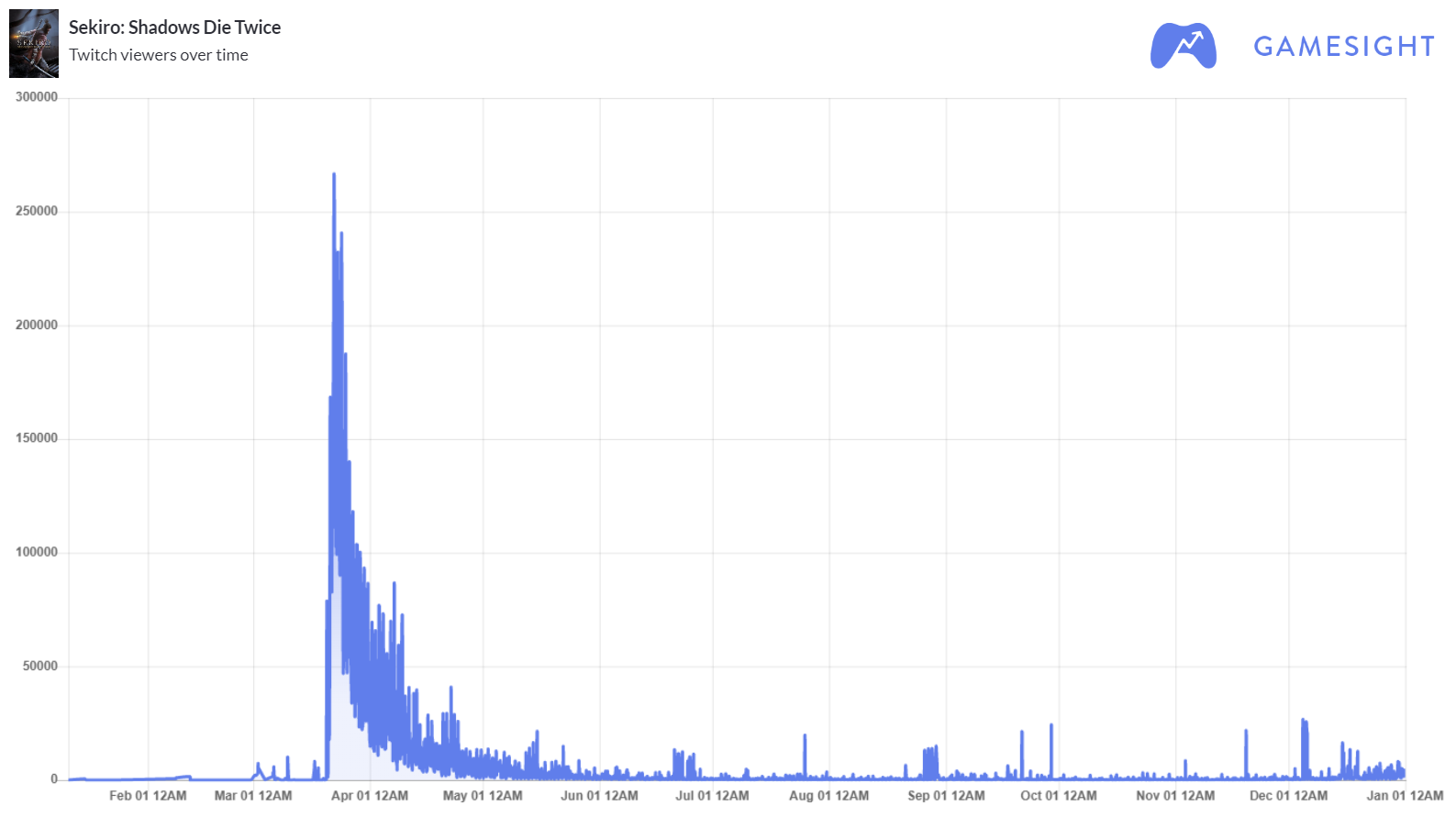 It should be no surprise that the most viewed new single-player title on Twitch is a "Souls-like," indeed a game from original Dark Souls and Bloodborne developer From Software. Story-driven titles don't have the long-legs of multiplayer or 'live-service' games, so after the initial release period, it's replayability and watchability that determine how long a game will remain popular in streaming. The "Soulsborne" series excelled by giving players a supremely challenging experience that rewards strategy and is filled with rich lore, encouraging different playstyles and exploration, and tempting speedrunners. All combined to make Sekiro: Shadows Die Twice a hit on Twitch, creating a small but firm foundation of players who have been broadcasting the title all the way through the end of the year. That earns it a top-five spot in this year's list of the most watched new titles on Twitch.
6. Super Mario Maker 2
Total Viewership: 40,782,773 Hours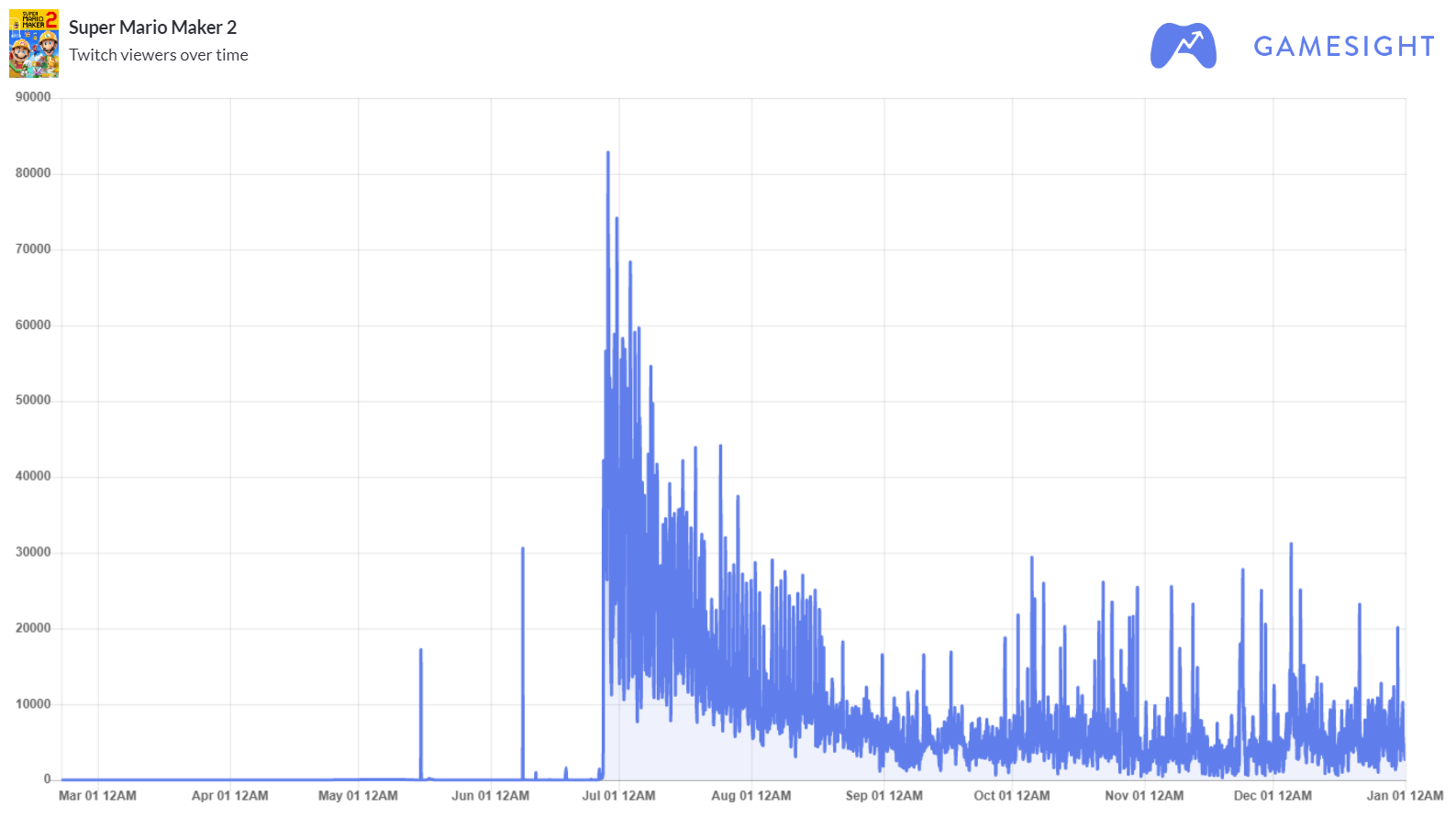 Super Mario Maker 2 lands in our number six spot thanks to an ever-changing landscape of custom levels, providing creators with a source for new and challenging experiences they can return to again and again. Throw in the ability to play levels with friends, and of course create your own, and it's easy to see why, even as a more restrained title without a battle royale mode or a season-pass, the game has maintained a steady, predictable, stable population of creators, even six months into its lifespan. While the game did experience its largest peaks in viewership early, just after release, it's that stability over the last four months that earned the game its position as one of the most viewed new titles on the platform.
7. Auto Chess
Total Viewership: 36,497,925 Hours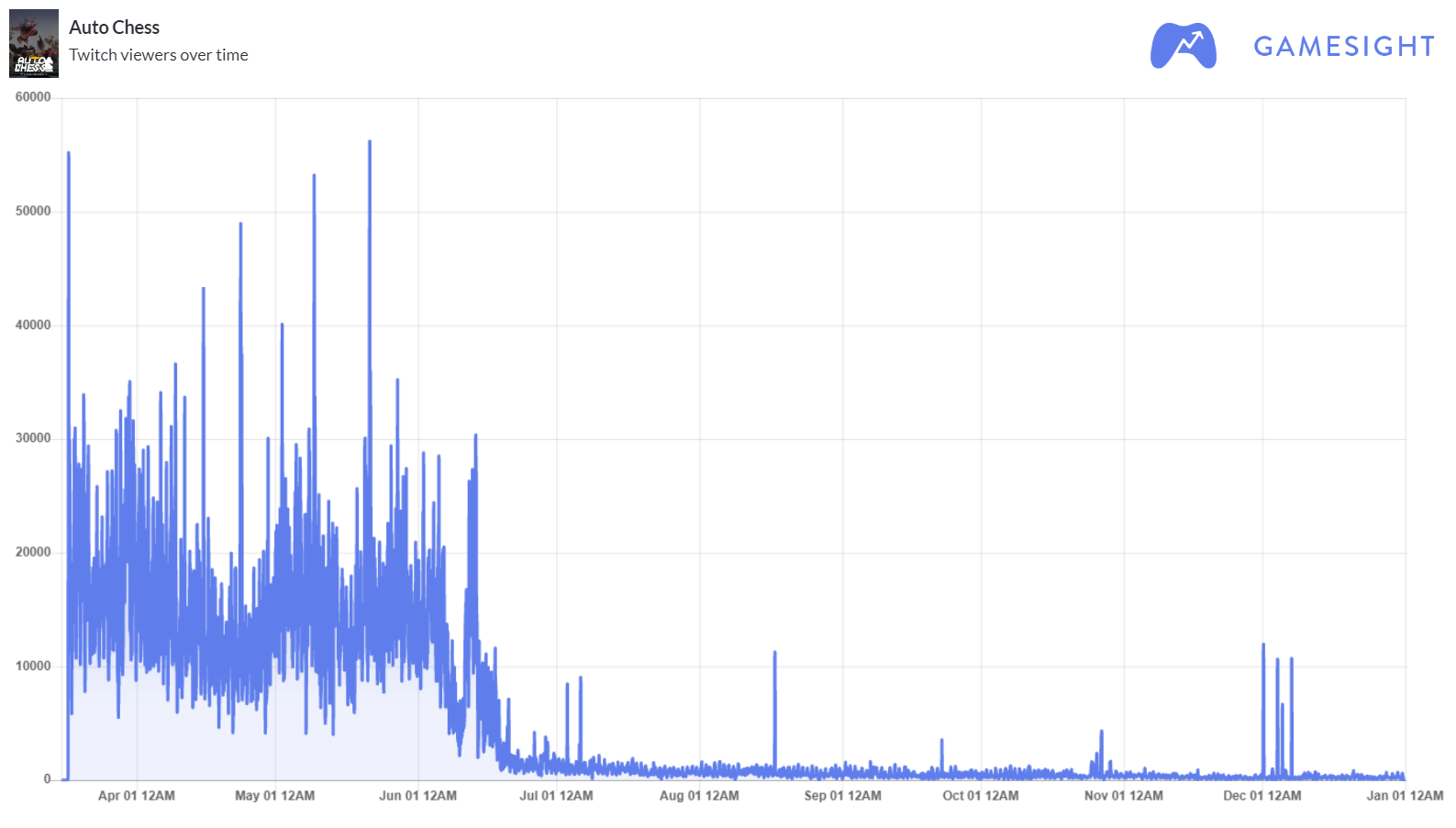 It may have been eventually overshadowed by Teamfight Tactics, but the original Dota 2 custom game-mode which inspired it remains one of the biggest gaming stories of 2019, and it's reflected in its total viewership after splitting off into it's own standalone title, one of the ten largest such numbers for new titles on Twitch for the year. It's also important to note that, early on, all Auto Chess streams were classified as Dota 2 broadcasts, so just how large the launch of the original mod grew to be is unclear. It's likely that, with those numbers, it would have landed as high as 4th of 5th on this list. Still, its presence is a testament to the impact the new title had on the gaming landscape.
8. Pokemon Sword and Shield
Total Viewership: 34,534,514 Hours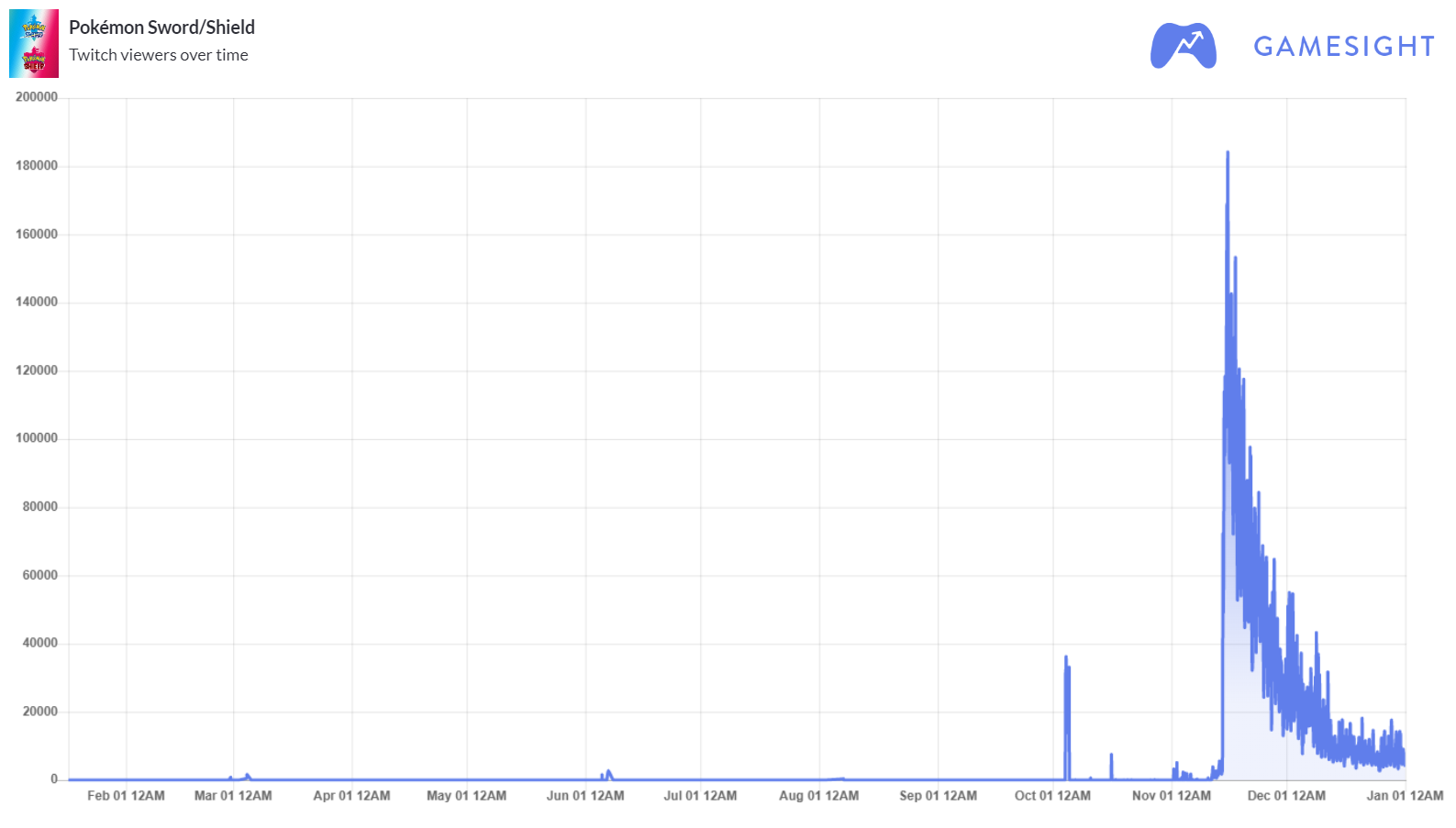 The latest release of the titles on this year's list, Pokemon managed to achieve its spectacular viewership numbers in just a little over a month. As the first entry in the series to be released on a home console, this latest game boasts more potential for streaming than any of its predecessors, and it's been reflected in its viewership. Since its release, it ranks as the 16th most popular game on Twitch in terms of viewership. While its daily peak concurrent audience is now consistently below 20,000, it is also very steady, indicating a stable and ready foundation upon which future content releases, should they be forthcoming, can build. We look forward to seeing how Nintendo continues to support the game moving forward.
9. Atlas
Total Viewership: 32,186,213 Hours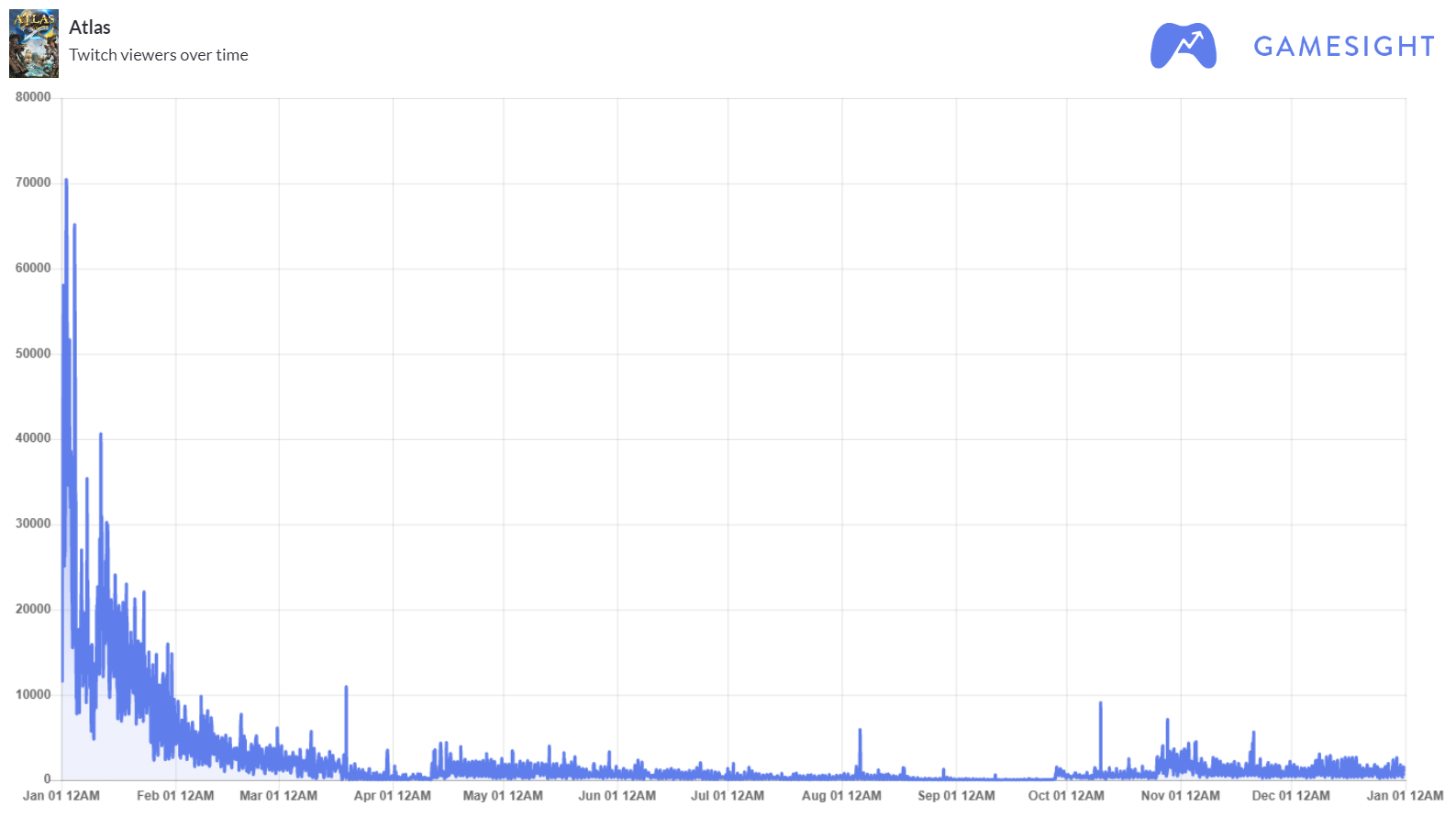 The biggest surprise in our top ten is Atlas an openworld pirating adventure first released into Early access in the final days of 2018. With twelve full months to accrue viewership, the game was able to take advantage and make its way onto this list, thanks to both a strong initial release and several updates which brought its foundation players back into the fold at regular intervals. As a title that hasn't spent much time in the headlines, Atlas serves as an example of how it's not just the biggest games on the platform achieving success. Supporting your smaller, but dedicated playerbase can keep your title alive for a long time, enough so to surpass much more heralded titles in the world of streaming. An impressive debut year for the team from Grapeshot Games.
10. Borderlands 3
Total Viewership: 22,016,914 Hours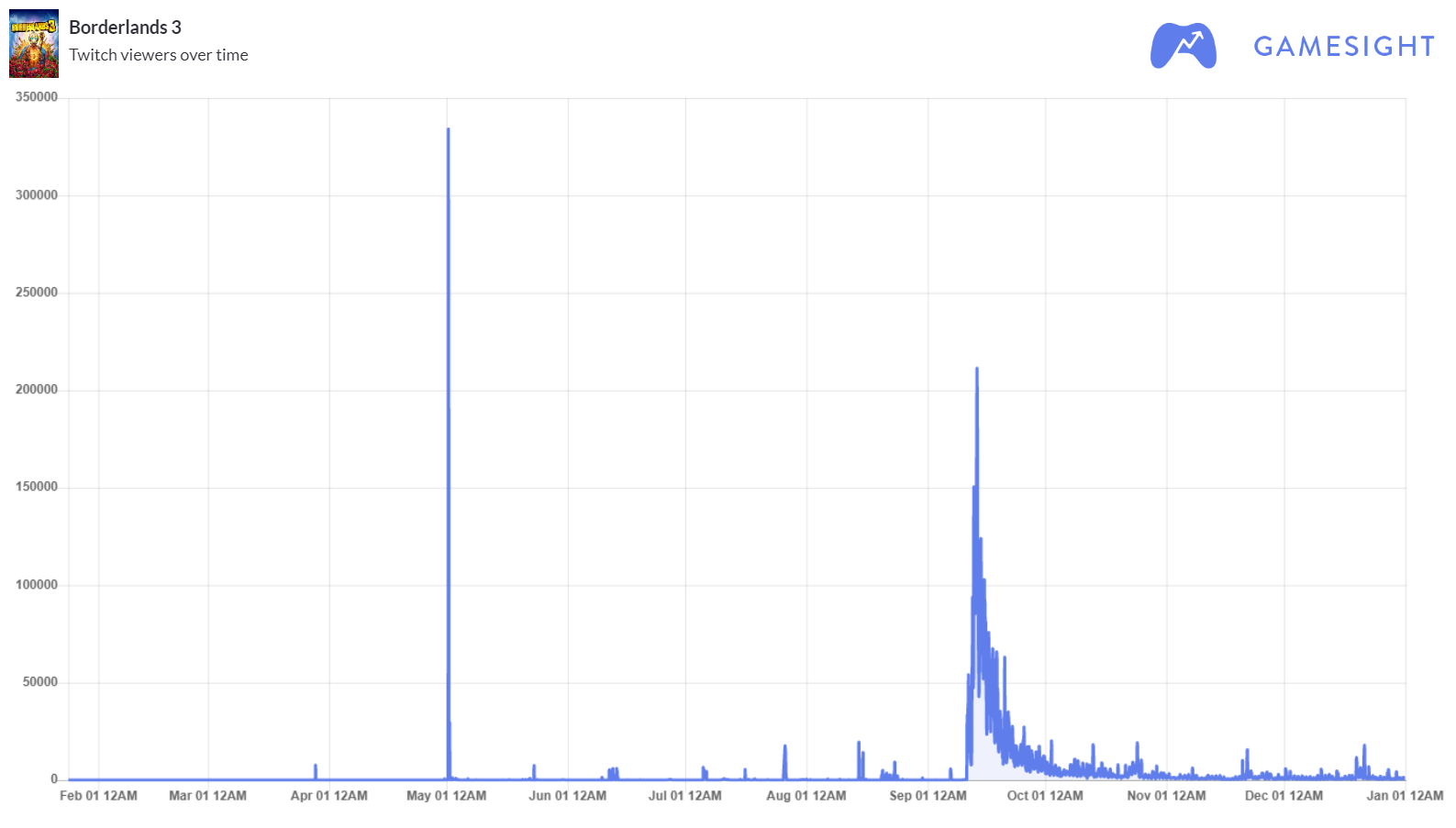 Another highly anticipated and long-awaited game, Borderlands 3 allowed players to return to the universe which gave them what many consider to be the first major "looter shooter," a genre now dominated by AAA titles like Destiny 2, The Division 2, and others. With its millions of guns and crass, ironic sense-of-humor, the latest entry in the series delivered everything the fans asked for, and on the strength of its massive launch takes the final spot in our list of the most watched new titles for 2019. Unlike some of its competition, Borderlands isn't pitched as a "live-service" title which will see a constant string of updates into perpetuity, which means it likely won't have the staying power of some of its contemporaries. Still, this success is proof the franchise still has a major role to fill in the gaming landscape.
---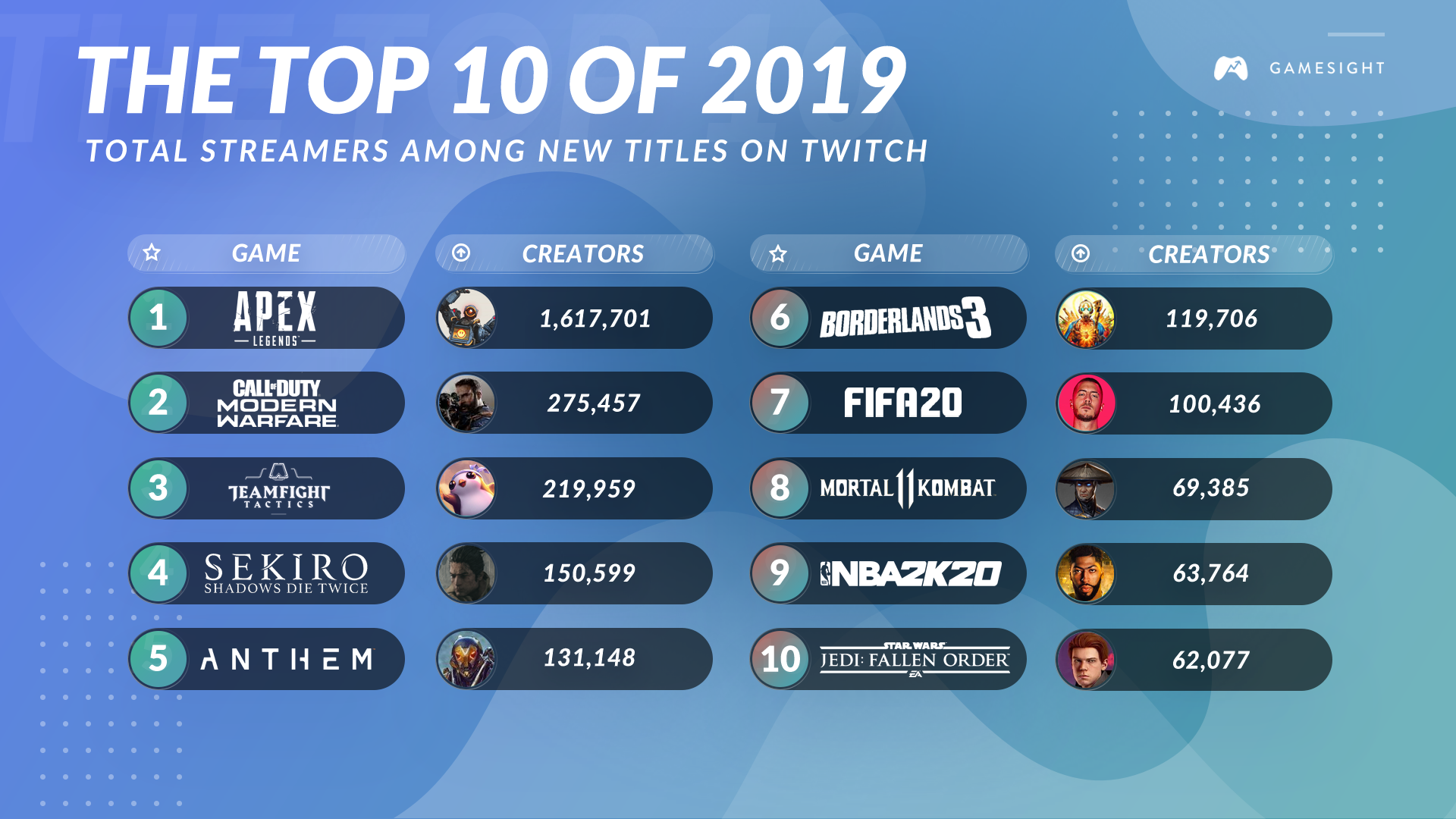 1. Apex Legends
Total Channels: 1,617,701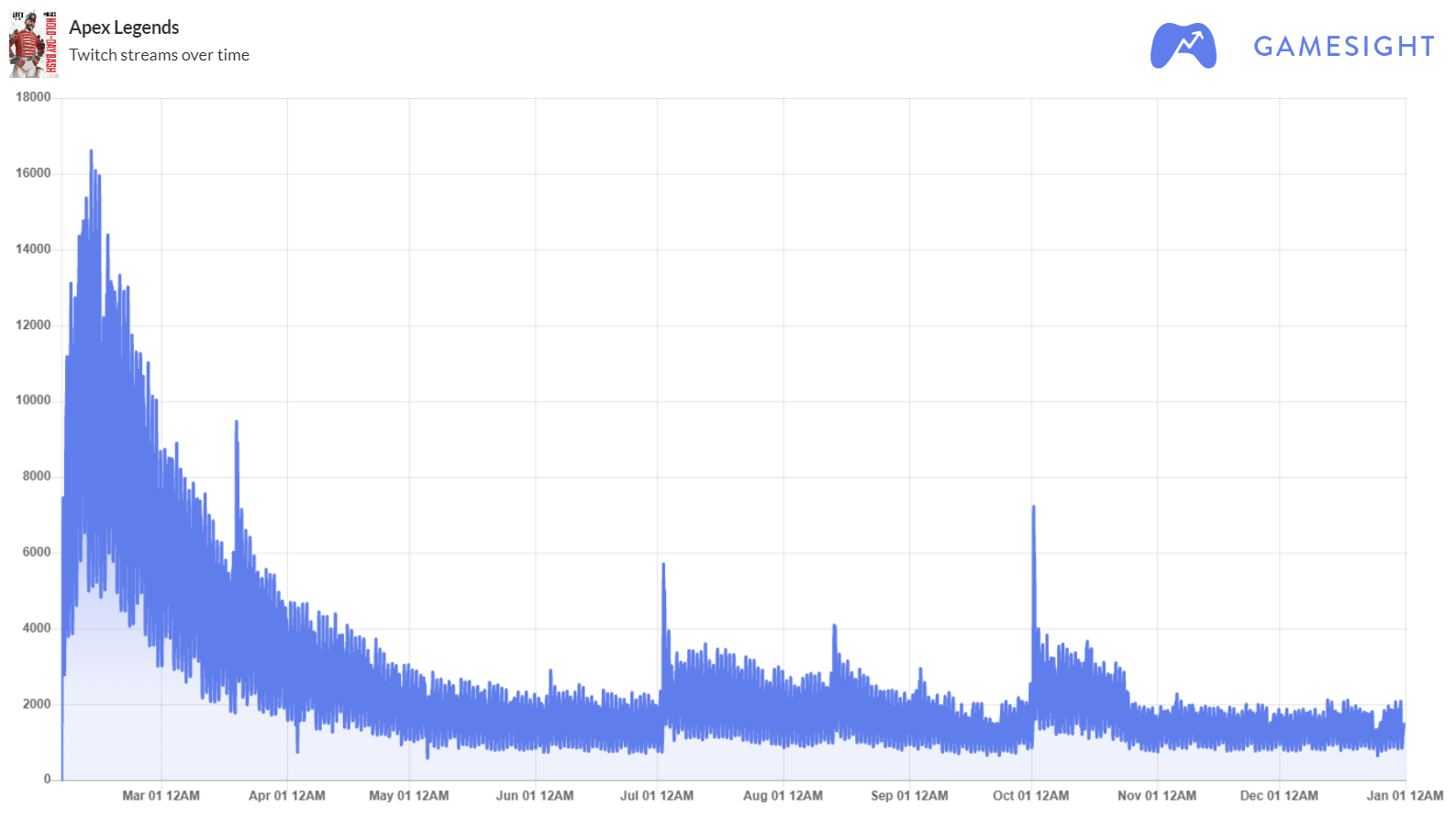 No surprise here. Apex Legends so easily accrued the most viewership of any new title this year because it also, by far, attracted the most new broadcasters, nearly six-times its closest competitor. With daily average peaks of approximately 2000 concurrent creators, the game has demonstrated the ability sustain a healthy population of players, on par with most any other title on the platform. Indeed, it's over 1.6 participating streamers is second only to Fortnite (4,191,956), which draws into focus just how successful this first year has been. Looking forward, it's clear that Apex Legends wasn't just a momentary sensation, and will continue to compete for the top spots, every week, as we move into the new year.
2. Call of Duty: Modern Warfare
Total Channels: 275,457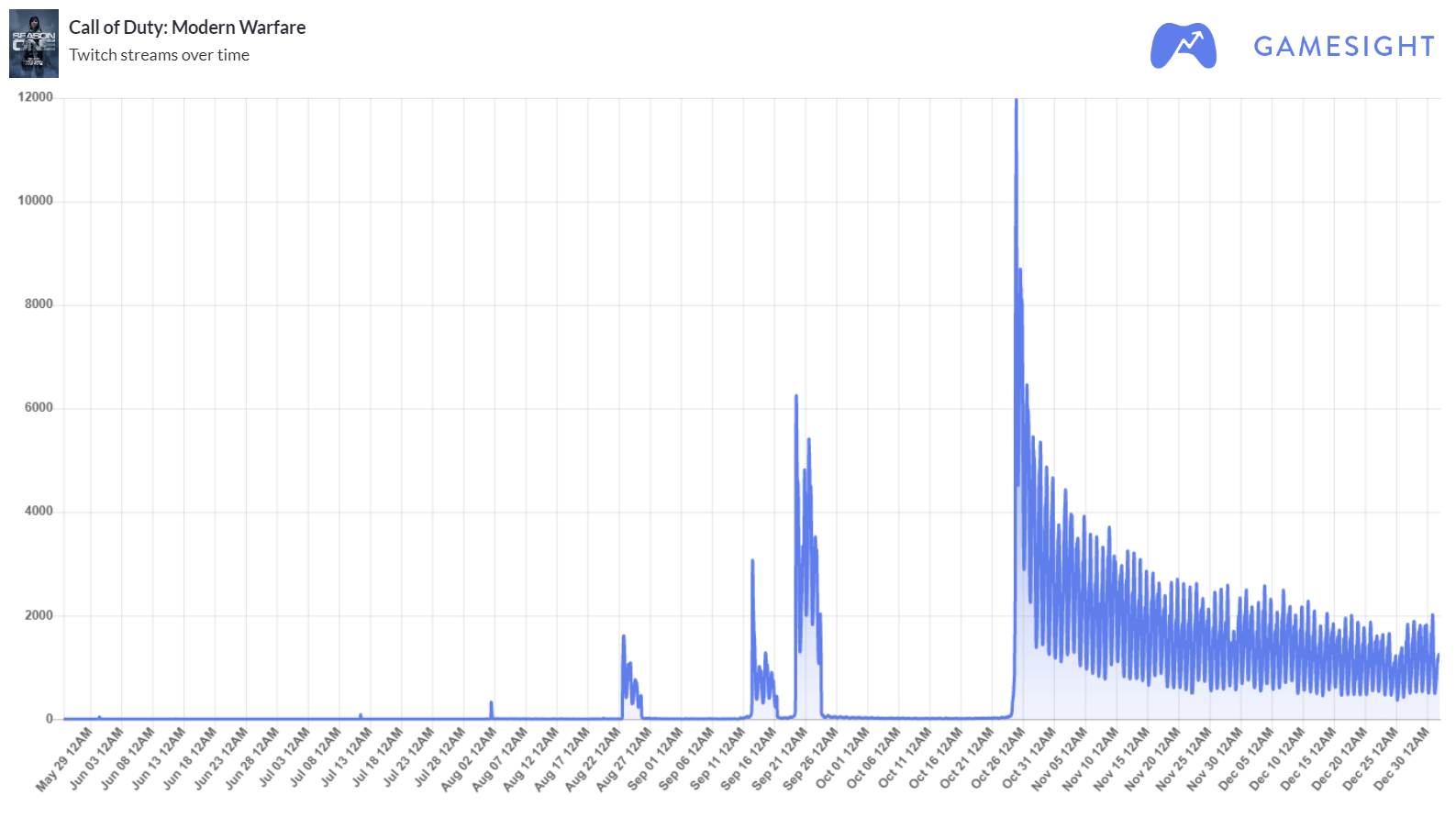 The release of each new Call of Duty title remains a major event, with its competitive multiplayer elements appealing not just to FPS experts and streamers, but also more casual players and long-time series fans. This year, the addition of a single-player campaign, missing from the previous entry, featuring reimagined versions of characters, locales, and events from classic Modern Warfare titles, broadened its foundation of potential players, bringing fans of narrative experiences and those nostalgic for earlier games into the fold, and its reflected in the game's streamer population, which debuted at nearly 12,000 concurrent creators before levelling off at what seem to be daily peaks around 2000. The latter is only slightly below that of Apex Legends, really driving home how, if those that remain are foundational players, not likely to leave for other titles, than Call of Duty's community will be healthy enough to support the game for a long time.
3. Teamfight Tactics
Total Channels: 219,959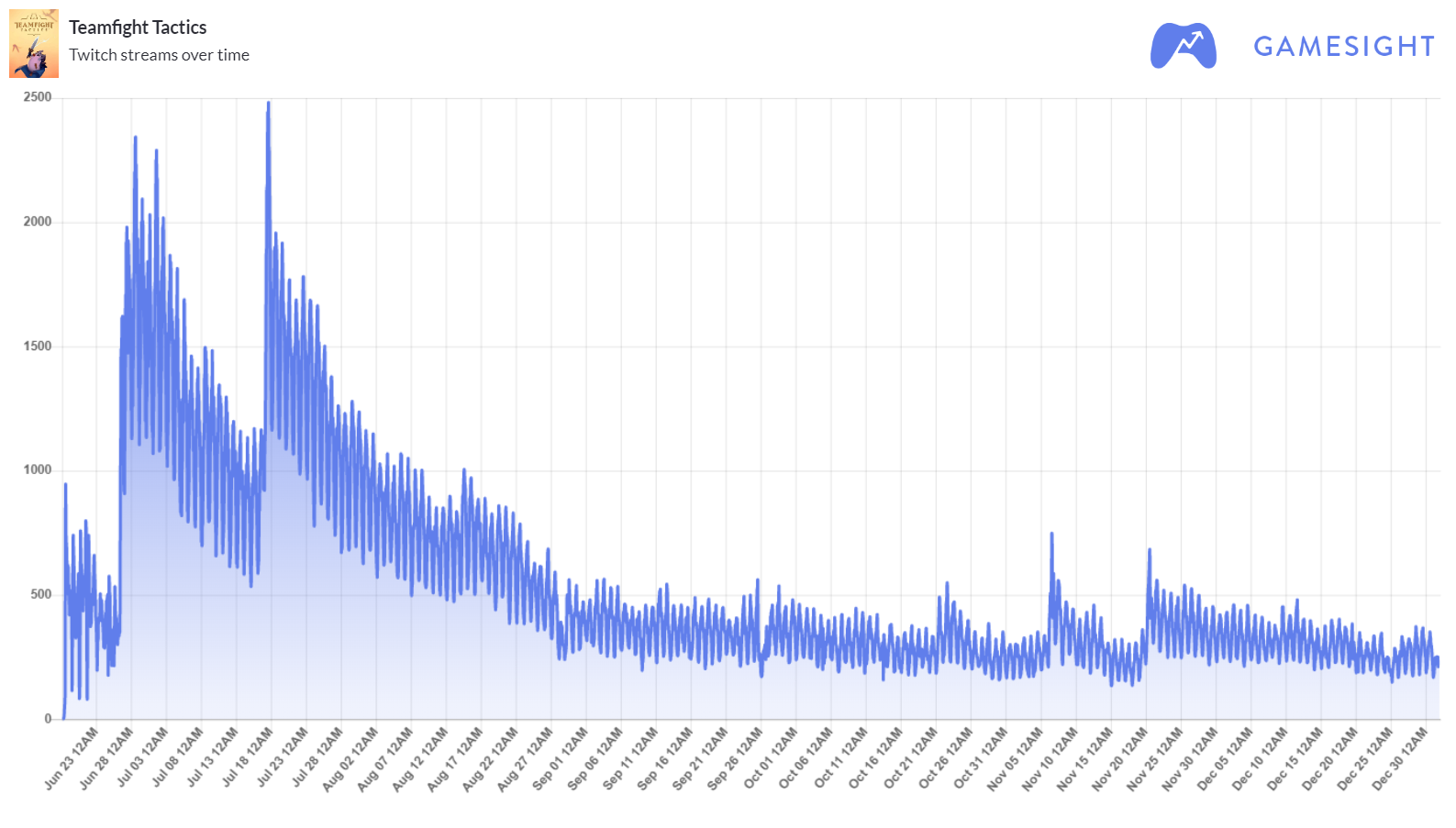 Teamfight Tactics comes in at third, thanks to what quickly established itself as a steady, stable population of dedicated creators, with daily peak viewership between 250 and 500 creators. The difference between it and Call of Duty is genre;  while near the beginning of 2019, when the 'auto-battler' first emerged, voices in the gaming space were predicting it would become one of, if not the, biggest varieties of games in the space, those predictions never quite came to fruition. Instead, Teamfight Tactics emerged as the dominant title in this new genre, the sole such title to wind up as one of the twenty-five most watched titles on Twitch for the year. It did so by, more than any competitor, establishing a reliable foundation of regular broadcasters, who should support it into the new year and beyond.
4. Sekiro: Shadows Die Twice
Total Channels: 150,599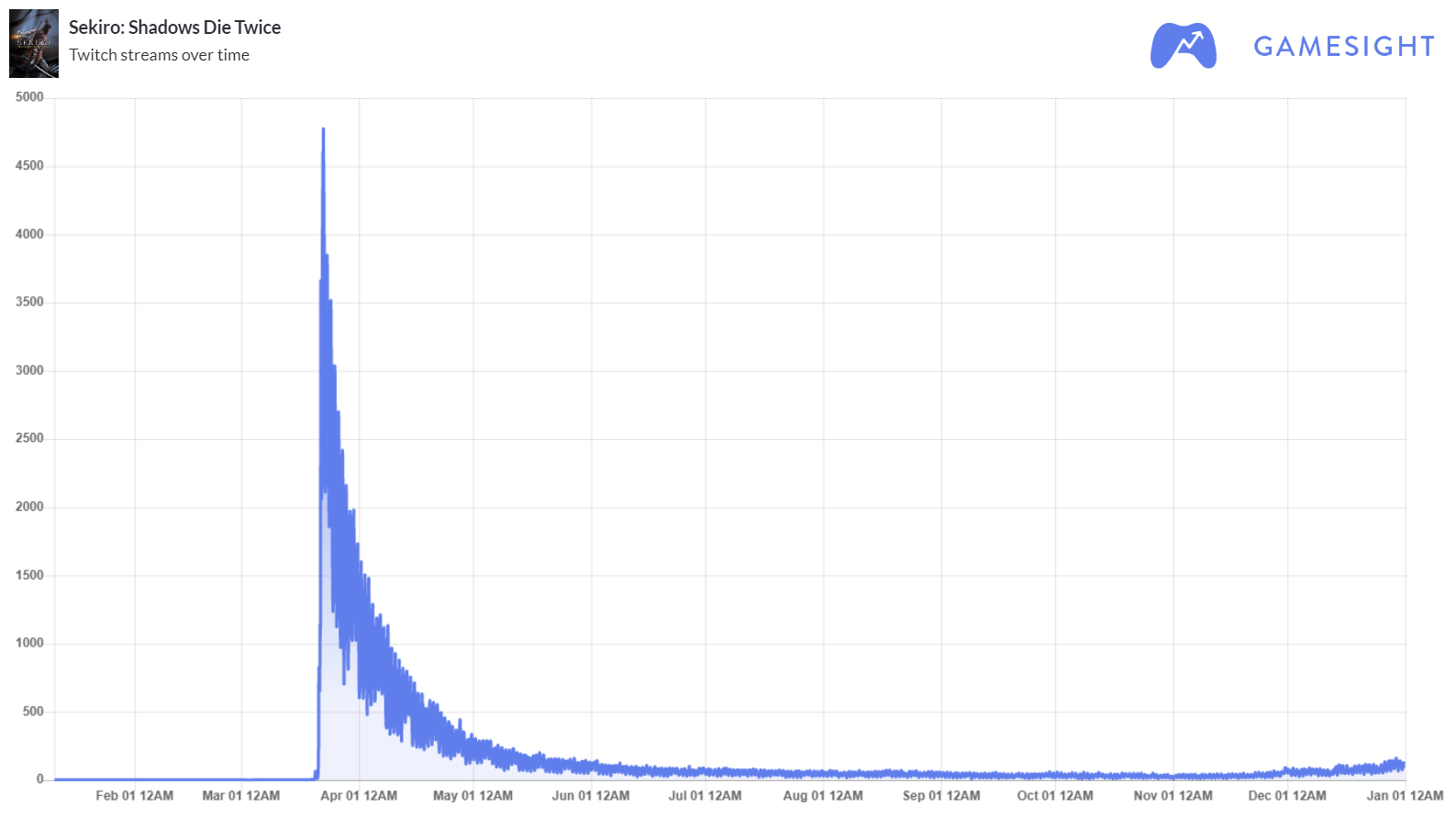 Sekiro accrued more broadcasters than any other single player title for the same reasons it accrued the largest total viewership; it was the most popular title in the most 'streamable' genre. In the future, we may indeed see 2019 as the year the "souls-like" genre came completely into its own, with seemingly dozens of Dark Souls inspired games cross pollinating the conventions of the genre with others, from a indie 2D Metroidvania like Blasphemous, to a AAA major licensed adventure like Star Wars Jedi: Fallen Order. The gameplay loops of regular deaths, steady improvement, difficult combat, create an experience that's different from creator to creator, and they want to stream it as much as viewers want to watch. The result is a shorter time at the top of the charts than many large titles, but such an impact during its stay that it lands near the top of our list of the most popular new titles amongst creators.
5. Anthem
Total Channels: 130,337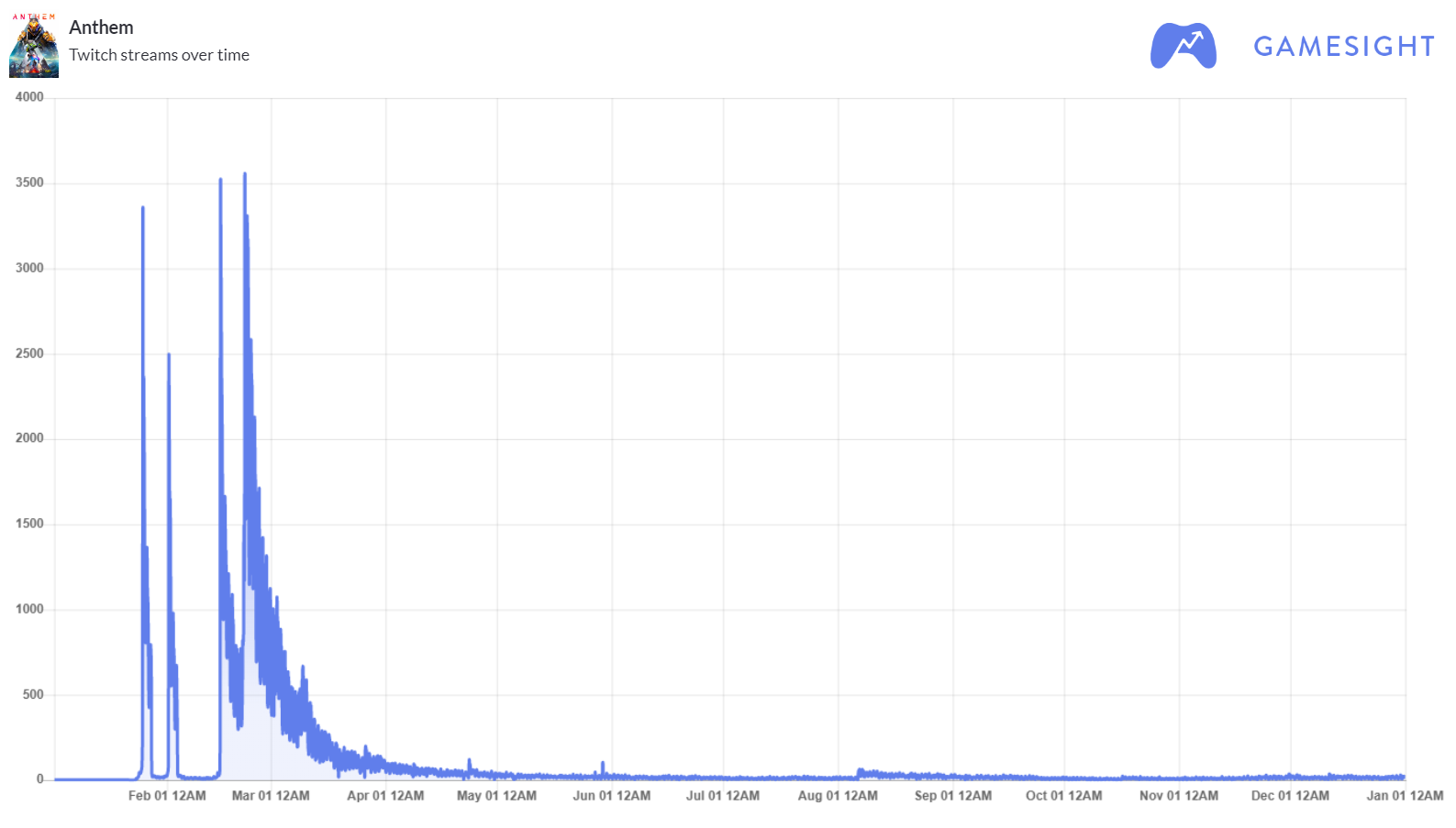 Few things can so clearly demonstrate the missed, or perhaps yet-unfulfilled, potential of Anthem as the image above, which shows the initial heights from which the title so quickly fell, and how much it struggled to recover.  Upon release, it managed to accrue a significant population of participating broadcasters, with its initial peak of over 3500 creators helping it climb as high as the fourth in the Twitch viewership rankings. What happened next is well documented. Suffice to say, players were far from enamored with the game itself, and it quickly fell, to the point that at the end of the year the game is barely played, and its future is uncertain. There are many lessons to learn from Anthem, not just in what it got wrong, but what it got right. There was an appetite for this game, among streamers and players, it simply didn't meet their expectations. Still, in terms of hype and excitement, this game was put in a position to succeed. That's it lands on this list is a reflection of that excitement.
6. Borderlands 3
Total Channels: 119,701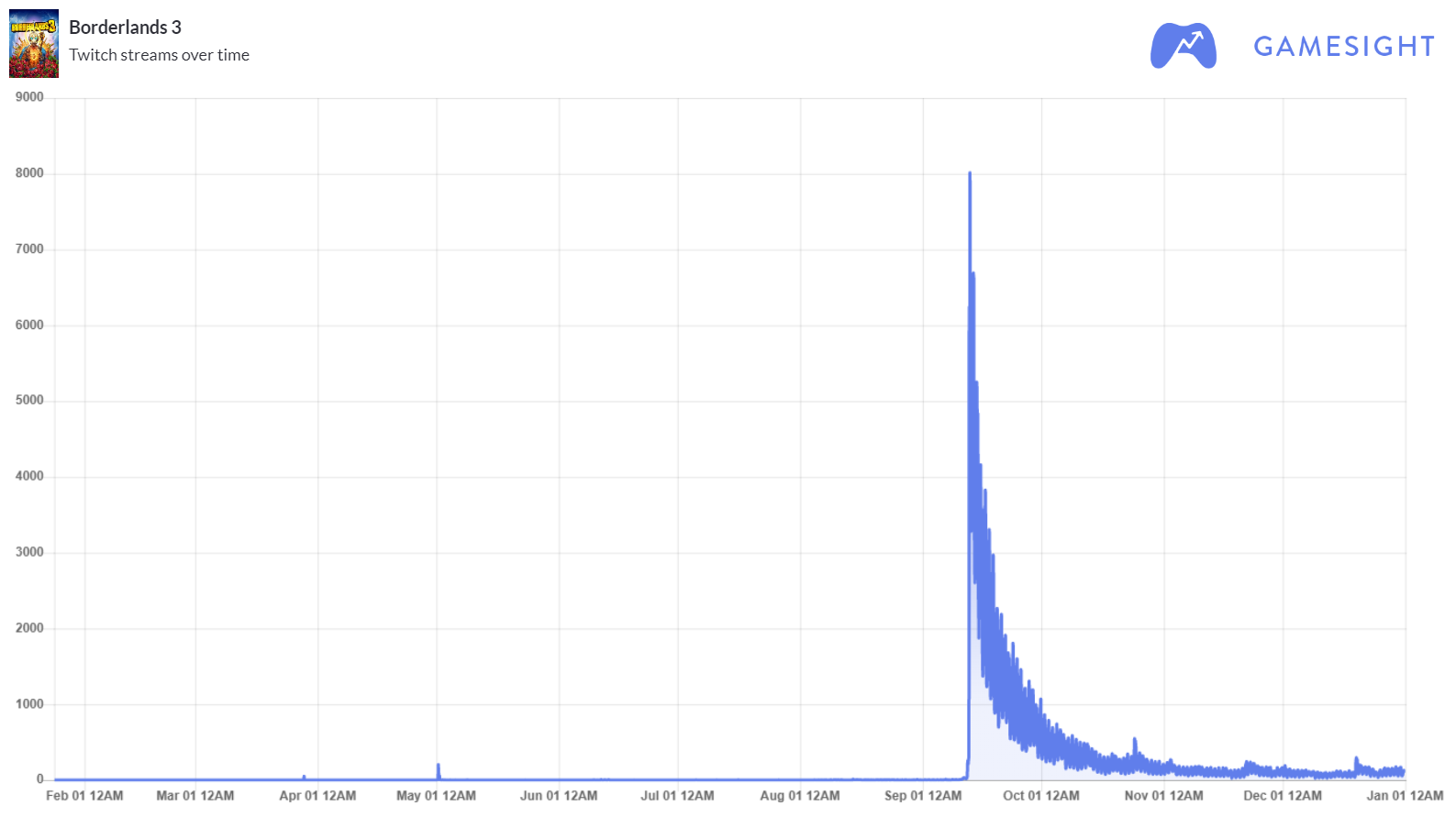 Borderlands gave rise to the prominence of today's 'looter shooters,' but its latest iteration doesn't mirror the 'live-service' model of its contemporaries, which is why, while the game features an endless supply of weapons and optional multiplayer, its trajectory on Twitch very much follows the pattern of other story-driven single-player titles on the platform. Borderlands 3 came out the gate swinging, with its over 8000 concurrent broadcasters at launch reaching over 215,000 viewers, but after about a month most players had completed the story and moved on to other titles. This is, of course, not a failure. Again, measured against other new single-player titles, this was the second most streamed title on Twitch in 2019. That's a runaway success by most any measure.
7. FIFA 20
Total Channels: 100,436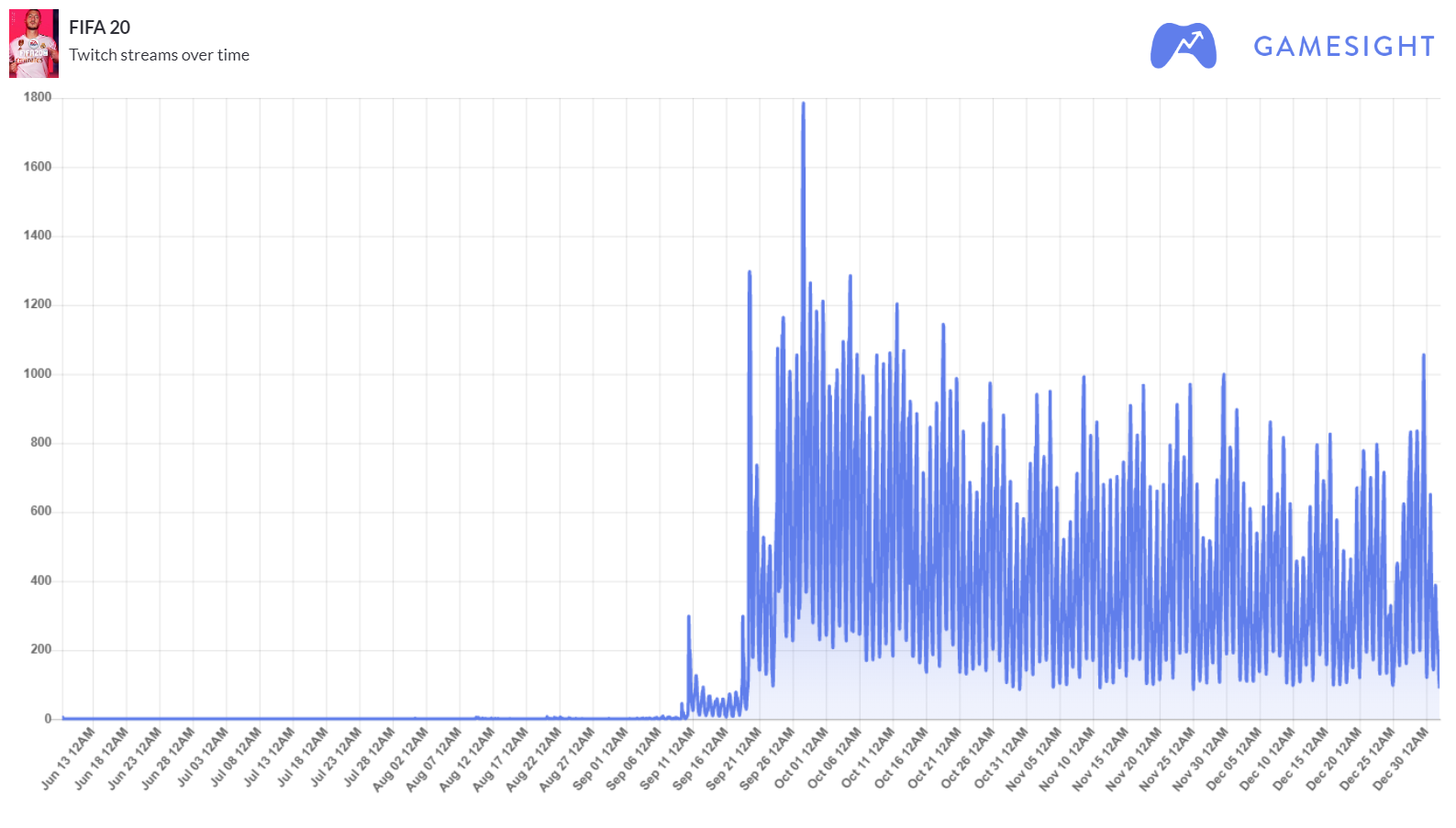 Sports titles have some of the most consistent communities of creators and broadcasters in the gaming space, and FIFA might be the healthiest among them, in that regard. Week after week, the graph of the game's participating streamers stays relatively the same, and it likely will until the build up to next year's successor. With the constant struggle to improve your team in the game's Ultimate Team mode, there's no reason for a dedicated creator to stop playing until the next game is out, and that leads to an incredible degree of sustained stability. It's incredibly impressive, and earns the title a spot in this top ten list, even after being available for just over three months. Once again, it makes it the clear king of sports games.
8. Mortal Kombat 11
Total Channels: 69,380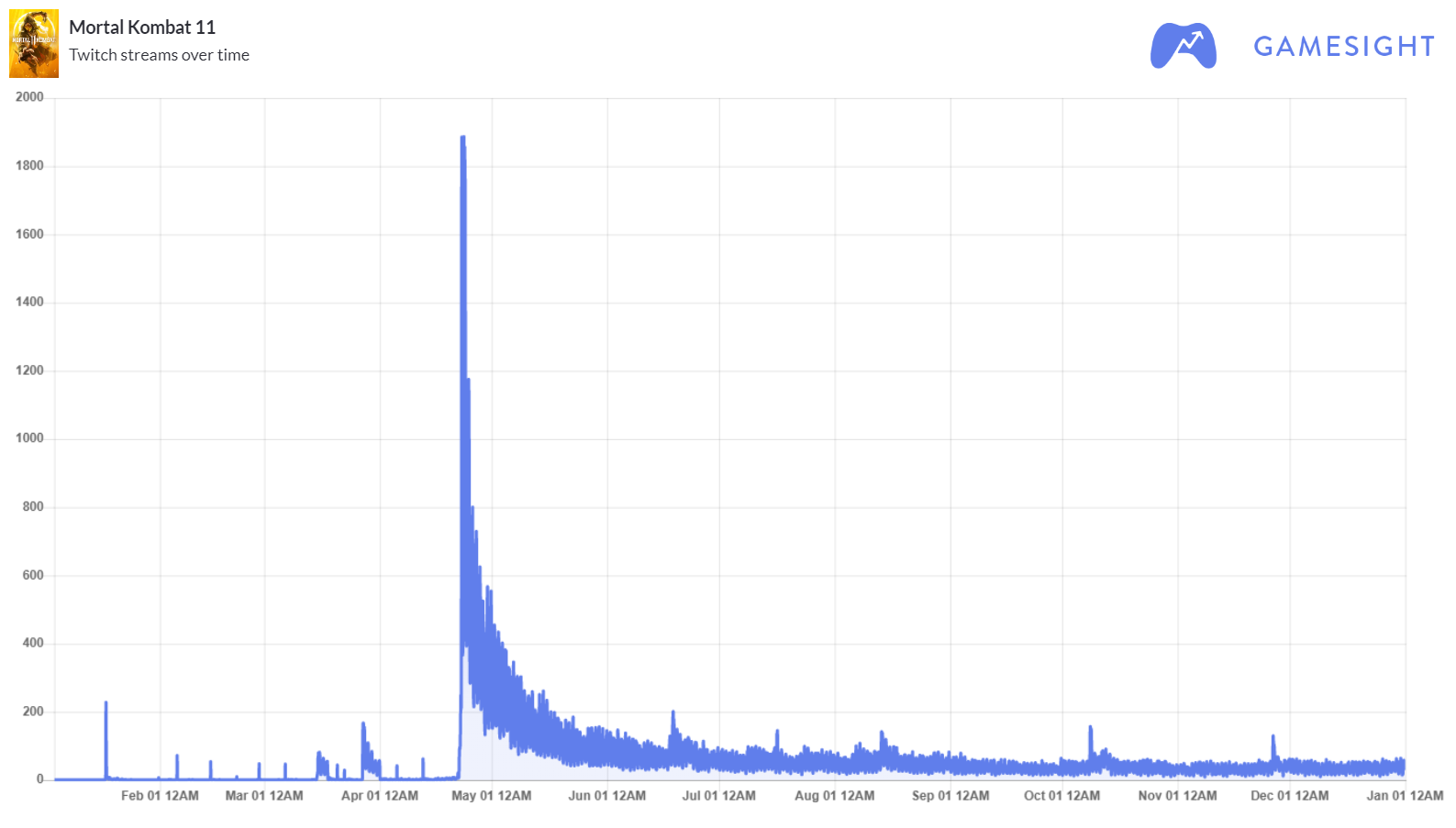 The fighting-game space may be a smaller niche of the streaming community, but it is a stable one, with a steady stream of competitions and practicing professionals and semi-professionals constantly providing captivating content for fans of the genre. Mortal Kombat, meanwhile, serves as a sort of intersection between that niche and the wider gaming space, with the franchise's renewed focus on story and cinematic experience allowing viewers who are less interested in competition, but interested in the game's universe, to enjoy the game alongside fighting-game aficionados. Mortal Kombat 11 maintained that momentum, delivering another exciting narrative experience to go alongside its tight fighting mechanics, and it led to a spectacular launch on Twitch, one large enough to land the title one of the top spots in this year's rankings of the most streamed new titles on the platform.
9. NBA 2K20
Total Channels: 63,764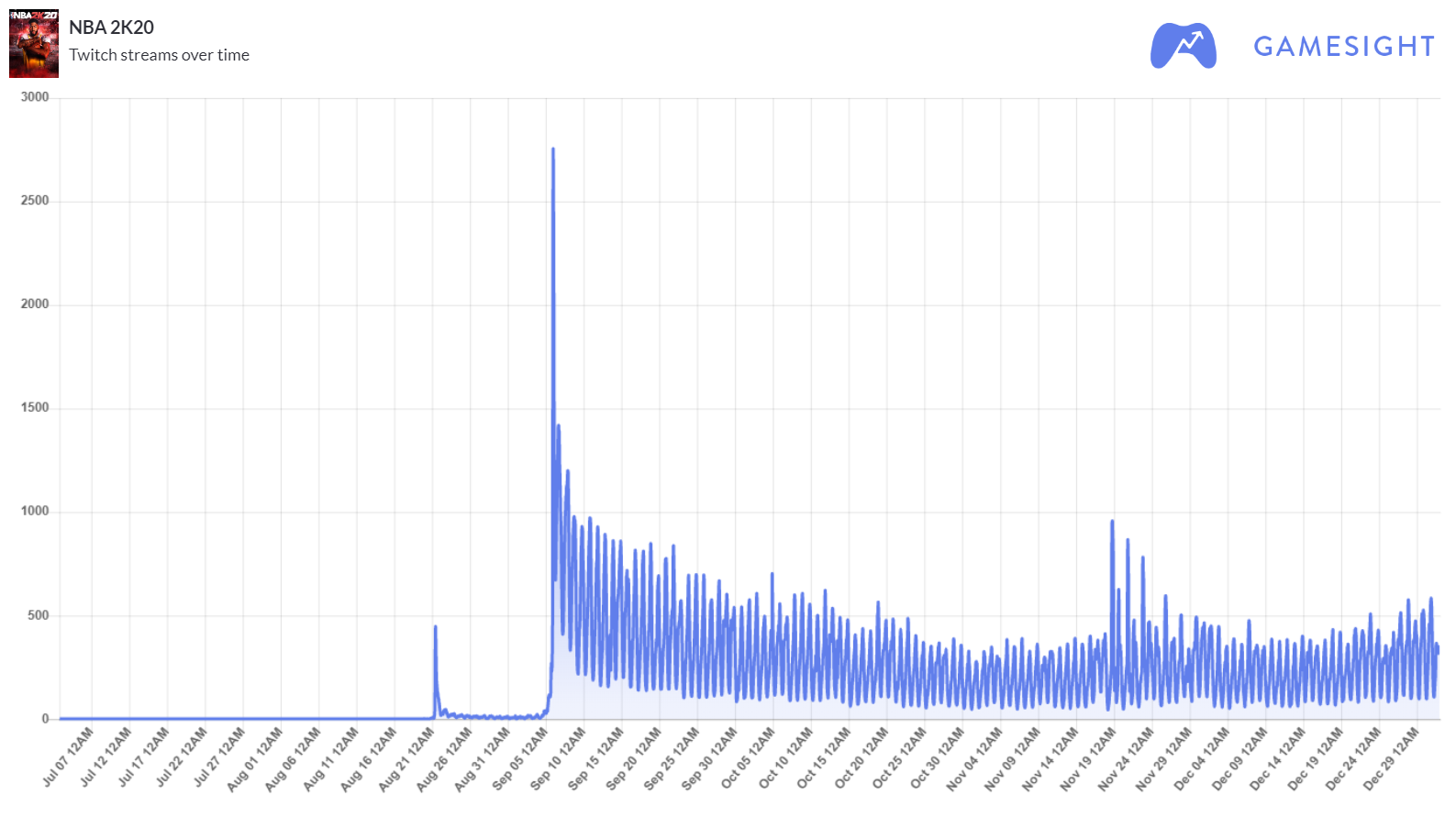 As we discussed above with FIFA, annualized sports titles have some of the most consistent communities of creators in all of streaming, and while it didn't quite reach the same heights as that title, NBA 2K20 enjoyed a similarly stable population of foundational players. By the end of the year, it was consistently reaching peaks of over 500 streamers each day, especially impressive considering the slight lull visible above in early November. Most titles don't recover from those moments, but over four months in to its lifespan, 2K20 continues to enjoy a consistent population of creators. A significant success, and enough to land the title in this year's top ten.
10. Star Wars Jedi: Fallen Order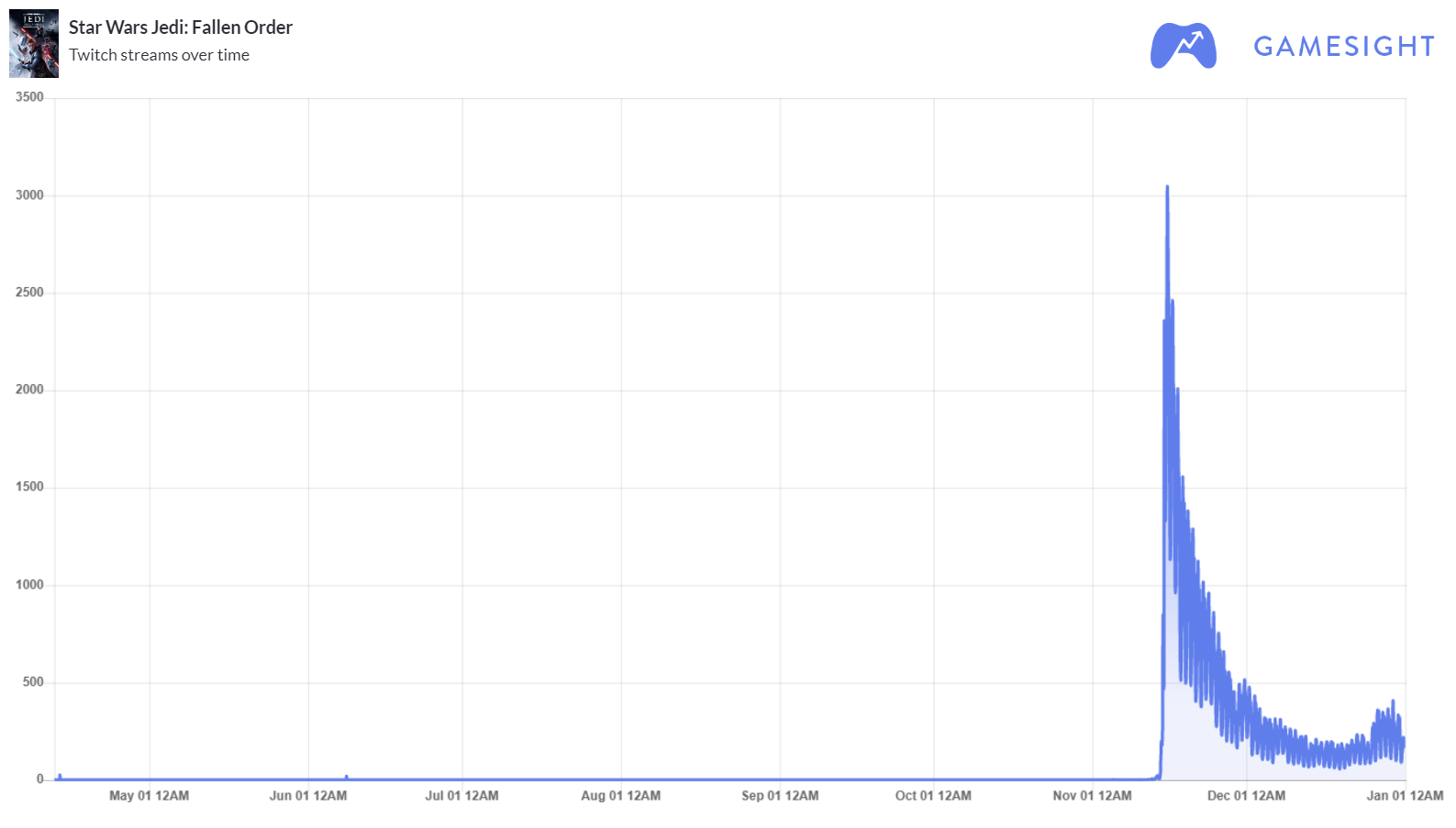 Total Channels: 62,077
Rounding out our list is Star Wars Jedi: Fallen Order, which took the conventions of games like Dark Souls and Bloodborne and combined them with the power of the Star Wars IP to create one of the year's most popular single-player titles. As with movies, established franchises have a leg up in terms of marketing and building excitement, and Star Wars is one of, if not the, biggest franchise on the planet. The result was an enormous launch, reaching a peak of nearly 200,000 concurrent viewers at launch. The fact that in maintained that momentum enough to stay high on the Twitch charts well into its first month can be attributed to the game itself, and the attributes of 'Souls-like' game we discussed above, which make them perfect for streaming. The result was a megahit, and the final of our top ten new titles for 2019.
---
Jump back to Top 10 Most Viewed New Games of 2019.
Top 10 of 2019 on Twitch Part 1: Increased Viewership
Stay tuned for more end-of-the-year breakdowns of the biggest games on Twitch, and check out our weekly rankings to find out who's on top right now! Also, be sure to follow us on Twitter and LinkedIn for all the latest blogs, announcements, and game marketing news from the team at GAMESIGHT!