#Top5OnTwitch for November 16th - 22nd
Which games are rising on the Twitch charts? Which streamers are dominating the most popular titles? Check out our official rankings!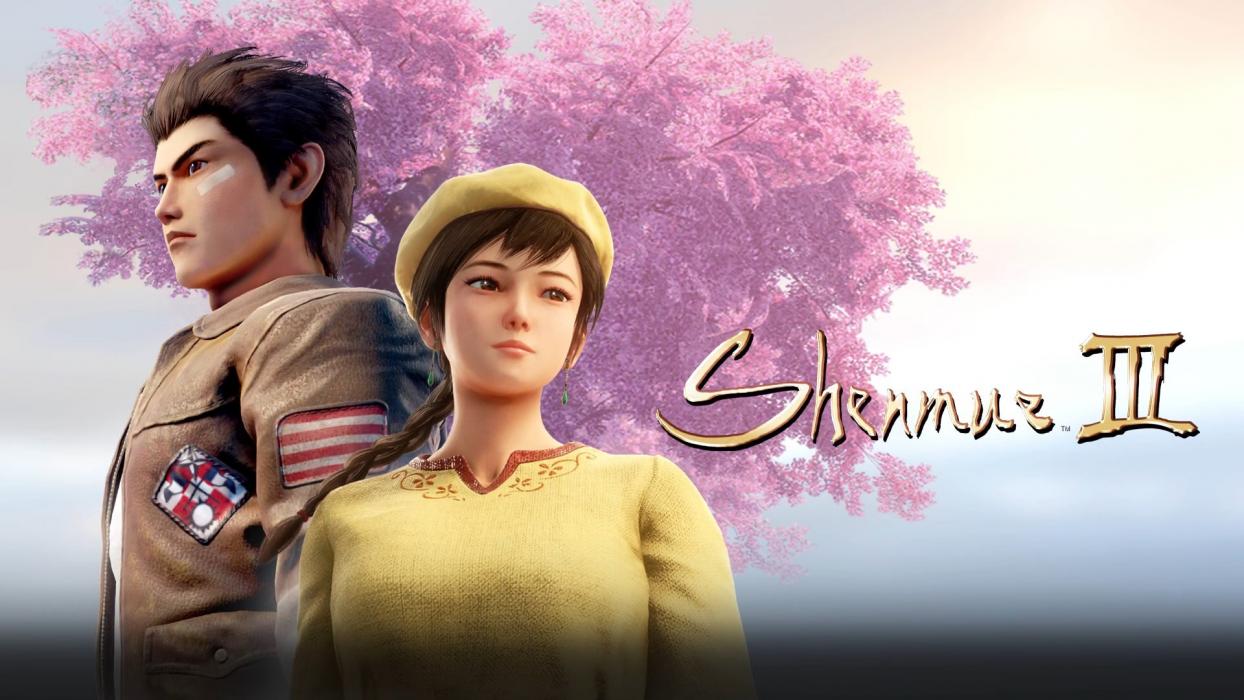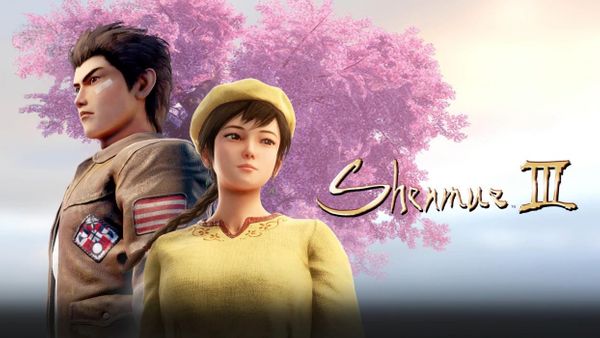 Which games are rising on the Twitch charts? Which streamers are dominating the most popular titles? Check out our official rankings!
Note: The following rankings are based on a combination of both gross and percentage change to viewership and total streams. As such, dominant and stable titles near the top of the charts will not always, or often, appear. Check out last week's numbers to compare.
Graphs for Top Rising titles show previous two weeks for context.
---
Top Five Rising

1. Pokémon Sword/Shield
Increase Viewership: 7,870,841 Hours (136.28%)
Increase Channels: 6836 Creators (40.60%)
Last week, Pokémon Sword/Shield became the fastest growing new title on Twitch, in spite of only being available for the final day of our rankings period. This week, it continued that success, maintaining its momentum enough to take home the top spot for returning titles, becoming the most trending title on the entire Twitch platform.
The latest entry in the long-running franchise has quickly become one of the most successful, selling over six million units in just the first five days, including two million in the US alone, and in just the first two days. Already, it's "among the fastest-selling Nintendo Switch games of all time" and the "highest-grossing launch of any Pokémon game." These streaming numbers only further reflect what the title has managed to accomplish.
Pokémon games are almost universally successful, but the scale of its latest entry's presence on Twitch is unique for the series. This is the first title in the franchise that's really ideal for streaming, launching on a home console and including the modern, higher-fidelity graphics possible on such a platform. It's clear that the audience of creators, viewers, and players have been thrilled to finally be able to share their adventures, and thus far, it's maintained a sizeable population of the former accruing significant viewership on Twitch. Pokémon games have long shelf-lives, so it will be fascinating to see just how long it can remain on top, and then what community remains after the buzz of the launch fades. Stay tuned next week to see how things progress.
2. Star Wars Jedi: Fallen Order
Increase Viewership: 3,049,560 Hours (74.88%)
Increase Channels: 16,175 Creators (85.33%)
Like Pokémon, Star Wars Jedi: Fallen Order emerged over just one day of availability last week to become one of our most trending new titles on Twitch, and while it hasn't managed to maintain its momentum as much as the aforementioned title, the continued growth of its player-base on the streaming platform was more than enough to land it in the number two spot in its first week as a returning title in our rankings.
Fallen Order is a story-driven adventure with a finite story, and as we've discussed, games like that simply don't last as long on Twitch as other titles. Once the story has played out, most streamers move on to other games, instead of sticking around to indulge in endgame activities or competition. This is likely why, in the graph above, you can see that viewership declined sharply towards the end of the week. That being said, even as that decline occurred, more streamers picked up the title for the first time than this week's top title. While players knew they wanted to play Pokémon, and indeed purchased it as soon as they could, it seems that many instead took a "wait and see" approach with Jedi, taking at least a few days to watch big-time streamers play the game first, then diving in themselves. This may be why we see such a large increase in streamers without an equally large increase in viewership. Over the next week, we will continue monitoring these numbers for further insight.
3. BlazBlue Cross Tag Battle
Increase Viewership: 142,564 Hours (2105.79%)
Increase Channels: 591 Creators (224.71%)
The crossover fighting game from Arc System Works, BlazBlue Cross Tag Battle, announced and then released its "2.0 update" this week, introducing nine new fighters to the game, along with "a brand new scenario, new character interactions and colors," and it resulted in the previously quiet community rushing back to the game, giving it the largest increase in viewership, relative to the previous week, of all qualifying titles.
Fighting games rely on updates and new characters to keep their communities lively and engaged. We've seen this with some of the biggest names in the space, like Mortal Kombat, which continues to see new character packs well into its lifespan, and sees steady growth on Twitch with each new release. BlazBlue might not have that kind of audience, but its success this week demonstrates it does have a dedicated community of players and viewers, and when engaged with new content, that community will show up in droves. It might be a modest success, when compared to other titles in the space, but that doesn't mean it's not worth celebrating, and it's certainly enough to land the title in the third spot in this week's rankings of the top trending titles on Twitch.
4. Terminator: Resistance
Increase Viewership: 84,270 Hours (268.21%)
Increase Channels: 387 Creators (217.42%)
Terminator: Resistance is a first-person shooter set in the Terminator universe, taking place after the fall of man, in a post-apocalyptic world besieged by artificial intelligence and machines. While it remains unavailable in North American until next month, it launched in Australia and the EU on November 15th, the final day of our previous rankings period. That limit gave it a distinct advantage in this week's rankings, as its relative success over the next week compared to launch day was enough to make it one of the fastest risers on the platform, more than tripling both its viewership and its participating creators.
This kind of success isn't necessarily repeatable. Compared to this week, the game will have a much harder time accruing significant growth without a major streamer picking up the title and bringing their large audience to the game. There remains, though, the game's North American release, on the horizon, that could pull in such celebrities. So, while we don't expect to see the game in our rankings next week, it may return in December when it launches in a new region. Check back in a few weeks to see how it plays out.
5. Diablo III: Reaper Of Souls
Increase Viewership: 607,417 Hours (186.59%)
Increase Channels: 2591 Creators (104.98%)
After announcing Diablo IV at Blizzcon, the team behind the venerated ARPG franchise did their best to capture the buzz and enthusiasm of the moment by launching the beginning of the Diablo III's 19th season of additional content, and the result was a huge spike in viewership that will likely carry over into next week. Had this event begun earlier, it's likely that the game would have risen even further up our rankings.
The new season brings with it a new constant status effect for participants, cosmetic rewards, armor sets, and challenges, in addition to the typical rebalancing and bug fixes, and it's clear that it combined with the growing excitement for the next game to bring players back into the fold in a big way. Come back next week to see if it can maintain this momentum and continue climbing up the charts.
---
Top Five New Releases

1. Shenmue III
Total Viewership: 609,885 Hours (44th Overall)
Total Channels: 1105 Creators (150th Overall)
The first entry in the long-silent Shenmue franchise finally launched, this week, after nearly two decades of waiting, and while it didn't reach the heights of Pokémon, its audience of eager streamers and viewers combined to make it the fastest rising new title on Twitch, emerging as a top-50 title on the platform.
Shenmue is a niche title, without question. Featuring richly detailed open urban areas to explore, in which you can talk to every NPC and interact with most of the environment, the games rely on a sense of emersion as their primary motivation for the player. That kind of slow, often exploratory experience isn't typically built for streaming, but when something is as focused on story as Shenmue, watching a streamer play through it can be the preferred way for many audience members to experience the game. Particularly with a new entry in a long-silent franchise, this could be what pulled in such large numbers of viewers: not everyone wants to play themselves, after waiting for so long, but they do still want to know what happens, how the story continues, and watching a creator make their way through the title can be their preferred way to re-engage with the franchise.
This game was always going to have a smaller audience, with its uniquely niche gameplay and its history as an important game on a doomed system, the Sega Dreamcast. That's what makes this success even more worthy of celebration; its an indication that, even with that limited community, it's still managing to hit the mark with its fans. It may not be reaching the heights of other AAA adventures, but this has been an excellent launch for Shenmue III.
2. Kingdom Under Fire II
Total Viewership: 183,668 Hours (85th Overall)
Total Channels: 290 Creators (406th Overall)
Kingdom Under Fire II was first announced all the way back in January of 2008, and has been bouncing around in development hell ever since. Originally announced for the PC, the game also was eventually planned for the Xbox 360 and PS3, versions that never materialized. Even though there was a series of closed betas in several regions, including one in Asia from 2014 through 2017 and another in Russia which began in 2017, both eventually folded, with the game being reported as cancelled.
Now, though, the title has finally emerged, launching in its first finished form, on PC, on November 14th. It may not have the kind of following it would have enjoyed had it released years earlier, but enough creators picked up the title on Twitch to land it in the number two spot of this week's rankings. Now, a title that's been in production for this long, with so many disparate development cycles and closed betas, is going to suffer some set-backs. After such a long wait, the game players have finally gotten in their hands is somewhat dated in terms of graphics and design. But, the wait is also what likely pulled in the remaining creators in the first place, building a sort of mystique around the title, turning its launch into a sort of event. It's unclear whether this community can be maintained, and the weeks ahead will tell us a lot about how long this title can survive on Twitch, but, given the length of the wait, this is an impressive launch for the new game from Blueside and publisher Gameforge.
3. Blacksad
Total Viewership: 99,224 Hours (129th Overall)
Total Channels: 383 Creators (312th Overall)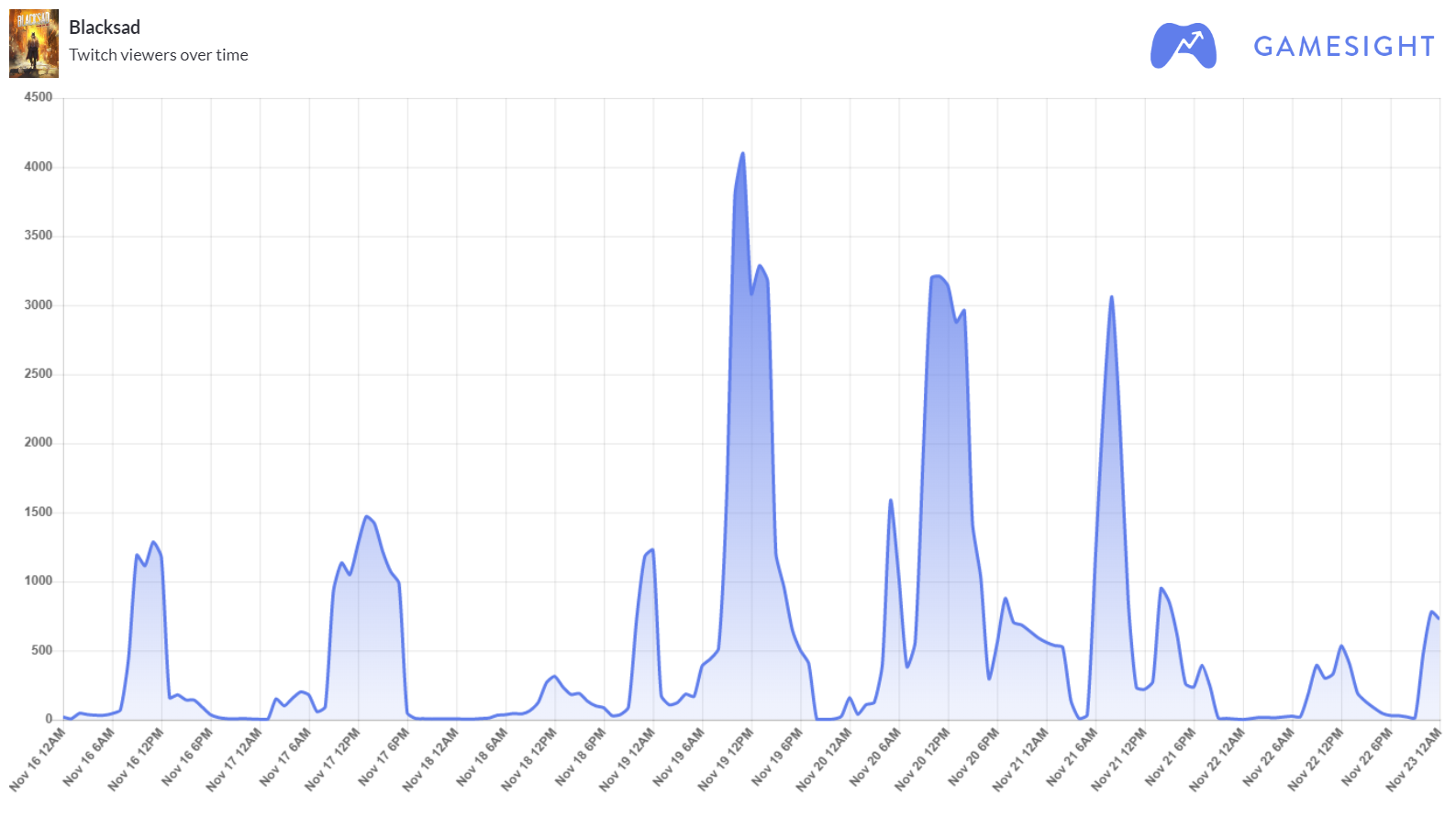 Blacksad is a series of comics originally published in French beginning in the year 2000, featuring a film-noir style and anthropomorphic animal characters. The crime and investigation focused stories have been adapted by developer Pendulo Studios and publisher Microïds into a single-player adventure game, Blacksad: Under the Skin, which launched on computers and consoles, Switch excluded, on November 14th.
Though it's not a point-and-click title, forgoing the typical inventory system, Blacksad is very much a mystery adventure game, focused on interviewing characters and investigating clues to unravel the story and discover the truth. Titles like this tend to enjoy short-lived success on Twitch, as viewers only want to see the game played through once, before the novelty of the story and the mystery is gone. It's for that reason that we don't expect to see the title climb up the charts in the weeks ahead. Even so, for a smaller title in a format less-than-ideal for streaming, this is a solid launch, pulling in good numbers. We look forward to seeing whether its Switch launch in December gives it any more juice.
4. Sniper Ghost Warrior Contracts
Total Viewership: 43,600 Hours (221st Overall)
Total Channels: 218 Creators (489th Overall)
Sniper Ghost Warrior Contracts is the first entry in the long-running Sniper series to feature a mission-based structure, as opposed to open-world areas. This format, for a title focusing on long-distance sniping and challenge, makes the game much more replayable than its predecessors, something that's ideal for streaming.
Featuring myriad weapons to unlock and with which to tackle new challenges, and missions which can be tackled in many different ways, players can keep returning to the same challenge, again and again, always finding ways to do it differently, or better, and squeezing even more new content from the same mission. For something as viscerally satisfying as quality sniping mechanics, this variety and sense of choice can create a space that generates tons of entertaining streaming content.
Only available for one day of our rankings, we're unsure how the next week will play out for Sniper. Has it already reached its peak, or does it have more room to grow? We'll be keeping a close eye on it to find out.
5. Farmer's Dynasty
Total Viewership: 47,721 Hours (210th Overall)
Total Channels: 78 Creators (937th Overall)
Rounding out our top five new releases is Farmer's Dynasty, a farming simulation title from developer and publisher Toplitz Productions. By taking the formula of farming and life simulation present in classic Stardew Valley and moving it to the realistic context of titles like "Farming Simulator," the team behind Farmer's Dynasty have created something unique. Given how successful the aforementioned title has been in the three years since its launch, it's easy to see how some streamers would be drawn to this new game. It's population of creators is relatively small, but pulled in good viewership numbers. It may end up going down as more of a novelty than something with staying power, but it remains an excellent example of how to take the ideas that have already proven successful on Twitch and trying to push them forward. It takes home the final spot in this week's rankings.
---
Top Five Most Watched Overall

1. League of Legends
Total Viewership: 19,893,792 Hours (-24.06%)
Total Channels: 92,492 Creators (-0.52%)
Most Watched Creators
1. Loltyler1 - 2,422,622 Hours
2. NoWay4u Sir - 483,159 Hours
3. C9Sneaky - 452,095 Hours
4. TFBlade - 431,697 Hours
5. Solary - 389,067 Hours
2. Pokémon Sword/Shield
Total Viewership: 13,646,127 Hours (+136.28%)
Total Channels: 23,674 Creators (+40.60%)
Most Watched Creators
1. aDrive - 1,285,003 Hours
2. Gotaga - 550,471 Hours
3.Shuteye_Orange - 353,979 Hours
4. TheNo1Alex - 346,949 Hours
5. Knekro - 309,473 Hours

3. Fortnite
Total Viewership: 13,498,431 Hours (+6.44%)
Total Channels: 225,888 Creators (+5.88%)
Most Watched Creators
1. Tfue - 1,198,466 Hours
2. NICKMERCS - 656,384 Hours
3. SolaryFortnite - 394,164 Hours
4. Dakotaz - 382,643 Hours
5. Bugha - 352,530 Hours

4. Dota 2
Total Viewership: 10,230,937 Hours (+57.82%)
Total Channels: 13,652 Creators (-0.72%)
Most Watched Creators
1. BeyondTheSummit - 2,902,396 Hours
2. Dota2RuHub - 2,341,426 Hours
3. Stray228 - 375,961 Hours
4. Gorgc - 235,542 Hours
5. JustCooman - 228,137 Hours
5. Counter-Strike: Global Offensive
Total Viewership: 8,324,617 Hours
Total Channels : 57,572 Creators (+5.61%)
Most Watched Creators
1. ESL CSGO - 1,243,963 Hours
2. Gaules - 1,169,670 Hours
3. PGL - 401,595 Hours
4. CSRuHub - 226,918 Hours
5. DreamhackCS - 196,250 Hours
---
Check out last week's numbers, and our rankings of the most watched esports on Twitch for the month of September. Also, be sure follow us on Twitter and LinkedIn for all the latest blogs, announcements, and game marketing news from the team at GAMESIGHT!