#Top5OnTwitch for August 17th - 23rd
Which games are rising on the Twitch charts? Which streamers are dominating the most popular titles? Check out our official rankings!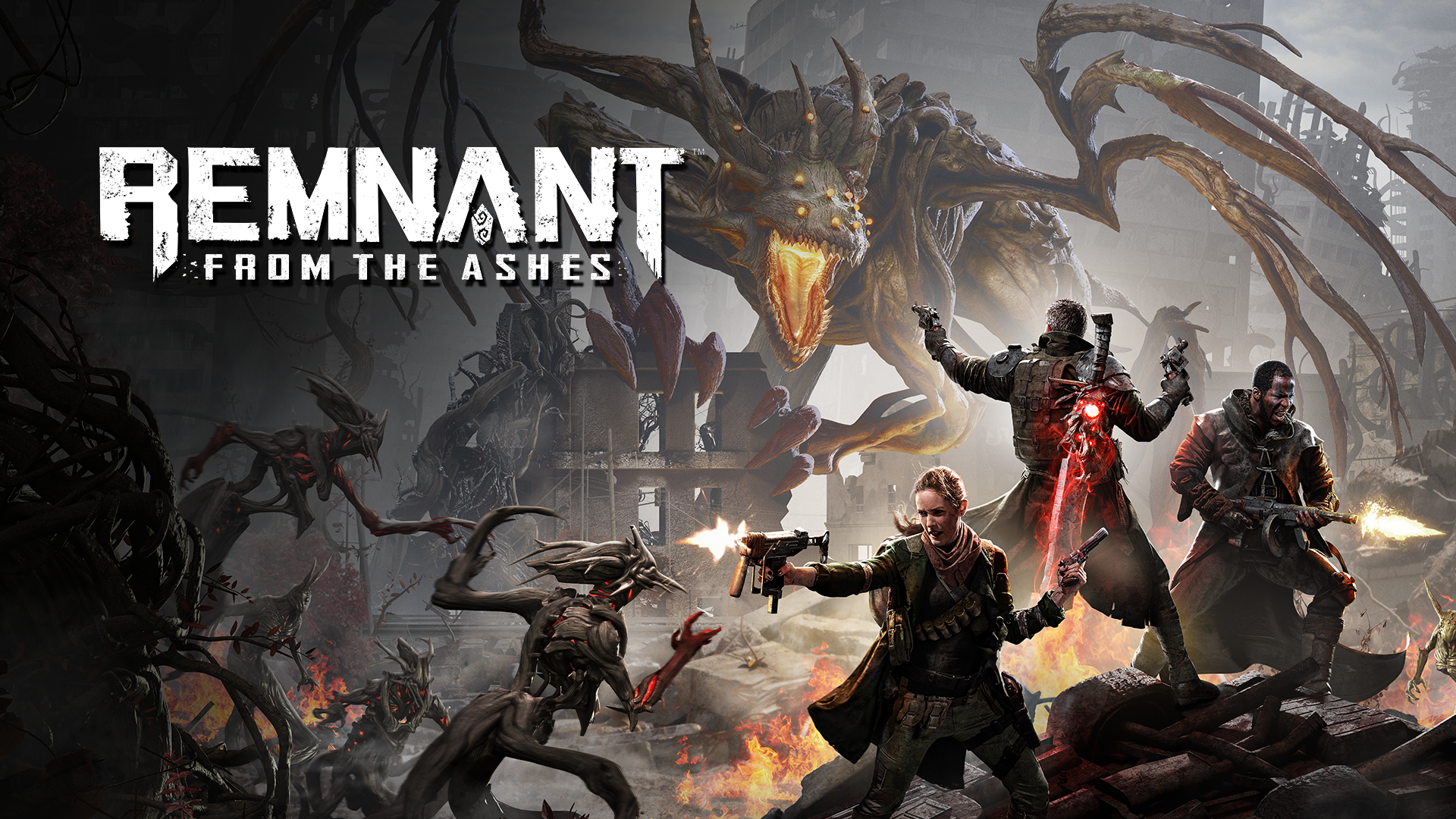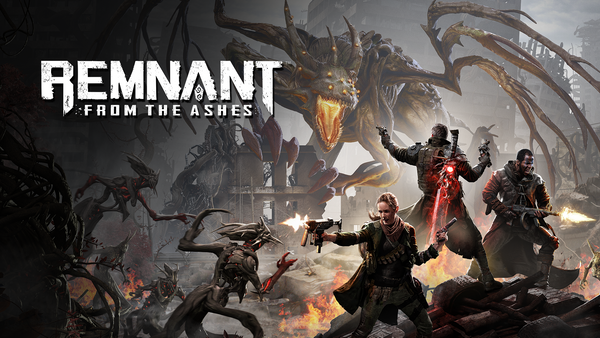 Which games are rising on the Twitch charts? Which streamers are dominating the most popular titles? Check out our official rankings!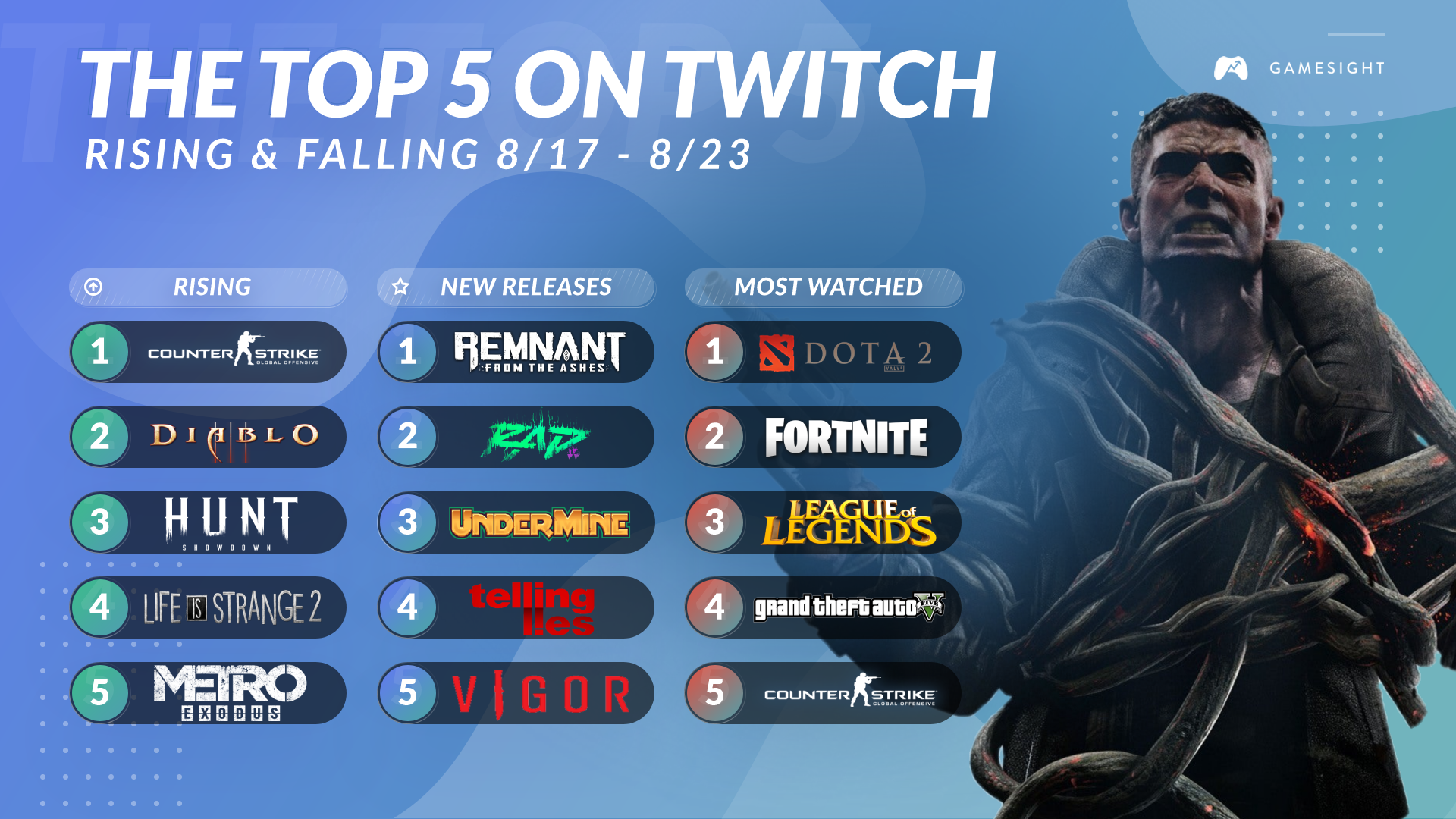 Note: The following rankings are based on a combination of both gross and percentage change to viewership and total streams. As such, dominant and stable titles near the top of the charts will not always, or often, appear. To compare to last week's rankings, click here.
Graphs for Top Rising titles show previous two weeks for context.
---
Top 5 Rising

1. Counter-Strike Global Offensive
Increase Viewership: 8,819,532 Hours (146.29%)
Increase Channels: 10,647 Creators (17.50%)
The StarLadder & i-League Berlin Major 2019, the game's second Major of the year featuring a $1 million prize pool and twenty-four professional teams began on August 23rd with it's "New Challengers Stage," and, as you can tell from the graphic above, it immediately resulted in an enormous spike in viewership, large enough to make the game the fastest rising title on the platform for the entire week.
We just recently announced that CS:GO was actually the most watched esport on Twitch for the month of July, even beating out Fortnite during a month in which it hosted the platform's most watched competitive event in history, the Fortnite World Cup. Even as titles like Epic Games' ubiquitous MOBA and other competitors have entered the gaming space, to great acclaim, during CS:GO's lifespan, its dedicated international community of competitors, teams, leagues, tournaments, and viewers have allowed to consistently rise back the ranks in terms of overall viewership, a feat which few titles have been able to duplicate. This is one of the most enthused, active esports ecosystems in gaming, and it flexed its muscle last week to take the top spot in our rankings.
2. Diablo III: Reaper of Souls
Increase Viewership: 575,229 Hours (313.85%)
Increase Channels: 3748 Creators (234.54%)
Blizzard has supported Diablo III over its long lifespan through its release of what it calls "Seasons," major events in which players typically create new characters and work towards exclusive rewards, items, cosmetic features, and a spot on global leaderboards.
This week saw the release of the game's whopping eighteenth season of content, called the "Season of the Triune," and while most of the title's previous releases have focused on so-called "endgame" content, this season actually impacts gameplay from the very beginning, creating an event which is more accessible to casual players. The result has been a 1380% increase in peak streamership within two days, which is relatively comparable to the 1507% increase the previous season yielded in the same timeframe. Streamers continue to show up for event after event, and the game has firmly established a consistent community of creators, demonstrating how effective this support strategy has been over the long haul. It worked yet again, this week, which is why the game takes a top spot in our list.
3. Hunt: Showdown
Increase Viewership: 827,196 Hours (452.88%)
Increase Channels: 1326 Creators (49.77%)
The Crytek PvP/PvE first-person shooter isn't a stranger to our list of rising titles, having made the list back in June on the heels of a free weekend hosted on Steam. Still in early access, the title rose once again this week as the creators released what they call their 1.0 "Release Candidate," an enormous update that featured so much content it took three different announcements on the game's Steam page to detail everything the release contained. The results, visible above, speak for themselves.
When we first mentioned the game a few months ago, we noted that we wouldn't be likely to see it on our list again without substantial updates and events, and here we are, not long after, and the developers have followed through, resulting in another boost for the young title. The team behind Hunt: Showdown have established a release strategy that's showing promising signs of building out a strong community of players and creators. Once again, it remains a game we'll be keeping our eye on in the weeks and months ahead.

4. Life is Strange 2
Increase Viewership: 237,917 Hours (4916.41%)
Increase Channels: 1530 Creators (916.17%)
One of the major advantages in the episodic release model which went mainstream with Telltale's The Walking Dead and continues, today, in Dontnod's Life Is Strange 2, is that you get these punctuated moments wherein the game's whole community is dedicated to living through the same story-beats. For most story-driven games, viewers experience the title much as they would a movie, watching it through once over the course of a few or even a single day, and the moving quickly on to something new. This model turns that experience into something more akin to a television show, something you come back to with the release of each new piece of content. It's pretty simple, really; instead of a single release date, you get five, or more.
The Life is Strange series rises again up our list with the release of its latest episode, accruing the 26th largest raw increase in streamers across the entire platform. Given that it was rising up from near zero viewership, this is truly an enormous comparative increase in its audience. It's clear that, for these story-driven, conversationally focused games, the episodic model continues to yield strong results, extending the lifespan of a title well beyond what it would normally achieve.

5. Metro: Exodus
Increase Viewership: 193,019 Hours (524.25%)
Increase Channels: 888 Creators (110.86%)
The release and ongoing support for Metro: Exodus has often been overshadowed by the controversy surrounding its decision to become an Epic Games Store exclusive after taking pre-orders on Steam, but that doesn't seem to have diminished the enthusiasm for the game on Twitch, as the release of the first of its two planned story-driven DLC packs, Two Colonels, brought streamers back to the title in droves, landing it in the final spot of this week's fastest rising titles on the platform.
Story-based content drops don't provide the sort of long-term boost that the more regular releases for "live-service" titles tend to generate, as the streamers themselves don't often play the new content more than once. Like most narrative experiences, they lose most of their appeal once the novelty of first play/viewing has worn off, so while they can pull people back in to a game, they don't have long legs in terms of boost in viewership. That being said, success doesn't always mean a game remains active for years and years. What's clear is that the game's community of players were ready and willing to dive back into the game to experience this new content, which bodes well for the next DLC planned some time in the future.
---
Top 5 New Releases

1. Remnant From the Ashes
Total Viewership: 4,875,197 Hours, 14th Overall
Total Channels: 19,797 Creators, 17th Overall
Remant: From the Ashes is a third-person action adventure game featuring dynamically generated dungeons and online co-op with up to three players, and it officially released on August 19th, accruing nearly 20,000 active streamers and becoming one of the fifteen most watched titles on Twitch, good enough for the top spot in our list of new releases for the week.

A mash-up of several popular genres and styles, Remnant combines the action, challenge, and general structure of a "Souls-like" title with the online co-op focus of Destiny, and one could see how that combination might be a potent mix on Twitch. Games like Dark Souls and Bloodborne have long shelf-lives in streaming because of their dedicated communities of players, speedrunners, lore experts, and other content creators, while the Destiny series keeps players engaged for months and years through its potent gameplay loop and consistent content updates. Remnant seeks to combine those genres to create something new. Given its success thus far, it seems to be off to a great start, but it will be the ongoing support for the title that truly tells the tale. It's certainly a game worth keeping an eye on, and that's what made it the top new release for the week on Twitch.

2. RAD
Total Viewership: 110,352 Hours, 150th Overall
Total Channels: 764 Creators, 234th Overall
RAD is a colorful 3D rougue-like which features a fun visual style and a fascinating core gameplay mechanic built around mutating your player-character, and after releasing on the 19th of August it became one of the fastest rising new releases on Twitch, finding itself in the top 150 most viewed titles on the platform. While it's a single-player title, the stages or gameplay arenas in which you play are randomly generated, creating a never-ending queue of new, unique challenges to explore. That dynamism makes the game more suited for streaming than a title that's the same for every player, as you'll never have to watch two streamers play the same content.
From a gameplay perspective, there's a lot of Diablo dna in RAD. Given that Diablo III was once again one of the fastest rising titles on the platform, there are worse titles to imitate. Still, it's important to note that the latter game succeeds primarily due to its consistent schedule of events and ongoing support. RAD can become a long term success, but it will rely on similar types of events and updates to stay on the charts into the future.

3. Undermine
Total Viewership: 311,963 Hours, 31st Overall
Total Channels: 429 Creators, 374th Overall
Undermine is a dungeon-crawling rouge-like with RPG elements focused on improving your character through upgrades, challenging combat, and loot, and while it doesn't necessarily do anything we haven't seen before, the polish on display even in its first early access version has been enough to draw in a fair number of creators in just its first week on Twitch.
There's a lot of classics Spelunky and Binding of Isaac in this title, both titles that have enjoyed long-term success due to their high level of challenge and dynamically generating dungeons, and one could see Undermine achieving similar levels of success if it manages to consistently receive updates and get into the hands of more popular creators. It's too early to say whether that's in the cards, but for now, the title is off to a quality start.

4. Telling Lies
Total Viewership: 363,205 Hours, 25th Overall
Total Channels: 356 Creators, 424th Overall
Telling Lies is an interactive cinematic experience which serves as a non-connected follow-up to creator Sam Barlow's previous title Her Story. Like the previous title, players use actual live recordings to investigate and slowly uncover the truth of an expansive mystery, identifying new keywords to search for and discover new clips and further their investigation to discover just what is going on. The original title was something of a cult hit, and the follow-up accrued impressive numbers on Twitch in just one day, enough to make our list of the top new releases on the platform.
There aren't many games similar to Telling Lies and its predecessor. The gameplay mechanic of searching through recordings and trying to uncover new clips isn't something you'll see anywhere else, and it creates an interesting gameplay loop wherein a streamer and their audience can slowly unravel a mystery together, a narrative experience that remains fully interactive, one in which the streamer can even involve viewers in their decisions. In many ways, this is an ideal scenario for a variety streamer, the perfect engine for engaging content. The results have been quite positive so far. It's a story-driven experience, so it won't last forever, but we're excited to see just how long this unique title can stay in the spotlight.

5. Vigor
Total Viewership: 66,065 Hours, 224th Overall
Total Channels: 1672 Creators, 134th Overall
Vigor is an Xbox-exclusive online shooter focused on survival in a post-nuclear war Norway, focusing on shelter construction, looting, and survival. While it's been available as an open beta to Xbox Game Pass subscribers since last summer, this week saw the game reach it's 1.0 version and officially become available for all players, and while, as you can see above, this only seemed to result in a single day of improved viewership, that day was enough to take the final spot in our list of rising new titles.

This is an example of a single streamer drawing in such large numbers as to change the fortunes of an entire game and its community. The spike visible above is due to just one creator, Alanzoka, picking up the game upon release, and in his single two-hour stream he accrued 48,000 viewership hours for the title, nearly two thirds of the game's overall total. This doesn't necessarily bode well for the game's future, but it does demonstrate just how important getting creators like this to play your game can be, and how managing to do so again can get the game right back up to the top of the charts. Vigor is still being developed, which means there will be further opportunities to get in front of people in the future, with each new update and content release. Hopefully, the team has learned how important it is to engage with major creators, and perhaps it will become a part of their official strategy as time goes on. For now, the organic attention they received from Alanzoka was enough to make it one of the fastest rising new releases on Twitch, the final on our list for the week.
---
Top 5 Overall By Viewership

1. DOTA 2
Total Viewership: 42,206,933 Hours (+161.10%)
Total Channels: 18,099 Creators (+10.64%)
Top 5 Channels Overall By Viewership
1. Dota2ti
2. Dota2ti_ru
3. Dota2ti_2
4. Dota2ti_es
5. Dota2ti_ru_2


2. League of Legends
Total Viewership: 27,319,809 Hours (+44.71%)
Total Channels: 98,170 Creators (+20.57%)
Top 5 Channels Overall By Viewership
1. Riot Games
2. LCK Korea
3. Upmedia
4. LCK
5. Lol_ambition (앰비션_)

3. Fortnite
Total Viewership: 25,359,895 Hours (+33.64%)
Total Channels: 315,901 Creators (+8.72%)
Top 5 Channels Overall By Viewership
1. Tfue
2. NICKMERCS
3. Bugha
4. Dakotaz
5. SolaryFortnite

4. Grand Theft Auto V
Total Viewership: 19,963,423 Hours (+33.67%)
Total Channels: 45,077 Creators (+10.92%)
Top 5 Channels Overall By Viewership
1. Summit1G
2. Lord Kebun
3. Vader
4. Shroud
5. Koil

5. Counter-Strike: Global Offensive
Total Viewership: 14,848,017 Hours (+146.29%)
Total Channels: 71,497 Creators (+17.50%)
Top 5 Channels Overall By Viewership
1. Gaules
2. Starladder CS en
3. ESL CSGO
4. Starladder CS en2
5. Starladder5

---
For a complete breakdown of the most watched leagues, tournaments, and competitions on Twitch in the month of July, click here, and he sure to follow us on Twitter and LinkedIn for all the latest blogs, announcements, and game marketing news from the team at GAMESIGHT!